I posted about Maeda Coffee before. I visited Inoda Coffee Honten (イノダコーヒ本店) the next day for breakfast. Breakfast time is from 7 a.m. – 11 a.m. It's available on Saturdays, Sundays and another national holidays.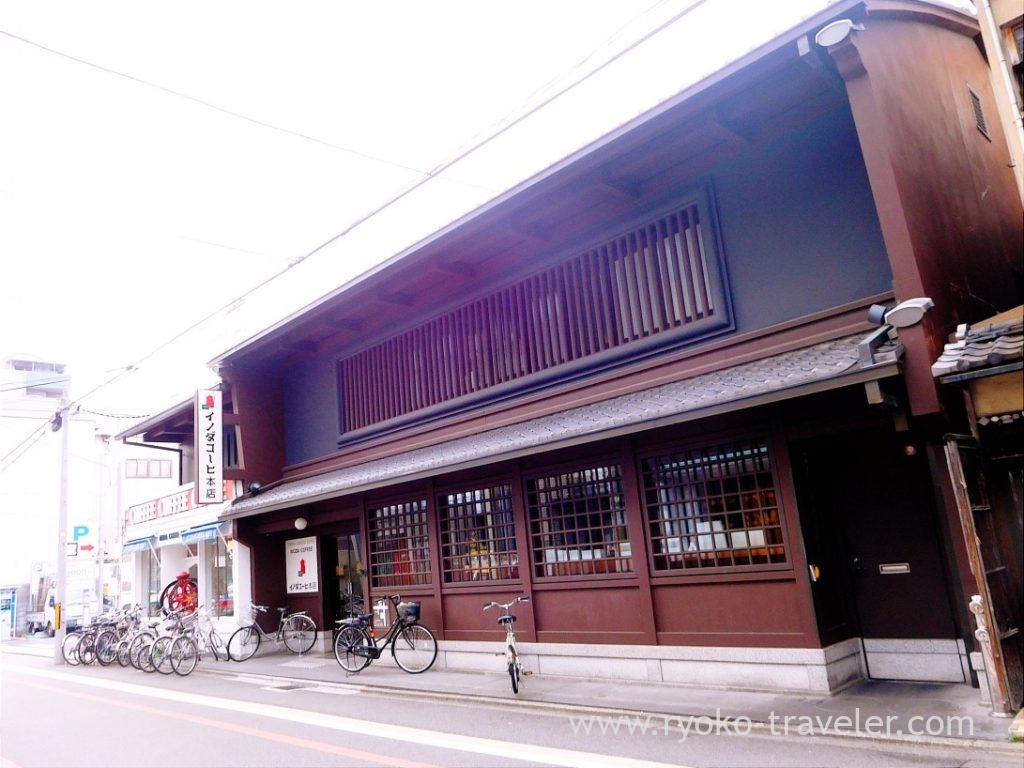 The right is new building, and the left is older building. Inoda coffee is about 80 year-old shop. Well-known shop in Kyoto. The old building have no entrance. You enter from the new building only.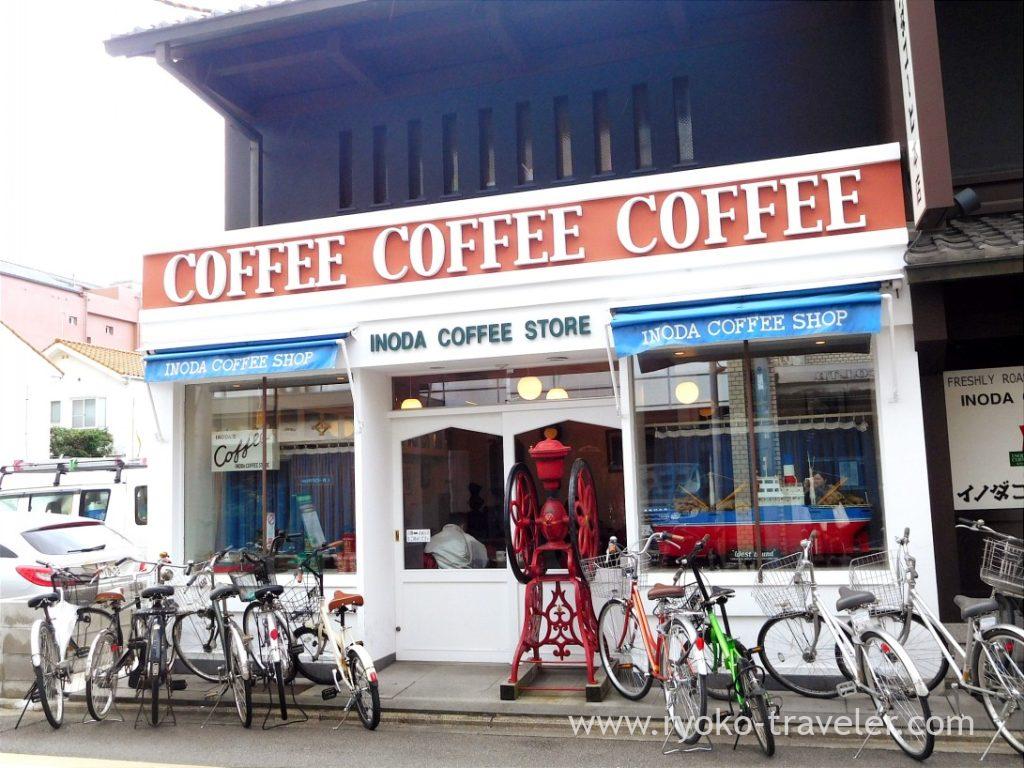 Long waiting line on weekends
Store is at the entrance. As soon as you enter the shop, Inoda's original items, for example, coffee beans, cups, dishes welcome you. Cafe space is at the back of the house. If you want to eat in the cafe, you say to the staff and wait at the chairs for waiting for a while.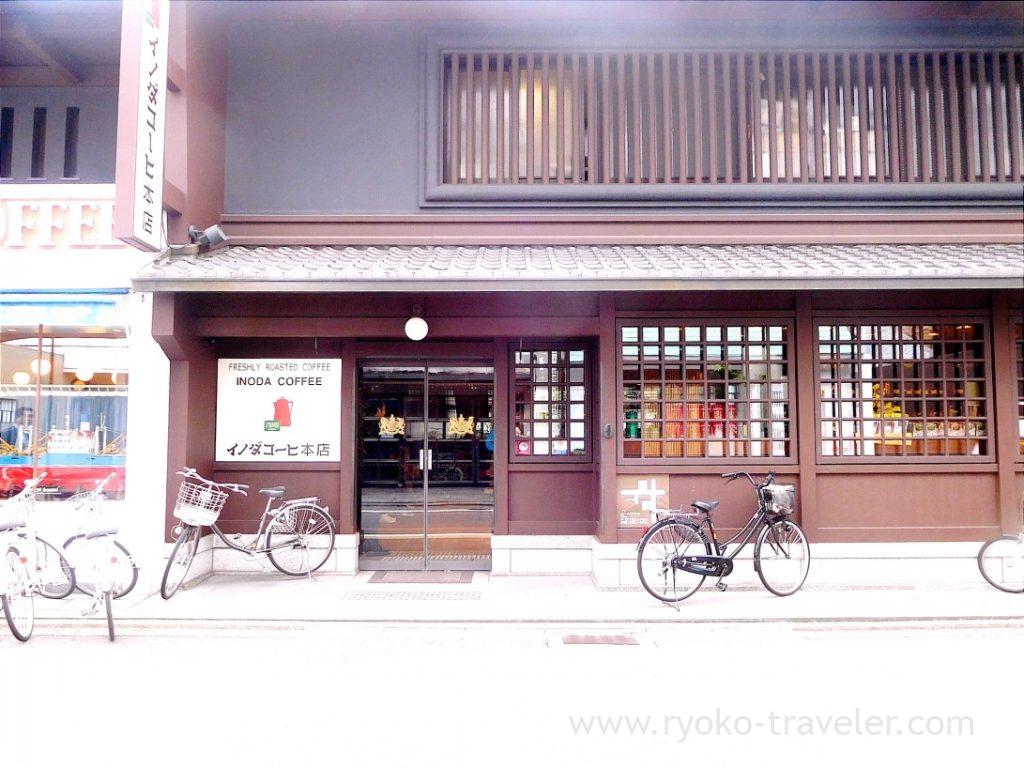 I visited there on Sunday, there was long lines for waiting. So I gave up. But next day, there was only one group waiting. If you don't want to wait so much, you'd better go there on weekdays morning.
Where ?
If you go to there by metro, Karasuma Oike station is the closest.
It's really close to Seien (栖園) that is popular as Kohaku-Nagashi.
[Kyoto] Kohaku Nagashi at Seien (栖園)
When I visited Kyoto in 2016, I met great Japanese confectionery named "Kohaku-Nagashi". My friend recommended
Nostalgic old building
The staff led me to the old building. There are many tables for four person. And there is an old TV (not working ?) and there's nostalgic atmosphere there. But everything is tidy and clean. So, I didn't feel "old".
The new building was noisy, but the old building is rather calm. And there's wide interval between each tables.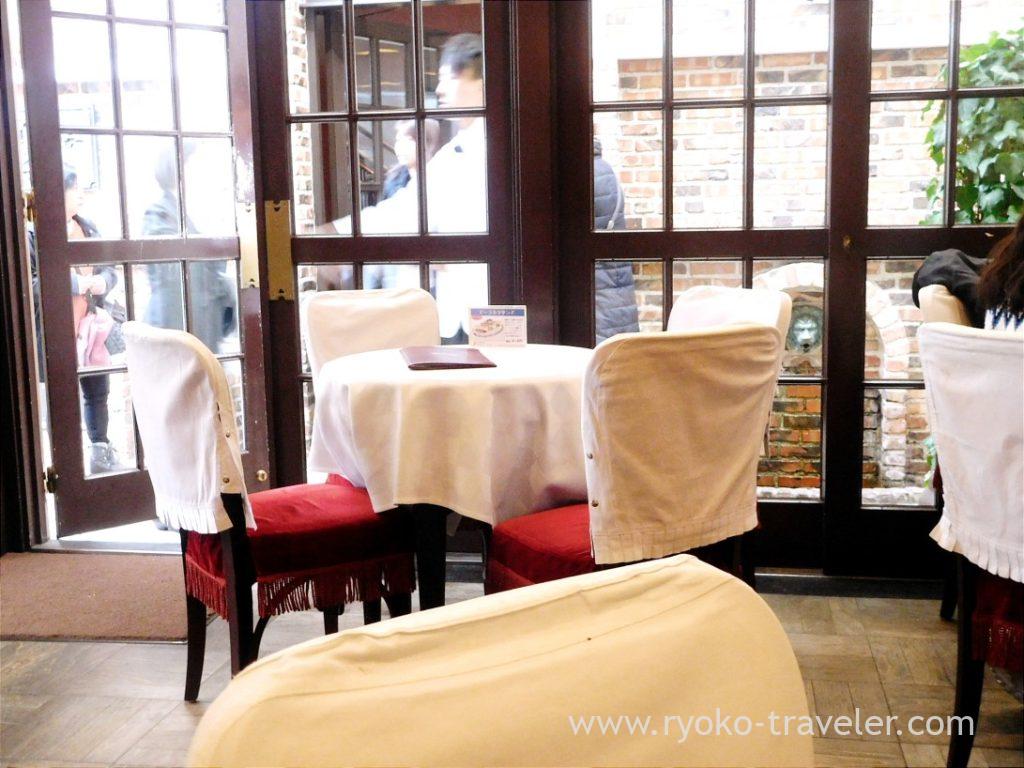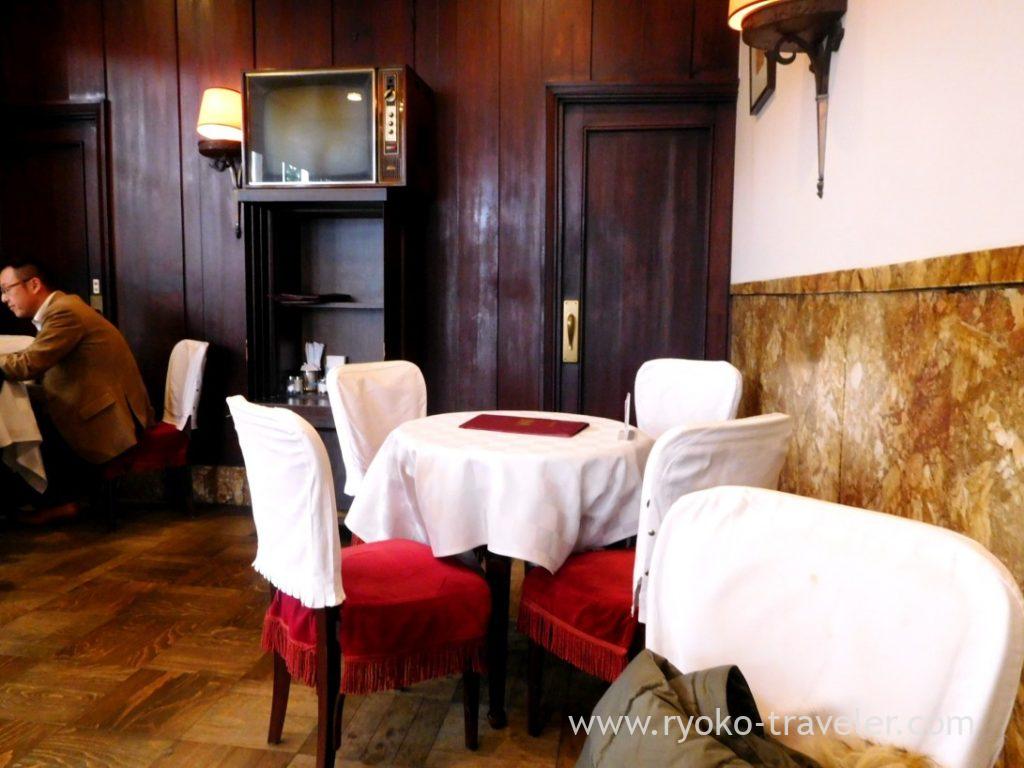 I visited Kiyomizudera branch of Inoda a few years ago. But it's quite different from the head shop in atmosphere.
Kyo-no Chosyoku
I ordered Kyo-no Chosyoku (京の朝食, 1380 yen). They highly recommend it. "Kyo" means Kyoto. Chosyoku is breakfast.
Salad, ham, egg, orange is on the white plate. And croissant, drink and orange juice is served,too.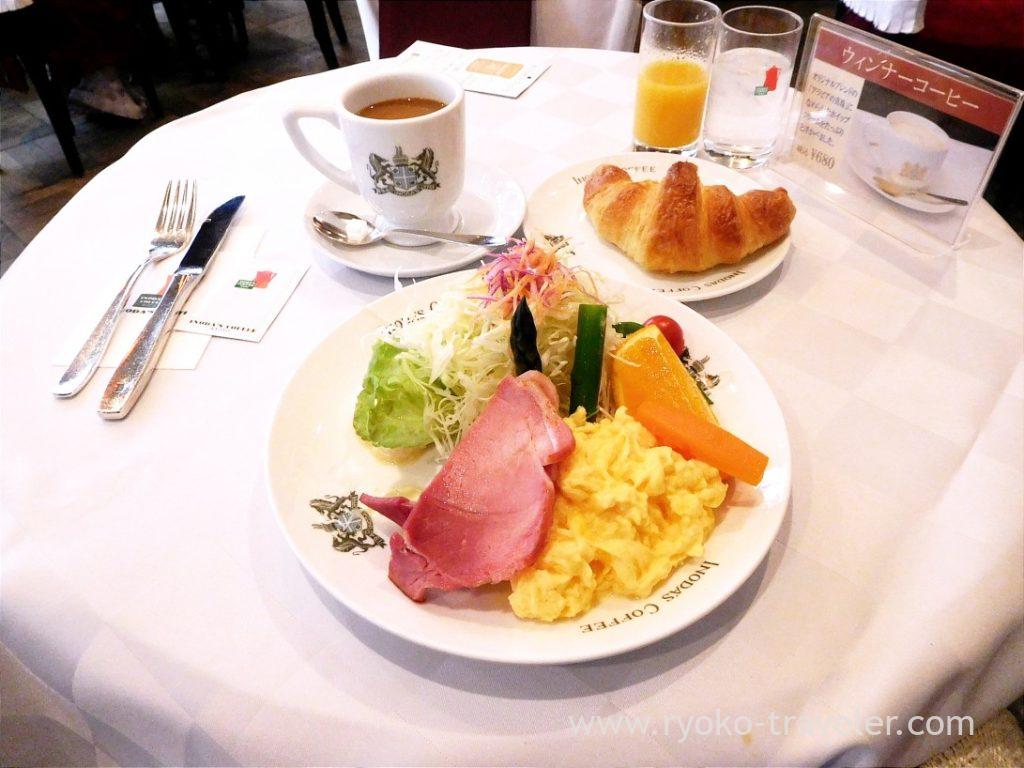 I like this orange juice best in the Kyo-no Cyoshoku. This is 100% fresh juice. Sweet and rich tastes.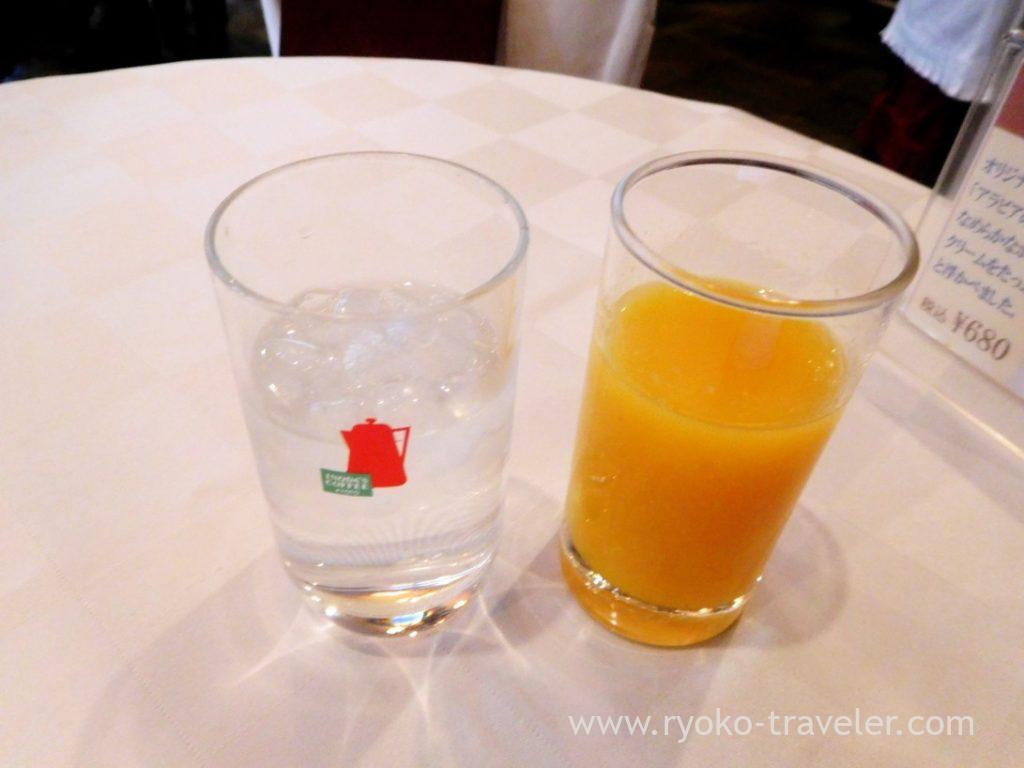 Of course, orange on the plate is delicious, too.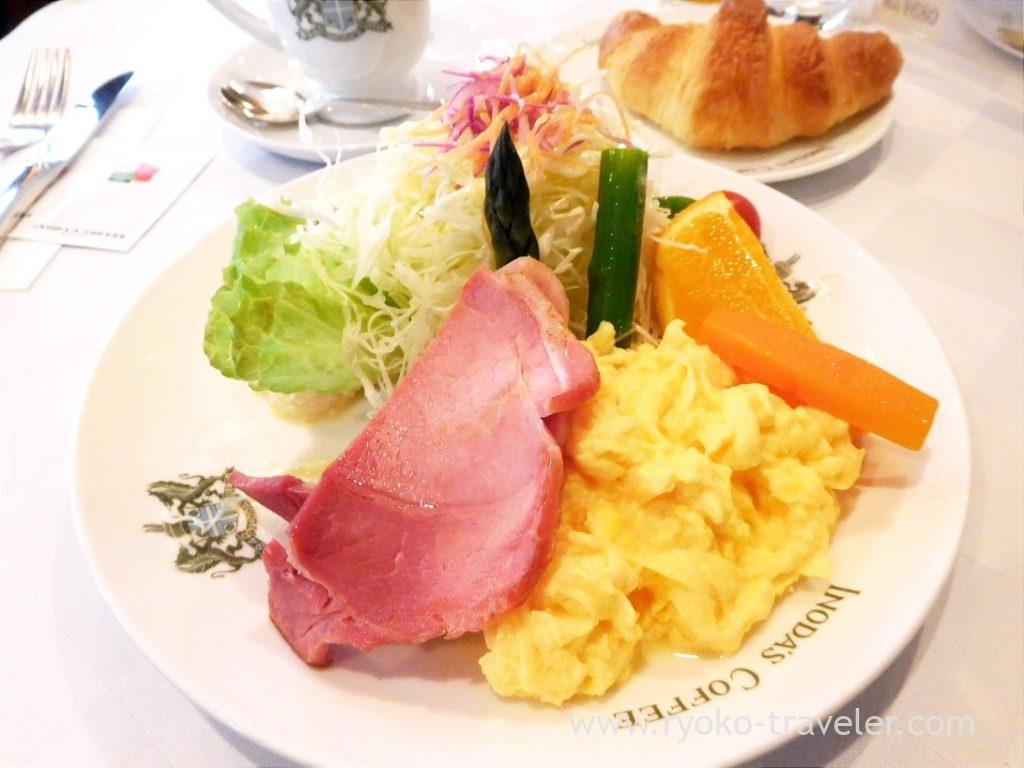 I tried it because it's so popular, but I can't eat too much in the morning …. So, I'll not order it again. I chose my drink hot coffee. Small cube sugar was put on the dish. It's best amount of sugar. (Many cafes in Kyoto and Osaka serve two large cube sugar)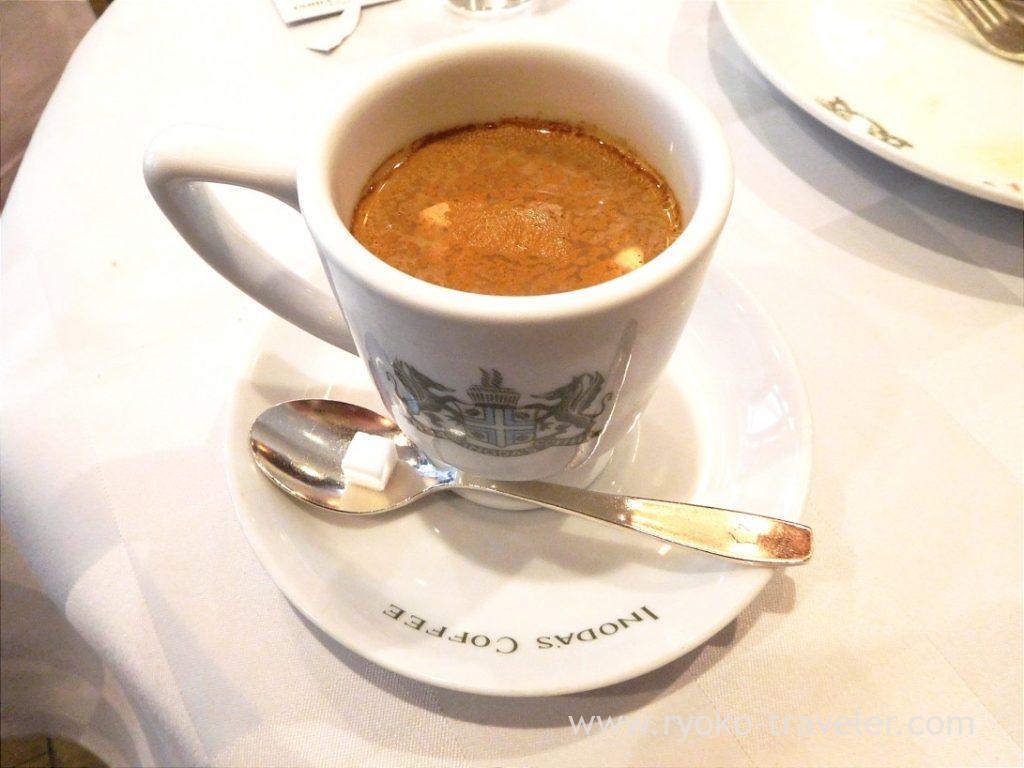 This coffee cup is nice. Of course, we can get it at store in the shop. I thought I get it, but I gave up because I didn't want to bring something fragile. Coffee beans is Arabia. Of course, you can buy it at the store, too.
Another breakfast
If you think it's too much like me, another breakfast is prepared. Meatloaf set looks good, too.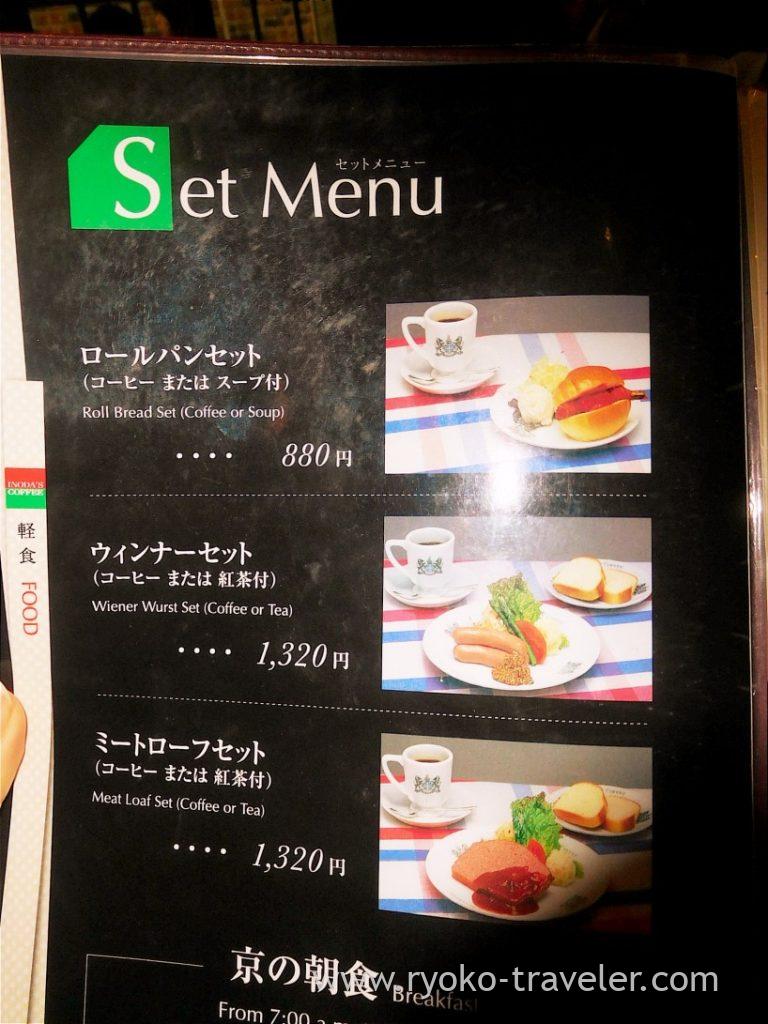 Maeda coffee instead of Inoda
Inoda coffee is featured by many guidebooks, so there are so many people visit from all over Japan (World ?). So, when you get to there and you find there are so many people waiting and you can't wait so long, there's Maeda Coffee (前田珈琲) close to Inoda and they serve similar breakfast.
(But Maeda Coffee's orange juice is not fresh juice. It's packed juice)
Maeda Coffee Honten (前田珈琲 室町本店) in Kyoto Karasuma
When I visit Kyoto, having breakfast at Kissaten (= cafe) is MUST to do.Speaking of breakfast at kissaten in Kyoto, INO...
About the shop
Name in English / Inoda Coffee Honten
Name in Japanese / イノダコーヒ本店
Address / 140 Doyucho, Nakagyoku, Nakagyo, Kyoto
Phone / 075-221-0507
Open / 7 a.m. – 7 p.m.
Closed / No scheduled
Smoking / Not permitted (But they have smoking area)
Reservation / Unavailable
Credit card / Available
URL / Website