When I visit Osaka, I have breakfast at kissaten at least one time. Especially, I like Ibuki Coffee (伊吹珈琲店) in close to Kuromon Market. They are long-established kissaten and they are the origin of Marufuku Coffee. Certainly, their appearance is similar to Marufuku.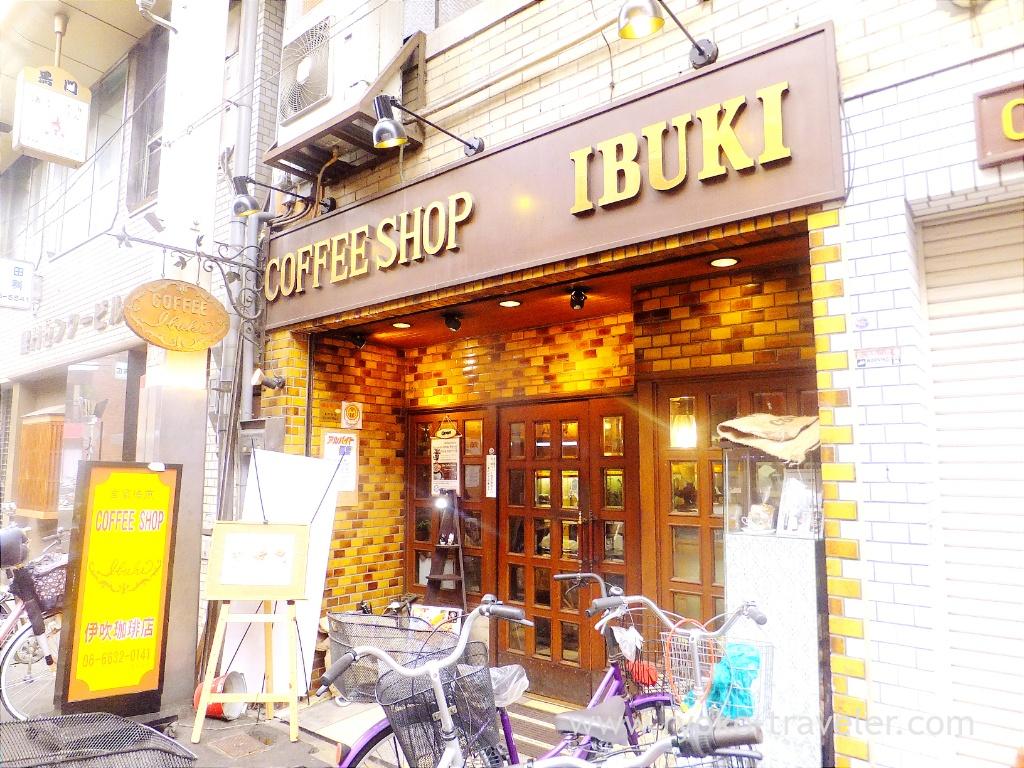 They serve breakfast from 7 a.m. to 11 a.m everyday. Saturdays, Sundays and another national holidays, too.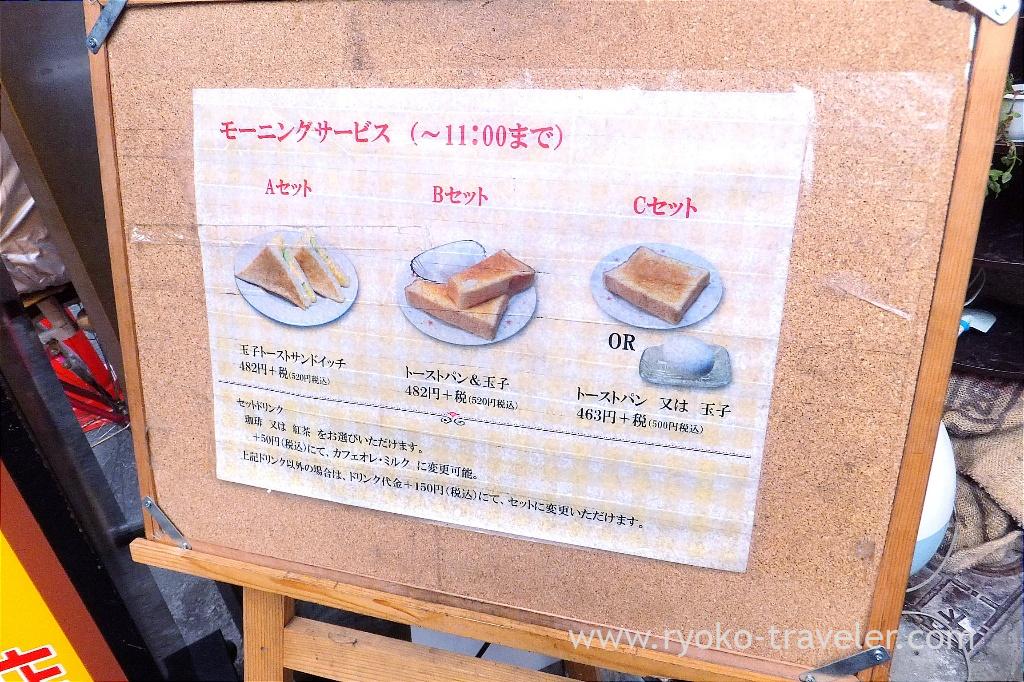 A set Sandwich with toasted bread and egg (玉子トーストサンドイッチ, 482 yen)
B set Toast and boiled egg (トーストパン&玉子, 482 yen)
C set Toast or boiled egg (トーストパン又は玉子, 463 yen)

🎵 Consumption tax excluded
🎵 All set have coffee or tea (changeable to cafe au lait or milk with extra 50 yen, changeable to another drinks with extra 150 yen, tax-included)

Breakfast Menu
There are tables having four chairs only. There're also counter seats, but it was unavailable. Counter table was used as work table. There're no breakfast menu on each tables, so you'd better decide what to order before entering the shop. (Probably if you ask, they hand breakfast menu to you though)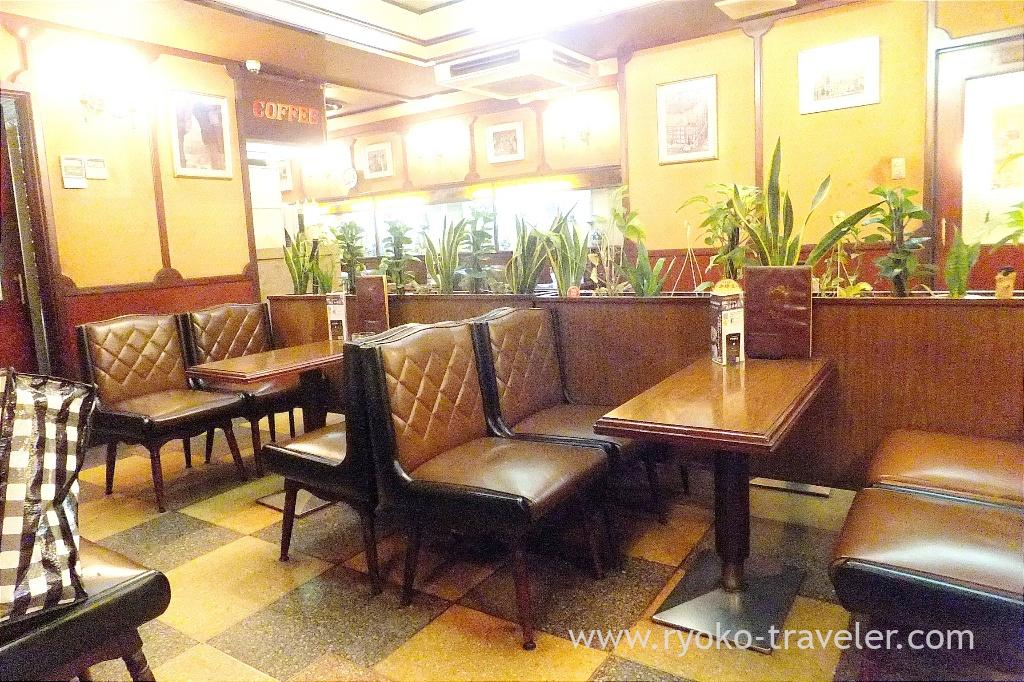 A set have sandwich. Crushed boiled egg dressed with mayonnaise is sandwiched with toasted bread. It had cucumber. And mustard was mixed in mayonnaise. Bread was, its outside was crisp but the inside was soft.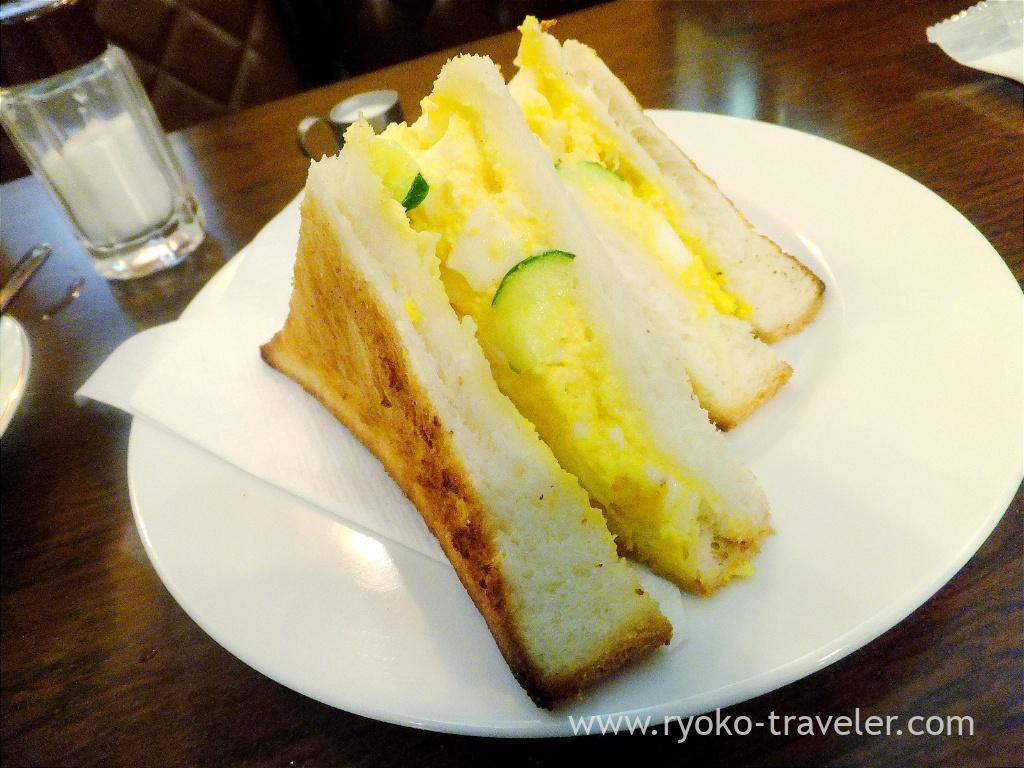 B set have one toast having butter and boiled egg. The eggshell was cracked in advance, so I could peel it with easily 🙂 Because they use high salinity butter or another reason, I felt much salt about this toast. It's tasty.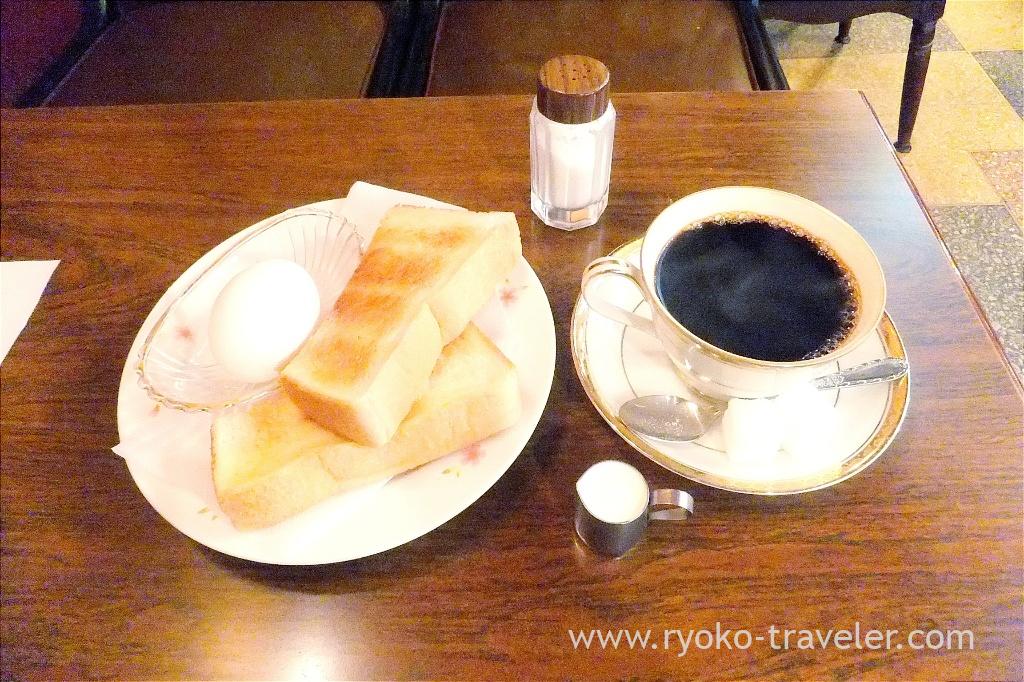 Strong coffee
I haven't seen such a dense coffee. But it's not muddy at all. It had strong flavor. This is a characteristic of their coffee as well as Marufuku coffee.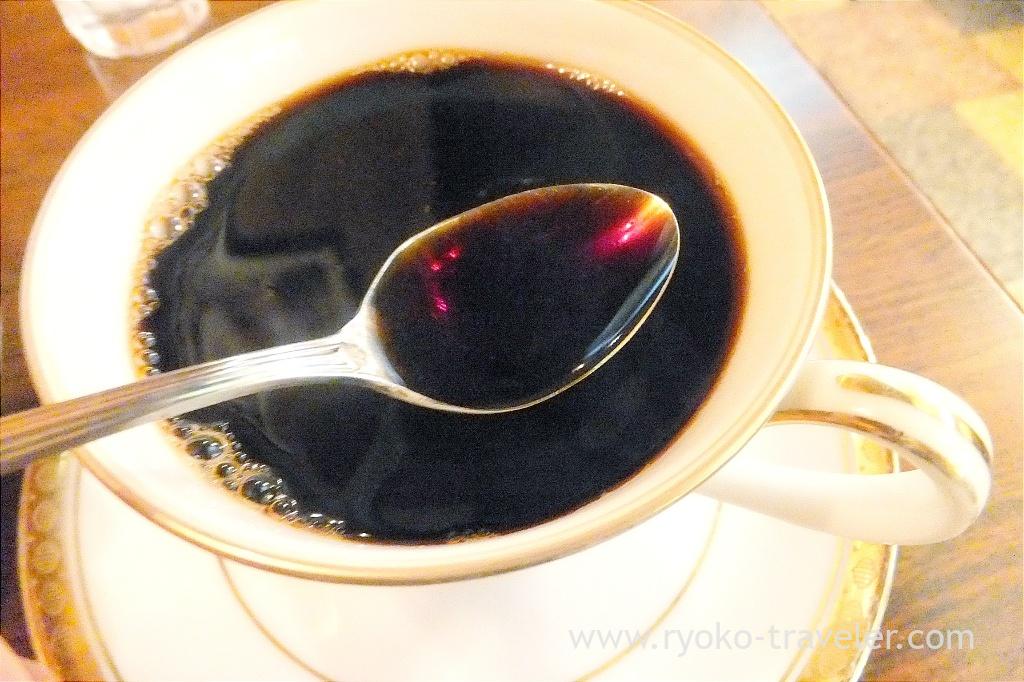 I agreed with them. They put two cubed sugar for this strong coffee. But..but. Two cubed sugar made it only sweeter. Very sweet. And very strong :p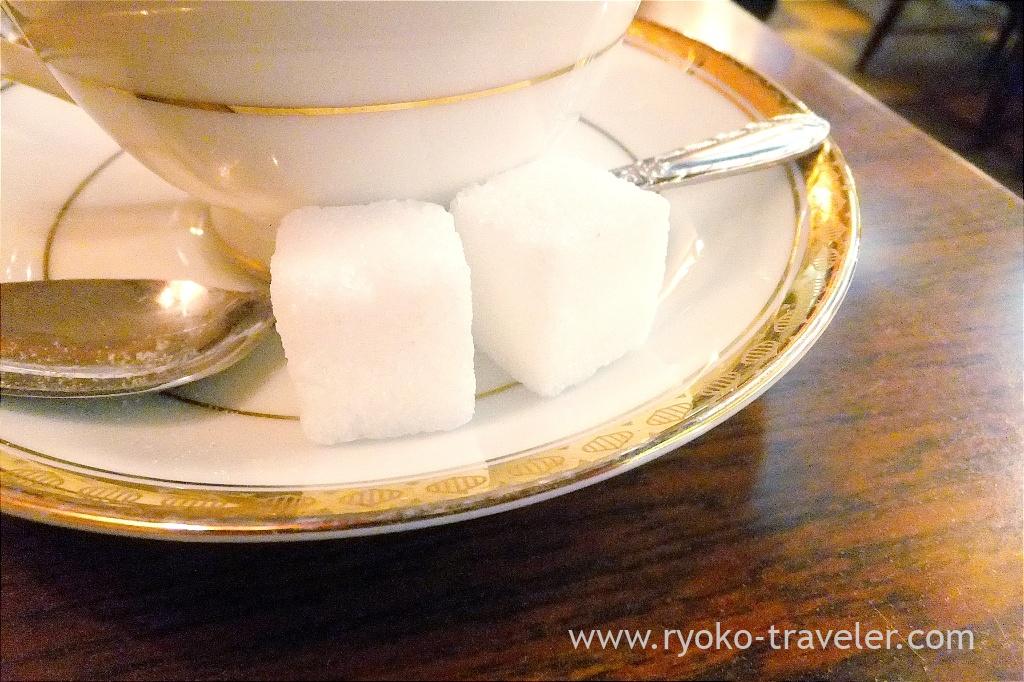 It was too strong for me in the morning, I put all milk into the coffee. It looks like cocoa. It's too strong for me all the same. My stomach is not tough.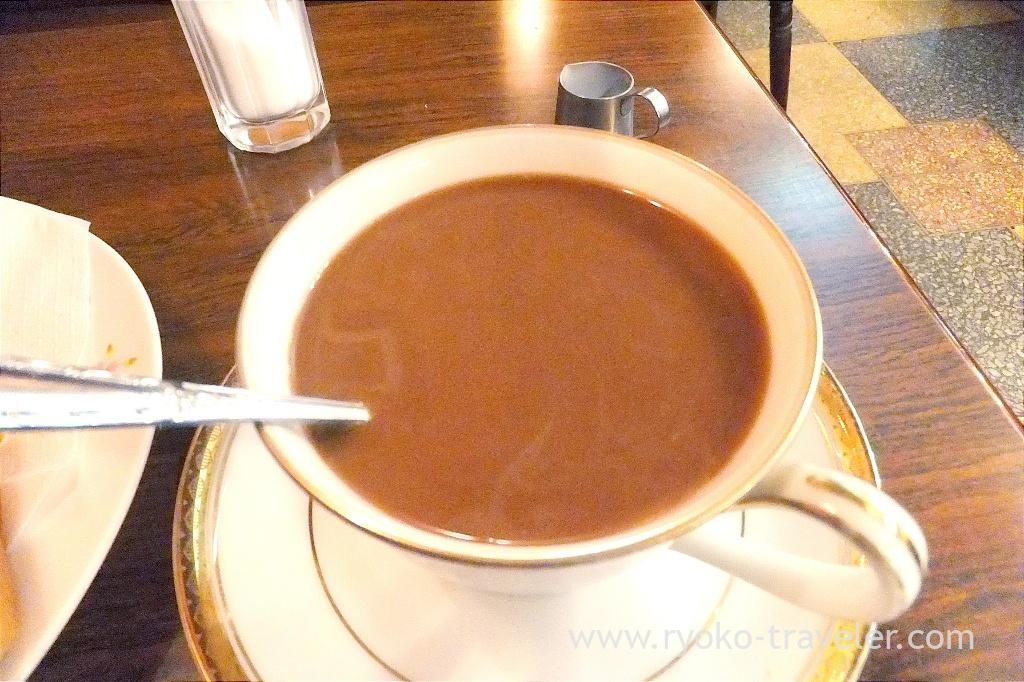 They accept order "American" if you want weaker coffee. A man next to me order "American". "American (coffee)" means weaker coffee in Japan. Actually, real American coffee isn't weak, I know.
About

Name Ibuki Coffee (伊吹珈琲店)
Open Breakfast, Lunch, Dinner
Reservation Unavailable
Credit card Unavailable
URL Website, Instagram

Google Map