Before summer season coming.
I went to Himitsu-do that is kakigori specialty shop just before GOLDEN WEEK has set in. This was the right decision. I heard that Himitsu-do had long long waiting line throughout GOLDEN WEEK.
Himitsu-do is kakigori specialty shop and they serve kakigori all year around.
Inside the shop is hot (not warm) for eating kakigori even in Winter.
I rarely go to Himitsu-do during summer because there are so many people gathering. And, I don't feel like going out and waiting for kakigori during muggy summer 🙁
So, now is the best season to have kakigori for me.
As soon as you enter the shop, there're counter seats and kitchen.
This is the menu. Menu is above the kitchen. The staff welcome you and take your order. And payment is advance. After you finish payment, the staff led you to seats.
They don't prepare English menus.
I chose milky kakigori with sweet Watson pomelo syrup (甘夏みるく, 900 yen). Sweet Watson pomelo is now in best season. This orange syrup was thick.
So, I had to put it on the ice little by little so carefully. The syrup wasn't sweet at all. Maybe it didn't have sugar. So, it's good for people who don't like sweet syrup. But I wanted to eat more sweet one.
Of course, milky kakigori itself was sweet a bit because of condense milk.
Now, GOLDEN WEEK finished. So, I want to go there again for eating "Pumpkin cream caramel" 🙂
Of course, before summer !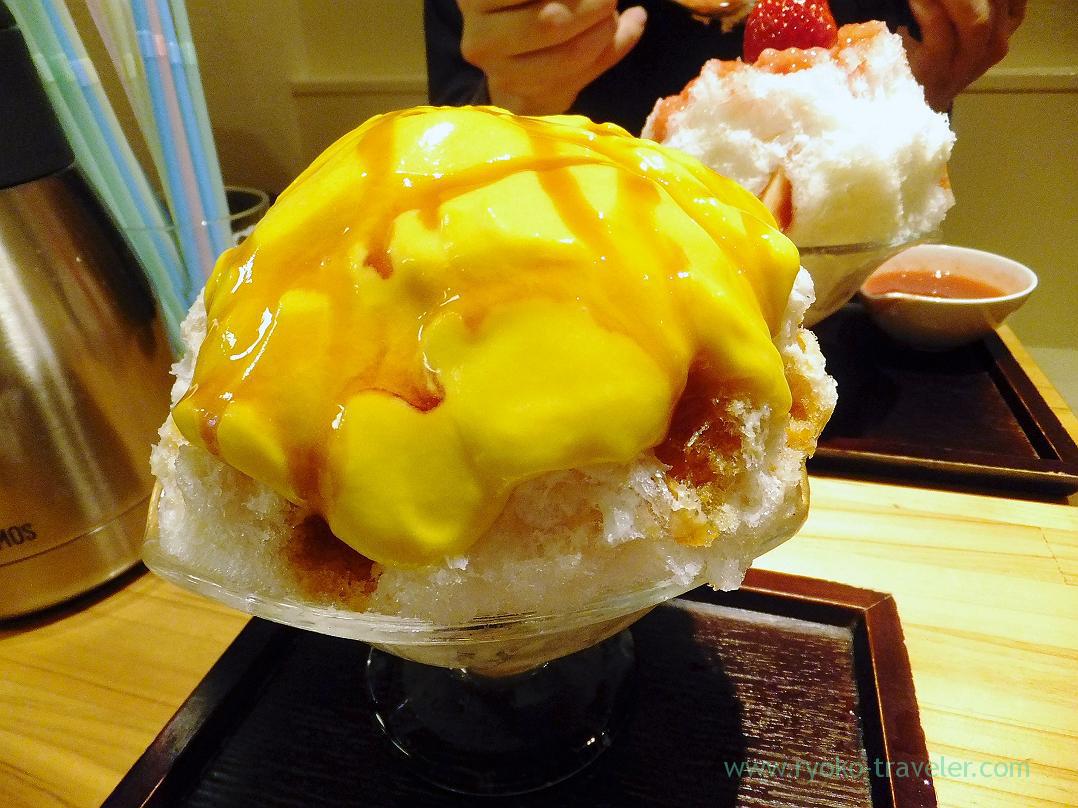 Nippori : Kakigori at Himitsudo during cold season (ひみつ堂)
Special kakigori only for limited Christmas season Happy new year ! and I look forward to your continued good will in...
Himitsu-do's menu is changed day by day. So, you'd better check their Twitter in advance. If you need any help, ask me 🙂
About Himitsu-do (ひみつ堂)
Address / 3-11-18 Yanaka, Taito-ku, Tokyo
Station / Nippori station (JR, Keisei Main line)
Open / 11:00 – 18:00 (In summer until 20:00, and sometimes they change the end-time)
Closed / Mondays, (only in Winter)Tuesdays
Website / http://himitsudo.com/(in Japanese only)
Twitter / @himitsuno132