I went to Enji (煙事) along Konparu street in Ginza area to have lunch. I heard they serve smoked hamburger steak at lunchtime !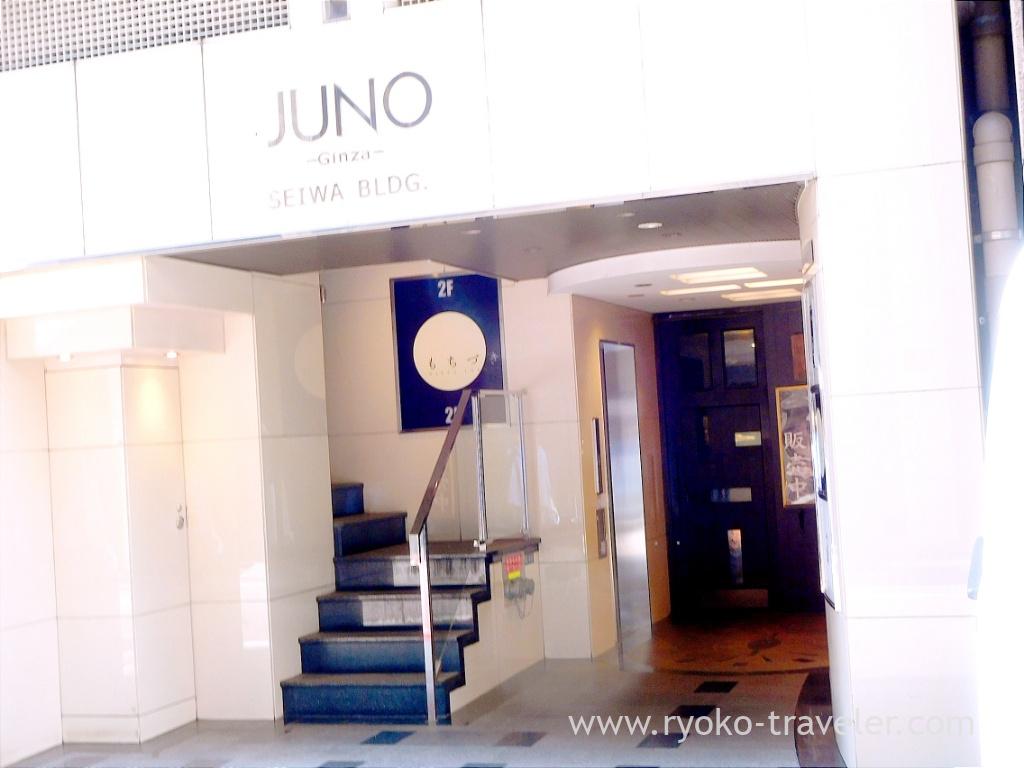 Enji is a bar at dinner time. They serve alcoholic drinks and smoked foods. There're counter seats mainly in the room. Also some tables.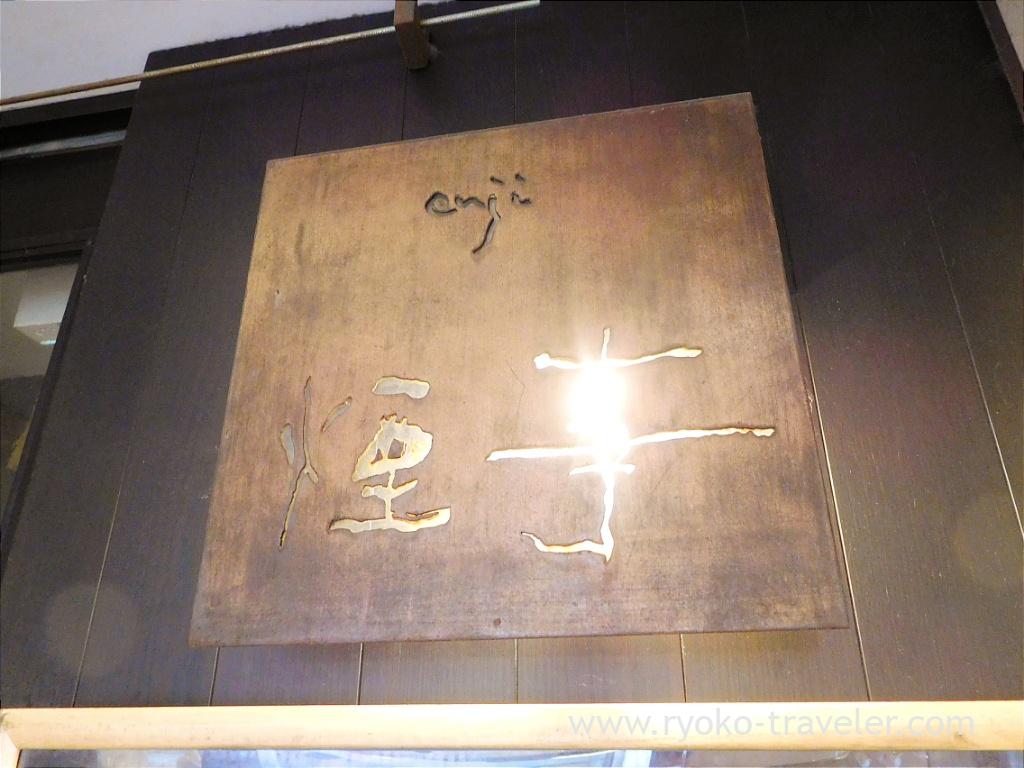 We can't see inside from the outside of the door at all and they have no outstanding signboard about lunch. But there's a paper about lunch. Simple :p Lunch time is from 11:30 a.m. to 3 p.m on weekdays only.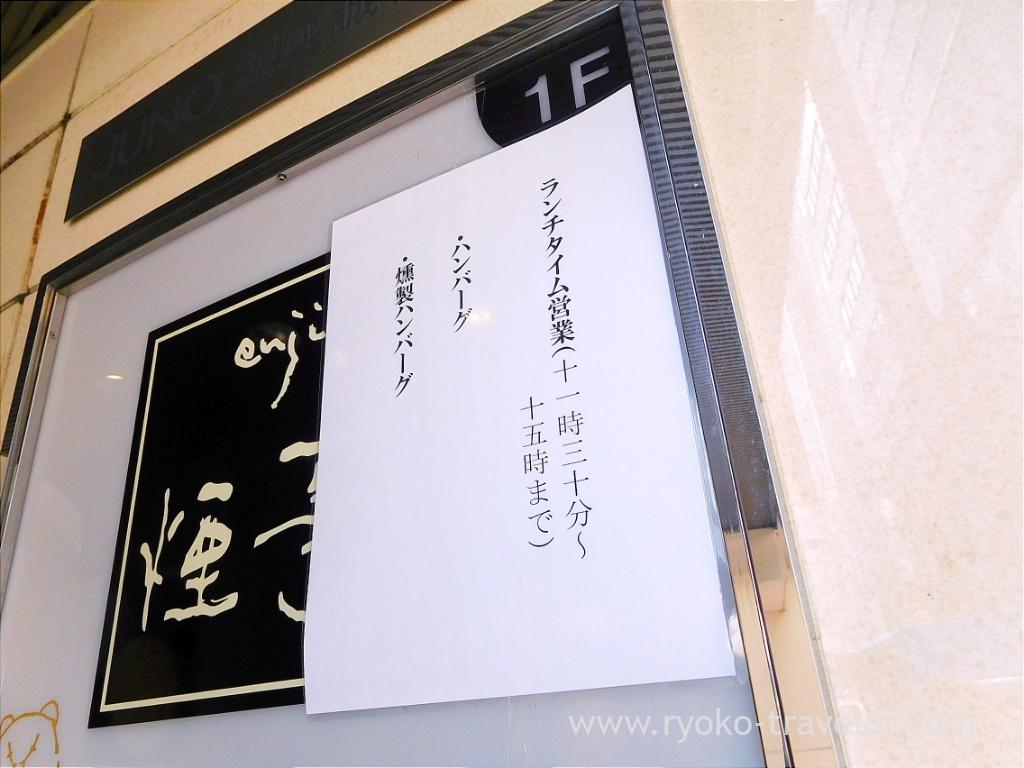 Now they serve two hamburgers only. (tax-included)
Hamburger steak made of Sendai beef (仙台牛ハンバーグ) 1500 yen
Smoked hamburger steak made of Sendai beef (仙台牛燻製ハンバーグ) 1600 yen
They said they want to serve more food and open at weekend lunchtime if they can increase more staff.
I ordered smoked hamburger steak made of Sendai beef, and after a while raw egg and (Chinese?) soup was served.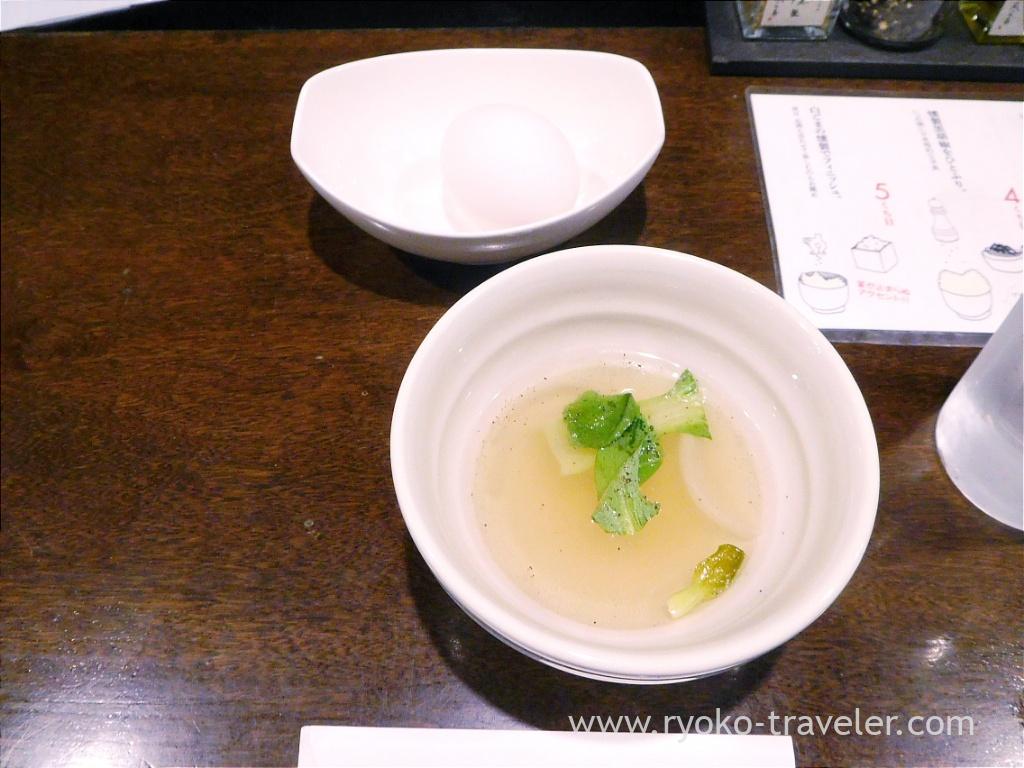 They are proud of their raw egg for tamagokake gohan. Maybe more than hamburger steak. So, they teached me their most recommendable way of eating it. At first, put raw egg on to the rice, and mix lightly. This rice was cooked in harder.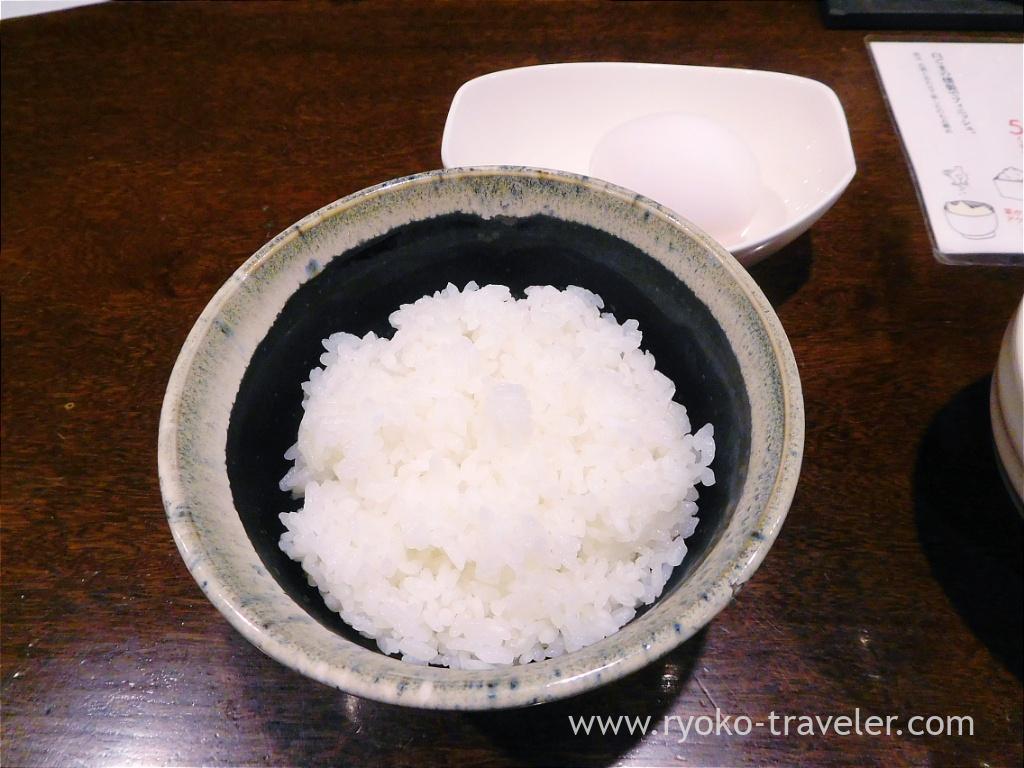 There're 5 seasonings on each tables. Smoked seasonings. From right to left, smoked rock salt, smoked soy sauce, smoked olive oil, smoked black pepper and smoked white sesame.

They recommended me to put onto the tamagokake gohan in order and change tastes in order. Smoked olive oil have the most strong smoked flavor. I liked this strong tastes. The best seasoning for the tamagokake gohan was smoked rock salt, I think. But after putting another seasonings, I couldn't enjoy the mild flavor of the salt.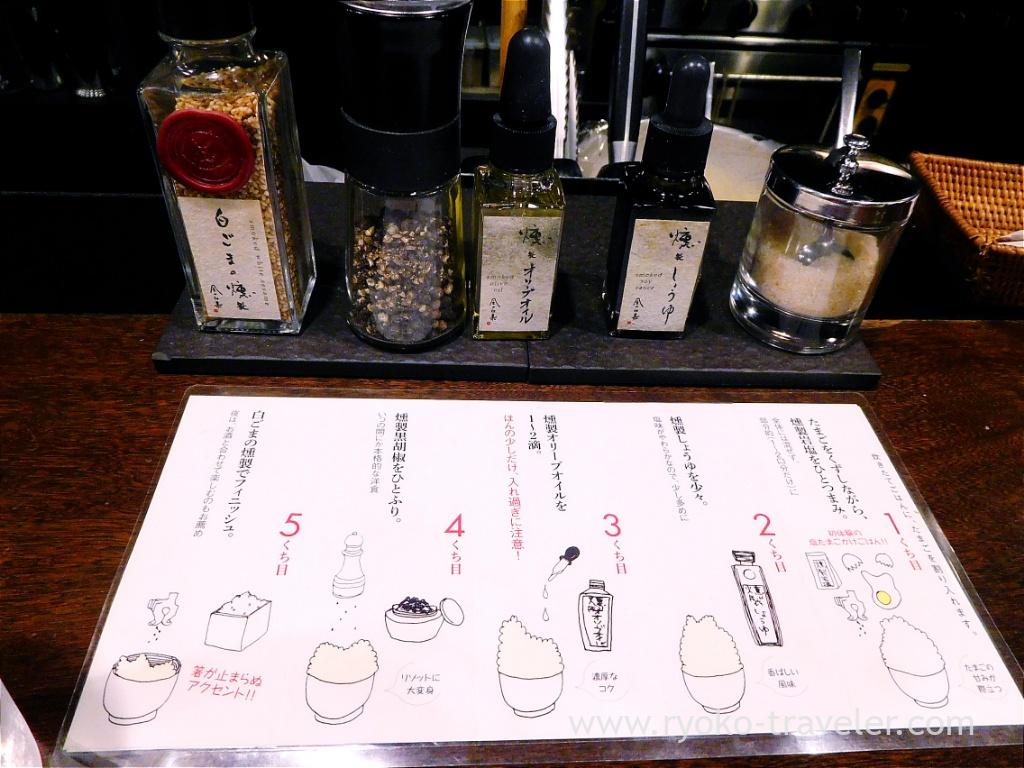 Black pepper is good, too. From smoked rock salt until the smoked sesame, I enjoyed the tamagokake gohan to the full.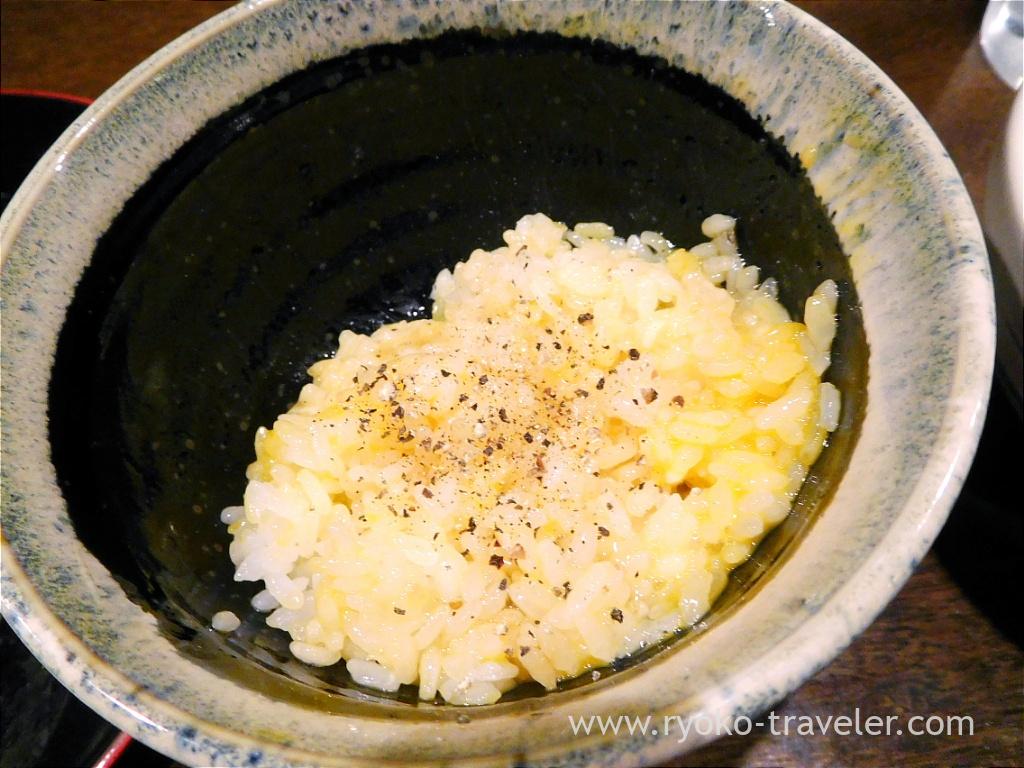 Ah, I forgot about my hamburger steak while enjoying tamagokake gohan at all…
But this smoked hamburger steak was awesome, too. So soft and juicy. The hamburger steak was medium rare. Once I cut it with my chopsticks, the meat juice was overflew !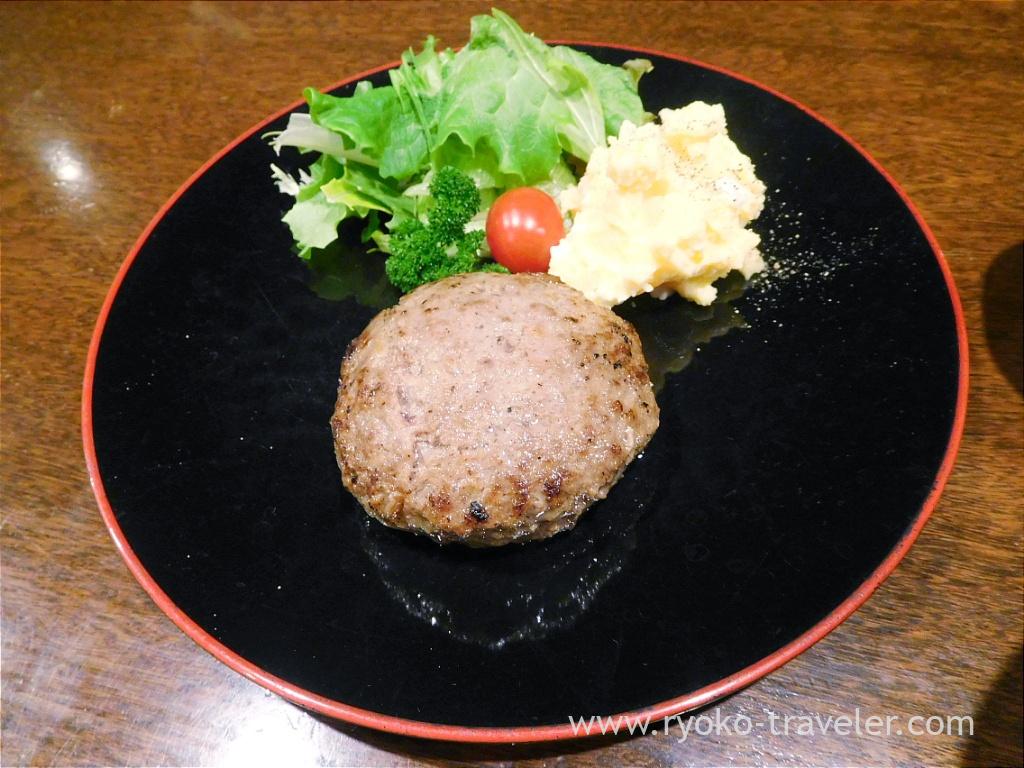 Salad have no dressings. No. Meat juice is perfect dressings for the salad.
Also the staff said to me, "Smoked rock sald and smoked olive oil go with the salads". I did as he said, I agreed !
Smoked hamburger steak is not smoked hamburger.
Hamburger made of smoked meat. So, the flavor of smoked meat was light.
I went out from the building with thinking about next visits. I need to visit soon there again.
By the way, smoked seasonings are sold at the cashier 🙂
About

Name Enji (煙事)
Open Lunch, Dinner
Reservation Available for dinner time only
Credit card Available for dinner time only
URL Twitter, Instagram

Google Map