Leshan-style or Chengdu-style ?
A Chinese foods restaurant that used to be located near Minoridai station moved to dozens of meters from there and they have changed their restaurant's name.
So we tried to go there.
Unexpectedly Minoridai is far from my town.
This restaurant was famous as dandan noodles, not Japanese-style tantanmen noodles:P
The appearance of the former restaurant was bright yellow prefab house and not good looking. But it changed to stylish restaurant.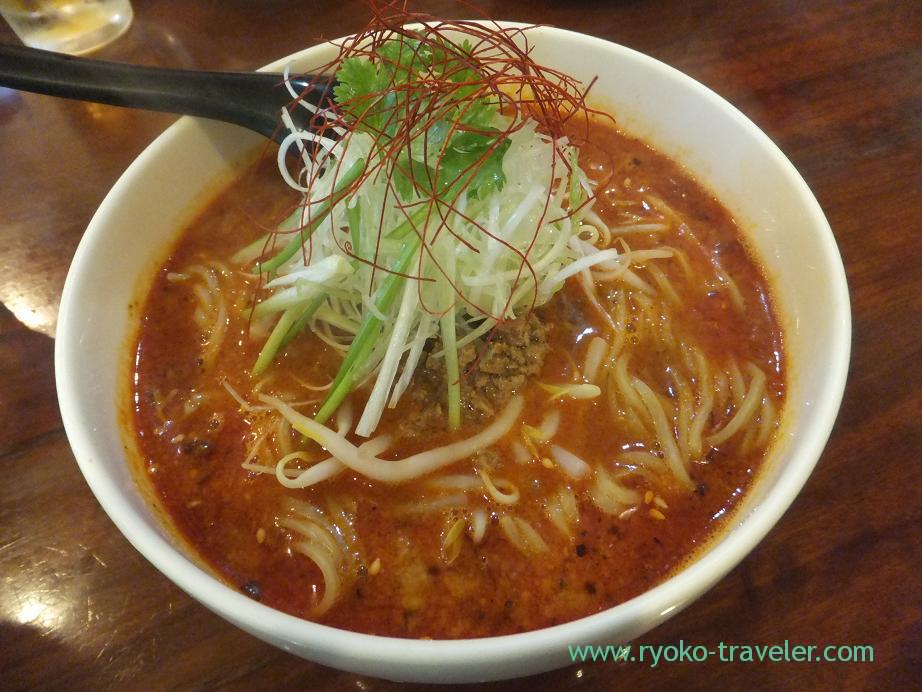 Tantanmen noodles 🙂 (Minoridai)

After eating ramen at Kohaku, we went to Rakuzan Tantanmen(楽山担担面) near Kohaku(琥珀).Rakuzan Tantanmen serves tantanmen no...


eshan-style dandan noodle
We arrived at the restaurant about 15 minutes before the opening time, but it was already many people waiting. It became so popular restaurant.
I went to there with my friend and ordered Chengdu-style dandan noodle, Leshan-style tantanmen noodles, gyoza and rice set.
It's a Leshan-style tantanmen noodles (楽山担担面, 800 yen). It was the restaurant's former name.
I had eaten "Zhengzong tantanmen noodles" before and it was far spicier than this Leshan-style one.
It had much flavor of sesami. People who don't like so spicy foods might like it, but I want to eat more spicy one like Zhengzong tantanmen noodles !
It's a Chengdu-style dandan noodle (成都担担面, 950 yen). Well mixing altogether. The smell of sichuan pepper was great.
Chengdu-style dandan noodle might be more popular than Leshan-style tantanmen noodle. So, when they got new building, they may have changed their name to it.
I like Leshan-style one far better 😉
But of course, this Leshan-style tantanmen noodles was good, too.
And gyoza (焼餃子, 400 yen).
It was more tasty than expected.
The rice set (ごはんセット, 250 yen) have small portion of rice, almond jelly and pickled mustard plant stem.
Everything was tasty as usual, after the restaurant moved.
About Chengdu-style dandan noodles (成都担担面)
Address / 8-40-19, Minoridai, Matsudo-shi, Chiba
Station / Minoridai station (Shin-keisei line of Shin-keisei dentetu)
Open / 11:30 – 16:00, 18:00 – 24:00
Closed / Mondays