No one could imagine new yakiniku restaurant is open at such a narrow house. There used to be Kissa Bon that was small cafe. But actually, Yakiniku Kokokara R Tsukiji branch (焼肉ここからR築地店) was open at the place. They shop curtain says, "Our shop is narrow, but delicious". They are really narrow, and really delicious. I posted about their dinner before, and this time, I'll post about lunchtime. This photo was taken last time at night.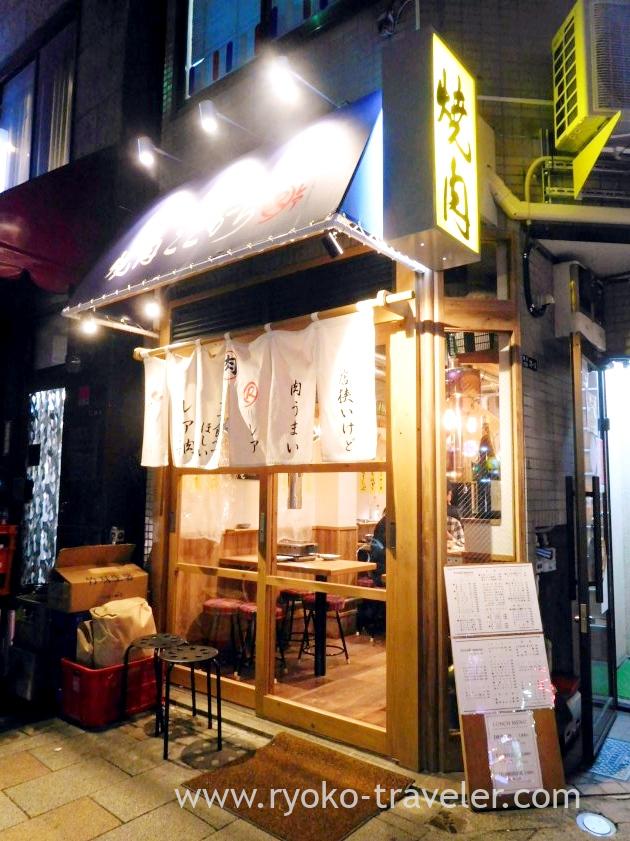 They have tables having two chairs and four chairs. But normally, those are as large as for 1 and 2 person. At night, they serve foods in order, so there's no problem. But at lunchtime, all set is served at one time. So, four standard men next to me looked uncomfortable and there was not enough space to put all foods on the tables.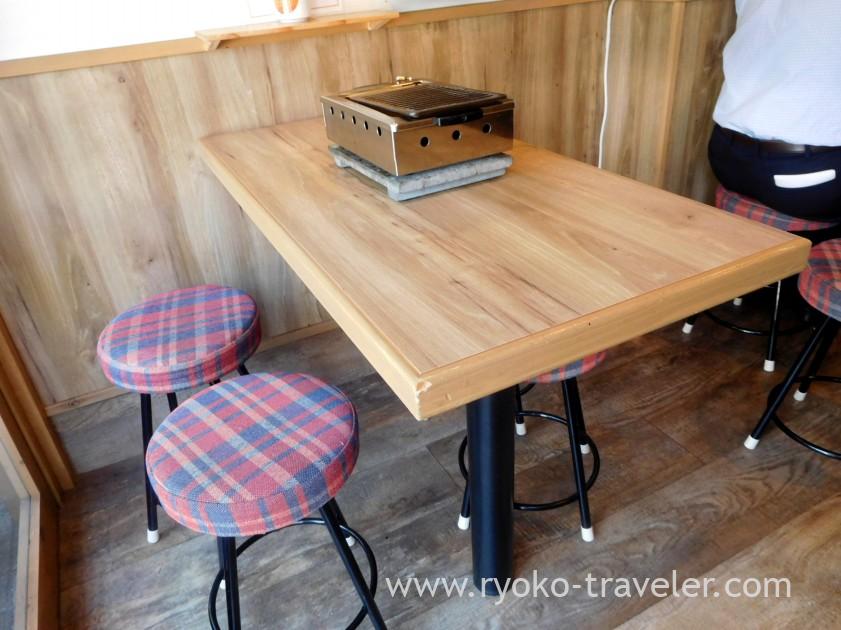 Grilling facility is small, too. It's enough for two person. But the four person shared this small facility.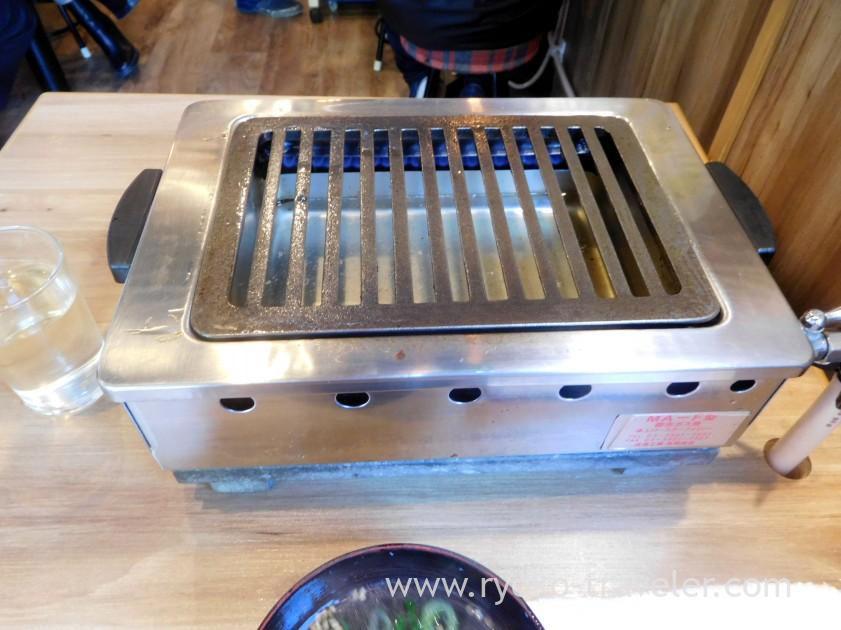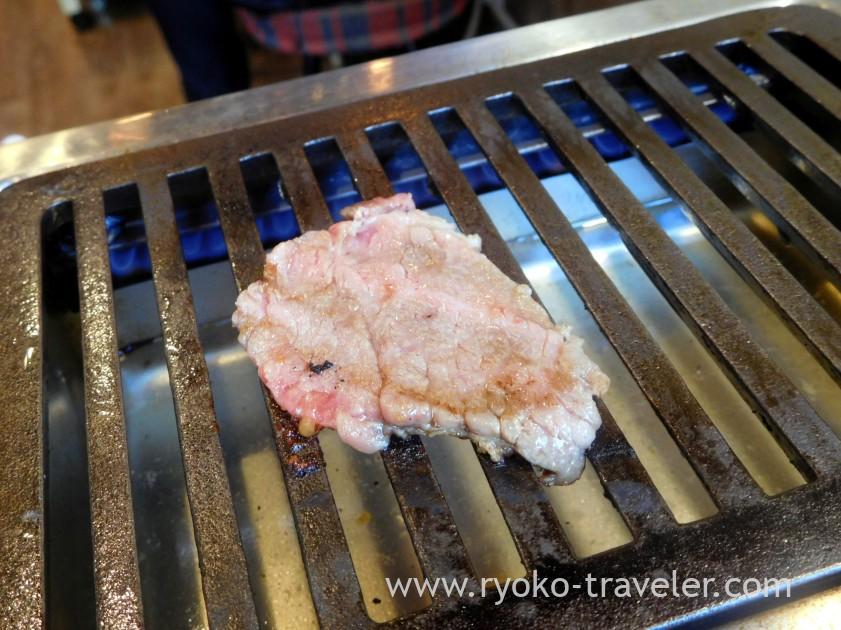 Because they don't have much tables. So, you'd better go there with second idea if you don't have enough time to wait. Of course, I always go there with second idea.
They serve valuable lunch on weekdays only (12 – 2 p.m.). They have three lunch set. The difference is the quality of meat.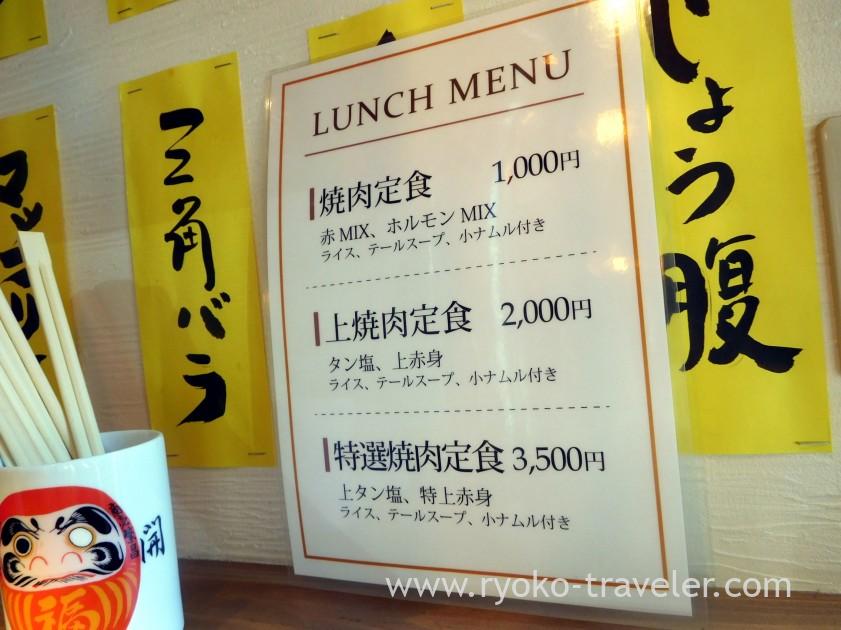 All lunch set have namul, beef tail soup and rice. When they run out of namul, they serve kimcuhi instead.
* Yakiniku set (焼肉定食, 1000 yen) lean meat, offal and so on.
* Jo yakiniku set (上焼肉定食, 2000 yen) Beef tongue, special lean meat
* Tokusen yakiniku set (特選焼肉定食, 3500 yen) Special beef tongue, top-grade lean meat
They accept order from regular menu even at lunchtime.
After they take order, they serve sauce for yakiniku, namul and soup. This beef tail soup had refreshing tastes and had plenty of extract of beef. I like it.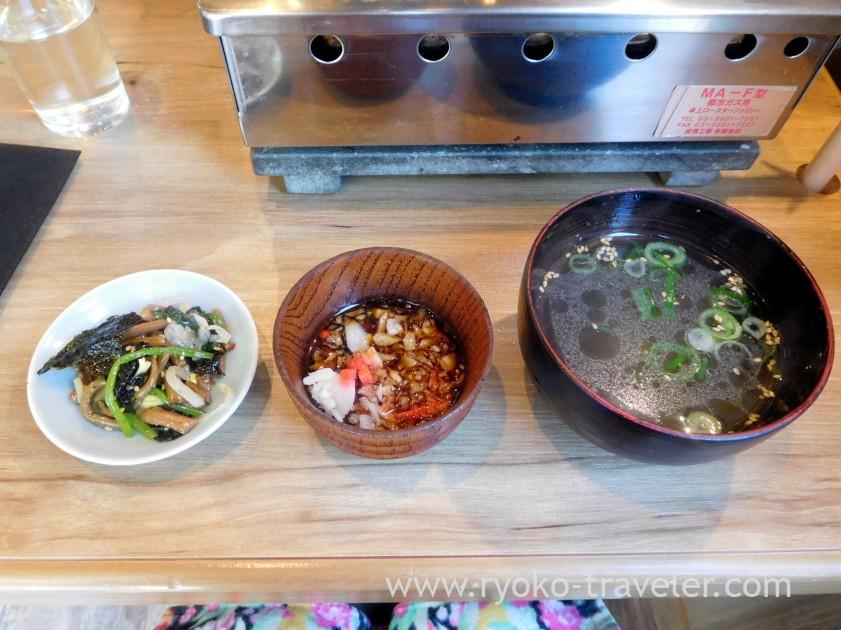 Namul having Korean laver. Good.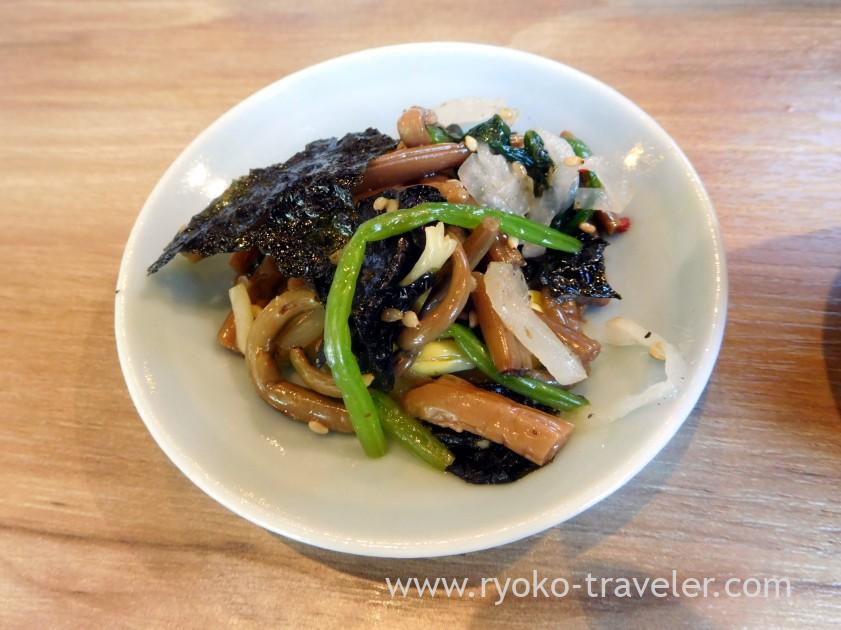 And this is sauce for yakiniku. The sauce had sour tastes a bit. And it have chopped ginger, garlic and so forth. Delicious. But it had strong tastes, so you'd better put your meat slightly.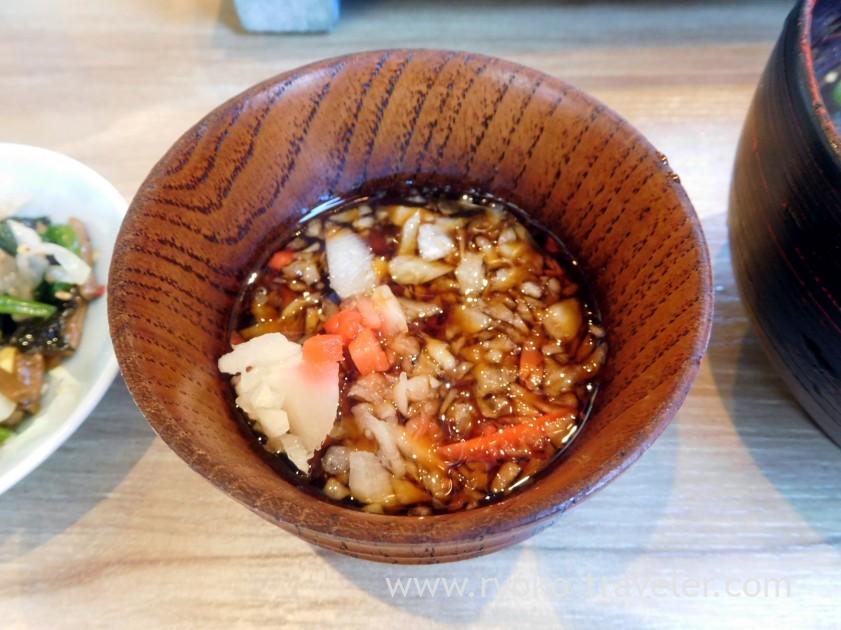 Jo yakiniku set have fatty beef tongue. And those marbled beef was fatty, too. About 10 slices of meat. Also green pepper.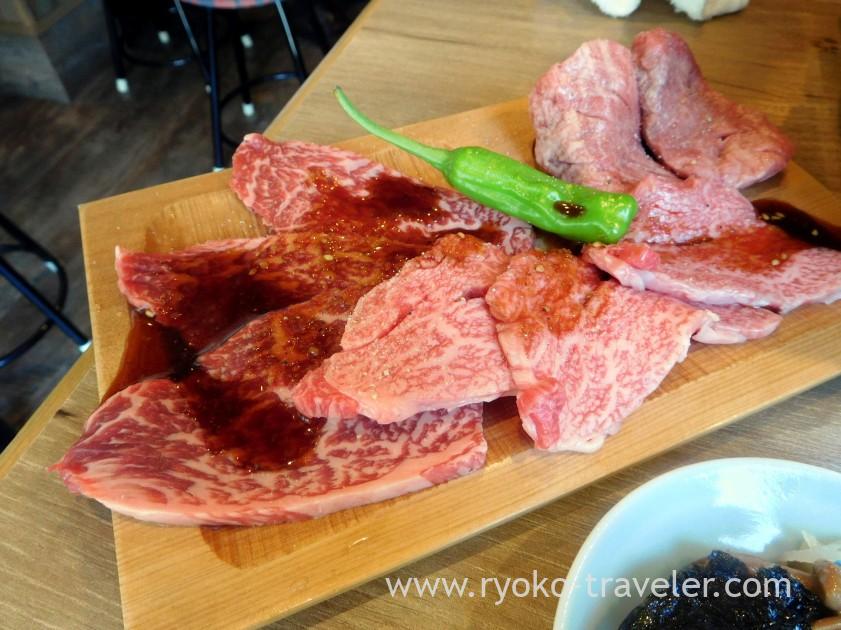 The set have two sliced beef tongue. Thick. Though they recommend us to grill those meat with rare, it's thick. So, the rare meat was hard to bite. Medium-rare was the best.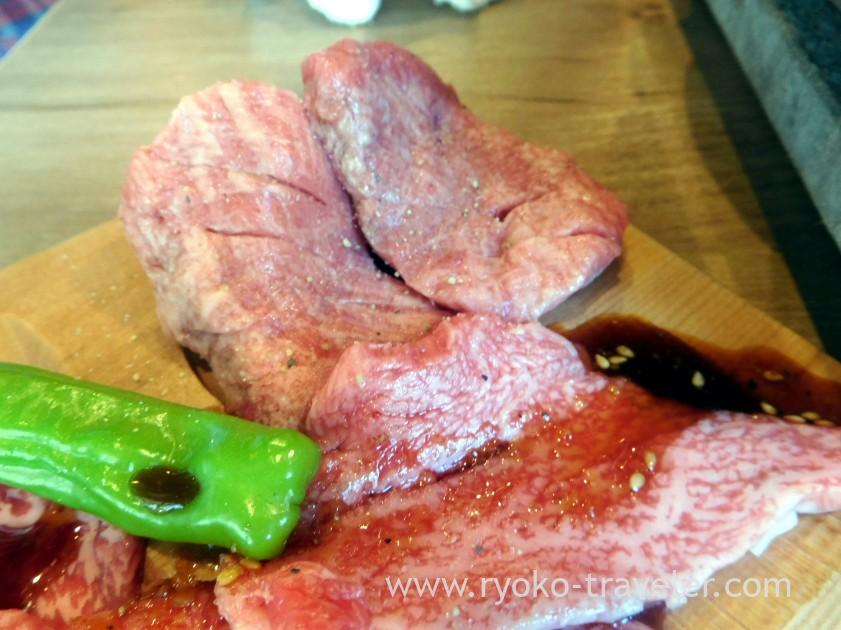 But those marbled meat is… rare is the best. It was fatty and soft.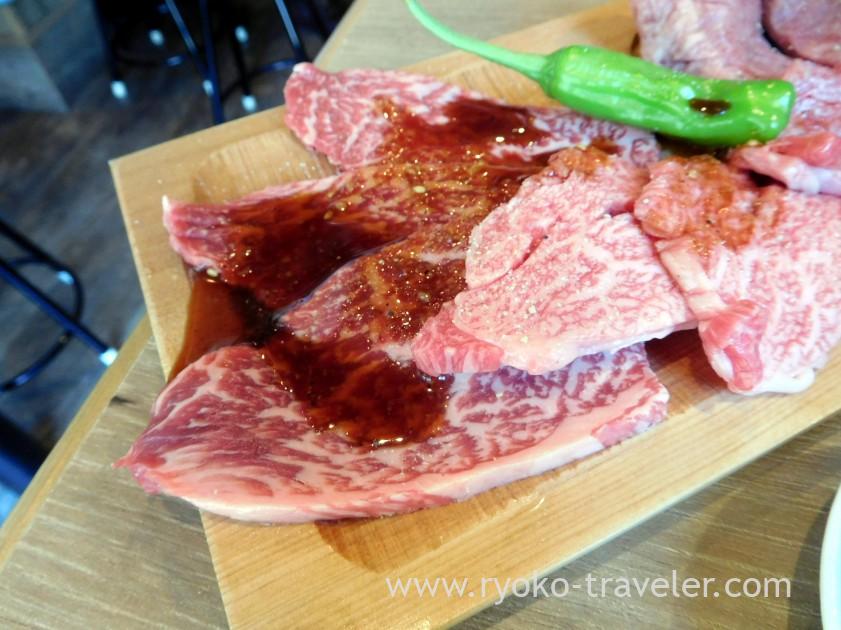 I tried to raise ingredients with meat from the sauce 🙂 I was satisfied with the quality and price.
This is the most inexpensive lunch set at the shop. Yakiniku set. Valuable set. By the way, this is table for two person :p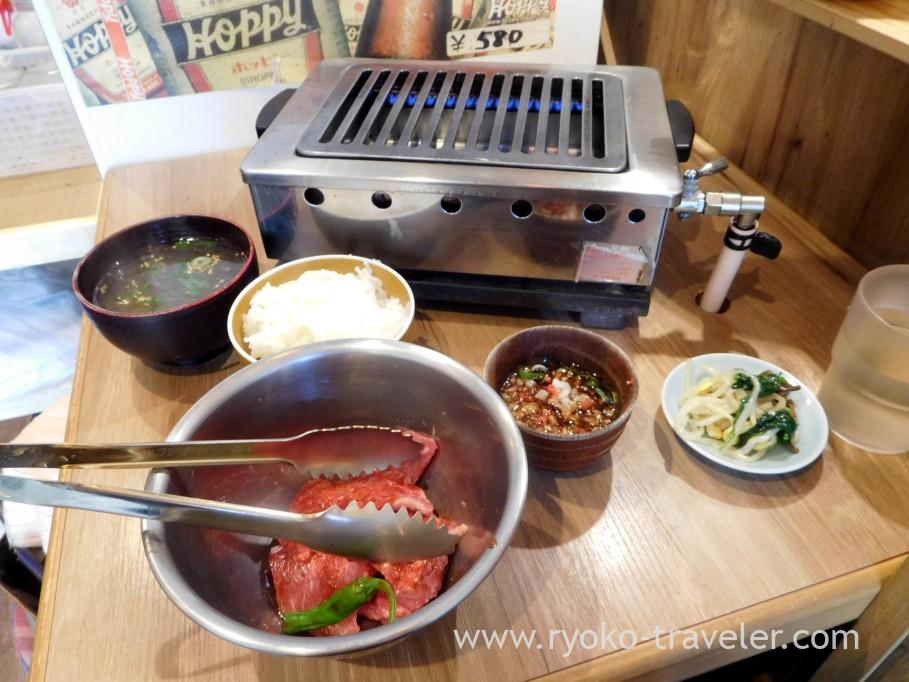 Meat is served in a bowl. Wow. Lean meat, offal and so on. About 12 slices of meat was served. Liver, heart, beef tongue, rumen and so on. Those were not so fatty. But the quality was good. I was really surprised at the valuable lunch.
About

Name Yakiniku Kokokara R Tsukiji (焼肉ここからR築地店)
Open Lunch, Dinner
Reservation Available for dinner time only
Credit card Available for dinner time only
URL Website

Google Map