Because I felt like eating sushi after work, I visited stand-up-eating sushi shop in Tokyu Plaza Ginza. The shop's name is Tachigui-zushi Nemuro Hanamaru(立食い寿司根室花まる). Also there's a sushi-go-round shop of Nemuro Hanamaru on 10F of the building, too. Both serve sushi having fresh seafood directly from Hokkaido prefecture.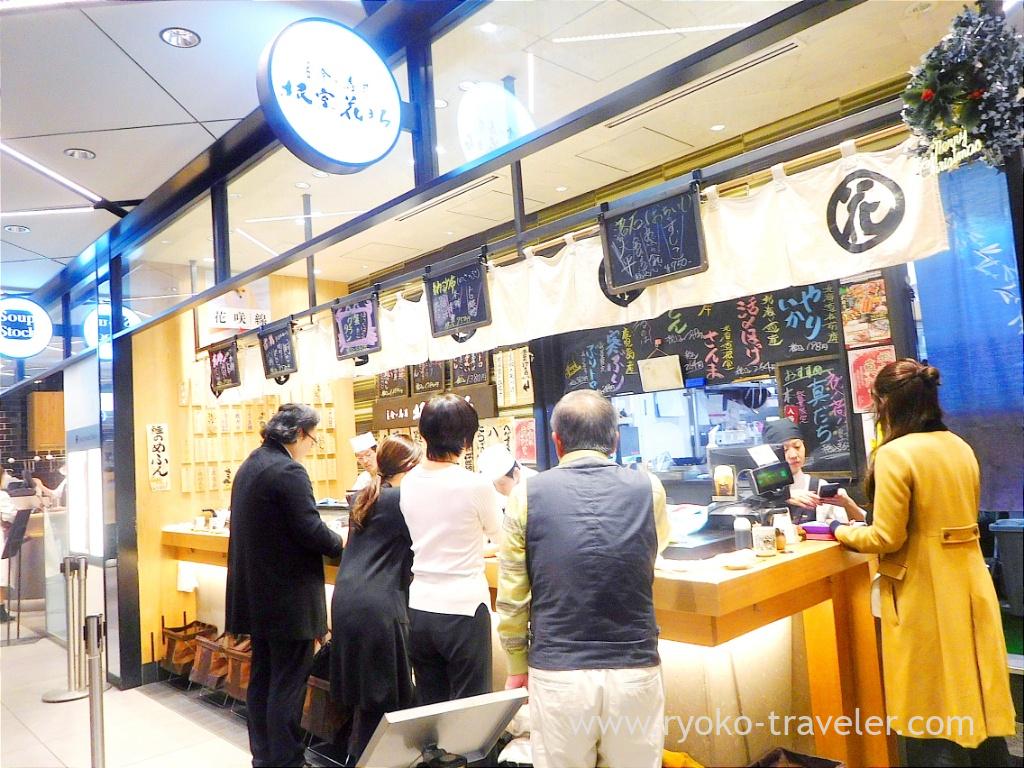 They are located on the B2F of Tokyu Plaza Ginza connected to (subway) Ginza station. We can get to there directly from outside with escalator, too.
There's a variety of seafood names on the wall. Many of them are from Hokkaido. Here's Tokyo. But I felt I'm in Hokkaido 🙂 And they offer valuable sets having 5 or 3 pieces of sushi. Especially, Matsu (松), Ta-ke (竹), Ume (梅) set is valuable and those have Hokkaido's specialty.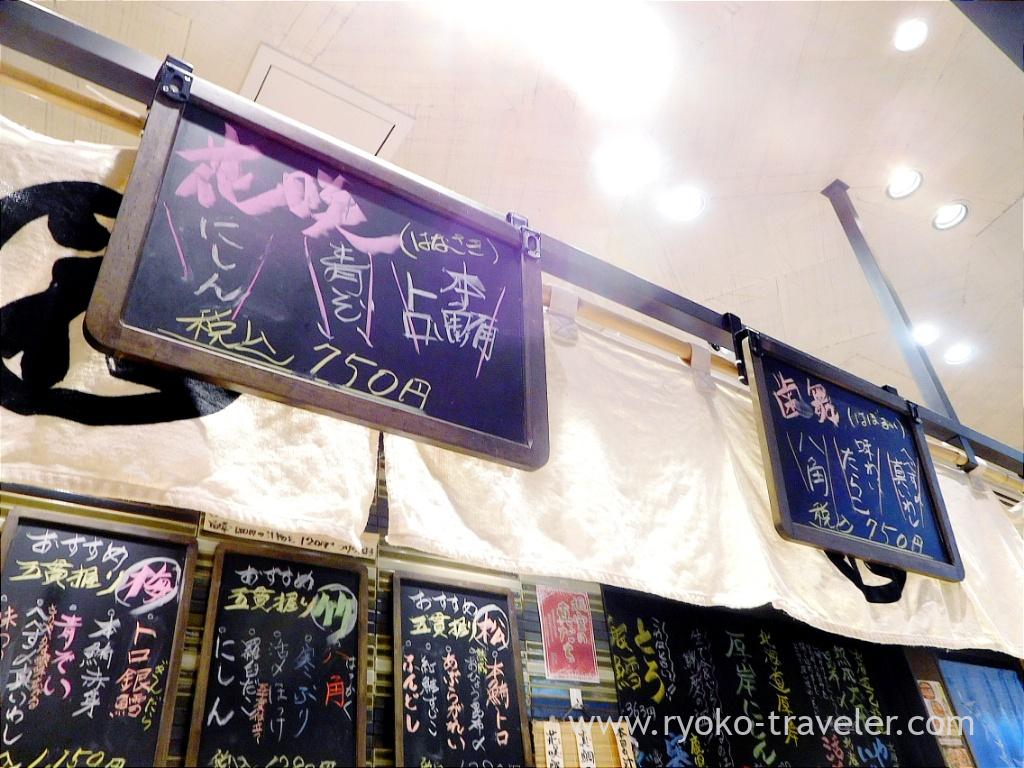 And they also have such a standard menu.
If you want to select your sushi as you like, there's a order sheet on the table. So, after you write, hand it to chef in front of you. Don't worry. They have English menus.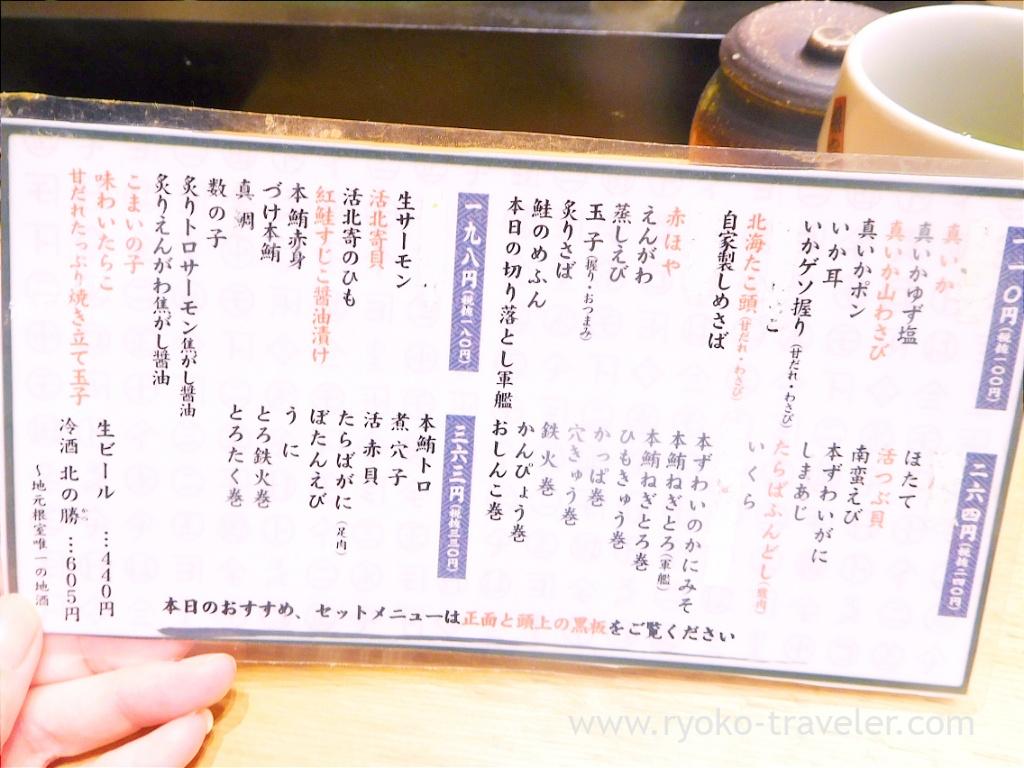 Because I wanted to eat Hakkaku (Podothecus sachi) and Hokke (Okhotsk atka mackerel), I ordered Ta-ke set. Then the chef in front of me made my sushi quickly. From left, herring, hokke, hakkaku, cold yellowtail (Kan-buri) and Rausu octopus. I was glad because hokke and hakkaku is not common fishes in Tokyo. Especially, the hokke was good.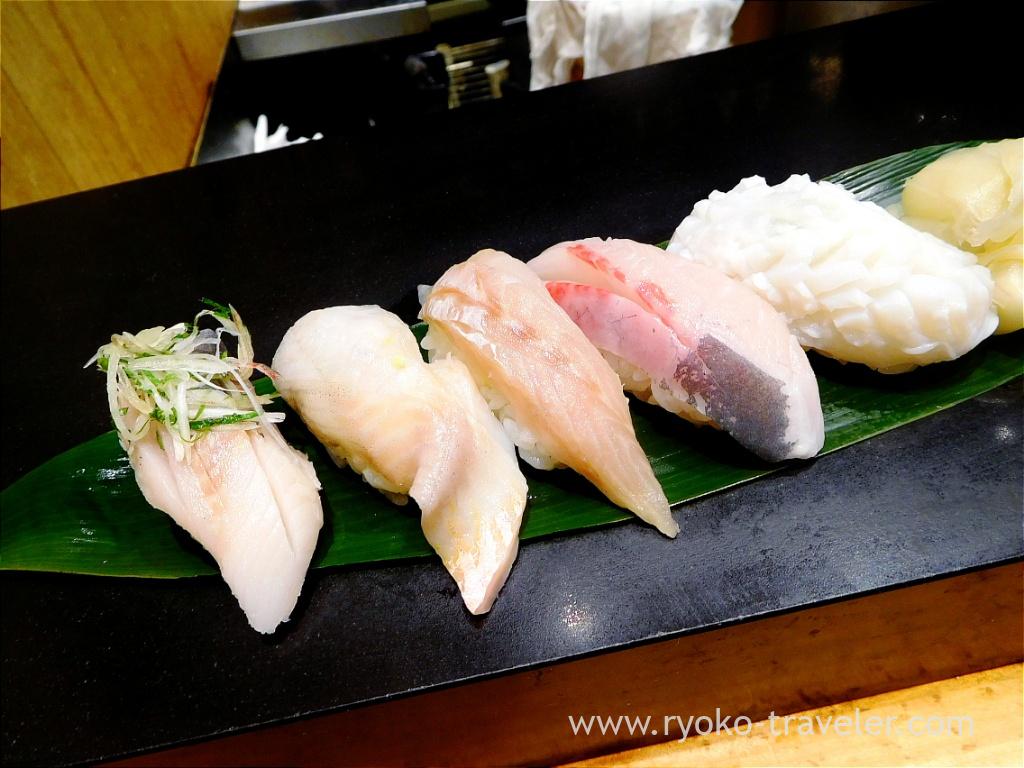 I ordered one set only. But a lady came after a while ordered two sets. And also my friend who saw the picture of menu said to me "why not ordered all set ?". Well, that's good idea. I'll do next.
After I ate up Ta-ke set, I wrote something I want on the order sheet and handed it to the chef.
Ao-zoi. It's from Rausu area of Hokkaido. It had springy texture and was good.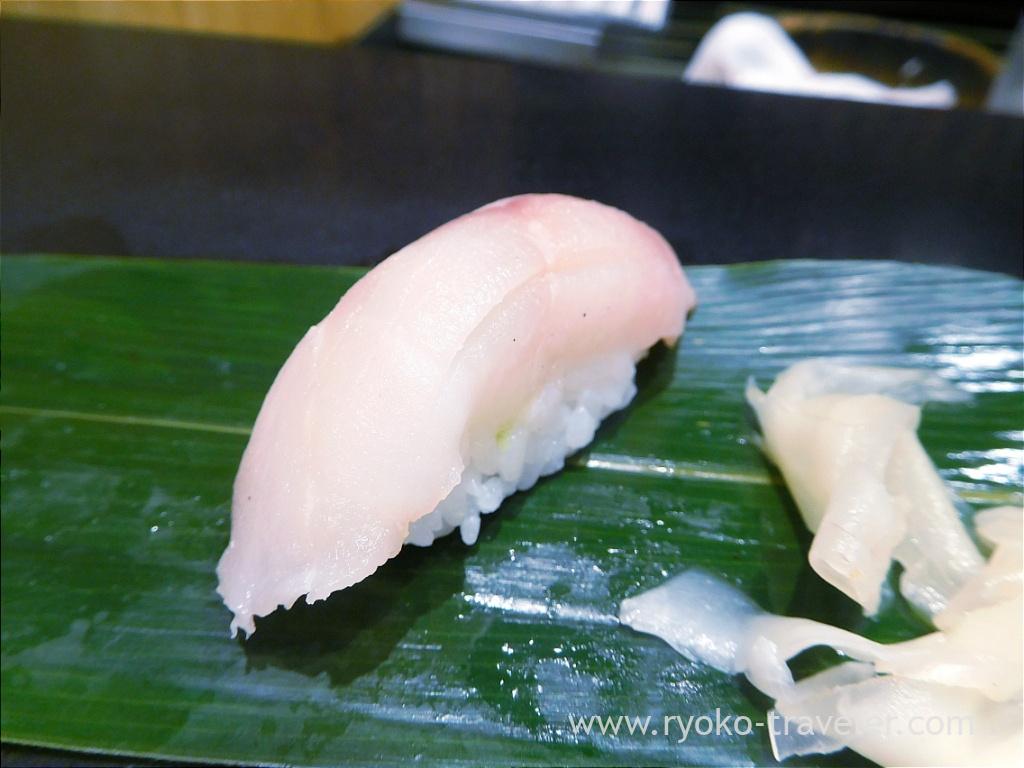 Salmon roe (Sujiko). This was the best sushi when I visited there that time. Awesome. I think you can imagine from this picture how it's fresh.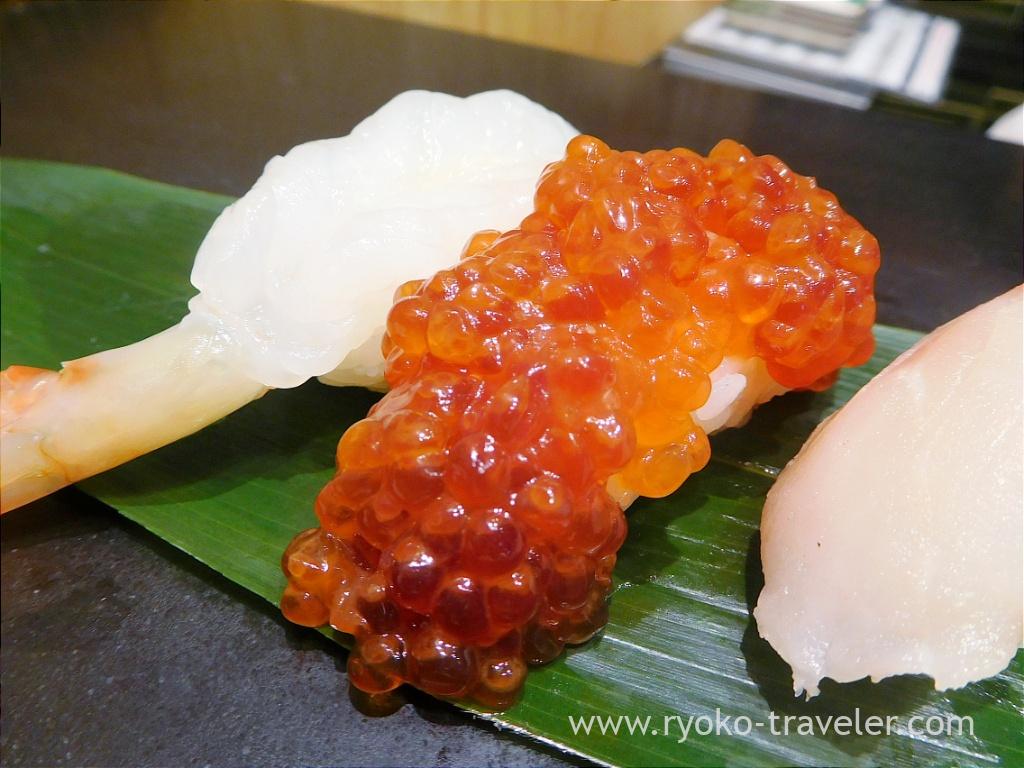 Botan shrimp. And left is whelk.
Because it's not the best season of whelk, the whelk was so-so. The botan shrimp had springy texture and was good.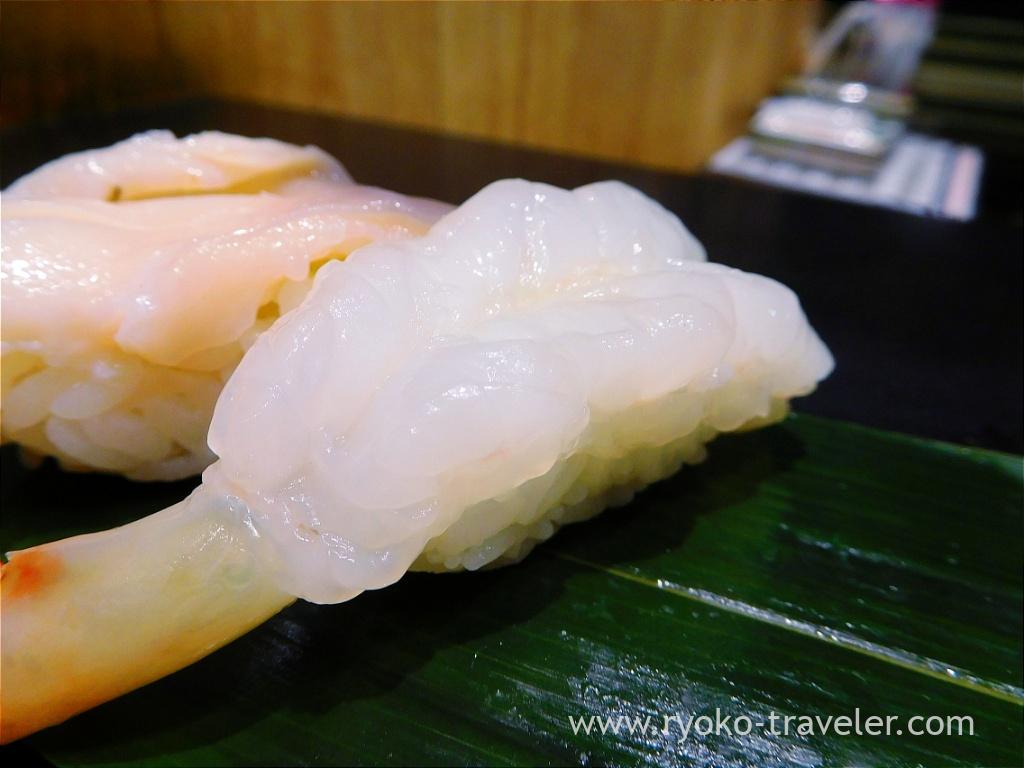 Of course, those were delicious. All delicious. But the quality was quite differ between sushi on the wall menu and not (for example botan shrimp and whelk). I think it's better to order from the menu on the wall. Those are definitely their top choice.
About

Name Tachigui Nemuro Hanamaru Ginza (立食い寿司 根室花まる 銀座店)
Open Lunch through dinner
Reservation Unavailable
Credit card Available
URL Website, Twitter

Google Map