I felt like eating hamburger after a long long absence, so I went to eat it.
Still I can't eat thick pork like tonkatsu, but I can eat hamburger!
The shop was placed a little bit apart from Kinshicho station.
Shake Tree
It is more cool bar than hamburger shop.
My drink was Pina colada (ピニャコラーダ, 750 yen) 🙂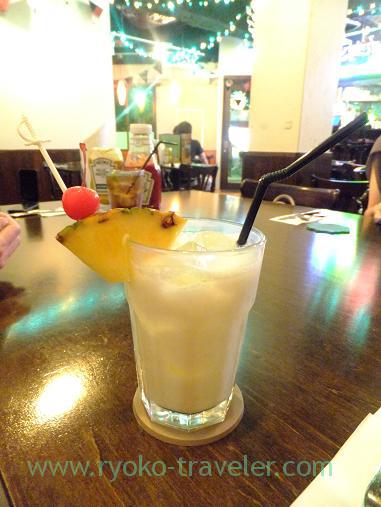 Whenever I eat hamburger, I drink coke. So, I felt I'm mature 😛
My friend next to me who resembles Jean Reno had a second helping of dark beer 🙂
We were four people, so, we ordered something before eating hamburger.
*Smaller California salad (カリフォルニアサラダH, 700 yen)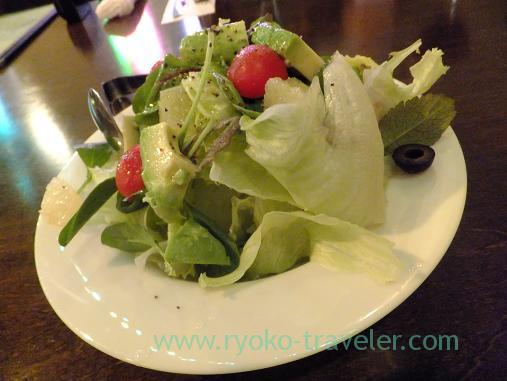 Lettuce, olive, tomato and my delight, avocado !
*Onion rings (オニオンリング, 550 yen)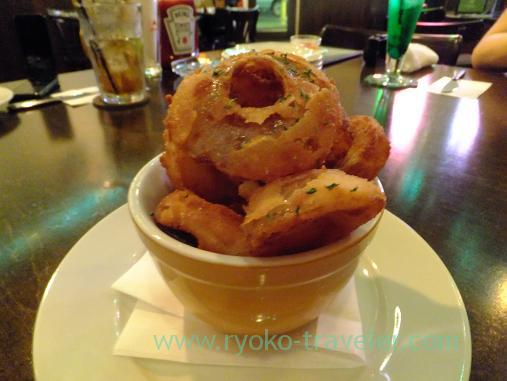 Onion rings go with hamburger well 😀
*Fire bites (ファイヤーバイツ, 550 yen)


Deep fried jalapeno and red pepper with sweet chili sauce. Jalapeno was tasty 😀
*Baby back ribs (ベービーバックリブ, 950 yen)


New menu ! Black color, but it was not strong taste. A bit sour, and a bit sweet. It looked like sweet and sour pork, Chinese cuisine.
It was not hard, so I could bite of easily 😛
Last, of course, hamburger !
The waitress recommended us some hamburgers, but I choiced standard, standard hamburger for me.
*Avocado cheese hamburger(アボカドチーズハンバーガー, 1150 yen) !!!! Well, I love avocado !
…Truthfully speaking, my stomach was already nearly full 😛
But there was nothing to fear !
This avocado hamburger was so juicy and tasted soooo good  !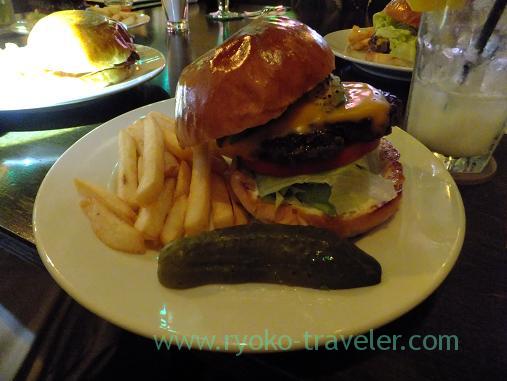 Pickled cucumber was fresh !
I heard that in America, people don't wrap hamburger in a papper like this, and they hold hamburger with their hands directly and bite. Is that true ?

I can't believe. If I do so, every ingredients will stick out from buns 😛
Shake Tree (シェイクツリー)
Iwasaki building 1st floor, 1-13-6 Kamesawa, Sumida-ku, Tokyo
Open – from 11:00 to 15:00, from 17:00 to 23:00
Saturdays, Sundays and national holidays – from 11:00 to 23:00
Closed – Tuesdays