The day that we had oyakodon for lunch at Sendagi, I had dinner at soba restaurant in Ginza with friends who were with me in Sendagi and someone gathered for dinner. We were five in total.
It was still bright. But we had early dinner at Sasuga Rin.
Sasuga Rin is soba restaurant and serve udon, too.
We were seated at the back of the restaurant.
Where?
They are located at the center of Ginza.
Interior
As soon as we entered, there're some counter seats and kitchen. And some tables at the back of the room.
COEDO BEER
Because here's old Edo, I ordered COEDO beer Beniaka (800 yen).
By the way, COEDO is CO(KO)-EDO. It doesn't mean Edo. It means "flourish town like Edo". The representative town is Kawagoe of Saitama prefecture :p
And this COEDO beer is local beer made by beer company in Kawagoe.
Its name have "EDO", so, many restaurants in Tokyo serve it.
Also some supermarkets and convenience stores sell it.
With vinegared mozuku seaweed was served at otoshi (included in service fee).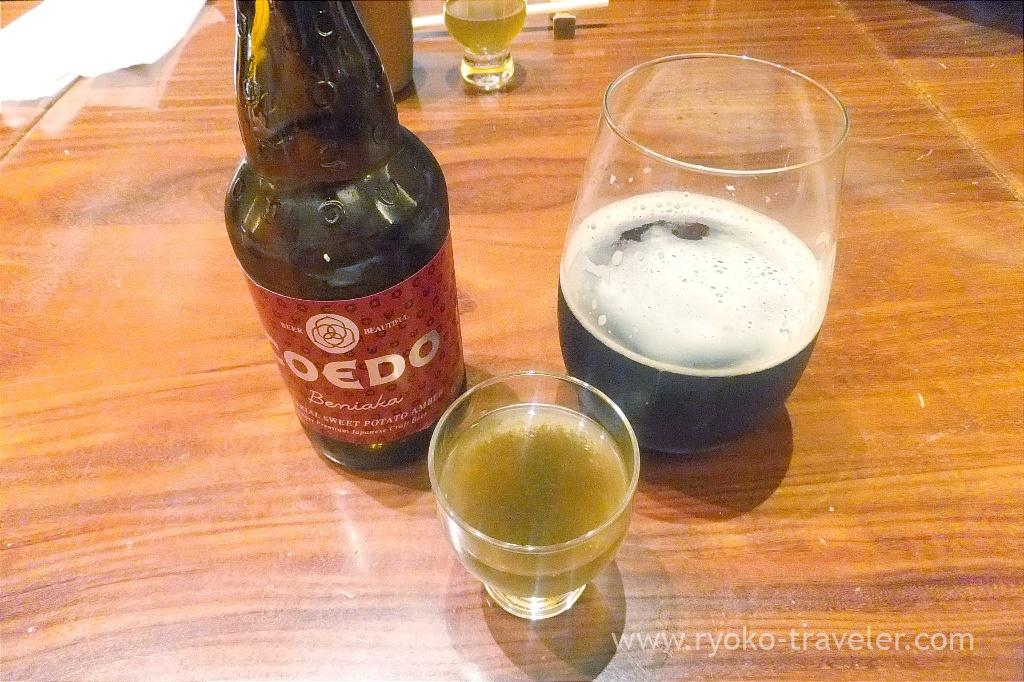 Small 6 dishes course
We ordered "Small 6 dishes course" (小皿コース, 1800 yen). This course don't have much foods. It's for drunkers before eating soba. (not included soba)
But I got enough full because I ate hearty oyakodon at lunchtime :p
They serve various foods that go with alcoholic drinks very well.
At first, monaka was served. It's not dessert. Potato salad having ducks meat was sandwiched, not anko 🙂 The potato salad was like liver putty and good.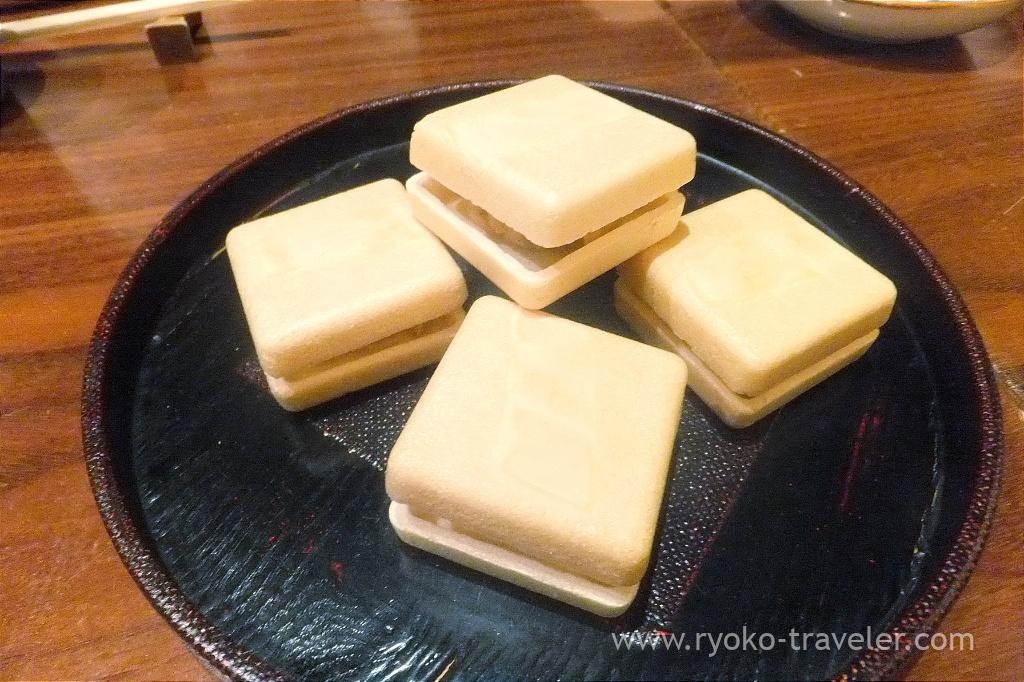 Dashimaki tamago (tamagoyaki having plenty of soup stock).
Boiled Pacific herring and Butterbur
Satsumayaki
Satsuma-age is deep fried fish cake. And Satsuma-yaki is grilled fish cake. Both is popular in Kagoshima though Satsuma-yaki is not well-known in Tokyo.
Sakura prawn kakiage tempura. So crisp and the smell of sakura prawn was great !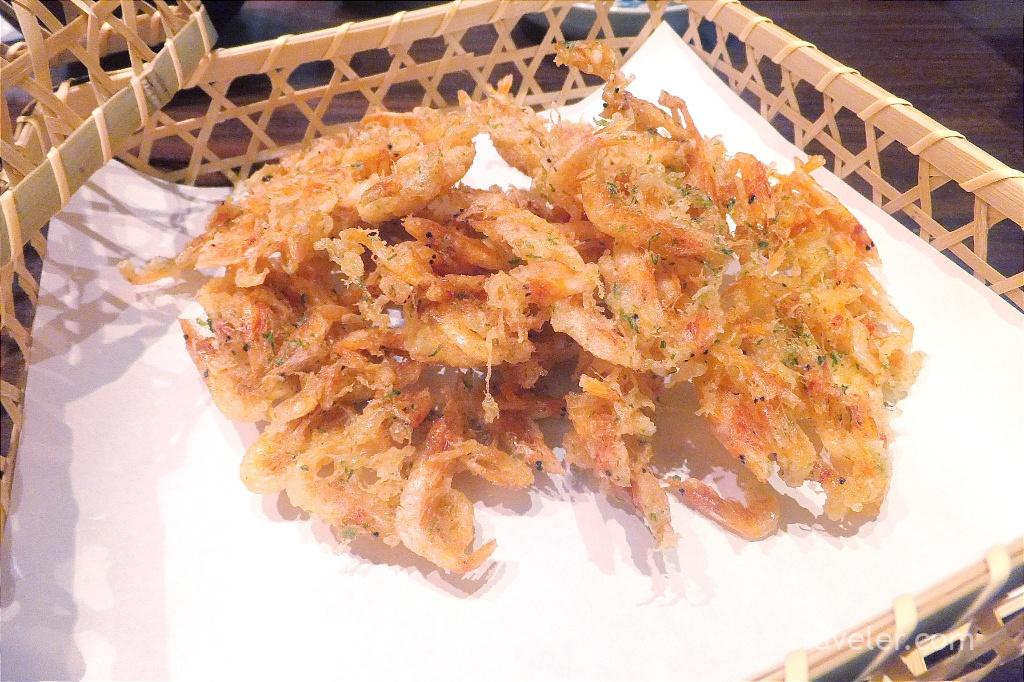 Last. Boiled chicken with spicy and sweet sauce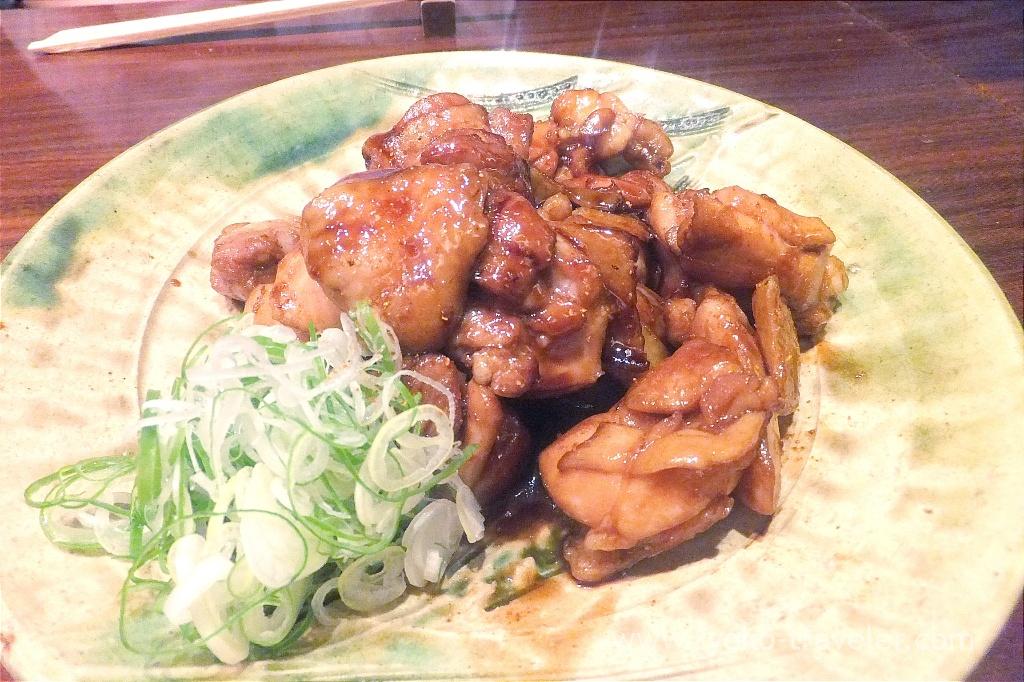 And then people who want to eat udon ordered something that they wanted. But I got full. So, I tasted my friend's Hiyakake udon (冷やかけうどん, 1000 yen) just a little.
Udon after course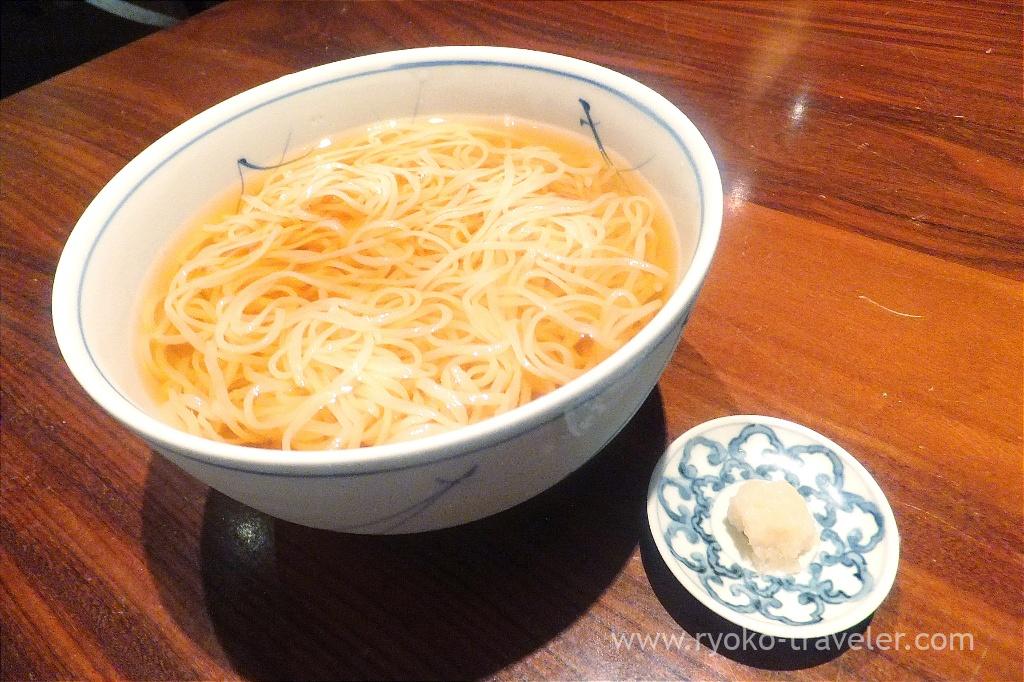 Though it's a soba restaurant, soba was already sold out. So, they ordered udon. But udon was enough delicious.
By the way, sasuga rin is closed from 22 – 25 of this August.
About Sasuga Rin (流石 琳)
Address / Riken bldg B1F, 1-19-12 Ginza, Chuo-ku, Tokyo
Phone / 03-3567-0188
Open / 6 p.m. – 11 p.m.
Saturdays, Sundays and another national holidays / 12 p.m. – 9 p.m.
Closed / Mondays
Reservation / Available (Pocket concierge)
Smoking / Not permitted
Credit card / Available
Website / https://www.ginzarin.com/ (in Japanese only)