Heaven of Sichuan pepper
I heard there's good mapo tofu noodles shop in Ginza area.
So, I tried this shop. And I found their noodles are awesome. So, I already went to there at several times 🙂
SIBIRE NOODLE Rousokuya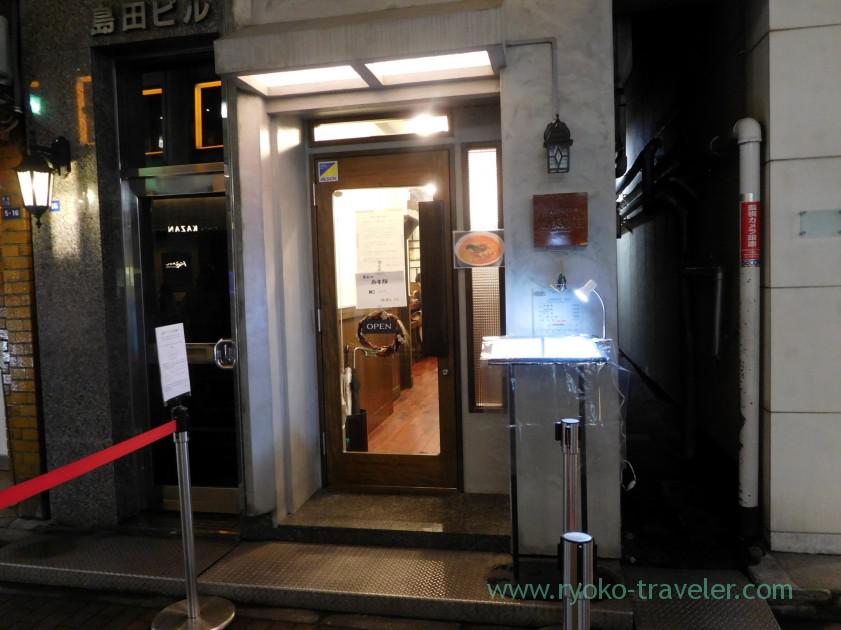 They have four types of noodles.
Mapo tofu noodles, tantanmen noodles, dandan noodles and sour and spicy noodles.
The most popular noodle is mapo tofu noodles.
Their common point is that those have much Sichuan pepper and are spicy.
But when I went to there at night on weekdays, it was sold out. The paper says "We finished to serve Mapo tofu noodles today".
They can't prepare much mapo tofu noodles, so if you want to eat mapo tofu noodles without fail, you should go to there at lunchtime. They say they prepare as much mapo tofu noodles as they serve at lunchtime.
Ticket vending machine is at the door. Though they don't prepare English menus, the ticket vending machine have photos on the noodles buttons.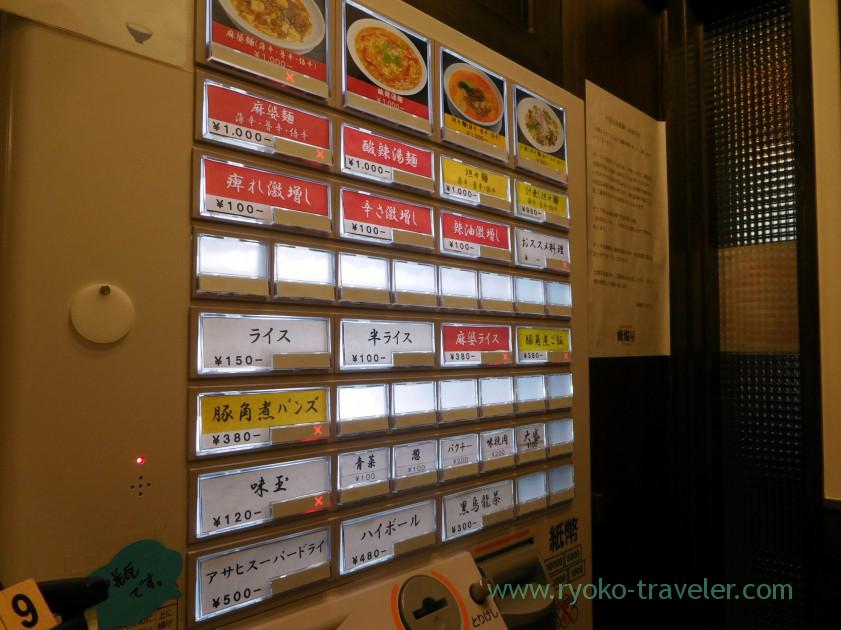 When I went to there for the first time, it was at night. So, mapo tofu noodles was already sold out.
But I heard tantanmen noodles (担々麺, 1000 yen) is good, too. So, I chose it. You can choose the level of spiciness from Mild (薄辛), Normal (普辛) and Extra spicy (倍辛) when you hand your ticket to staff. I chose Normal.
It was enough spicy tantanmen having spicy oil and Sichuan pepper.
The thinly noodles were good.
When I visited to there next time at night, mapo tofu noodles was already sold out all the same.
So, I chose dandan noodles (汁なし担々麺, 980 yen). I chose normal spiciness.
Dandan noodles have no soup. It have ground sesame, black sesame, white sesame, green onion, minced meat, red pepper and coriander.
Mixed well, and then eat. It was more spicy than tantanmen noodles. The noodles were wider than tantanmen noodles. The flavor of sesame was good.
To tell the truth, the dandan noodles was heavier for me.
There's Sichuan pepper oil on each tables. I put some on my dandan noodles. And then the flavor of dandan noodles changed. It became lighter because of the fresh flavor of Sichuan pepper. I recommend it 🙂
Well,,, I like their tantanmen noodles, but I wanted to try mapo tofu noodles all the same. So, I visited there on my holiday. When I got to there 15 minutes before the opening time, there was already much people.
It seems much people in front of Rousokuya, but there' another line on the left. It is line of Rengatei (煉瓦亭).
So, finally I could meet mapo tofu noodles (麻婆麺, 1000 yen) ! And boiled egg (味玉, 120 yen). Boiled egg is also sold out at night.
Mapo tofu noodles is , as its name, mapo tofu and noodles. They put spicy mapo tofu on the noodles having soup.
They serve rice without fee at lunchtime. Of course, weekends, too.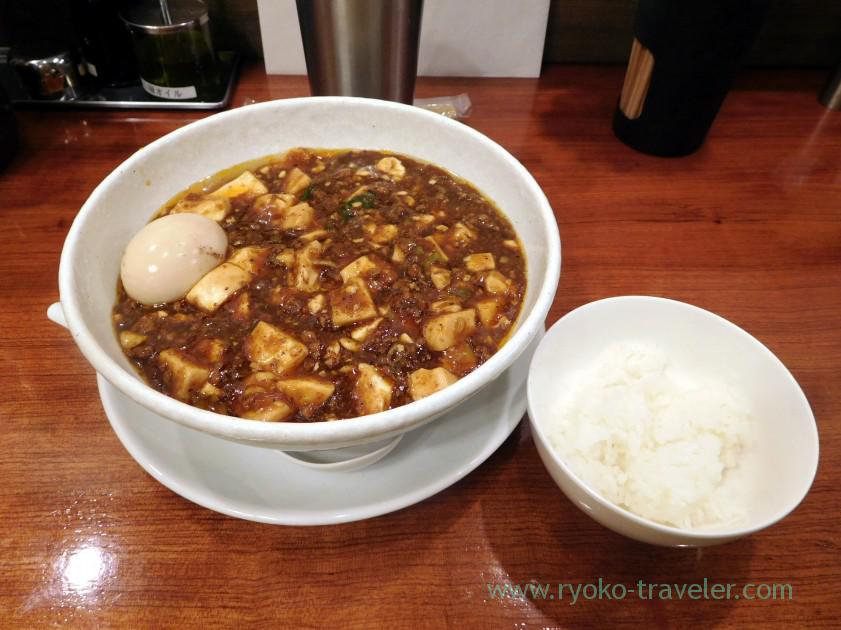 I agree that it is No.1 noodles in the shop.
The mapo tofu was spicy and have much Sichuan pepper. It's incredibly delicious. Of course, I enjoyed some of mapo tofu with rice 🙂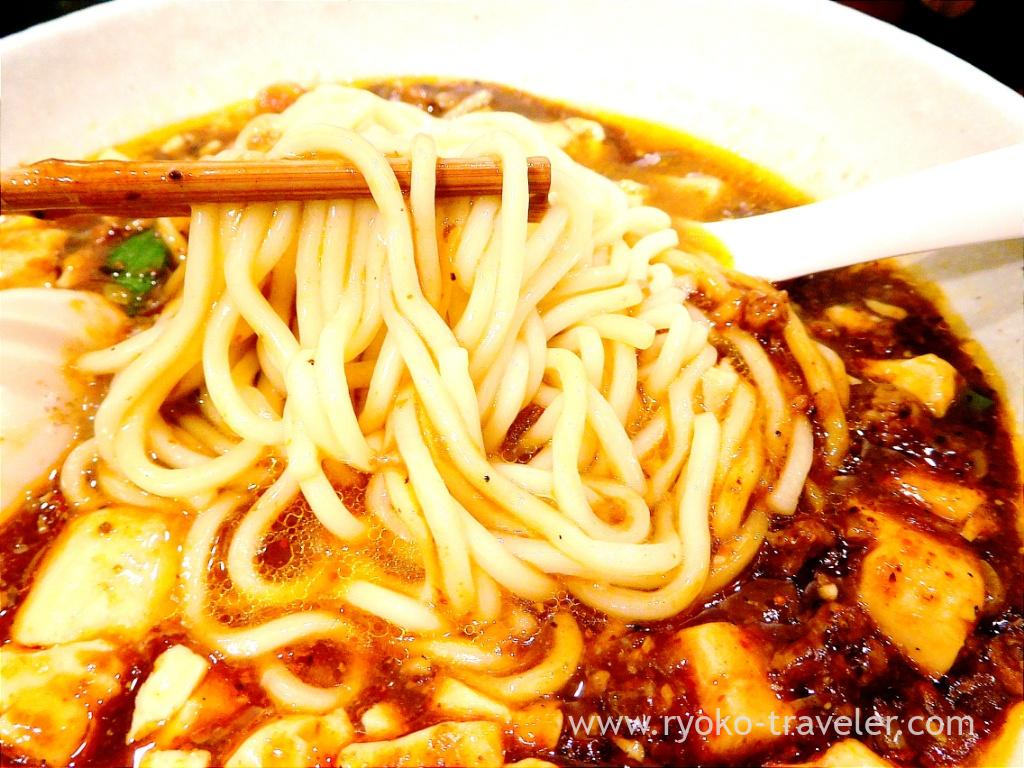 I like it as much as tantanmen noodles.
About SIBIRE NOODLES Rousokuya (SIBIRE NOODLES 蝋燭屋)
Address / 3-5-16 Ginza, Chuo-ku, Tokyo
Station / Ginza station (Tokyo metro)
Open / 11:30 – 15:30, 17:30 – 22:00
Closed / Sundays
Website / http://kashigashira.com/(in Japanese only)