Pineapple cake is the most popular souvenir of Taiwan. So many shops in Taiwan sell pineapple cake. I visited Hotel Okura Prestige Taipei close to Zongshan station to get pineapple cake in cute boxes.
This hotel was built in 2012.
I knew thieir pineapple cake a few years ago, but I didn't feel like getting pineapple cake at this hotel. Hotel Okura is Japanese hotel and well-known. "Why do I need to get Taiwanese souvenir in Hotel Okura ?" I thought :p
But actually their pineapple cake was great and I recommend all person who visit Taipei.
Where?
The hotel is tall, so you won't miss it if you walk to the park from the station.
There's bakery on the ground floor next to the lobby. There's a entrance from the lobby, and you can also enter into the bakery from outside directly.
Bakery "THE NINE"
Their popular pineapple cake is sold at the bakery on the ground floor named "The Nine". The Chinese name is 烘焙坊. When I visited there, all visitor was Japanese.
So every staff spoke Japanese so frequently. Credit card is available.
If you enter the bakery from the lobby, at first, breads welcome you.
They have cakes, too. It looked yummy.
Though I don't like, they have nougat, too. Those package is cute as well as pineapple cake.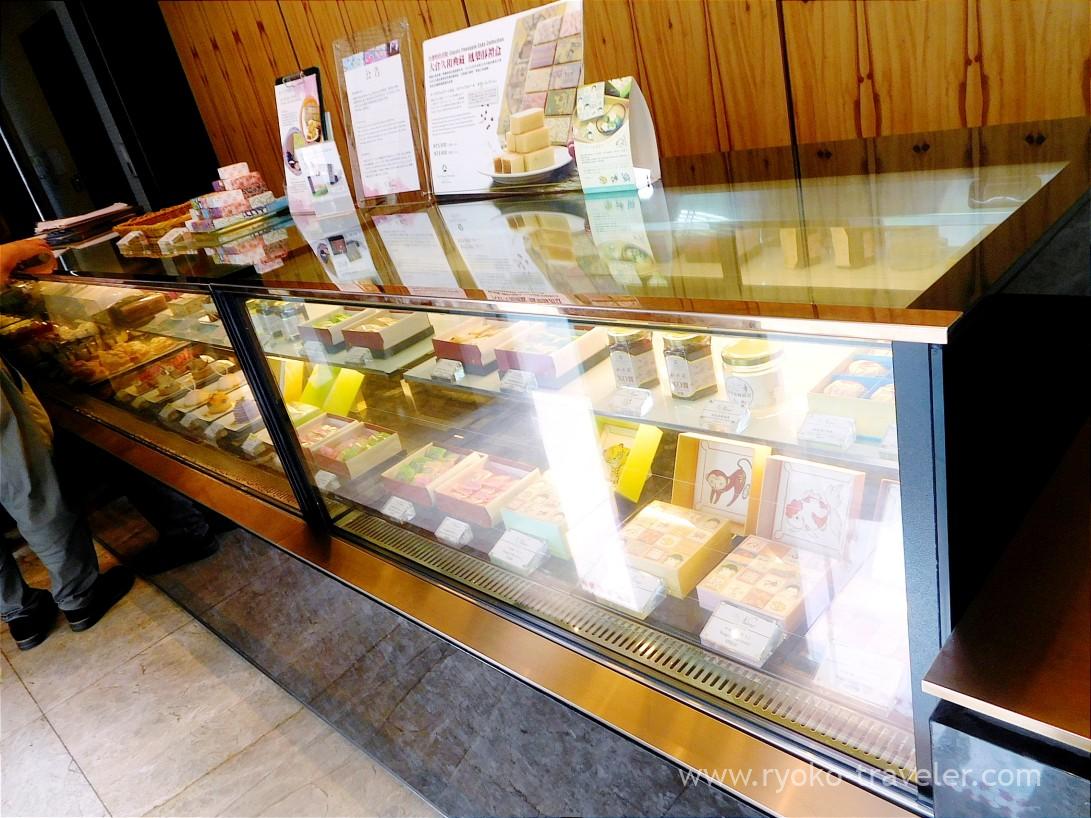 And! This is Pineapple cake ! One pineapple cake is in a cute box. 50 TWD.
If you want much,
12 pieces – 500 TWD
20 pieces – 800 TWD
is good. Those are in cute hard box.
Hard box for 12pieces

Okura's pineapple cake can be gotten at this Hotel Okura Prestige Taipei only.
It is so popular souvenir, so sometime it is sold out in the noon, especially during summer season. If you want to get without fail, they accept reservation in the shop.
Pineapple cake
This is 12 pieces of box. So cute ! Don't you think ? Awesome. This boxes have Taiwanese tastes and Japanese tastes together. 12 patterns.
Though it's cute, this paper is thin and pineapple cake is in the box directly. So, you'd better eat soon after you open the hard box, though expire date is three weeks later.
Their pineapple cake is made of Taiwanese pineapple and French butter. Its outside was soft and had rich tastes of butter. But the pineapple jam inside was not too sweet and was light. I never recommend you put them into refrigerator for a long time.
Okura's pineapple cake was, of course, delicious. But I think it's not characteristic. Its sweetness, flavor, everything was mild. So, I think no one hate it except someone who don't like sweet foods and is allergic to pineapple.
And from its cute appearance and its popularity, this is the good souvenir for everyone.
by the way, I have eaten pineapple cake of Li zhi Bing Jia (李製餅家), Jiu zhen nan (舊振南餅店), Hotel Okura and Sunny hills (微熱山丘) ever.
(In order of my delight). Every pineapple cake was good except Sunny Hills. I don't like Sunny Hills only 🙁
About Hotel Okura Prestige Tapiei "The Nine"
Open / 10 a.m. – 8:30 p.m.
Closed / No scheduled
Hotel booking / Booking.com