Meigetsuin blue.
After we got out of Tokeiji temple, we went straight to Meigetsuin.
Meigetsuin is called "Ajisai-dera" (Hydrangea temple) because they have so much hydrangeas.
They have mainly blue hydrangeas. Almost all of their hydrangeas are blue. Those hydrangeas are Japanese hydrangeas named "Hime ajisai" (Hydrangea serrata ssp.yezoensis 'Shikizakihime'). This blue world is called "Meigetsuin Blue (明月院ブルー)".
My mother looked happy 🙂
But I was busy taking her photos :p
I lost my mother in my sight while taking photos of hydrangeas, and I searched for her for a while, and then I found her in this tearoom !
She was already waiting for seats. Oh my ! She always does as she want to do 🙁
We had matcha and a small Japanese confectionery.
Blue hydrangeas could be seen from the tearoom, too.
We relaxed in the tearoom for a while and then, we started to walk for viewing hydrangeas again.
I said almost all hydrangeas in the temple are blue, but only this part of temple have various species of hydrangeas.
Hydrangea serrata 'kurenai'
Asian beauty
Though I don't remember its name, I like it, too.
Many people waited for taking this photo for a long time. Me, too 🙂
This is so famous and many magazines and TV program use this view.
Garden could be seen from the circle-shaped window.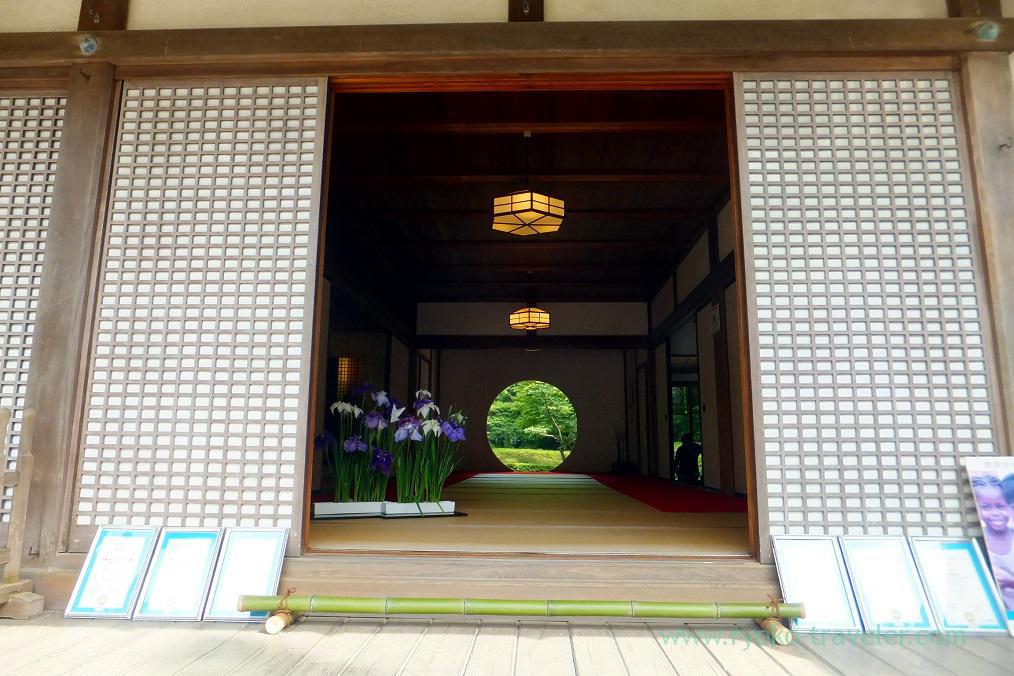 Beautiful 🙂
Though I wanted to have goshuin, there were long line for that. So, I gave up.
About Meigetsuin temple (明月院)
Address / 189 Yamanouchi, Kamakura-shi, Kanagawa
Station / Kita Kamakura station (JR)
Open / 8:30 – 16:00 (June 8:30 – 17:00)
Closed / no scheduled
Admission fee / 300 yen (June 500 yen)