A few days after visiting Kashigashira at afternoon, I visited Kashigashira at night.
Descending narrow stairs ….
Chopsticks is in the papers envelope that have picture of fish by ink painting.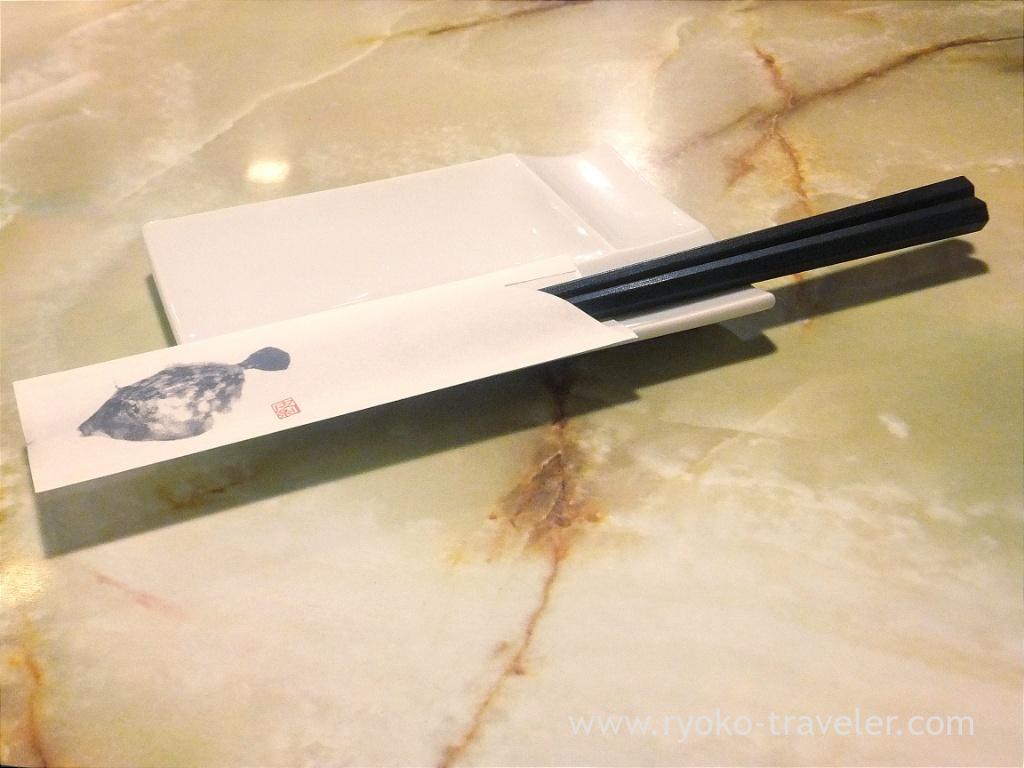 Kashigashira serves only a chef's choice course at nighttime 🙂
Appetizer (前菜)
We had better having vegetables before eating seafoods 🙂
Cod chips (たらチップス)
If this chips are packed and sell at the shops, I'll buy one. More cod chips than potato chips for refreshment.
Firefly squid nuta (ほたるいかのぬた) and boiled octopus (たこの煮物)
Nuta is vinegared miso. This yellow paste.
Firefly squid is a taste of spring ! Those fresh firefly squid had strong taste itself, so I could eat firefly squid only, without vinegared miso.
Raw tuna chunks with grated yam (まぐろブツの山かけ)
I wanted a bowl of rice…..
Noresore (のれそれ)
"Noresore"  is very young conger eel. This was the first time to see it. It was tasty, but I want to wait until they're big conger eel 🙁
Shijimi clam soup (しじみ汁)
There was no ingredients that could be seen, but so much taste of shijimi clam was there.
I like shijimi clam best in all kinds of clams.
Shijimi clam extract is good for human's liver. Especially good for habitual drinkers 😛
We ate much dishes at that time, so I write about that in two parts 🙂
About Kashigashira (河岸頭)
Address / Lions Mansion Higashi-Ginza Bldg B1F, 4-12-2 Tsukiji, Chuo-ku, Tokyo
Station / Tsukiji station (Tokyo metro)
Open / 11:00 – 14:00, 18:00 – 23:00
Closed / Sundays and another national holidays
Website / http://kashigashira.com/(in Japanese only)