I ate kakigori in Osaka,too. The shop's name is Kakigori Laboratory (Kakigori Kenkyujo / かき氷研究所). When I searched for high-reputated kakigori in Osaka on the internet, their kakigori attracted me. Their kakigori is outstanding on SNS.
Kakigori Laboratory is located on the 2nd floor of the old and small building.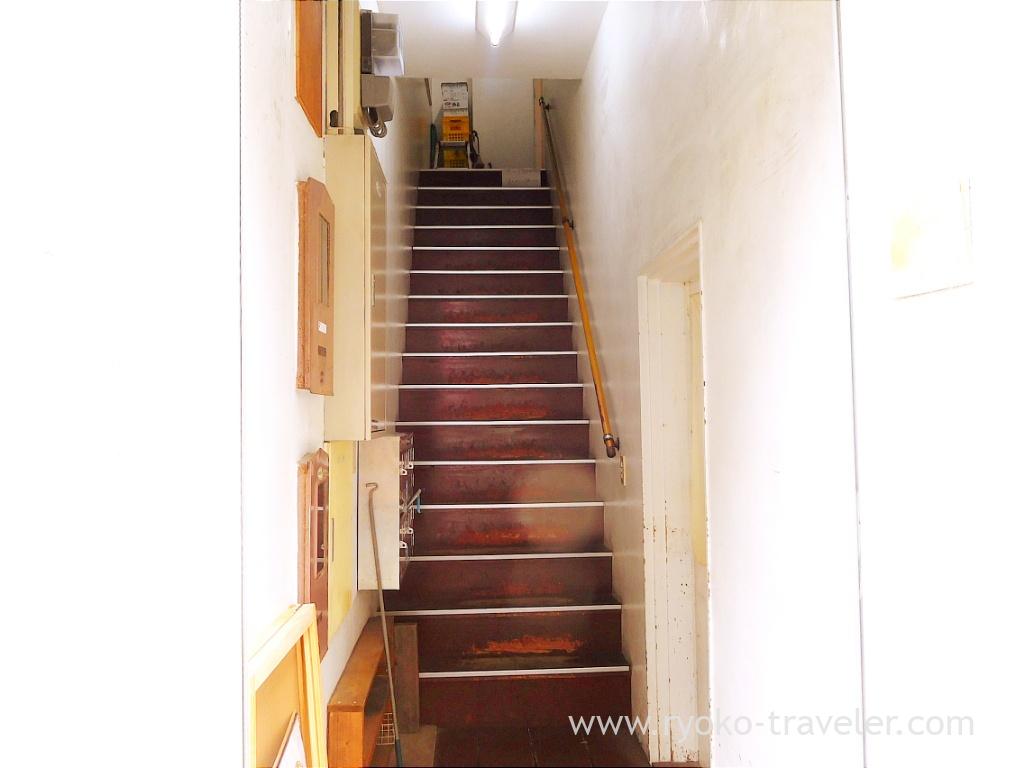 Originally they were Chocolate Laboratory and they used to be open as Kakigori Laboratory in summer only. But Kakigori Laboratory became so popular. So they decided to restart as Kakigori Laboratory all year around.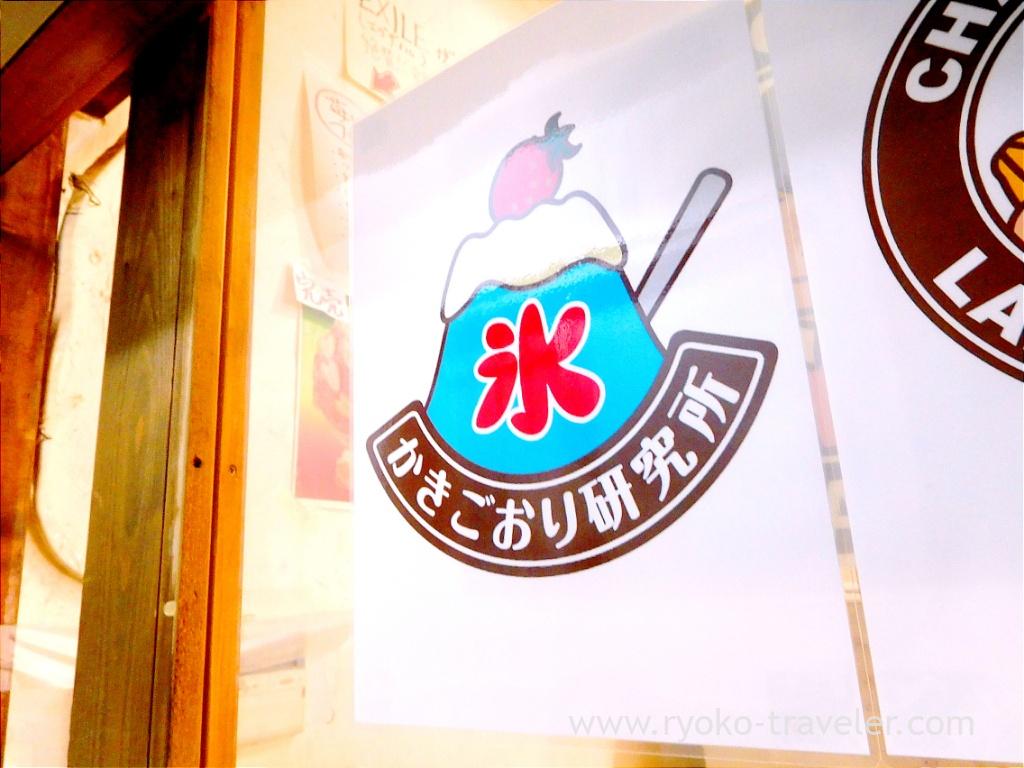 It takes about 5 minutes walk from Yotsubashi station. Their appearance is not oustanding. Only this signboard is the sign of the shop. I think it's hard to find a bit.
When we entered the shop, at first, they took our order at the entrance. And then they took us to the seats. Menu is on the wall.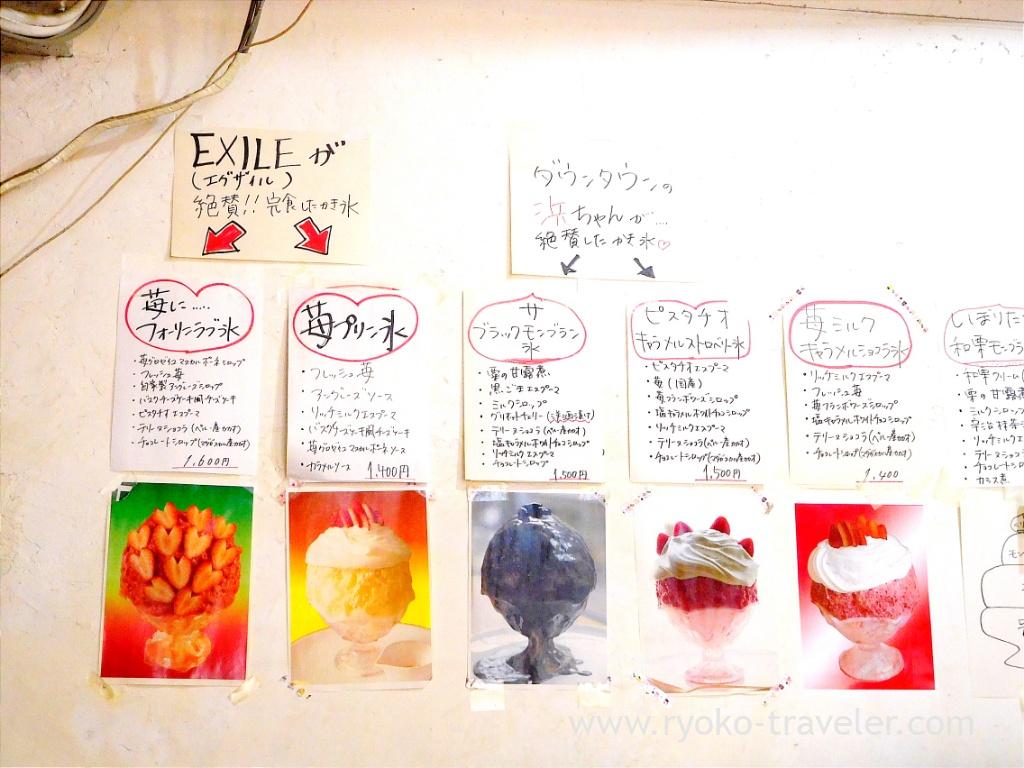 We have to take off our shoes at the entrance. There're counter seats and tables.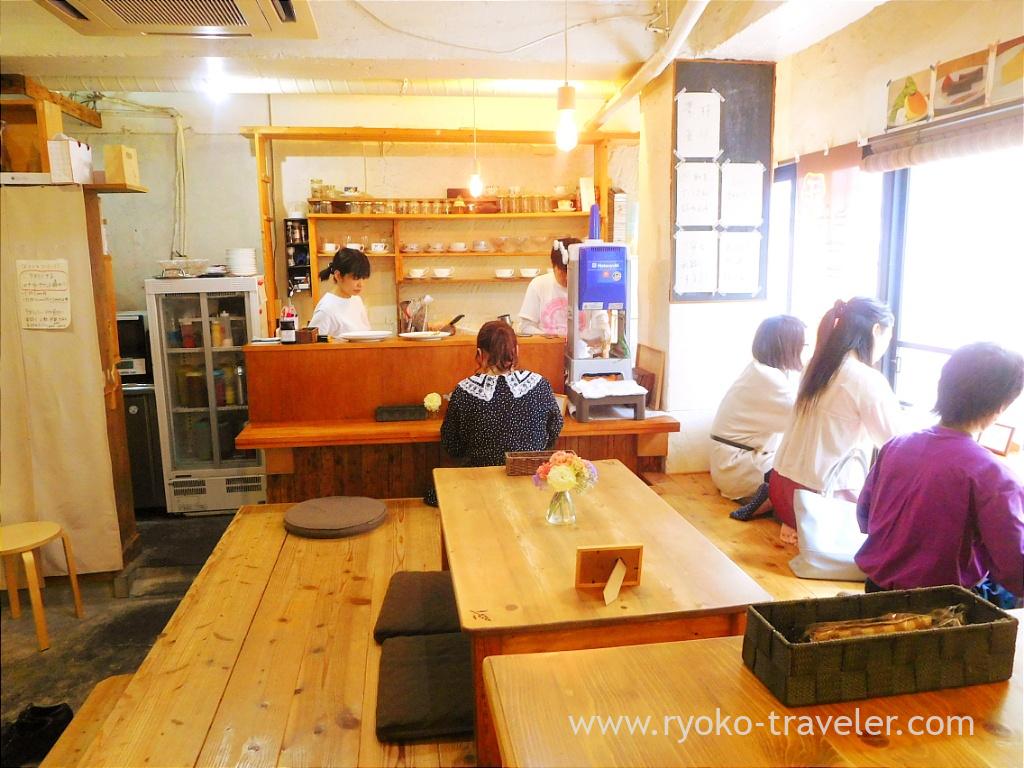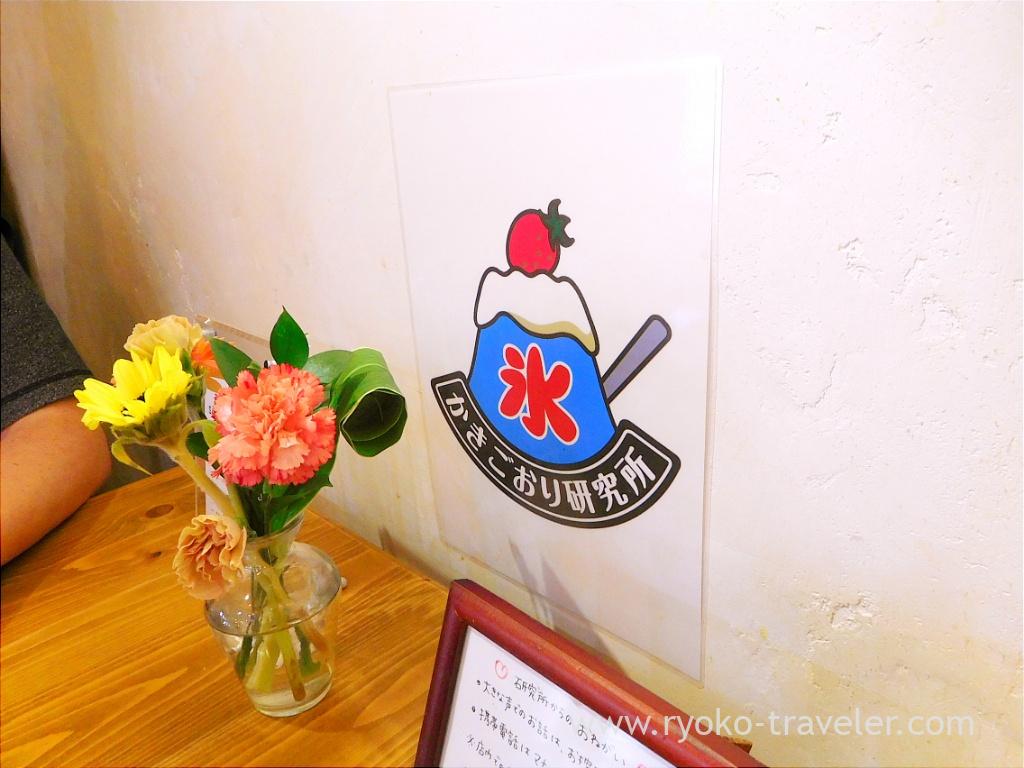 Rule at the shop. Don't speak loudly. Put your phone on silent or vibrate. Don't talk longer on the phone. Everything is for everyone to enjoy kakigori to the full.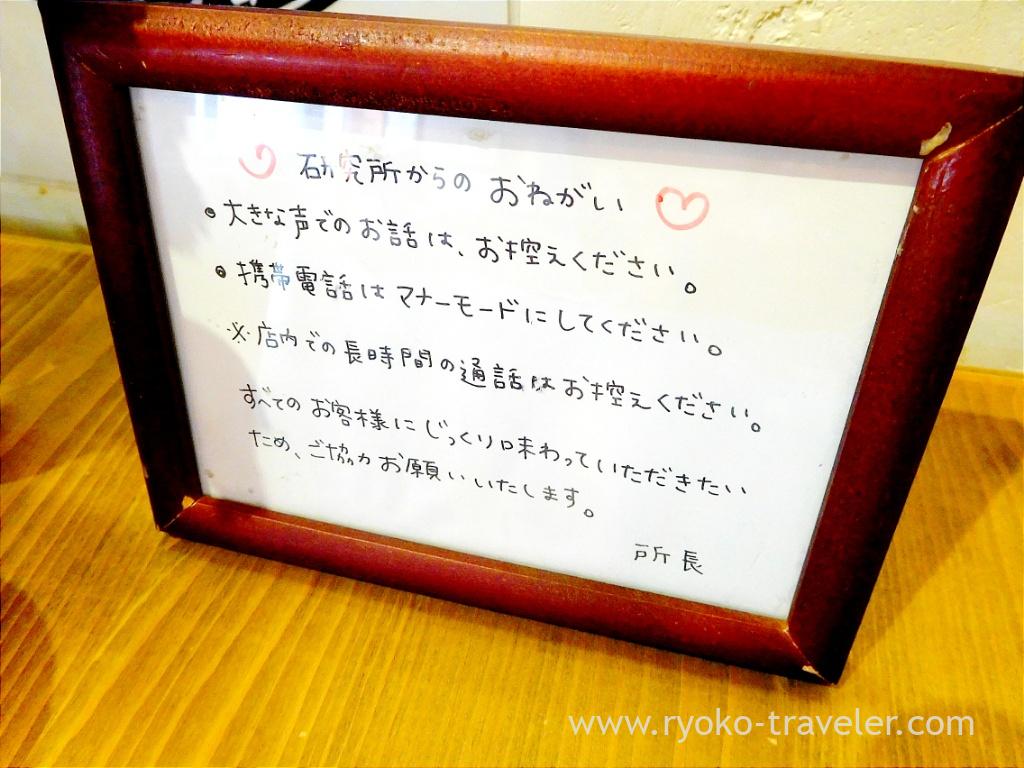 Ichigo Ni Fallin' Love Gori (苺にフォーリンラブ氷) might be the most popular kakigori of Kakigori Laboratory. It have much heart-shaped strawberries on it. Perfect. Over perfect. So cute. Those strawberries were sour and sweet. It's on the large dish. So, there's no worry about our strawberries fall 🙂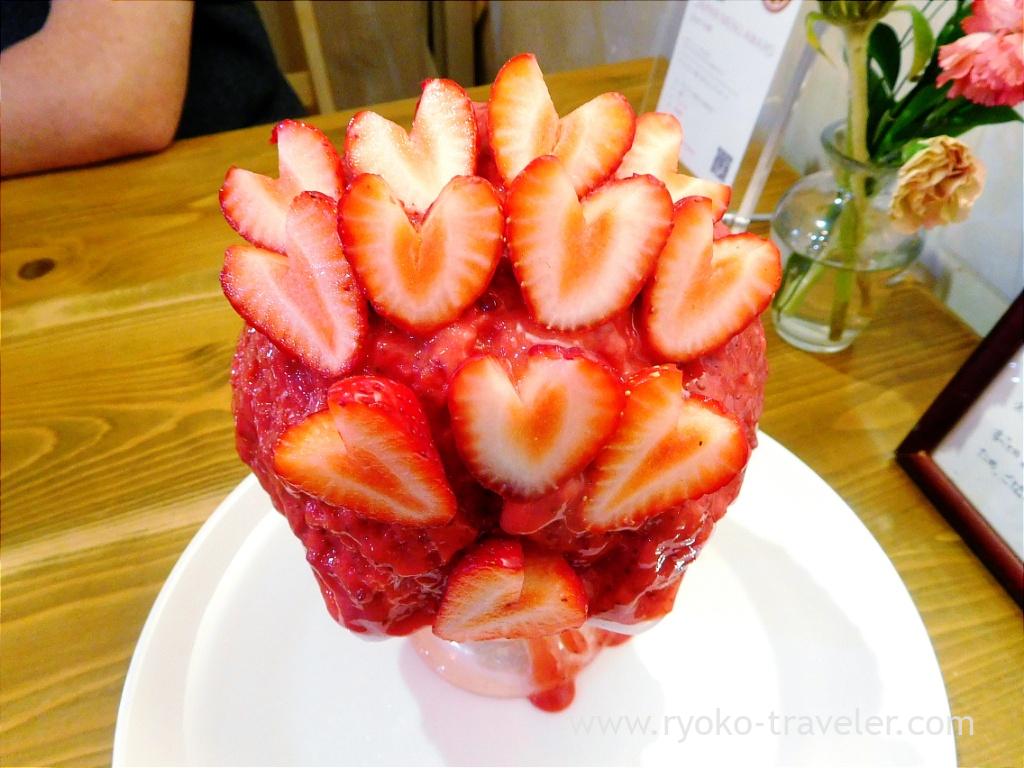 This shaved ice was coated with strawberry sauce. Much seeds of strawberries ! Of course, it's sweet. But it had also the sourness of strawberries.
There're strawberries in front of you, but, there's no strawberries at the back of it (about 1/3 area don't have fresh strawberry). So, it's easy to eat shaved ice.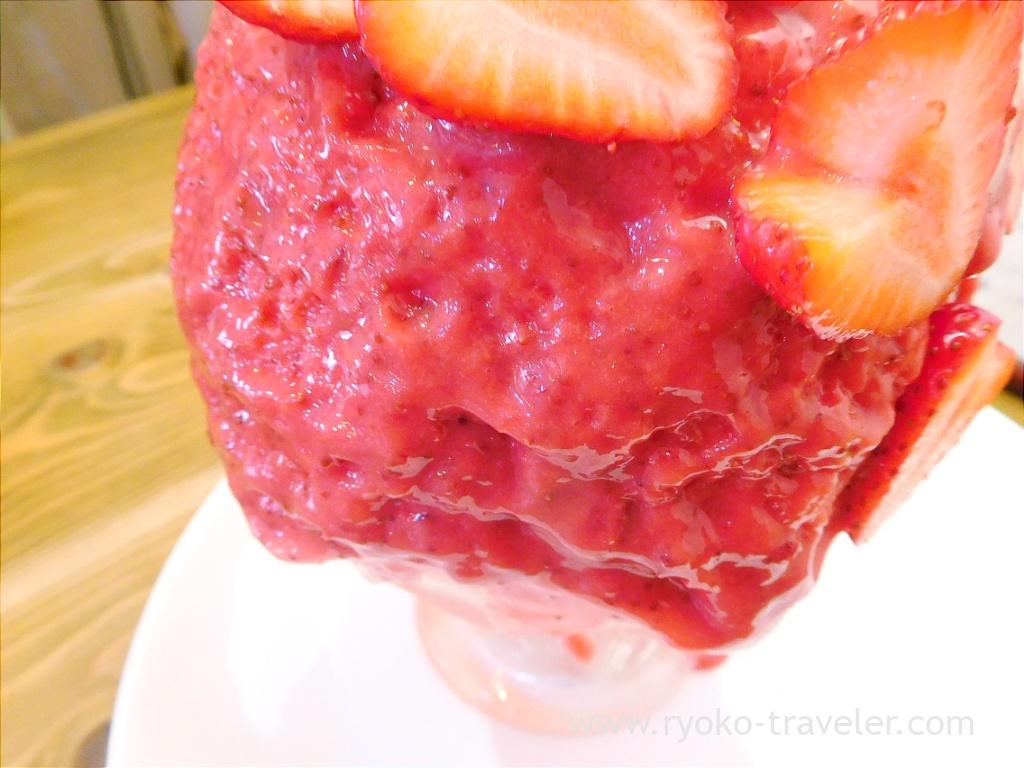 There's cheesecake, Mascarpone syrup, chocolate and so on in it. Not only strawberries but also we could enjoy variety of "yummy".
Ichigo pudding gori (苺プリン氷) is, contrary to Ichigo ni fallin love gori, sweet kakigori.
It don't have much fresh strawberries. The shaved ice is coated with Crème anglaise (It's similar to custard cream). This sauce is sweet and flavorful. It's like real pudding ! And plenty of milk foam is on it.
Caramel sauce is prepared separately. It have also cheesecake in it. Sharing those two kakigori is good. One is sour and sweet and another is sweet.
About

Name Kakigori Laboratory (Kakigori Kenkyujo / かき氷研究所)
Open Noon to evening
Reservation Available
Credit card Unavailable
URL Instagram, Twitter, Facebook

Google Map