I felt like drinking Hawaiian craft beer at beer bar. So, I dropped in at Honolulu Beerworks before viewing wall arts in Kaka'ako. There's a brewery at the back of the shop and we can enjoy fresh draft beer in the shop.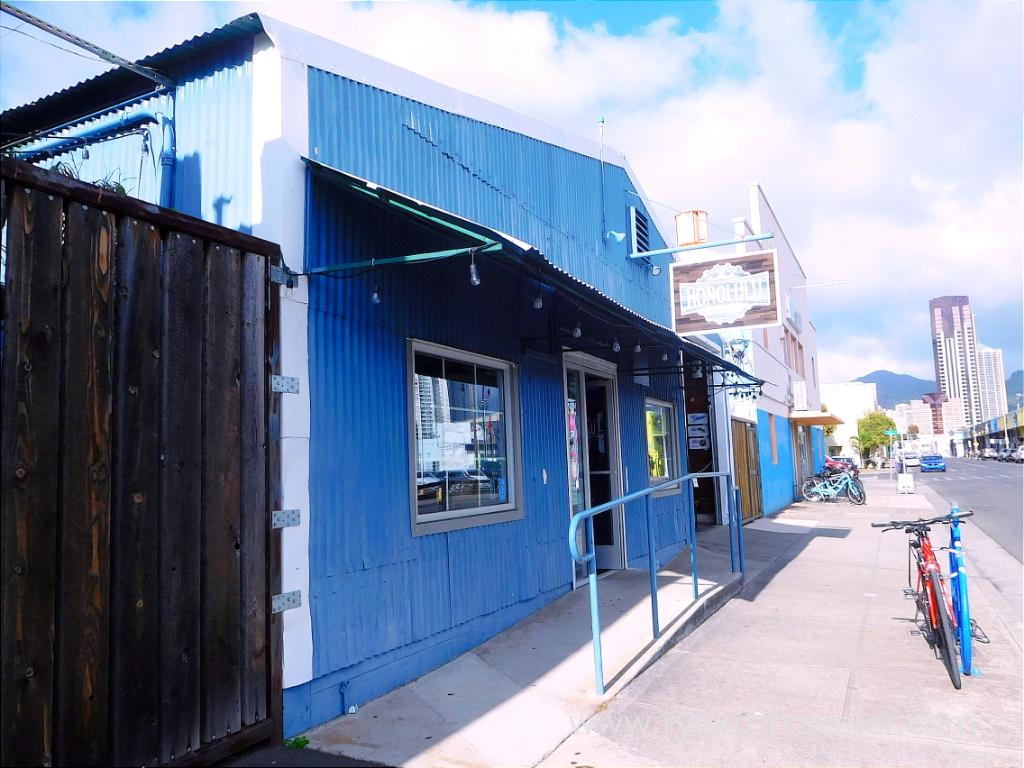 The old warehouse was painted sky blue and renovated as bar. It's cool.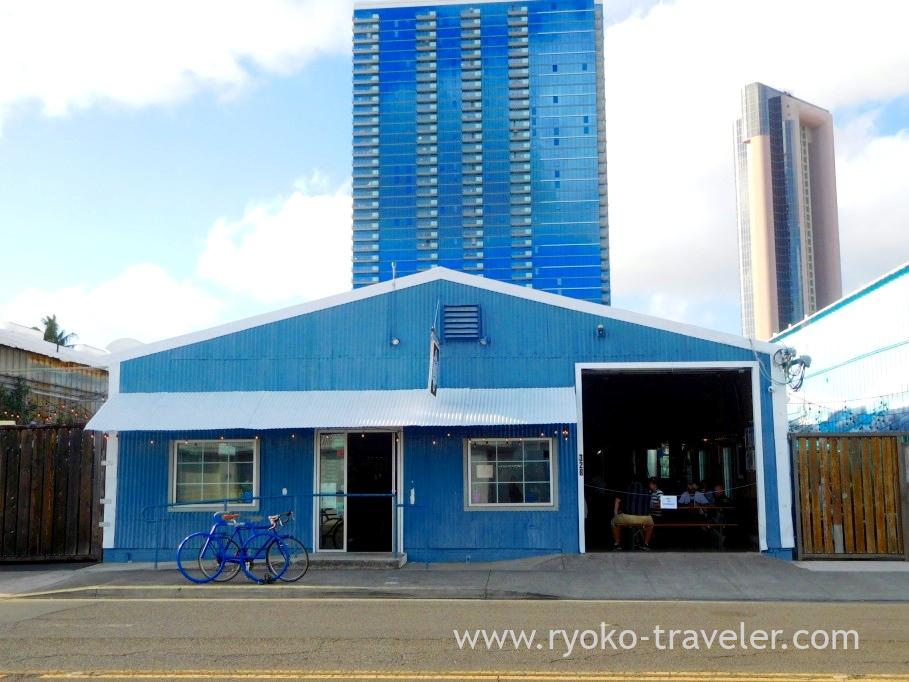 By the way, Kaka'ako is really wall arts town. Almost all warehouses were painted. Of course, in front of Honolulu Beer Works, too.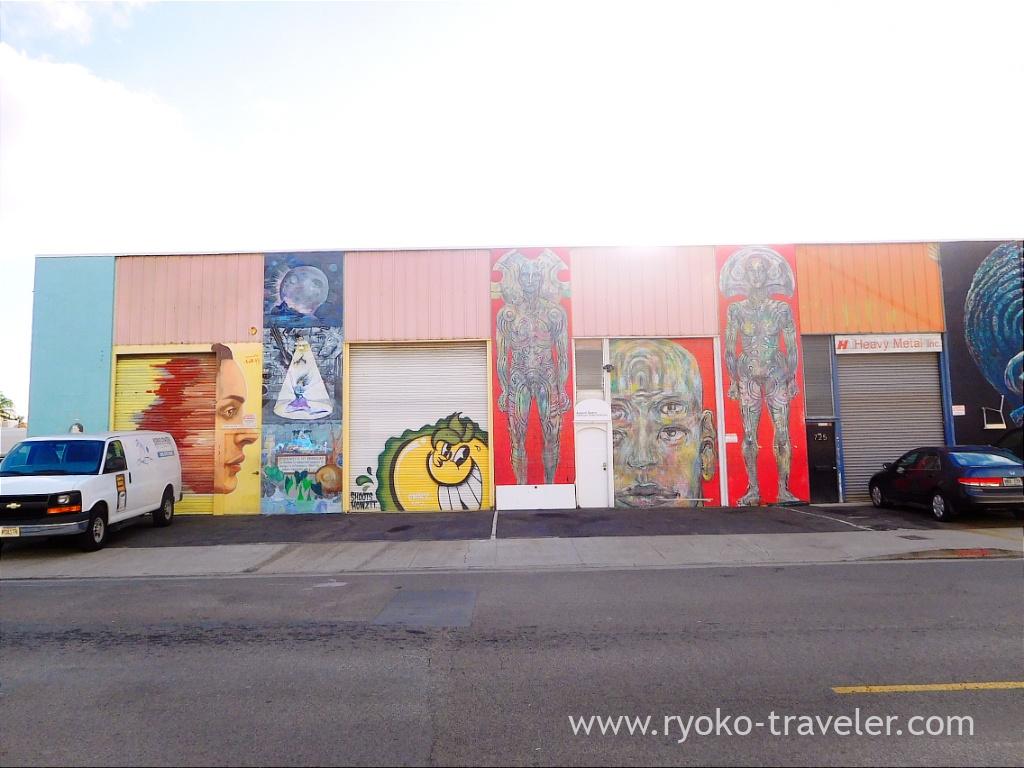 There're counter seats, tables and outside seats. There're much seats. Brightness in the shop in the daytime is depend on the light outside, so inside is not bright, especially, long tables at the center. So, people gathered tables close to the entrance :p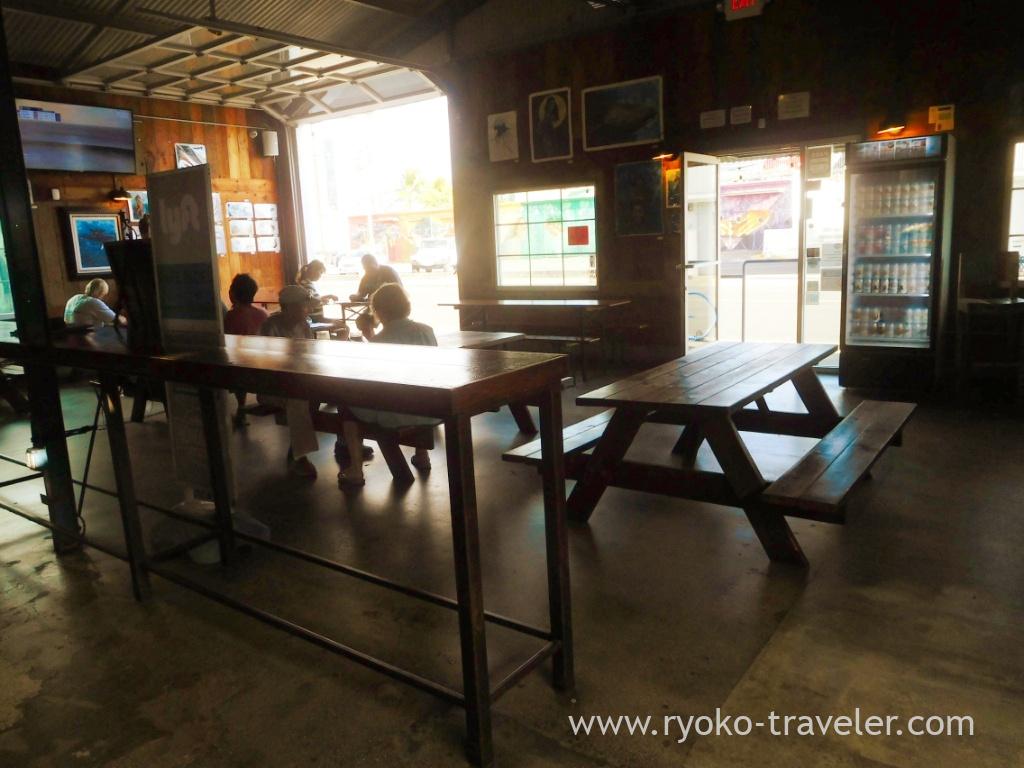 Counter seats were bright because light shined out of the window and there're lights.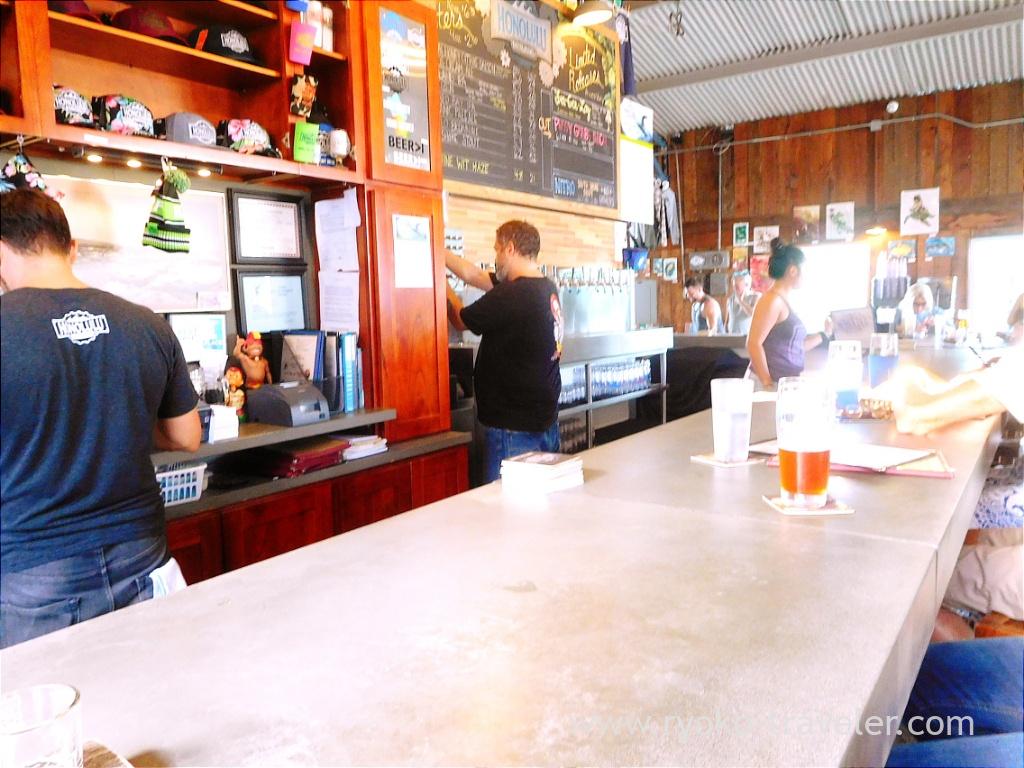 They sell some original products.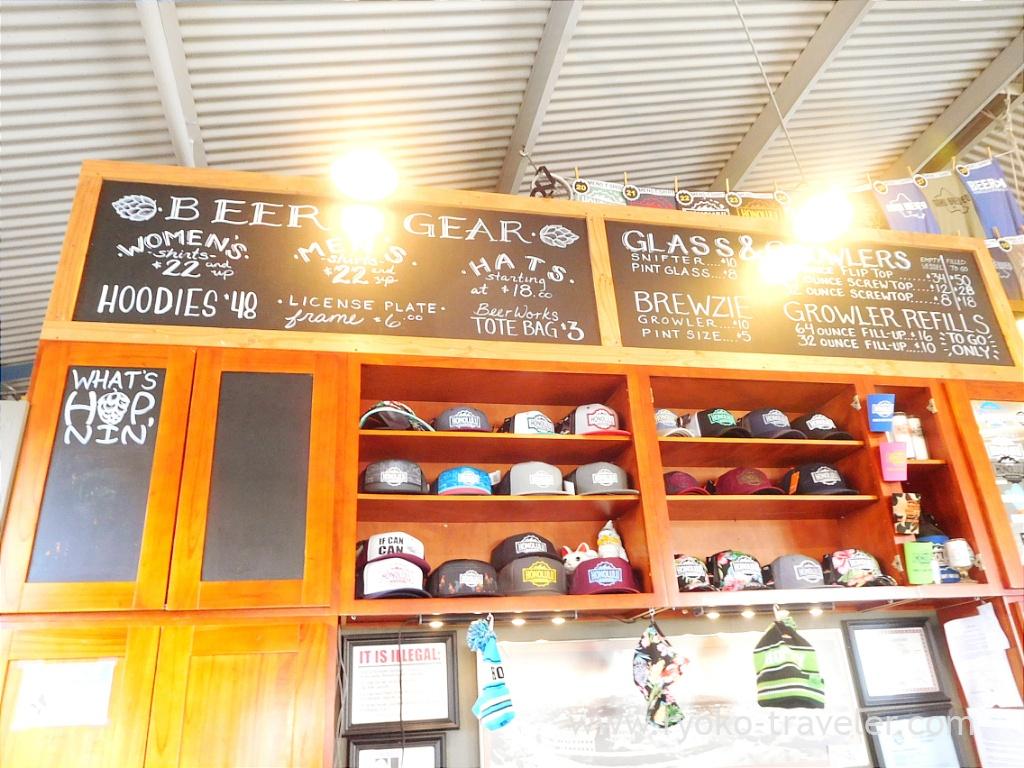 Many taps can be seen from the counter seat ! I was excited.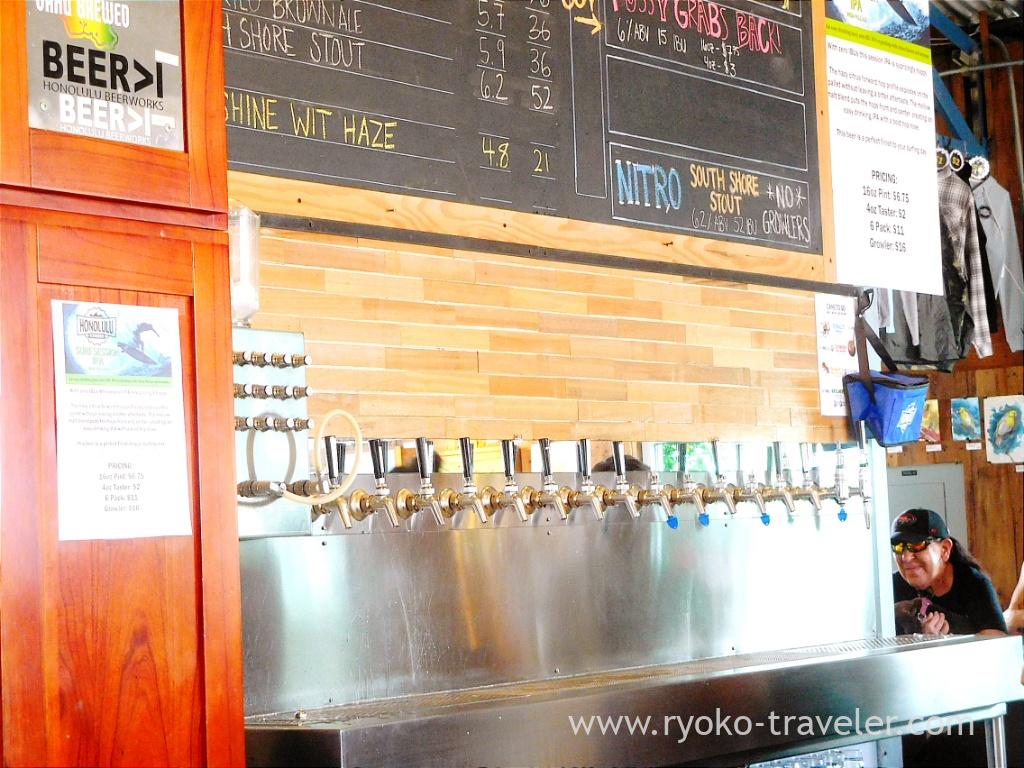 Outside seats.
This is beer menu. They have so many species of draft beer. 1 pint $6.75. Inexpensive. ABV is alcohol degree and IBU is bitterness degree. The higher, the bitterer.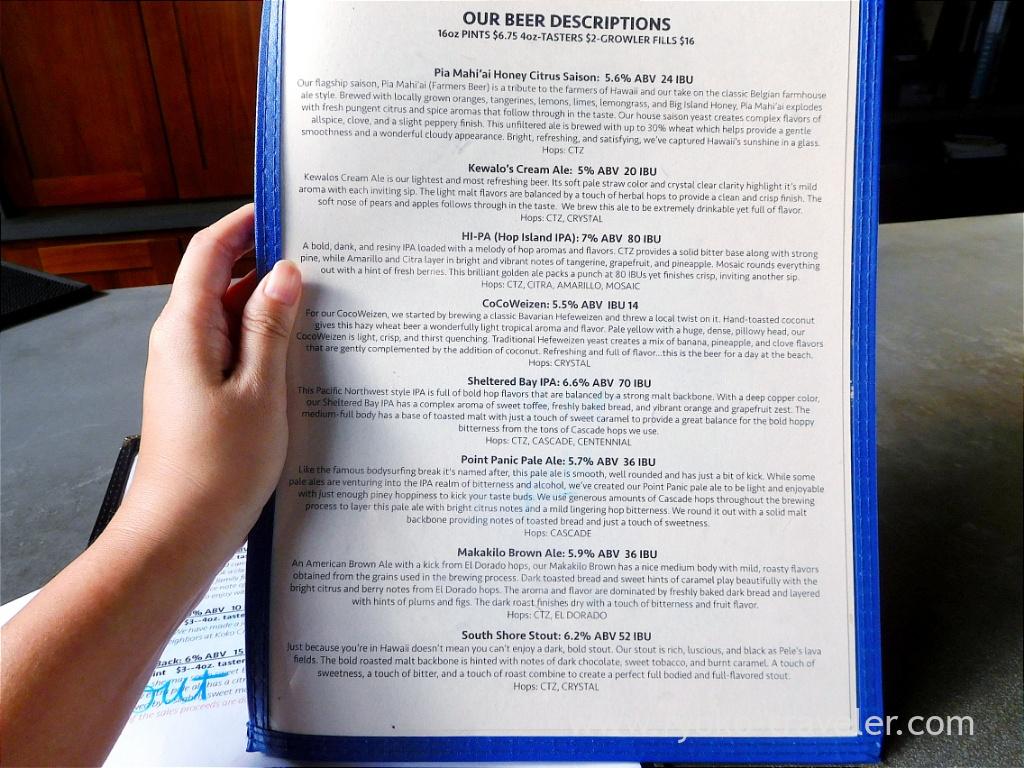 This is limited menu. Two beer was already sold out.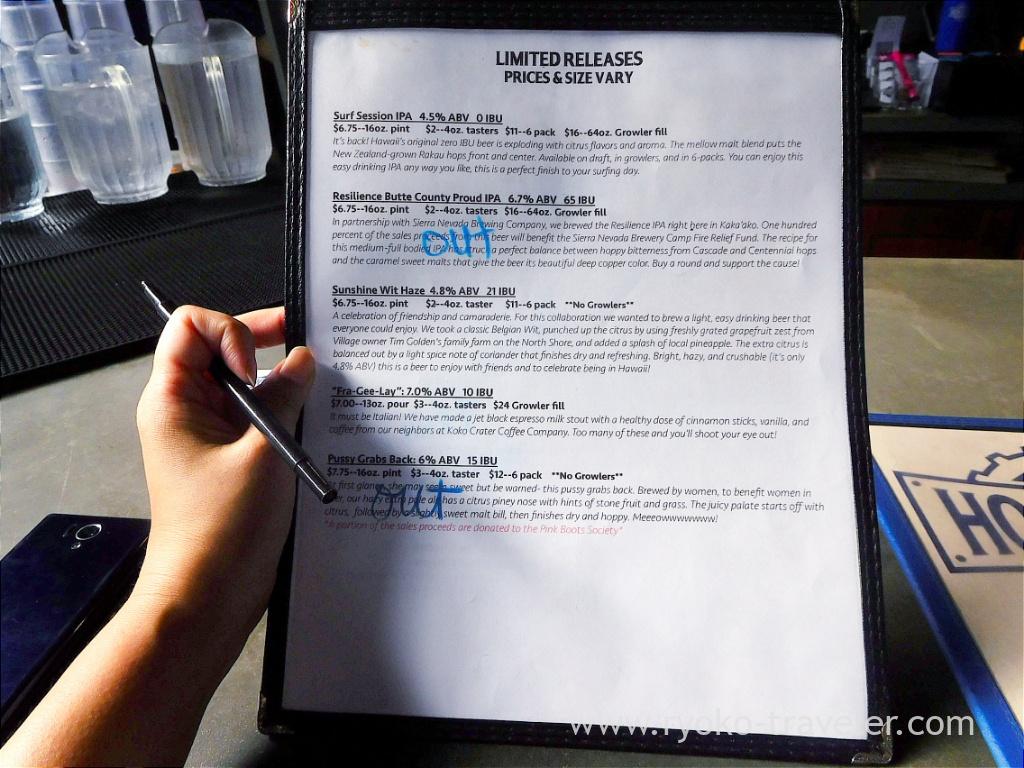 We can choose max 6 beer from those beer, and they serve beer what we select as small size for TASTERS. It cost $2-3 per one glass.
They don't have various of foods. Light snacks and sliders.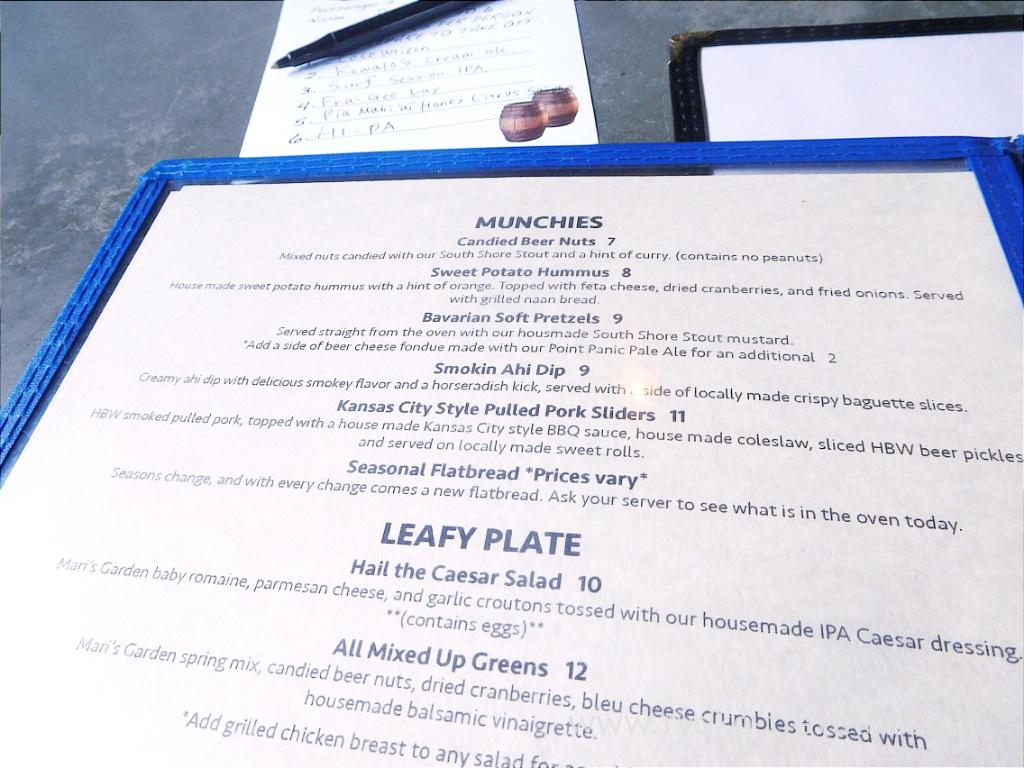 I intended to drink 1-2 pints of beer, but the staff handed this sheet for TASTERS. So, I decided to choice 6 beer. I took much time to choice. No.5 and No.6 is kindly staff's recommendation.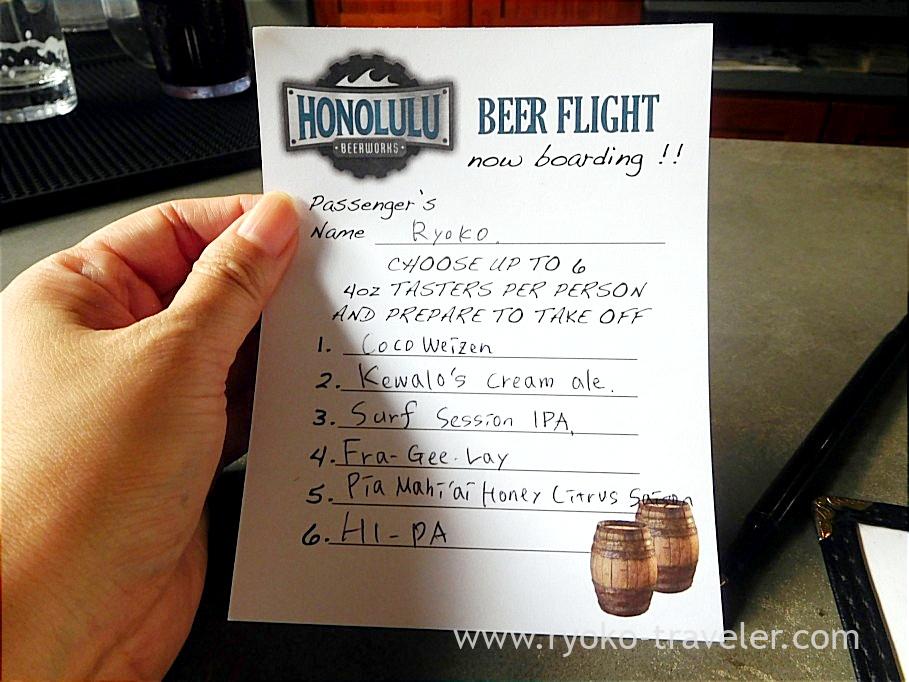 I waited for a few minutes. My TASTERS was served ! Beer is served in line as same as the sheet from left to right, 1 to 6. 2 oz is not tasting size ! Much !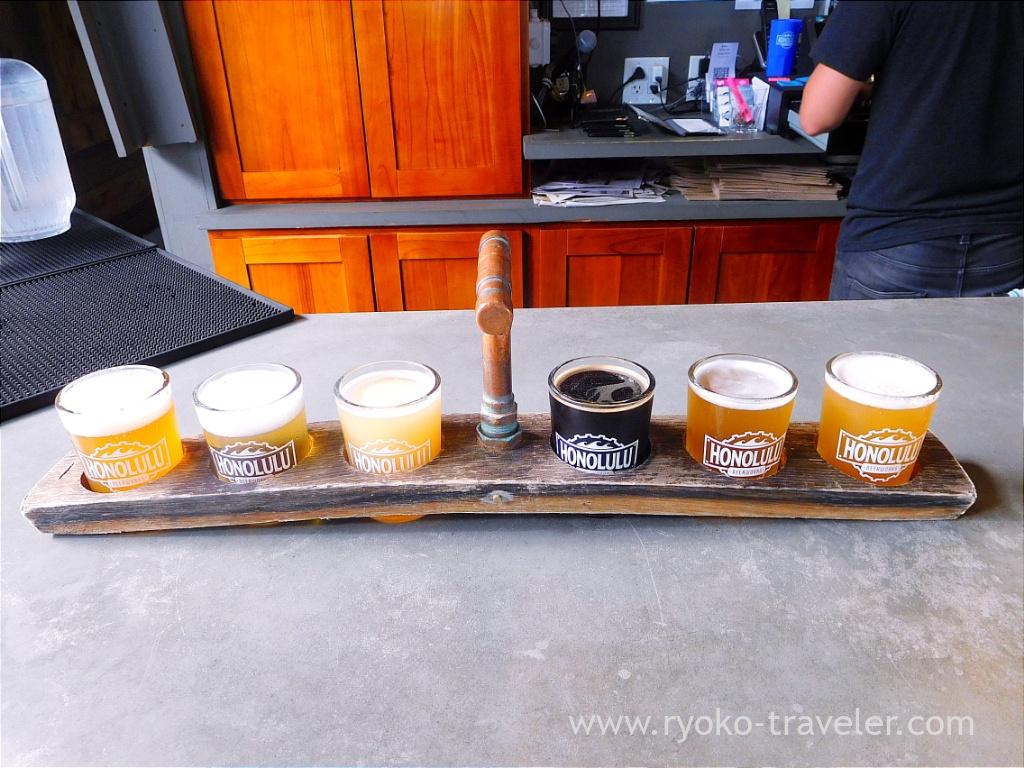 From left, Coco Weizen、Kewalo's Cream Ale、Surf Session IPA. I drunk canned Coco Weizen the previous night, but the draft beer was quite differ from it. Kewalo's Cream Ale had smooth texture and was mild. Surf Session IPA was popular. Actually, it had fresh flavor of citrus and had refreshing tastes.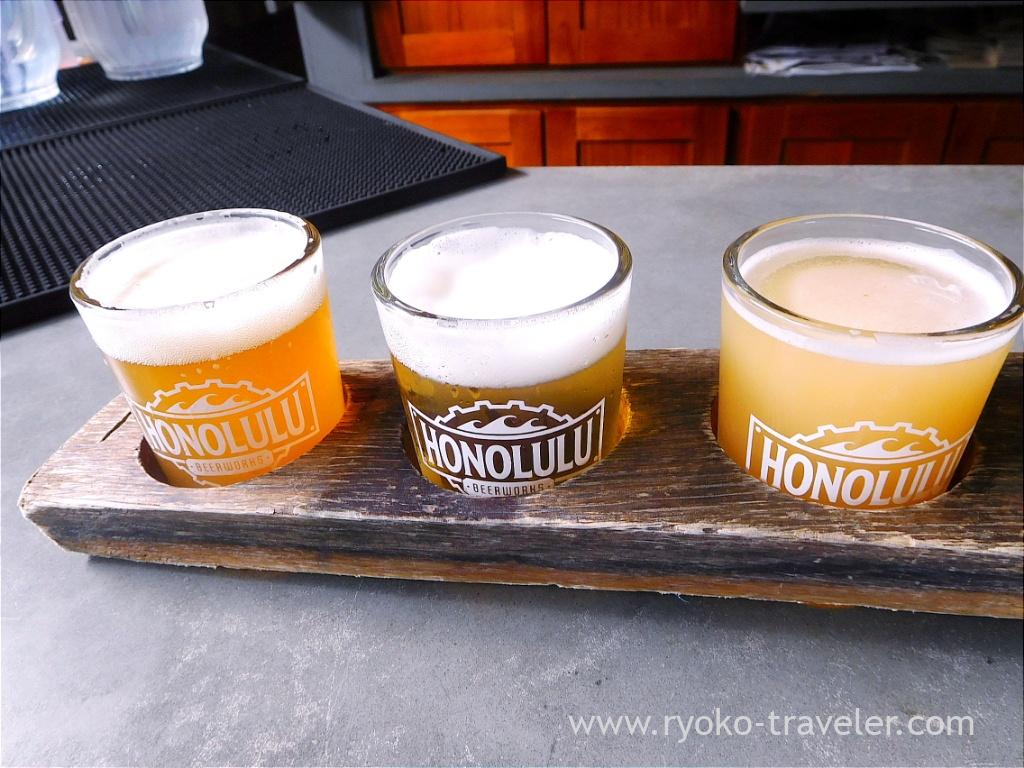 Fra-gee Lay, Pia Mahi'ai Citrus Saison and HI-PA. I think IBU is just number. Actually, I felt Pia Mahi'ai Citrus Saison was the most bitter. The highest IBU was, right one. HI-PA is 80. Fra-gee Lay was limited one. It was $3. Another was $2. Staut was, as menu say, it have bitterness like coffee and flavor of vanilla. It's like coffee.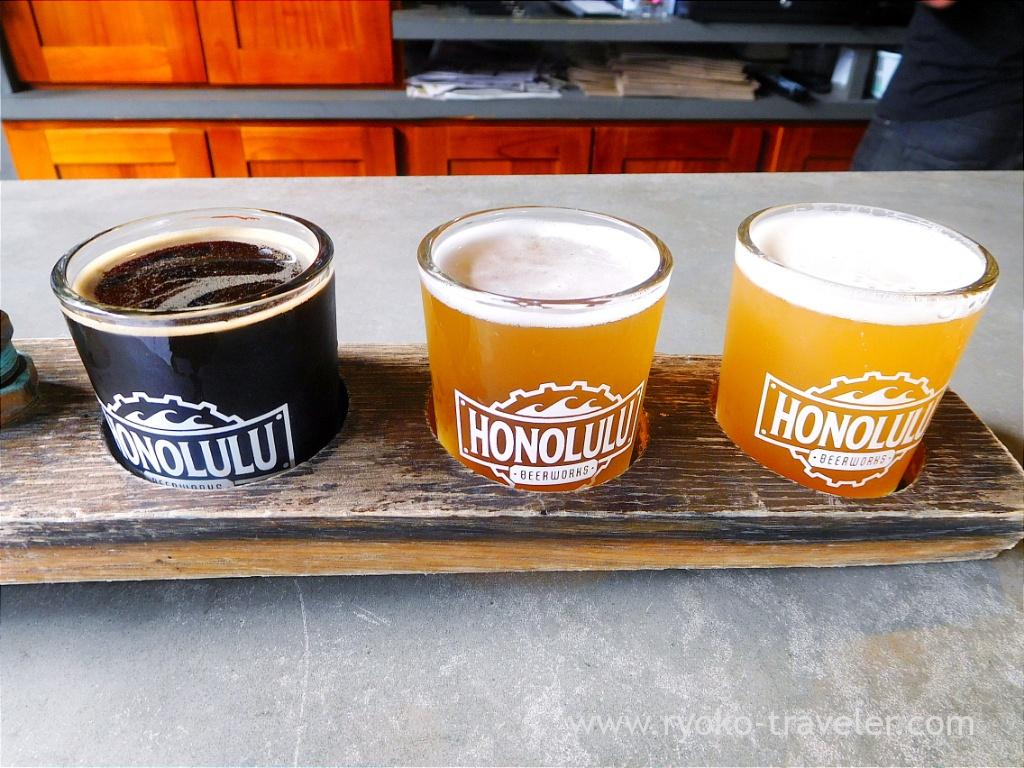 I liked Kewalo's Cream Ale best in all beer that I had that day. Also Coco Weizen and Fra-gee Lay was good, too. Because it had strong bitterness, I didn't like Pia Mahi'ai Citrus Saison and HI-PA very much. I intended to order a pint of beer after that. But I was full after all.
Though they say it's TASTERS, but I enjoyed all beer to the full because the amount of those beer is enough to enjoy. They are open from 11 a.m. to 10 p.m., so, we can enjoy beer with lunch, too. When I visited there around 3 p.m., the chef had lunch break, so, I couldn' t order foods, but their foods have high reputation, too.
Honolulu Beer Works is one of long-established craft brewery in Hawaii. We can get their canned and bottled beer at supermarkets and convenience stores. Of course, this Honolulu Beer Works Bar sell canned beer to go.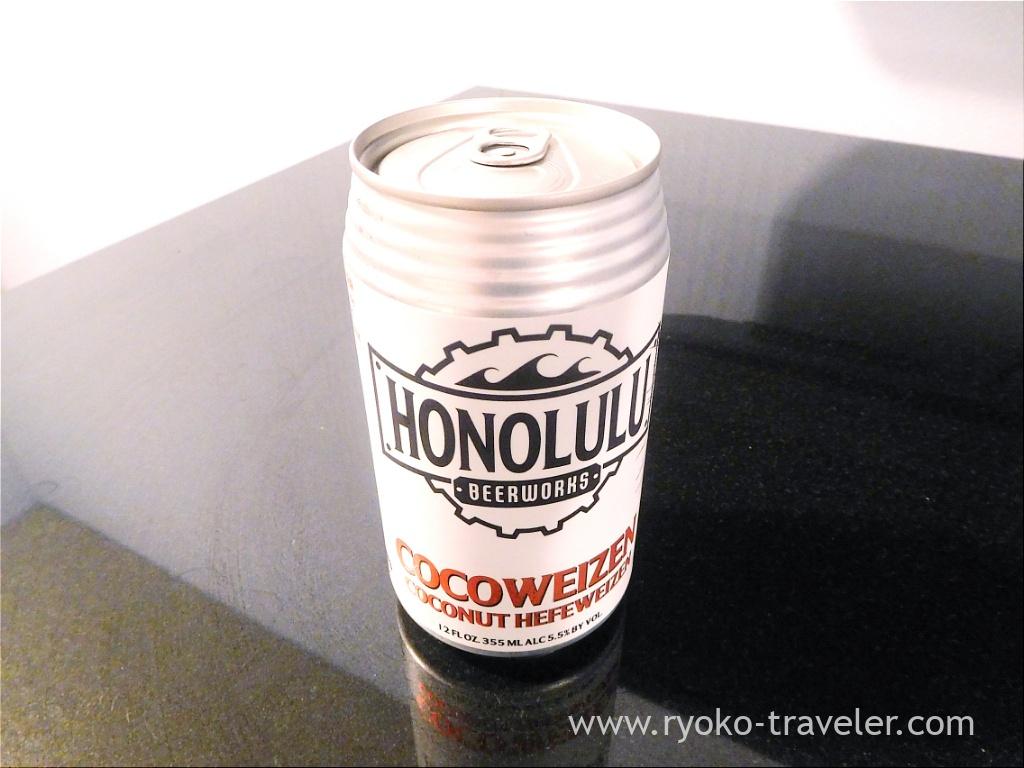 About

Name Honolulu Beer Works
Open Day through night
Reservation Available
Credit card Available
URL Website, Instagram, Twitter, Facebook

Google Map