I found good izakaya in Monzen-Nakacho. Their name is Aizu basashi Sumibi yakitori Hikodori (会津馬刺し 炭火焼鳥 彦酉). They are in the three-storied old house. There're counter seats on the 1F. And horigotatsu room is on the 2F. 3F is reserved room. If you are seated along the counter seats, you can see staffs grill meats and vegetables by charcoal-grilling facility. They accept reservation from one person on the website and offer valuable solo set. So, you can enjoy solo meal !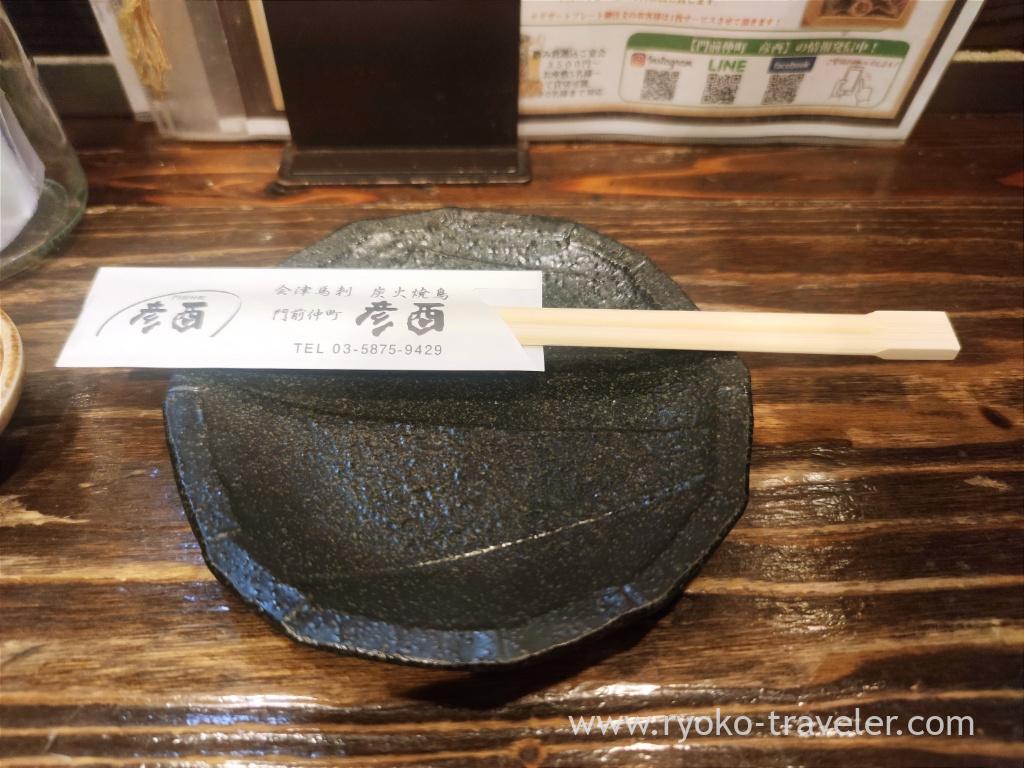 Hikotori is a chain store. But they don't have much branches yet. They have branches along Tozai subway line mainly for example, Myoden and Gyotoku. Their branch in Tokyo is only this Monzen-Nakacho branch.
They have a variety of Japanese sake. Many of them is from Fukushima because they serve Aizu local foods, but they also have sale from another prefecture.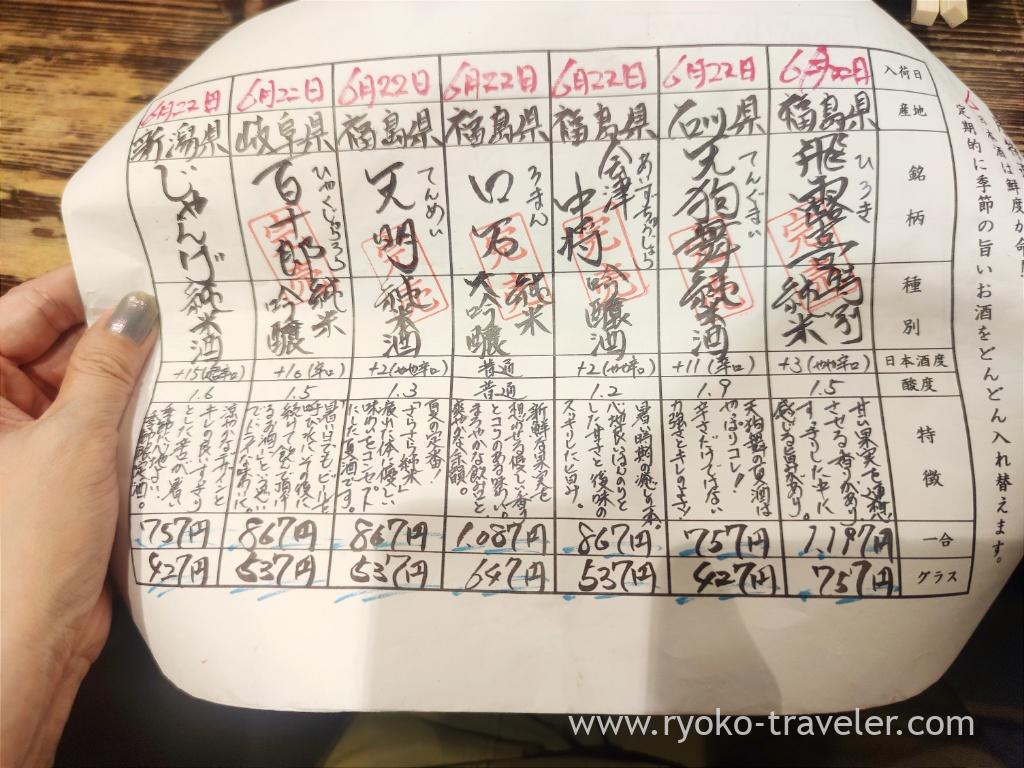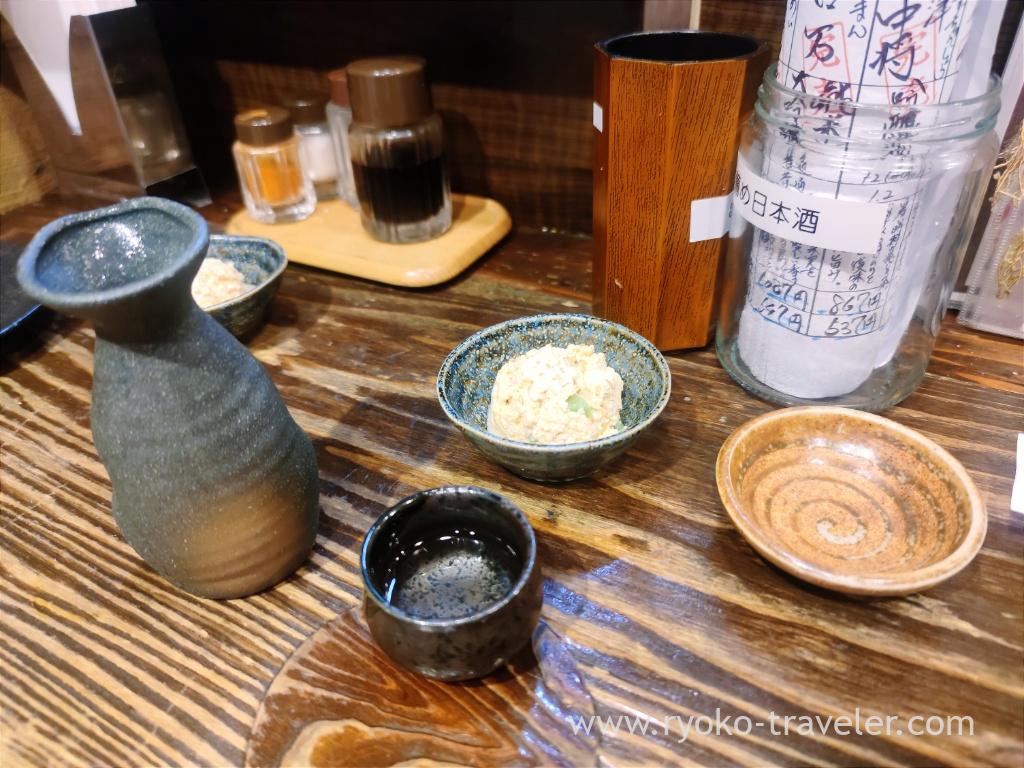 As their name, they serve Aizu local foods like Basashi (horse meat sashimi), charcoal-grilled foods mainly and another they have seafood, hotpot and so son. And they have some local foods except Aizu. Table charge (otoshi) is 385 yen.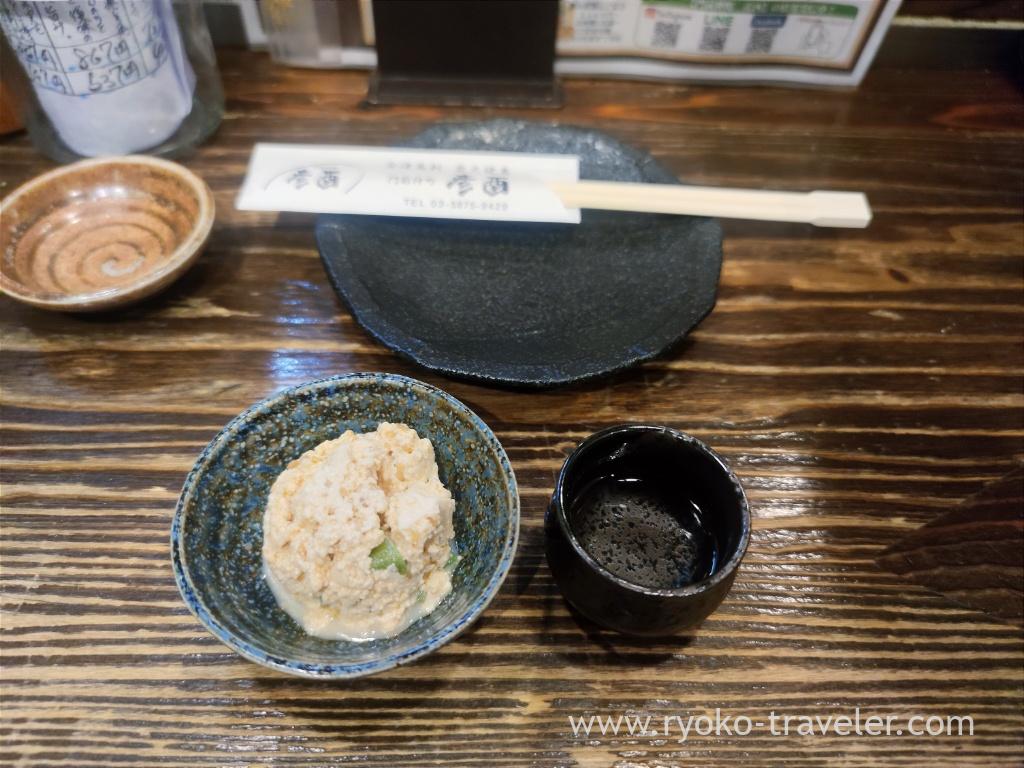 This is an asparagus rolled with pork. Asparagus is seasonal vegetables, so it's not always on the menu.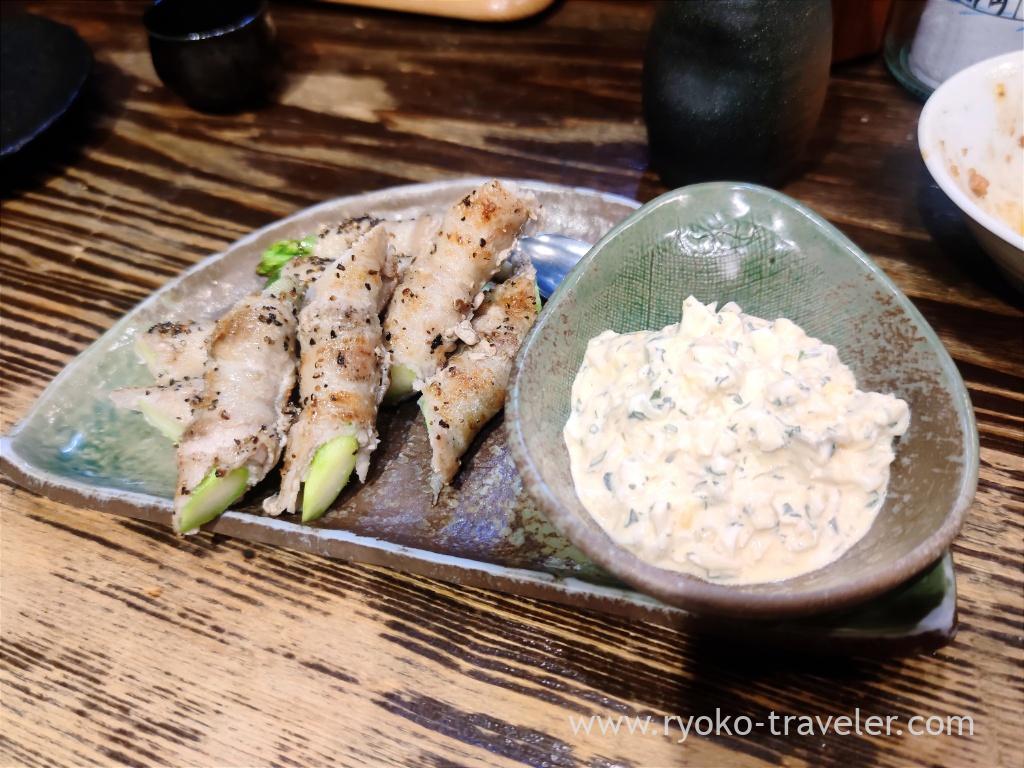 This is one asparagus. It's long and thick. So, they cut and serve it. The pork was fatty, but it never lose the tastes of aparagus. The asparagus was fresh and good ! It went with Japanese sake well ! It's served with homemade tartar sauce. It's good sauce for the asparagus. And just it's enough good. We ate the sauce everything.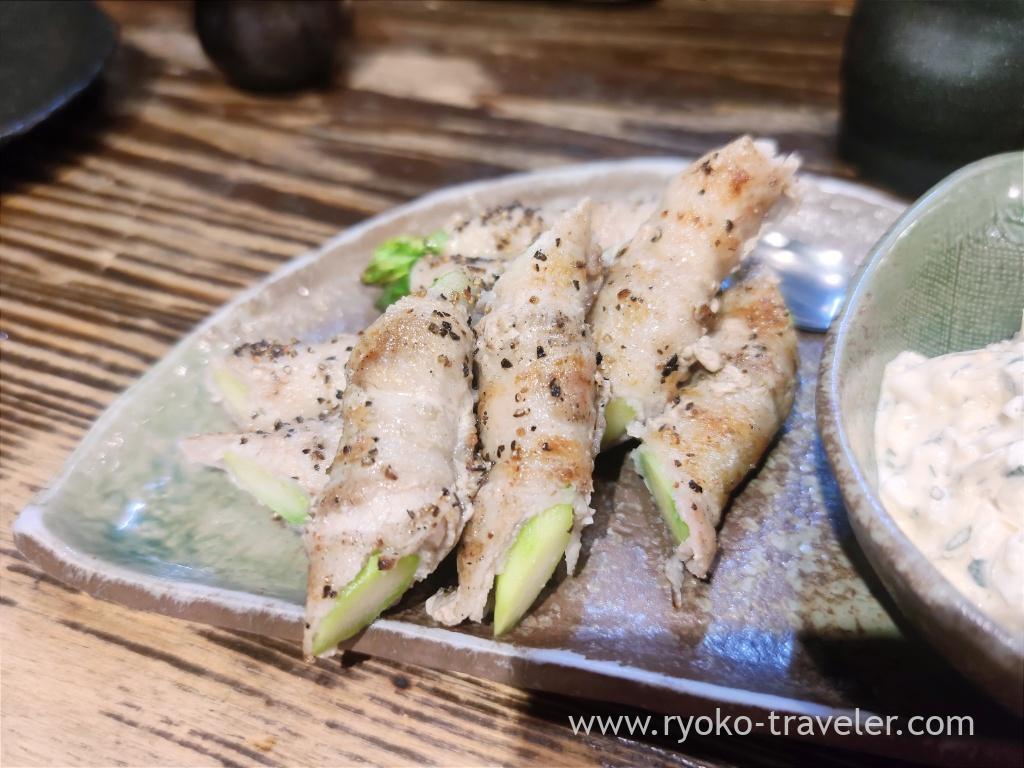 Their name have "Aizu basashi". So, it's MUST. Aizu basashi leg meat. If you visit there with two or more person or you want to eat much basashi, valuable assoted basashi is good. But not, this is enough. Delicious. It's fresh because it come directly from Aizu.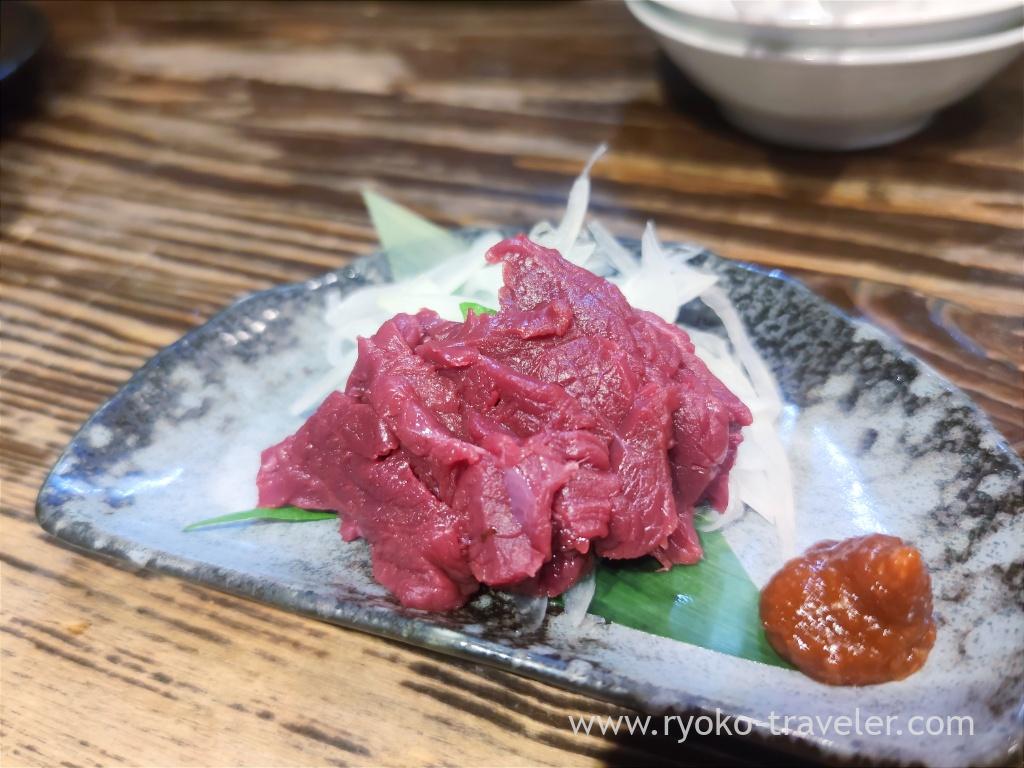 Hikotori have Yokote Yakisoba that is a local food of Akita ! Its springy texture is more udon than yakisoba. It was sweeter. I imagine Yokote Yakisoba is served with sunny-side up. But their Yokote Yakisoba have onsen tamago. It's
good to eat the end of dinner. I shared it with my friend.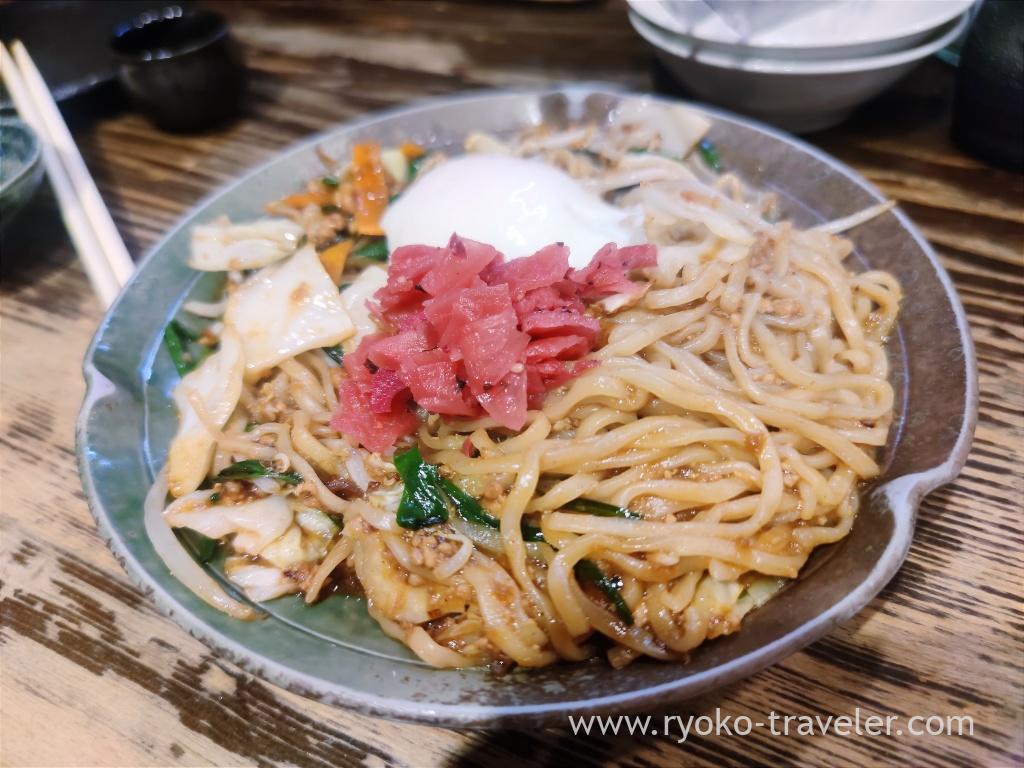 About

Name Hikodori Monzen-Nakacho (会津馬刺し 炭火焼鳥 彦酉)
Open Dinner
Reservation Available (
Hot pepper,
Tabelog)
Credit card Available

Google Map