*New Otani Kaimana Beach hotel rebrands as Kaimana beach hotel and Hau tree Lanai closed. And Hau tree lanai rebrands Hau tree. (December, 2020)


---
Speaking of Hawaiian foods, I remember egg benedict at first. And speaking of egg benedict in Hawaii, Hau Tree Lanai is so popular, I know. Many Japanese TV shows and magazines say Hau Tree Lanai is MUST to visit if you visit Hawaii for the first time. But I avoided to going there until that time because I thought it is packed with Japanese people. But finally, I visited there.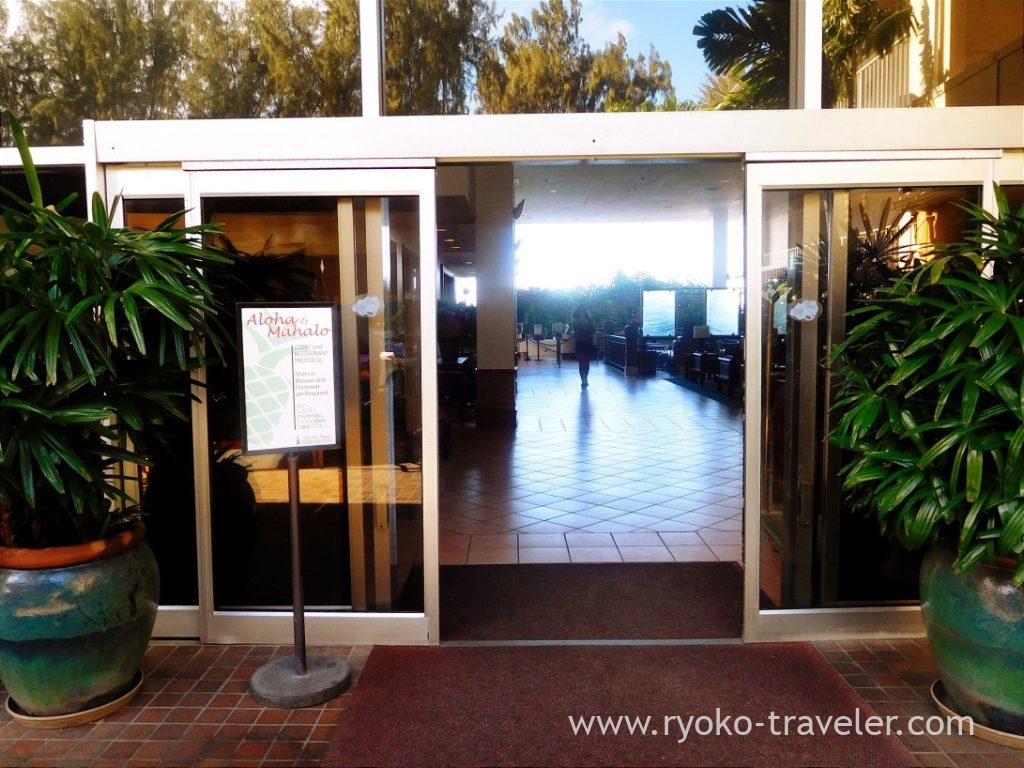 As I said, Hau Tree Lanai have tremendous popularity and especially, people overflow in the morning for valuable breakfast. So, I reserved on Open Table at previous night. We can reserve Open Table without registration.
But there were many vacant tables at that day (around 10 a.m.) There were only three groups including me. I thought I didn't have to reserve at first, but I think we'd better reserve in advance all the same because many Japanese tours have a plan to have meal at this restaurant. Once they enter, the restaurant must be packed soon.
Hau Tree Lanai is located on the ground floor of New Otani Kaimana Beach Hotel in front of Kaimana beach. Though it is located along Kalakaua avenue, Hau Tree Lanai can't be seen from the avenue because Hau Tree Lanai is at the back of the lobby. I heard they can't show their signboard outside because they are in the residential area and there's a regulation. So, I couldn't find the restaurant soon. It's difficult to find a bit.
As their name, all tables are outside. Pink-colored tablecloths are cute. Tables are at the under of 100-year-old "Hau Tree". Unexpectedly this restaurant is cozy. They don't have much tables. It looked wide restaurant on the guidebook. I think we'd better reserve in advance all the same. Thanks to Hau Tree, almost all tables are shaded, so I felt cool.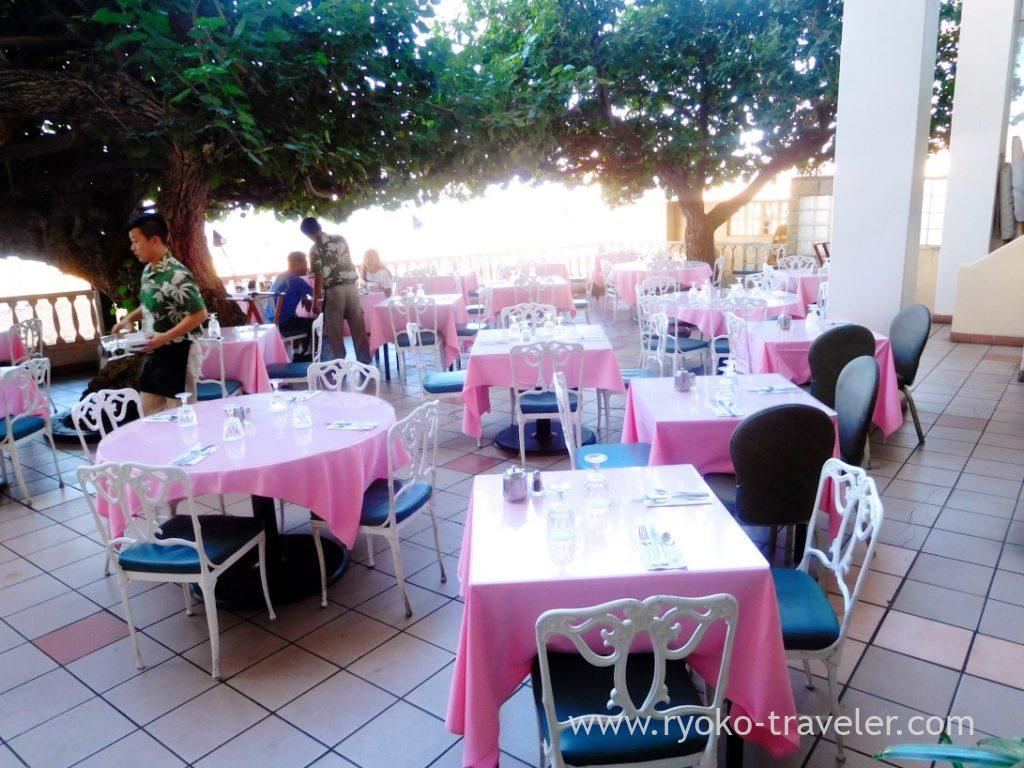 Kaimana beach view from the seat.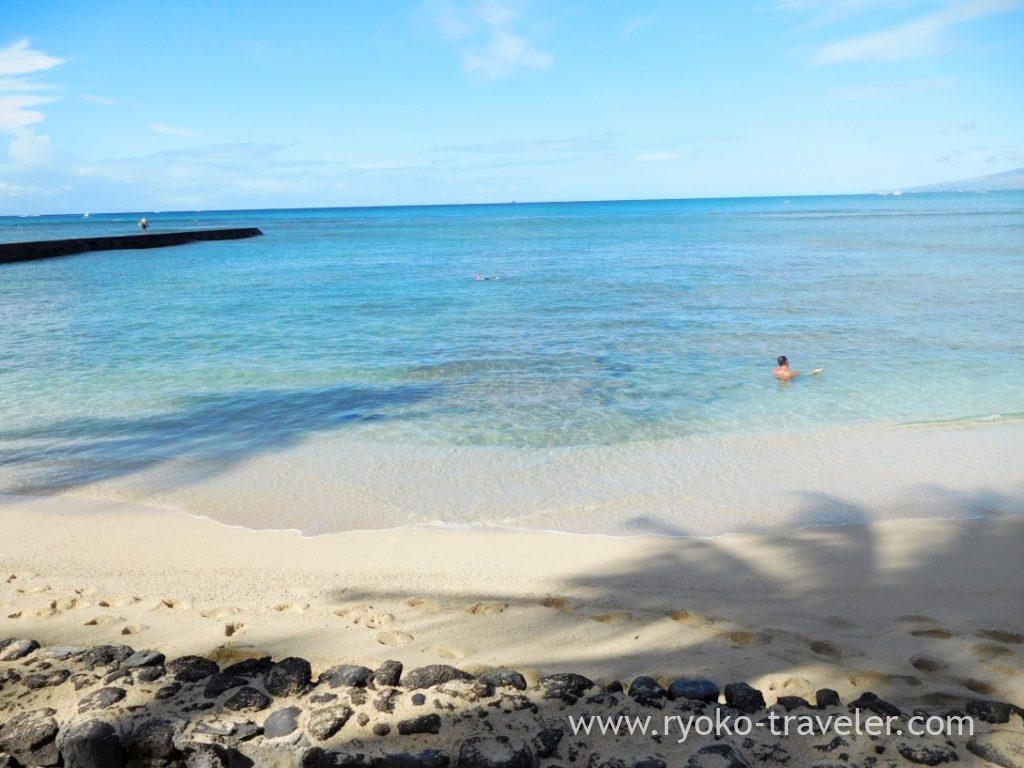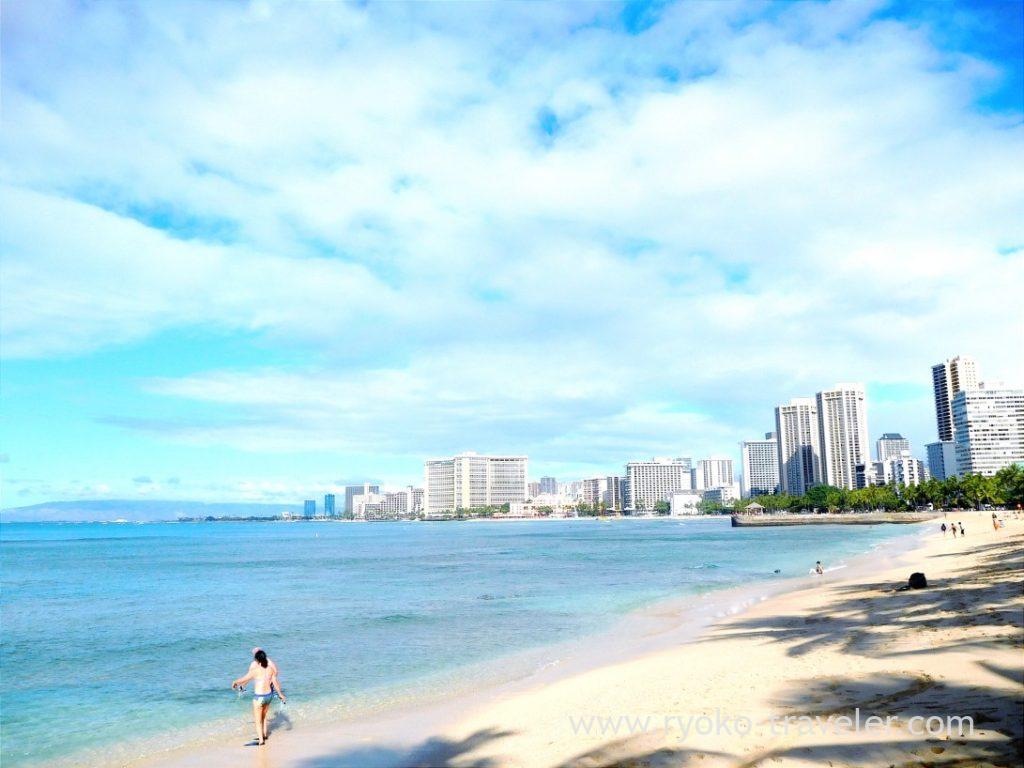 Even I reserved in advance, they didn't secure table. (I think it's because there're many vacant tables that time). So, the staff looked around the restaurant and she took me to this seat.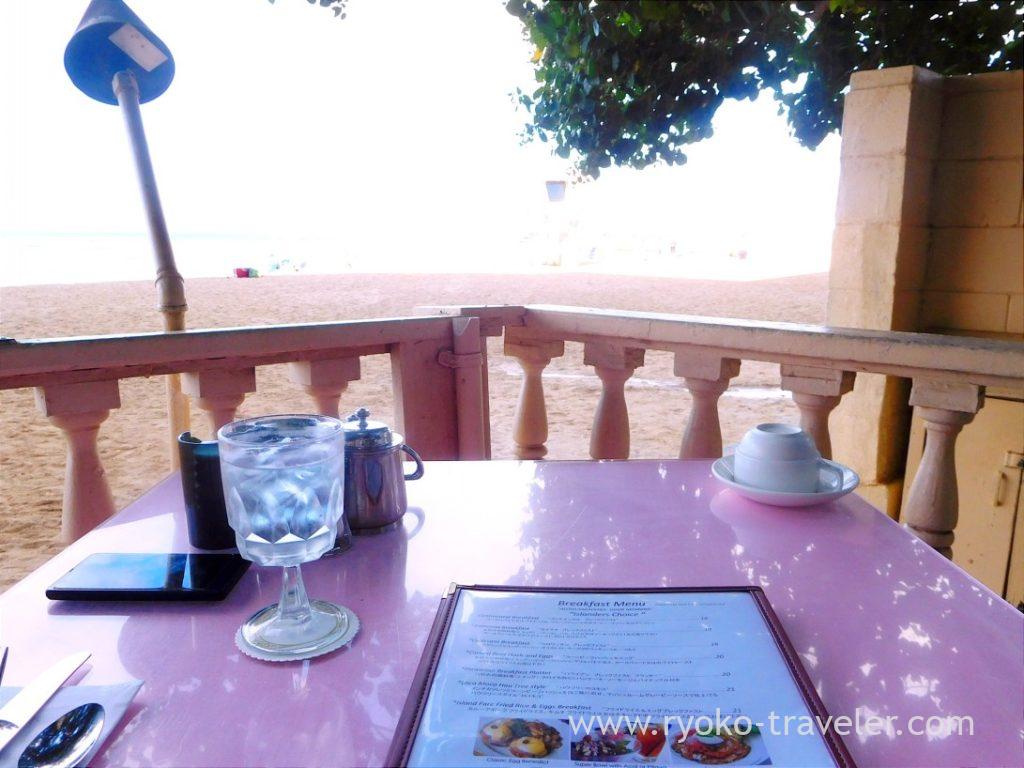 They prepare breakfast, lunch and dinner menu. This is valuable breakfast menu. It's Japanese menus. Official website have English menus.
They have six species of egg benedicts.
Because I couldn't decide what to eat soon. So, I ordered orange juice at first. It's juicy. Sweet and rich. It was delicious.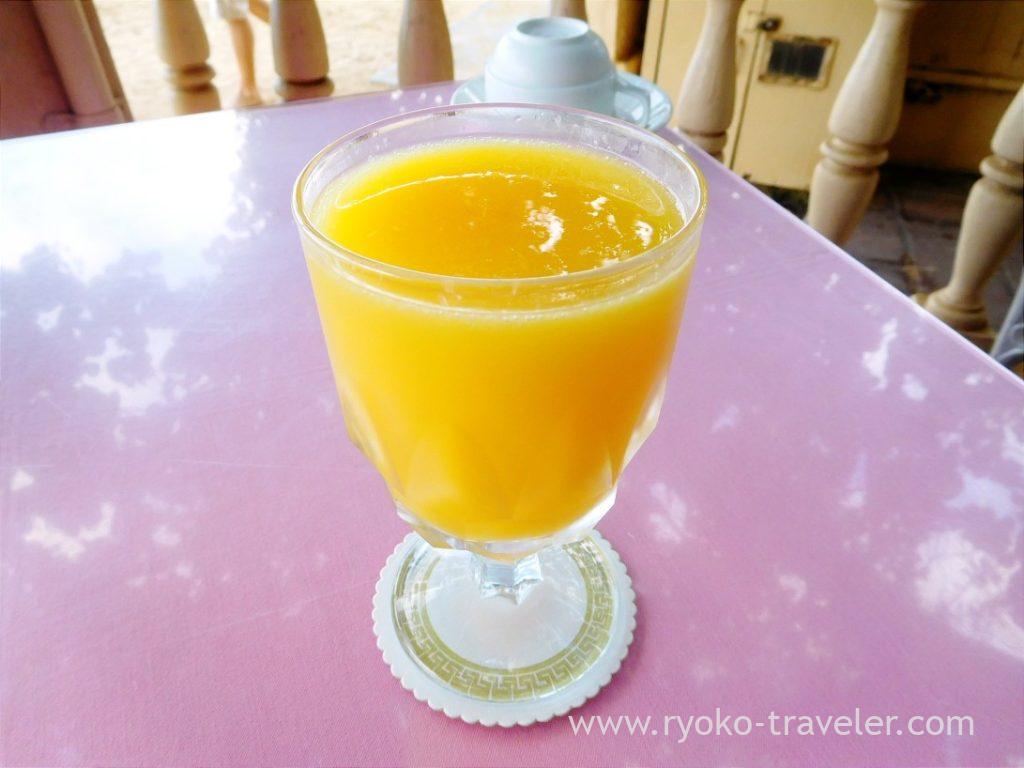 I had the reason why I couldn't decide my breakfast soon. I checked their menu in advance before going to Hawaii and I decided to order "Egg benedict Kaimana". But I found it wasn't on the menu. And I found "Super Kaimana Benedict" instead. Price is super, ingredients are super, and I thought the amount is super :p
I was anxious about its amount. "I can eat it up ?". But after all, I ordered it. This is Super Kaimana Benedict. Contrary to such a cute appearance, egg benedict accumulates in my stomach easily.
I broke egg. The yolk flew.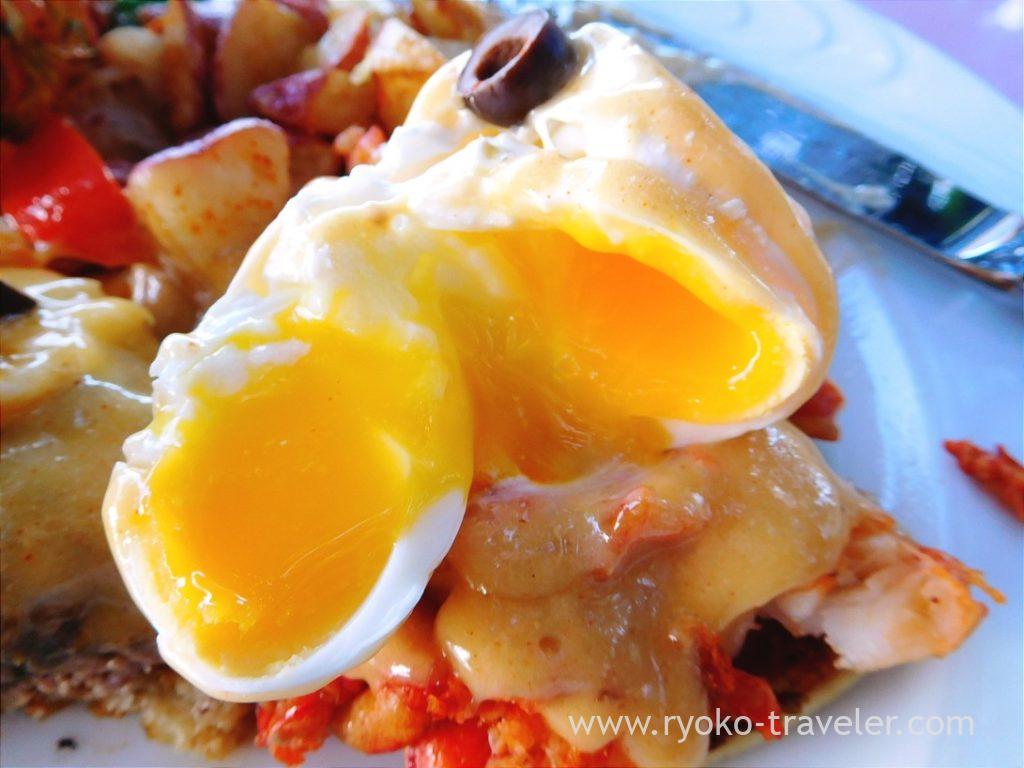 Left is petite fillet beef. It's juicy and I felt I eat steak. Plenty of creamy Hollandaise sauce was on it. Delicious.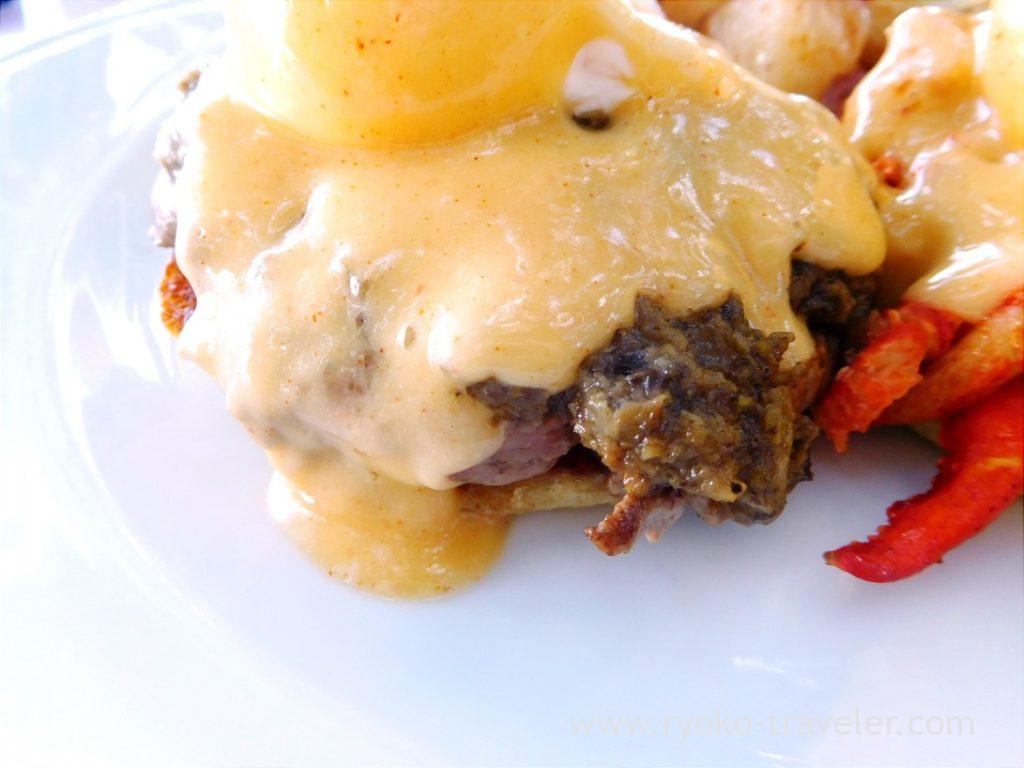 Right is lobster. It's delicious, too. I was anxious that lobster go with Hollandaise sauce before eating. And I found it's perfect friends. But… I want to eat lobsters only without Hollandaise sauce and muffins :p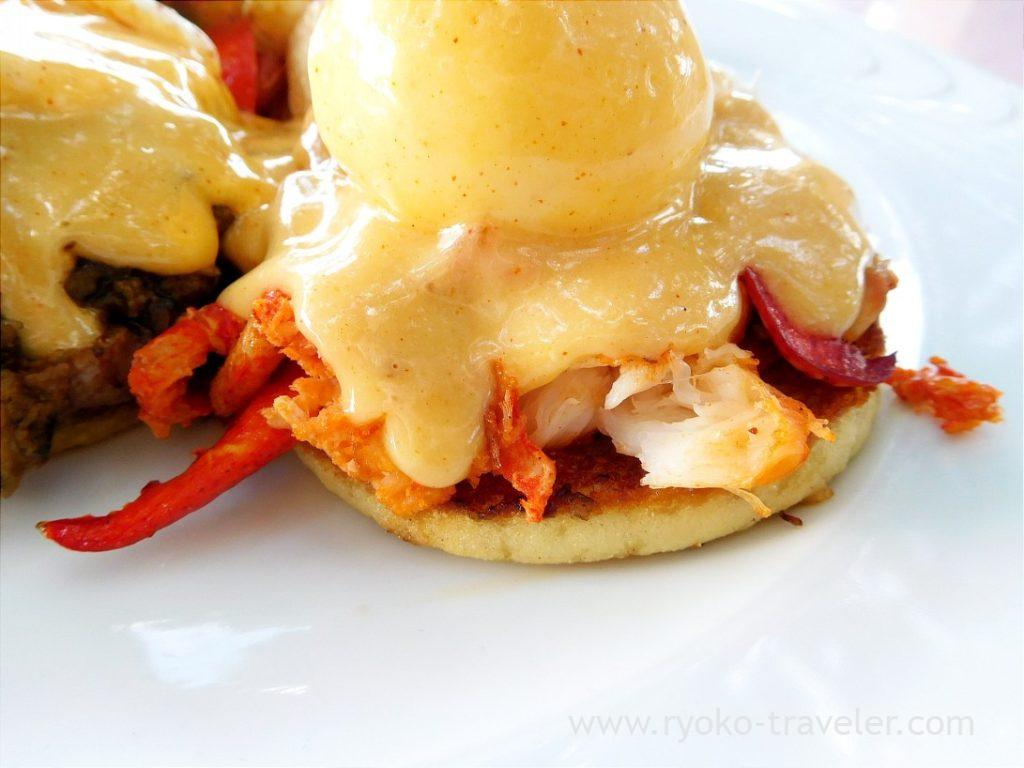 With lots of potatoes made me full.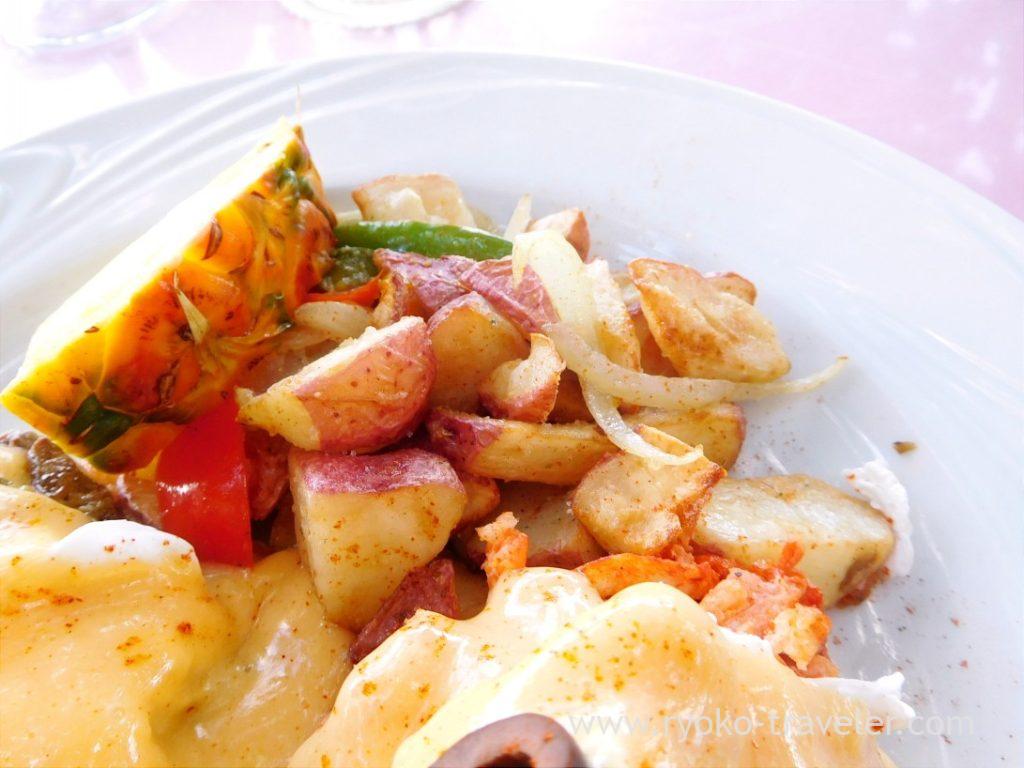 Pineapples were delicious. Tropical island have delicious fruits all the same.
It's far from standard egg benedict that I expected, but it was gorgeous and delicious. I didn't feel hungry until the night !
About

Name Hau Tree Lanai
Open Morning through night
Reservation Available
Credit card Available
URL Website

Google Map (Current "Hau Tree")