Spicy mapo tofu cheered me up.
Recently, I'm starving for spicy foods because it is so muggy everyday.
I went to Kanda to eat mapo tofu that day, too.
Handwriting ???? I was surprised at such a funny signboard.
This shop moved from Setagaya that is so popular as high class residential area.
Eh ? Didn't they use such a signboard at the affluent neighbourhood ??? 😛
The shop's name is "Goshizan".
I know Goshizan (Mt. Goshi) is a name of mountain in China.
The shop is rather narrow.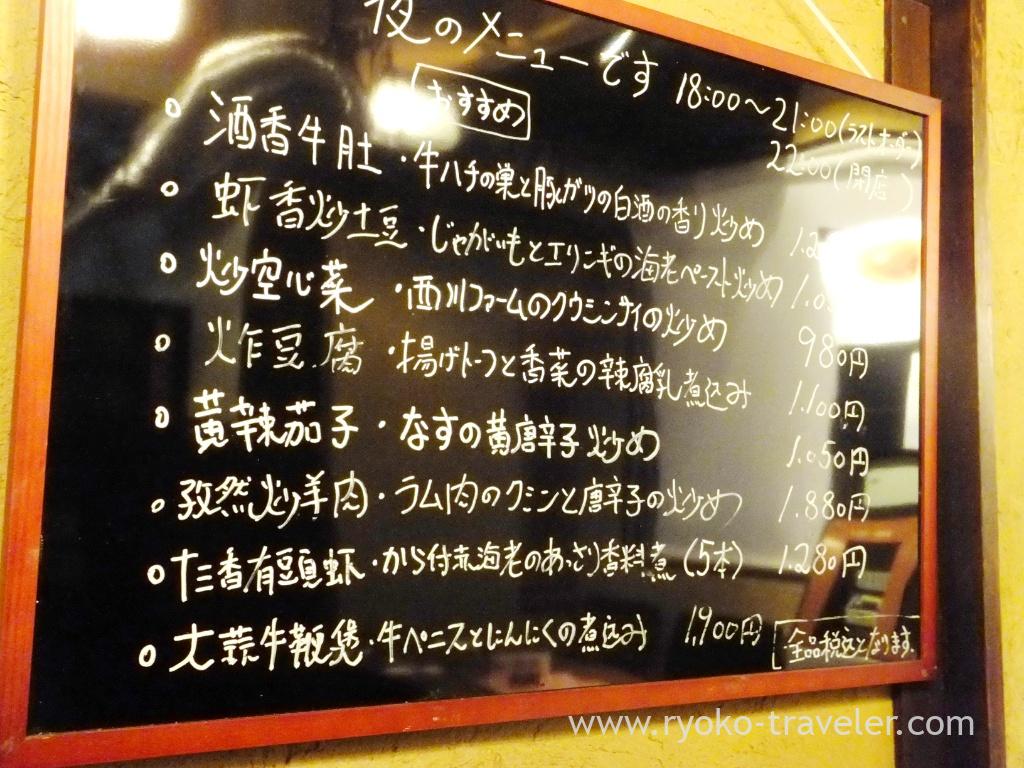 We were two and thought that about 3 diehs are good for two person and ordered three dishes.
They serve more original dishes based on Chinese foods and another Asian elements than ordinary Chinese foods.
Fried cows' heart and pigs' gut with baijiu (牛ハチの巣と豚ガツの白酒の香り炒め, 1200 yen)
That's dangerous food.
Cows' heart pigs' guts were fried with Chinese baijiu that have around 50 alchohol content. And the strong alcohol content remained.
We got drunk just it though we didn't drink at all.
Basically we can't drink a lot, so we couldn't eat up. Those guts and hearts were soft and good though.
Steamed pigs' gristle and black beans (豚骨軟骨のブラックビーンズ蒸し, 1050 yen)
Those gristle had crunchy texture and tasty.
Last
Mapo tofu and rice in an earthenware pot (麻婆土鍋ごはん, 1080 yen)
So much sichuan pepper on it !!! It was really tasty.
Though I had lost appetite, I voracity ate it. My appetite completely recovered.
Some people came here alone and order one this mapo tofu bowl. But one portion seems to be much for one person.
About Chinese foods Goshizan (中国料理 五指山)
Address / Kosei Bldg Bekkan 1F, 1-9-10 Uchi-Kanda, Chiyoda-ku, Tokyo
Station / Kanda station (JR, Tokyo metro), Ogawamachi station (Toei subway),
Awajicho station (Tokyo metro)
Open / 11:30 – 14:30, 17:30 – 22:00
Closed / Sundays