Oyster curry at oyster bar
This is a continuition of the article(Took a rest after Tsukiji on the Saturday) last day.
http://www.ryoko-traveler.com/four-season4
After getting out of Four season, we went to eat curry at oyster bar named Ginza Hisagi near Ginza station.
"楸" is not a Chiense characters in common use.  I think it is beautiful character. The character contains "木 (tree)" and "秋 (autumn)".
The restaurant is on the 2nd floor of the small building.
They serves curry and rice during lunchtime only.
The atmosphere was good 🙂
Very small restaurant, only 13 chairs are in the floor.
I ordered a curry with oyster set (牡蠣入りカレー, 780 yen).
The curry had demi-glace sauce.
The curry may look dark brown from this picture. This picture doesn't do justice to the real thing. The justice was very black !
It was inexpensive, but the curry had three oysters ! (Though those were small :P)
The restaurant prepares many kinds of dishes. But all dishes have same curry. Those differences are what is on the curry.
Mine was oysters on it.
Another, beefsteak, deep fried oysters, roast beef and so on… I want to try beefsteak next time.
After eating at Hisagi, we went to eat parfait at Monzen-nakacho. But to our great regret, the cafe took a special holiday!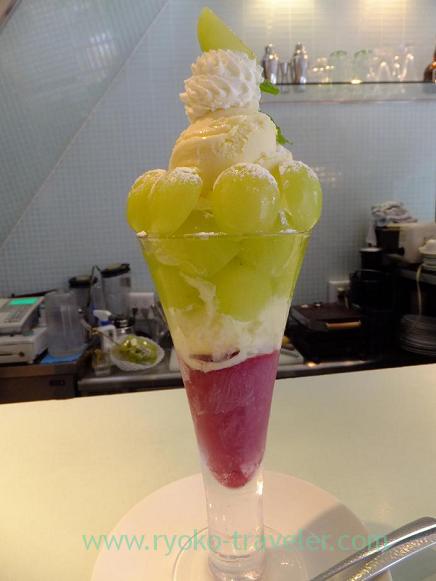 Tall grape parfait (Monzen-nakacho)

My friend showed me a picture of grape parfait, so I suddenly got a craving to eat the parfait. The next day I found ...


I was really shocked because I wanted to eat strawberry parfait :O
We had a coffee at a cafe that have old atmosphere and discussed what to do after that.
Cafe Toa Supply
And we decided to go to eat pancakes at Morishita instead of parfait….
Still, my friend invited me to "Tsukiji Tour", but actually,  we went to Choseian only at Tsukiji ! (>_<)
About Ginza Hisagi (銀座 楸)
Address / Katagiri Bldg 2 2F, 6-12-16 Ginza, Chuo-ku, Tokyo
Station / Ginza station (Tokyo metro)
Open / 11:30 – 14:00, 18:00 – 23:00
Closed / Sundays and another national holidays
Website / http://kaki-hisagi.com/
About Cafe Toa Supply (カフェ東亜サプライ)
Address / Chikatetsu Bldg 2 2F, 1-7-9 Monzen0Nakacho, Koto-ku, Tokyo
Station / Monzen nakacho station (Tokyo metro, Toei subway)
Open / 8:00 – 22:00
Sundays and another national holidays / 9:00 – 22:00
Closed / no scheduled
Website / http://www.toa-coffee.co.jp/