Because Kaohsiung is southern area of Taiwan, it is hot even in the daytime in Winter. So, when I find the word "冰" (=ice),  I feel like having shaved ice !
It can't be helped. Gao Xiong Po Po Shaved Ice (高雄婆婆冰) is long-established shaved ice shop. They have started their business in 1934.
I wanted to eat mango shaved ice at there, and it was on the menu, but mango is summer fruits in Taiwan, too. The staff said to me, "Nothing. Now is strawberry season !". Though it was hot in Taiwan, it was already Autumn ! It's the fact.
Photos of both mango and strawberry shave ice is on the signboard, but one is out of stock.
All seats are outside. There's a roof, so, we can avoid to get wet in the rain. Not only shaved ice but also fruits juice, too.  At first, I was seated, and ordered. After I got my shaved ice, paid money.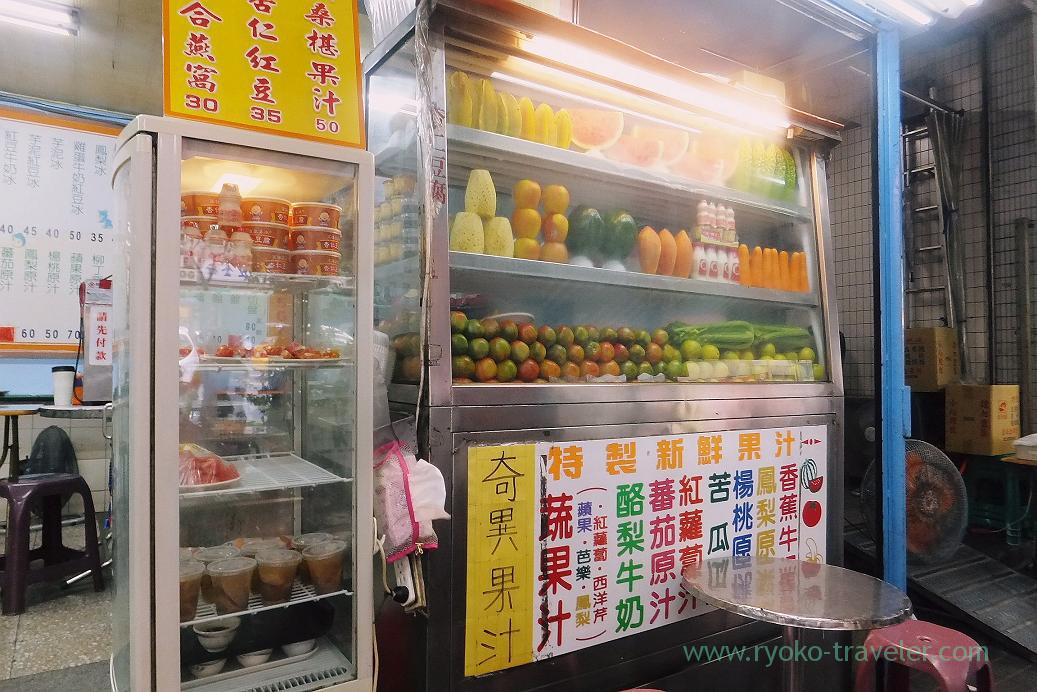 Where?
The closest station is MRT Yanchengpu station. Very close to the station. They face the main street. And their signboard is outstanding. So, it's easy to find.
Shaved ice with strawberry and milk
So, I chose strawberry because it is the best season. Shaved ice with strawberry and milk 草莓牛奶冰, 100TWD). It's like iceberg.
Winter is the best season of strawberry in Taiwan as well as in Japan.
In Taiwan, strawberry is written in "草莓" in Taiwanese. It's differ from in Japanese.
In Japanese, strawberry is "苺".
Many strawberries, strawberry syrup, condense milk, and two scoops of strawberry ice cream.
Those strawberries were sour a bit, but it have plenty of condense milk and the strawberry ice cream was sweet. So, it didn't bother me.
Feeling freshness is by strawberry,  sweetness is ice cream and condense milk.
Because it was the best season, many people ordered it.
By the way, I ordered it as it is.
If you say nothing, they make your shaved ice with crunchy normal ice (牛奶冰).
But if you want, they make your shaved ice with snow ice (plus 20 TWD, 雪花冰).
Because the amount of shaved ice is much, many couples shared one shaved ice.
About Gao Xiong Po Po Shaved ice (高雄婆婆冰)
Address / 高雄市鹽埕區七賢三路135號
Phone / 07-561-6567
Open / 9 a.m. – 0 a.m.
Closed / Mondays, Tuesdays
Reservation / Unavailable
Credit card / Unavailable
Smoking / Not permitted