Fukusen(福せん) is now located next to Sushidai and Odayasu in Toyosu Market.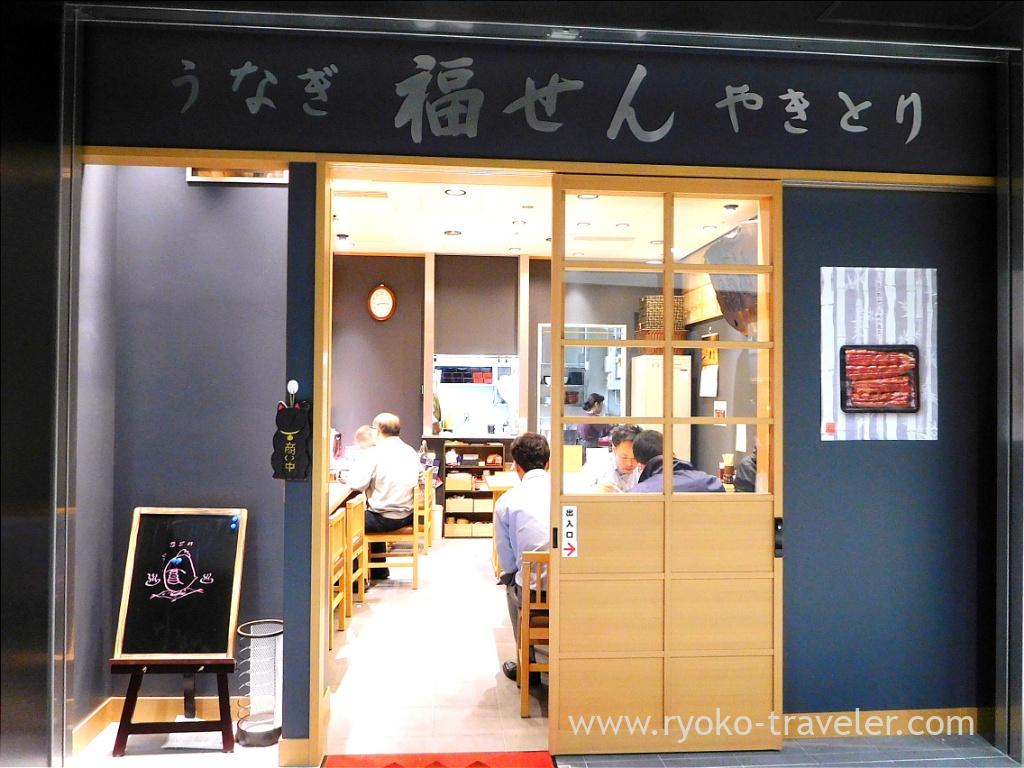 I posted about how to get to Fisheries Intermediate Wholesale Market bldg (Nakaoroshi suisan uriba bldg).
Though Sushidai have much people waiting as well as at former Tsukiji Market, Fukusen don't show their menu outside and there's calm atmosphere as usual.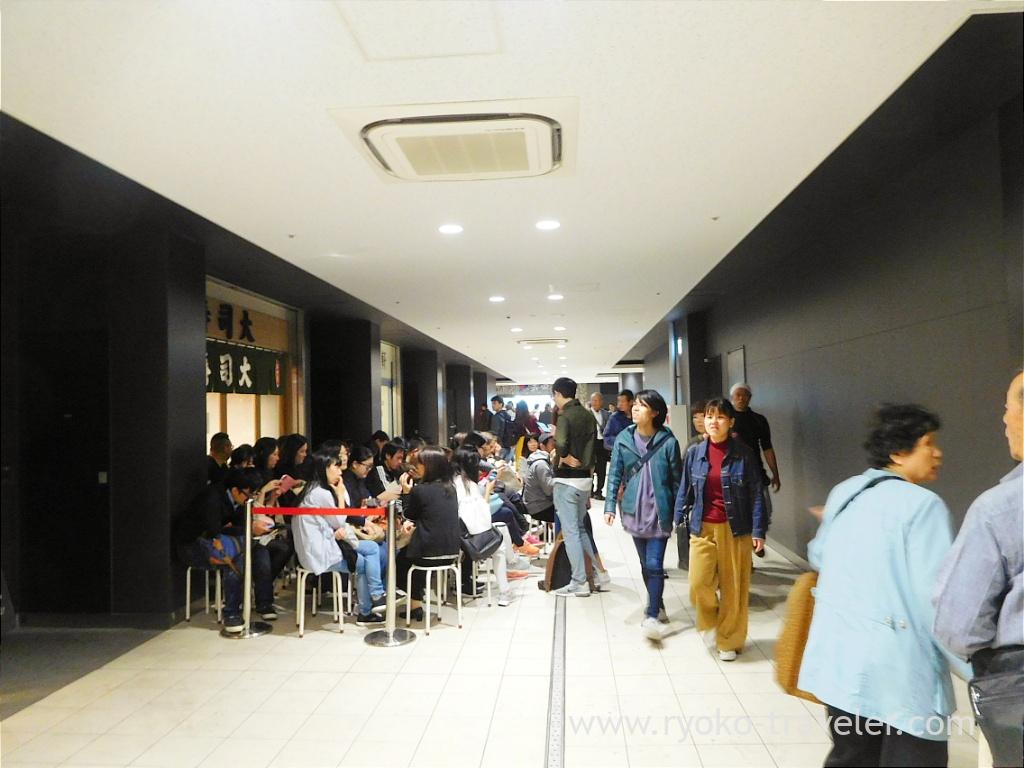 Fukusen have some tables having two or four chairs and some counter seats.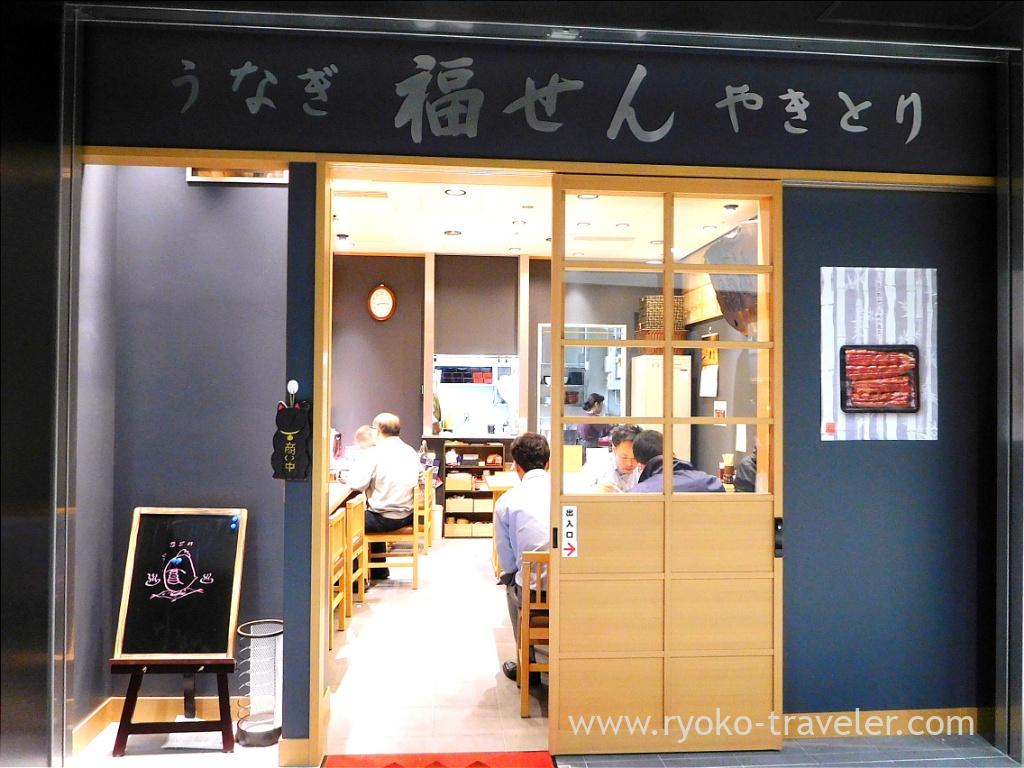 Counter seats. Simple and cool. They serve hot green tea, but water is at the corner of the counter table. You can take it if you want some.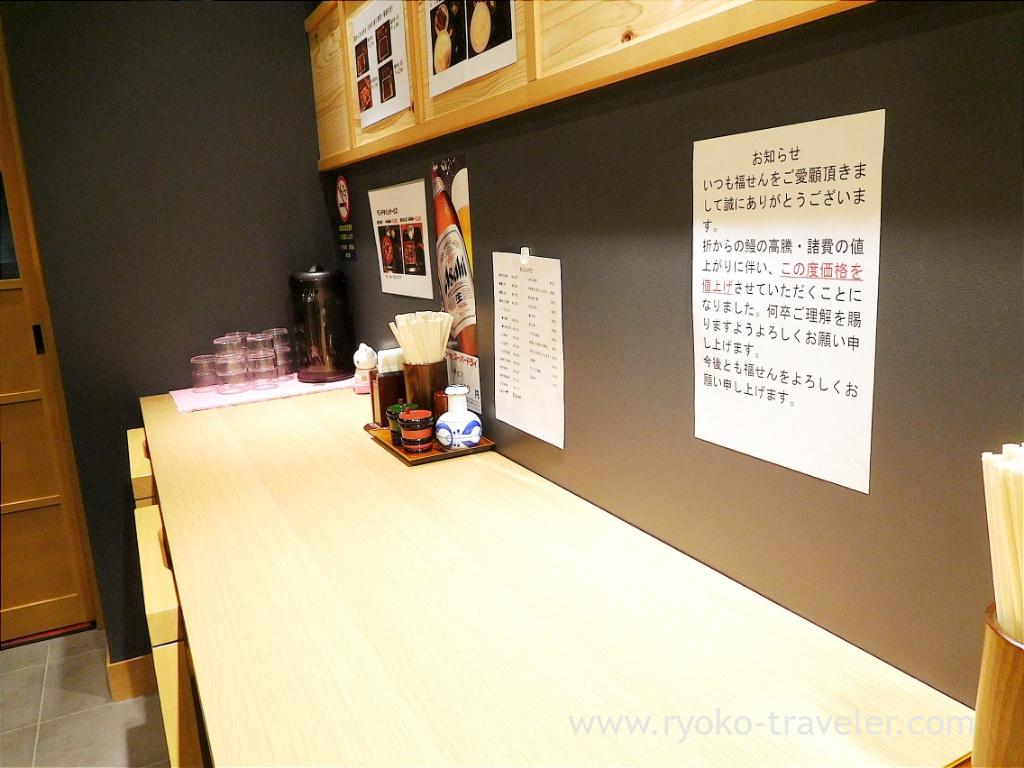 Seasonings on the table. Sansho pepper, shichimi pepper. Nothing has changed.
They brought this wooden signboard and menus from Tsukiji Market. Cool. Those added their simple interior more historical atmospthere.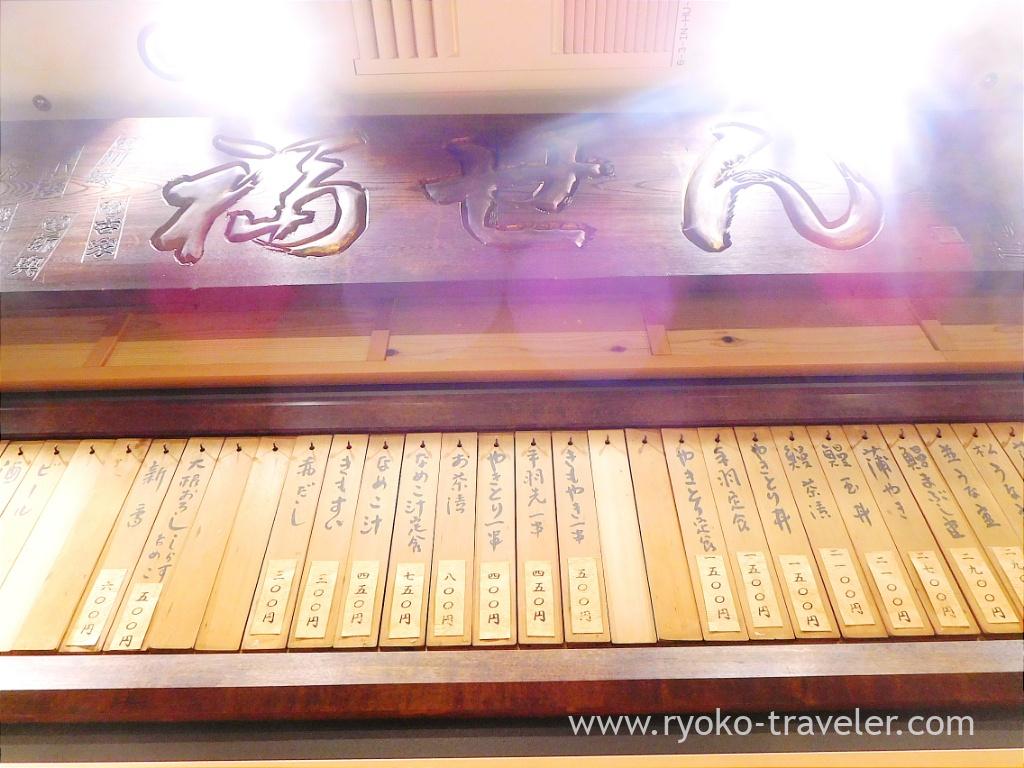 Though there's wooden menu, there's paper menu like this on each tables. Almost all foods are on the menu, but price of many foods raised because of the rising price of eels.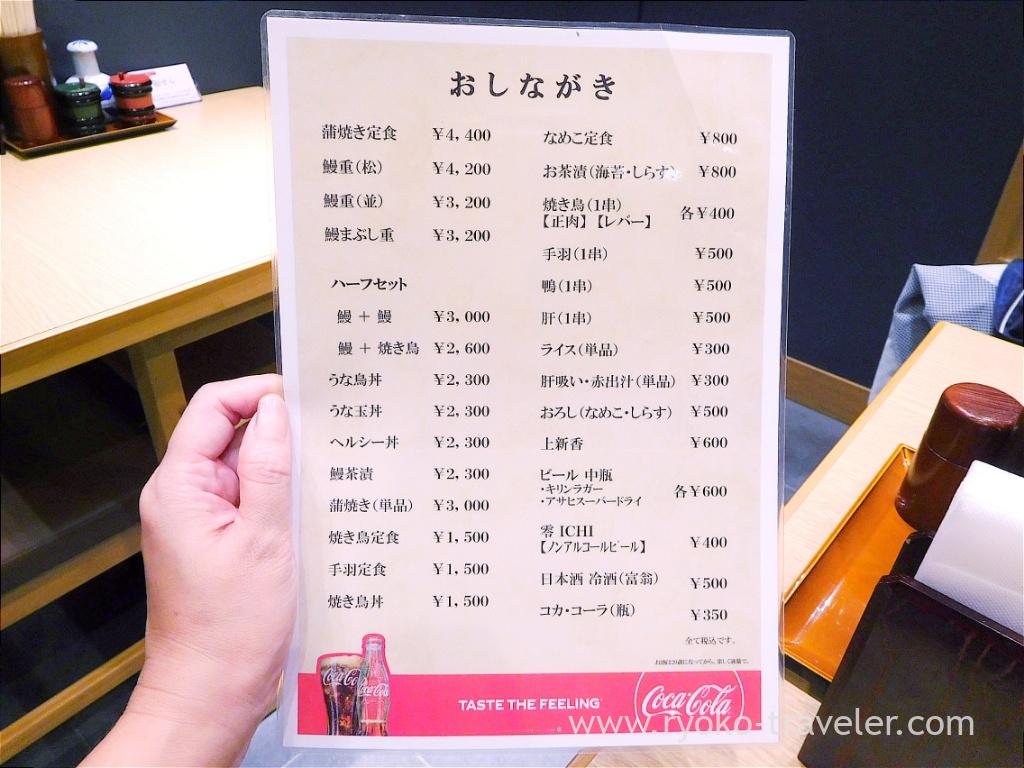 Breakfast and Japanese sake at Fukusen is great all the same. Though I intended to order two yakitori and eels liver. But I thought ordering yakitori separately is rather expensive. So, I ordered yakitori bowl, eel's liver and Japanese sake.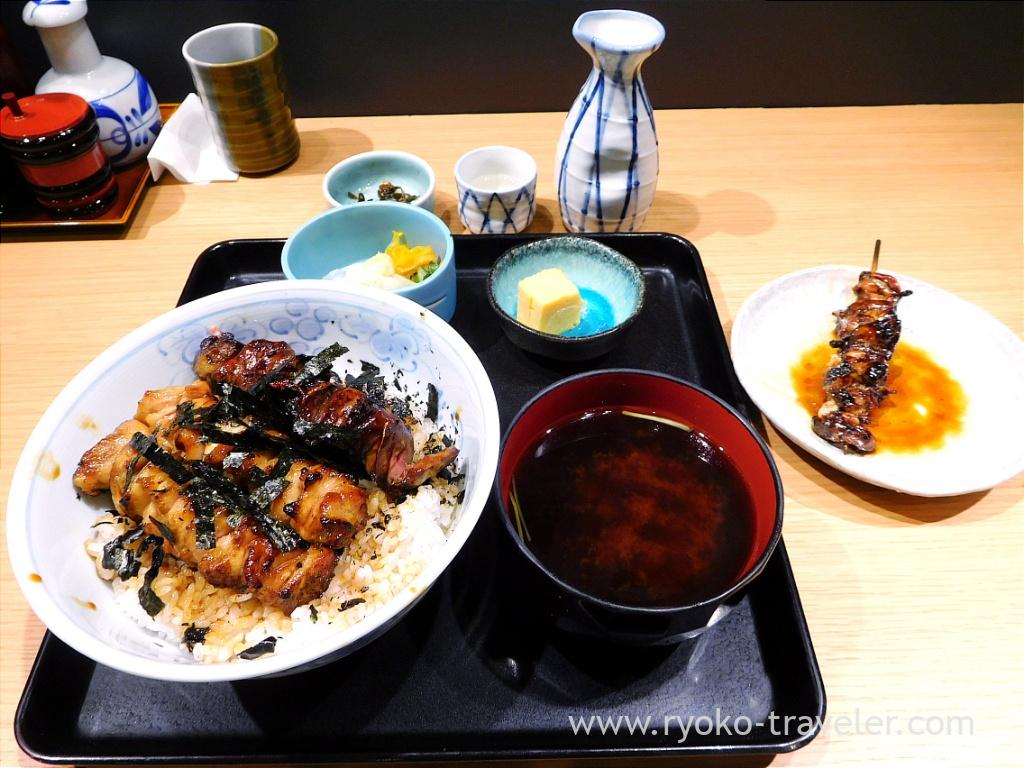 At first, I ordered yakitori bowl and eel's liver. I didn't intend to have alcoholic drinks. But a few minutes later, I felt like having Japanese sake all the same. Here's Fukusen ! I took a day off ! There's no choice but have Japanese sake in the morning !
So, the lady served Japanese sake at first. But if I order everything at first, she serve eel's liver and Japanese sake at first, and serve yakitori bowl after finished having them. If you order alcoholic drinks, they serve pickles (including the price of drinks). I like this pickles. It was sour. It went with Japanese sake very well. By the way, Japanese sake is served normal or warm temperature.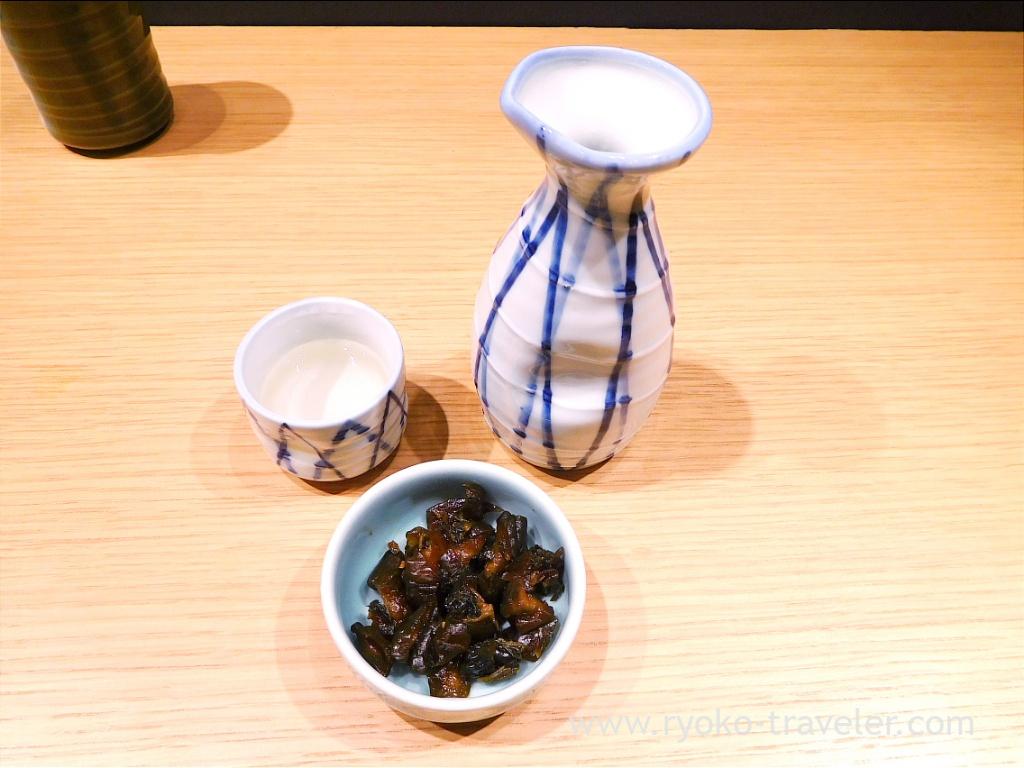 When I visit Fukusen, I order it without fail. Eels liver. Its bitterness and soft meat is great. Even it's tastey after it get cold. No. More tasty after it get cold.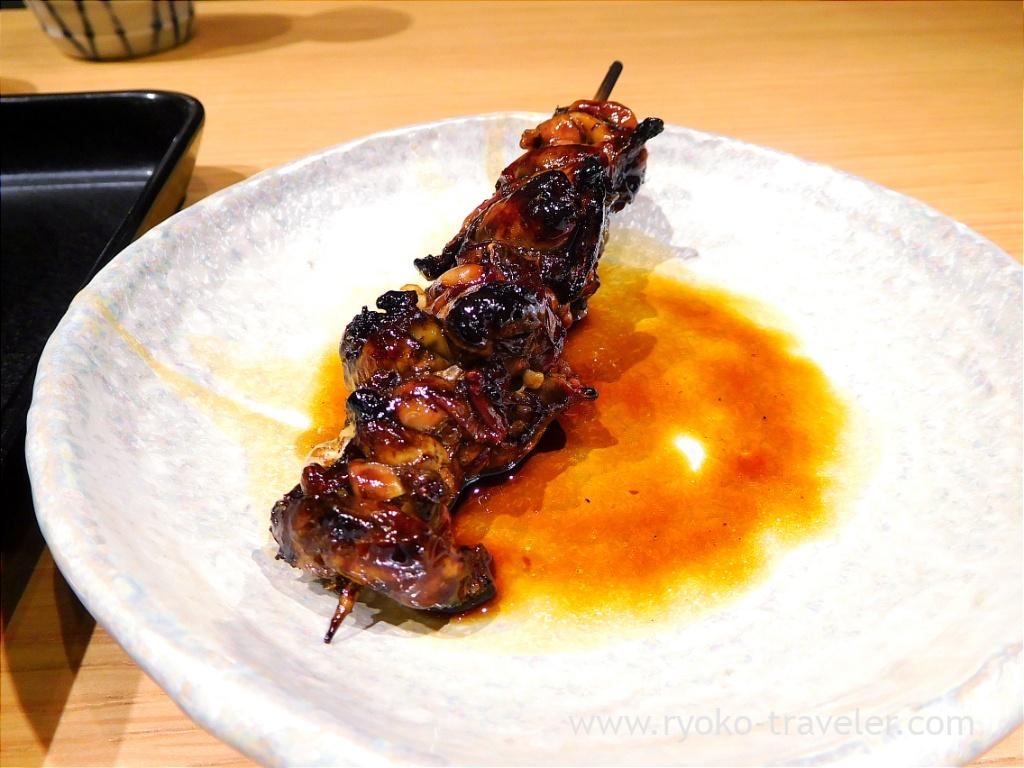 Yakitori bowl have three yakitori. Two are chicken meat and its skin. And another is liver. When you order it, the staff ask you whether one of it is liver or not. If you don't like liver, all three yakitori is chicken meat and its skin.
It have pickles, tamagoyaki and miso soup. I recommend their liver yakitori. So soft and there's no bad smell. Chicken meat and its skin yakitori have springy texture. Everything it good. The sauce is rather sweet.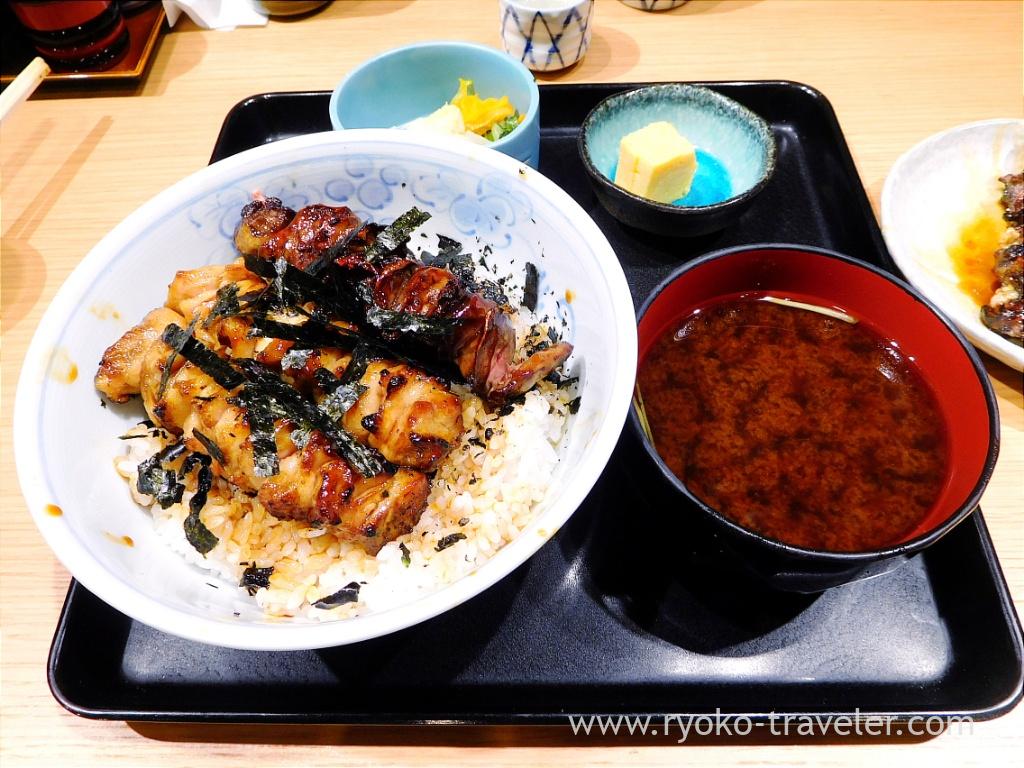 They have changed their cooking tools, so yakitori become softer and juicy than they were in Tsukiji. If you want to have rice and yakitori separately, there's yakitori and rice set 🙂
I posted about this food when I had it at Tsukiji Market. Please see it.
A few days later, I visited there again with my friends and enjoyed kimoyaki and Japanese sake !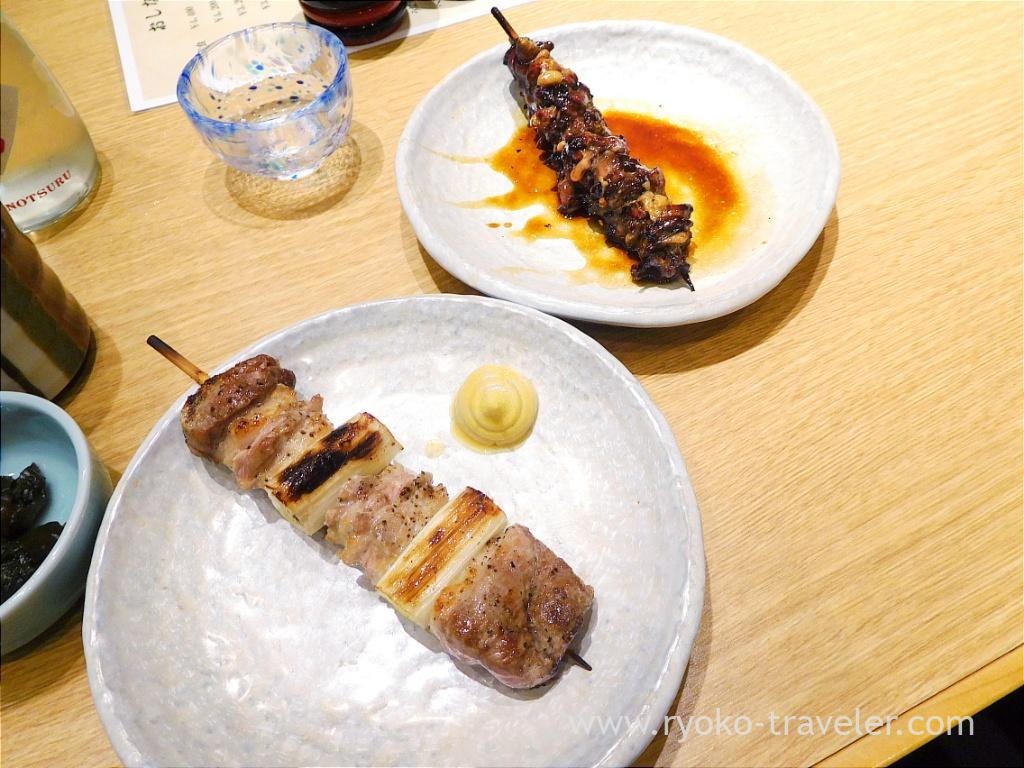 About

Name Fukusen (福せん)
Open Morning through noon
Reservation Unavailable
Credit card Unavailable

Google Map