Fujimura, hiding place for adults 🙂
My friend invited me to the dinner at Tsukiji 🙂
A regular customer reserved for us (Of course, he came!)
Fujimura
The izakaya occupy underground of the apartment that stands by the off-street near Tsukiji subway station.
It looks a hiding place for adults 🙂
I was so excited while waiting !
I ordered my drink a oolong tea (ウーロン茶)!
You wonder why I didn't drink alchohol ? Because I drunk too much the day before… 😛
Appetizer (お通し)
Small horse mackerel nanban-duke (marinated in a spicy sauce) , peanuts dressed with miso sauce and eggplant dengaku (with miso sauce)
Dadacha-mame (だだちゃ豆塩ゆで) 450 yen
A kind of edamame (green soybeans). Its looking, and taste… I can't find the difference between dadacha-mame and general edamame at all 😛
Eggplant and shallot (水茄子とエシャレット) 600 yen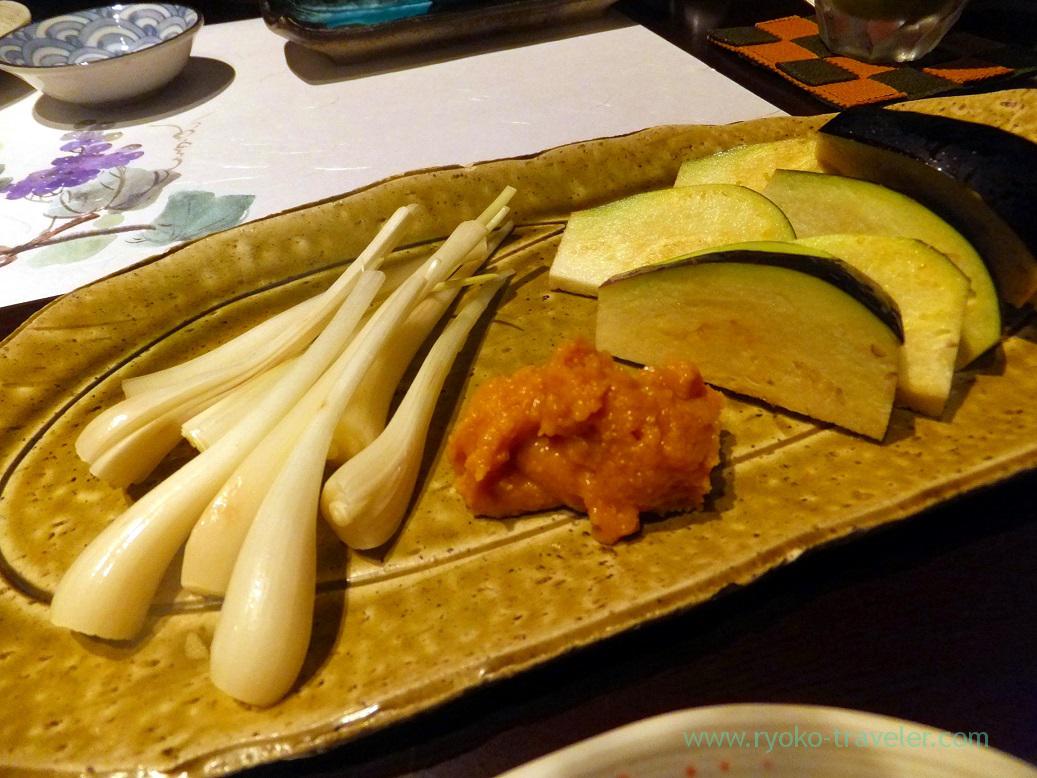 I ate eggplant as raw for the first time ! And shallot, too ! So tasty ~~~ !
Assorted sashimi (刺し盛り) 4900 yen
Greater amberjack and whelk. And pine tree on the dish !!!!!
The greater amberjack was sliced widely 😀 I had a toothache a bit, so I couldn't eat whelk only a bit, but it was fresh and sweet.
Matsuwa mackerel, chutoro and sardine.
Now is good season for eating sardines. Everyone amazed the taste of fatty sardines 😀
Matsuwa mackerel was good, too. Matsuwa mackerel is fancy mackerel that is caught just Matsuwa fishing port, Kanagawa.
I heard that Matsuwa mackerel is ten times as expensive as general mackerel.
This was the first time to eat Matsuwa mackerel for me ! I was so excited !
Jidori karaage (地鶏の唐揚げ) 840 yen
This karaage was far and away the best in that I had ever eaten ! The meat was so juicy, but its seasoning was wonderful !
I thought that I would go to eat Fujimura at lunchtime, but the shopkeeper said the karaage serving at lunchtime is differ a bit.
Probably they reduce costs at lunchtime. At lunchtime they have to serve meals inexpensively.
Sausage fry (ウインナーフライ) I don't know its price 😛
They actually don't serve it, but the regular customer required the shopkeeper and they served it for us.
It was very good. Mostly people consider sausage fry is junk foods. (I think so, too :P)
But sausage fry become exactly dish by the professional cook !
Deep fried minced shrimps (えびしんじょう揚げ) 650 yen
Its dress was soft and soft 😀
I couldn't hold it by chopsticks easily because it was very soft.
Eh ? Why did I try eating it in one bite ? Ummm.. Because I'm gluttonous 😛
Grilled Jidori chicken with sansyo (地鶏のさんしょう焼き) 840 yen
We was so moved the taste of Jidori karaage, so we ordered another Jidori dish.
Of course the Jidori had much taste, and the electrifying flavor sensation of sansyo was absolutedly wonderful 🙂
Boiled pork with soy sauce (豚の角煮) 950 yen
A little too sweet for me. But the meat was so soft 🙂
At last, Inaniwa Udon (稲庭うどん) 840 yen
Springy texture. Though I ate much today, but still, I think I can eat it up by myself 😛
So tasty !!!
Pickled vegetables (お新香) 530 yen
Looked beautiful, and those vegetable were fresh and juicy.
My favorite dishes were,,, from top,
1.Jidori karaage
2.Inaniwa udon
3.Grilled Jidori chicken with sansyo
Umm. Sardines and Matsuwa mackerel was good, too 🙂
Though I didn't drink, but I enjoyed looking the interesting sake that is named "Kuroobi" (黒帯, 650 yen).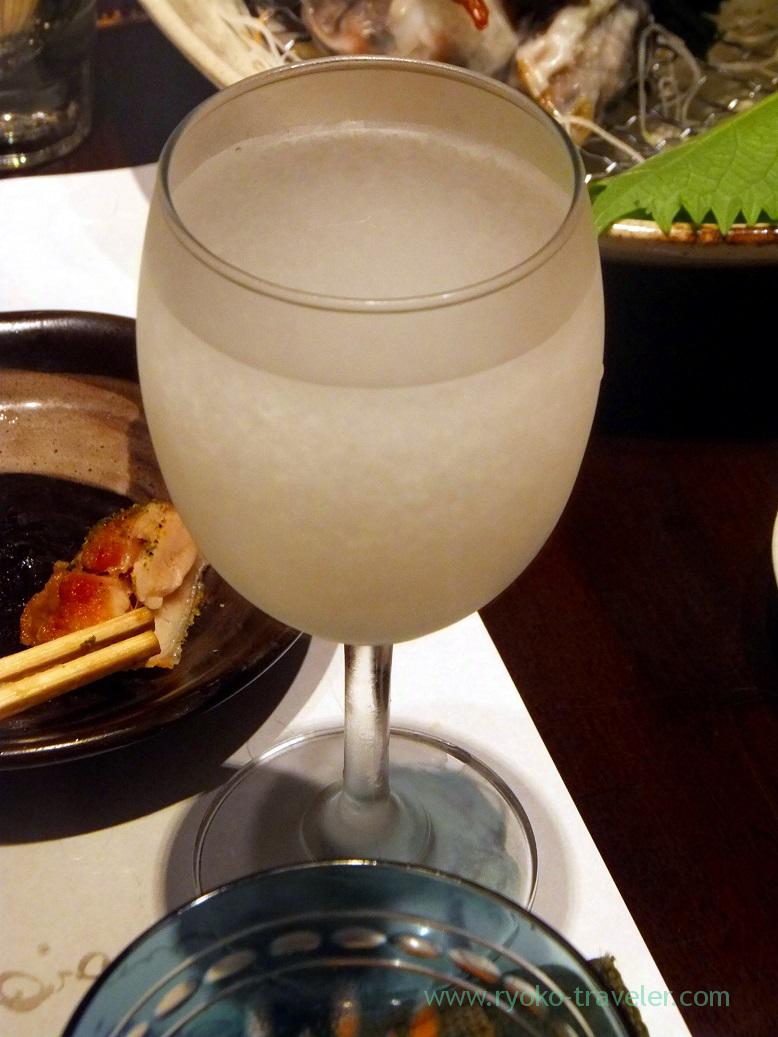 It was frozen ! Tha sake is named "Mizore zake". Mizore means sleet in English. It remains liquid in the sealed bottle, but once you open the bottle and pour into the glass it is frozen like sleet.
A paticipant was late for the dinner so late, she ordered some dishes separately. It is sardine ! I heard the sardine came from Osaka bay.
Kabukiza did a good business that day, too. Nevertheless weekday evening !
Today, it was gloomy and continued raining all day against the delight of dicision of Tokyo Olympic 2020. I kept staying home all day 🙁
I hope tomorrow will be fine day 🙂
About Fujimura (ふじむら)
Address / EURO Bldg B1F, 2-14-12 Tsukiji, Chuo-ku, Tokyo
Station / Tsukiji station (Tokyo metro)
Open / 13:00 – 14:00, 17:00 – 23:00
Closed / Saturdays, Sundays and national holidays