My friend asked me to join dinner at Fujimura (ふじむら) in Tsukiji. Speaking of Fujimura, they are well-known as good lunch. My friend is a regular customer of there and he visit there frequently by himself. Fujimura occupy underground of the apartment that stand by the off-street near Tsukiji station.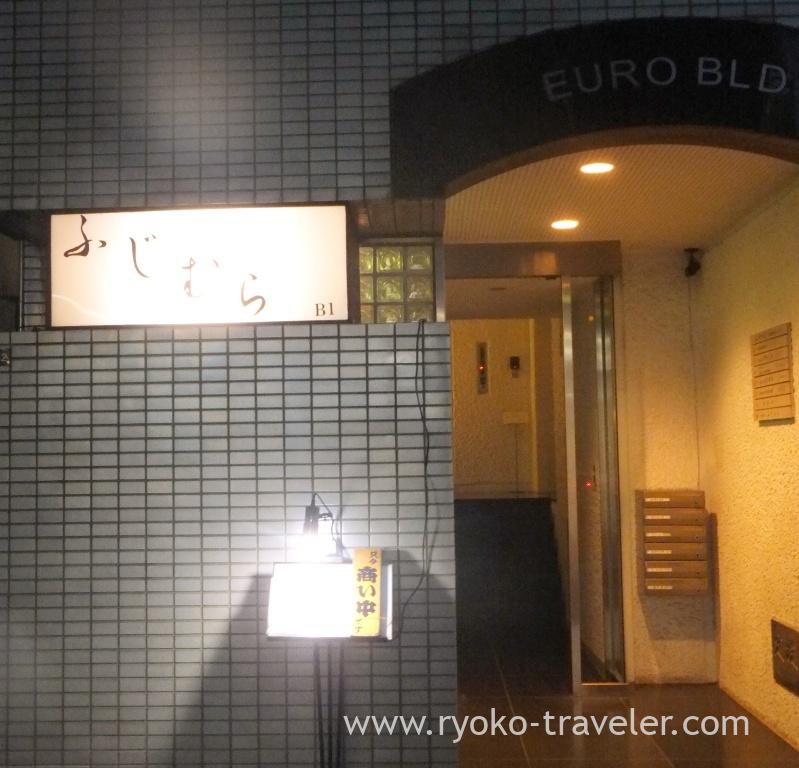 At first, we ordered our drinks. I ordered oolong tea.
At first, otoshi was served. It's included in table charge. Baby horse mackerel nanban-duke (marinated in a spicy sauce) , peanuts dressed with miso sauce and eggplant dengaku.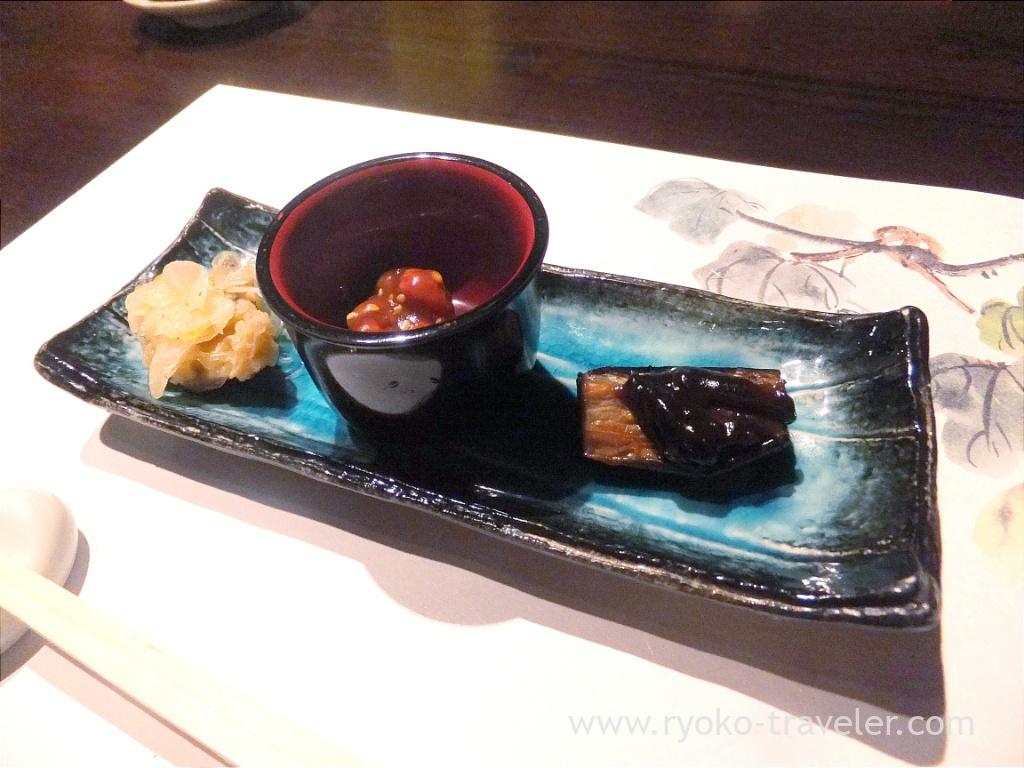 Dadacha-mame. Dadacha-Mame is a kind of edamame (green soybeans). Its looking, and tastes…It's as same as normal edamame.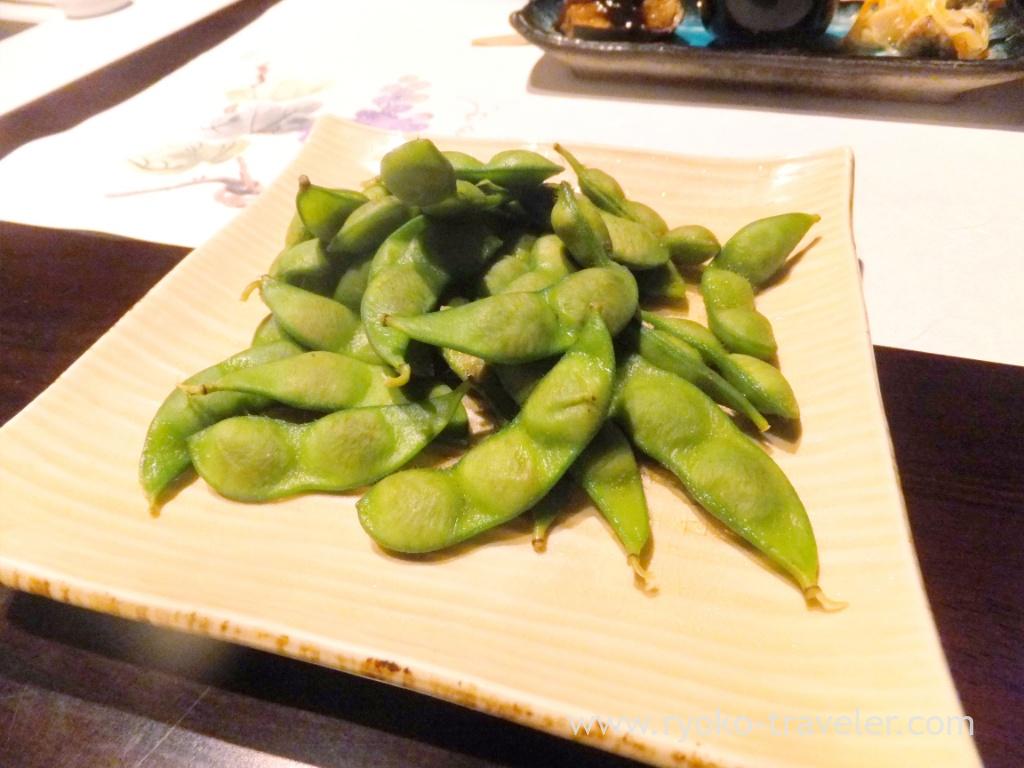 Mizunasu and shallot. Mizunasu is a kind of eggplant. Normally eggplant can't be eaten without cooking because of strong alkaline tasting. But Mizunasu can be eaten without cooking. Fresh Mizunasu have much water. Delicious.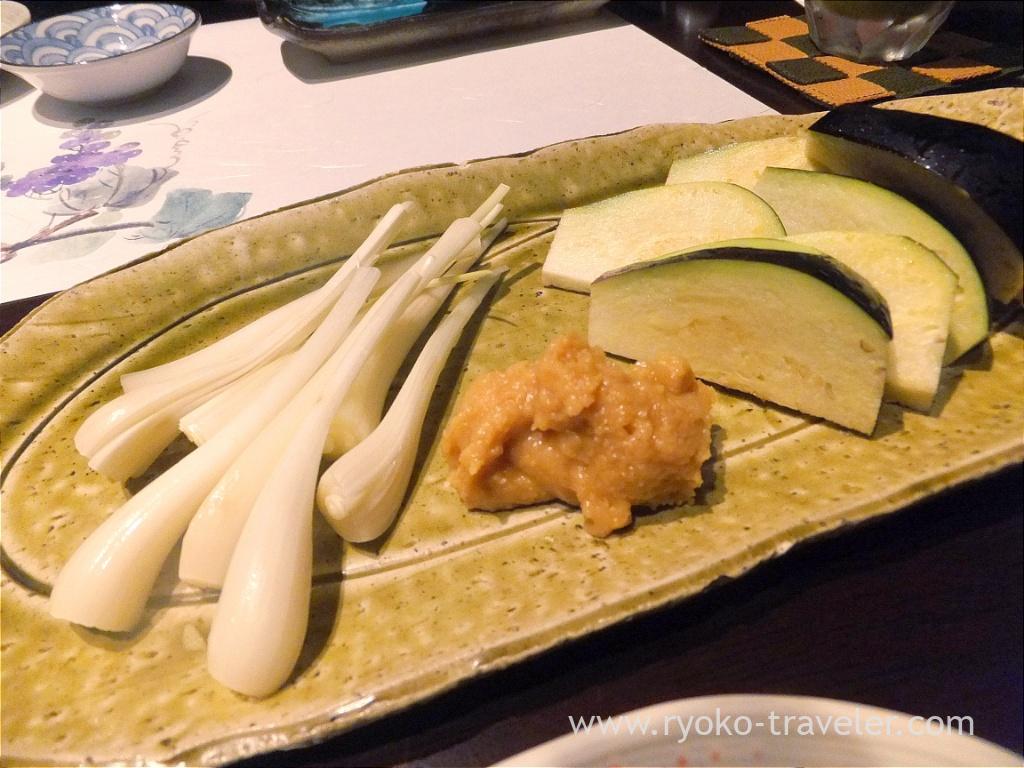 Assorted sashimi. Pine tree is on the dish ! Greater amberjack (kanpachi), whelk (tsubugai), sardine, fatty part of tuna and Matsuwa mackerel. All sashimi was cut widely.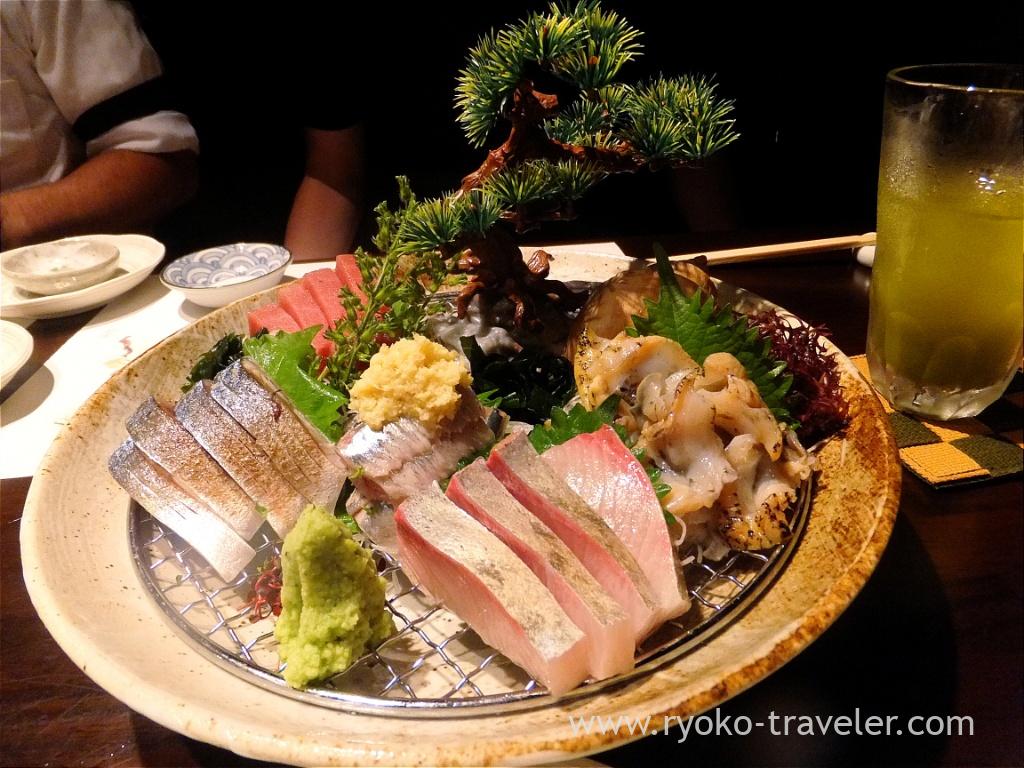 Matsuwa mackerel is not normal mackerel. It's precious mackerel caught at Matsuwa Fishing port in Kanagawa. It cost 10 times as much as normal mackerel and fishermen call it "Golden mackerel". Fujimura lightly grilled it. So fatty. And its skin was delicious !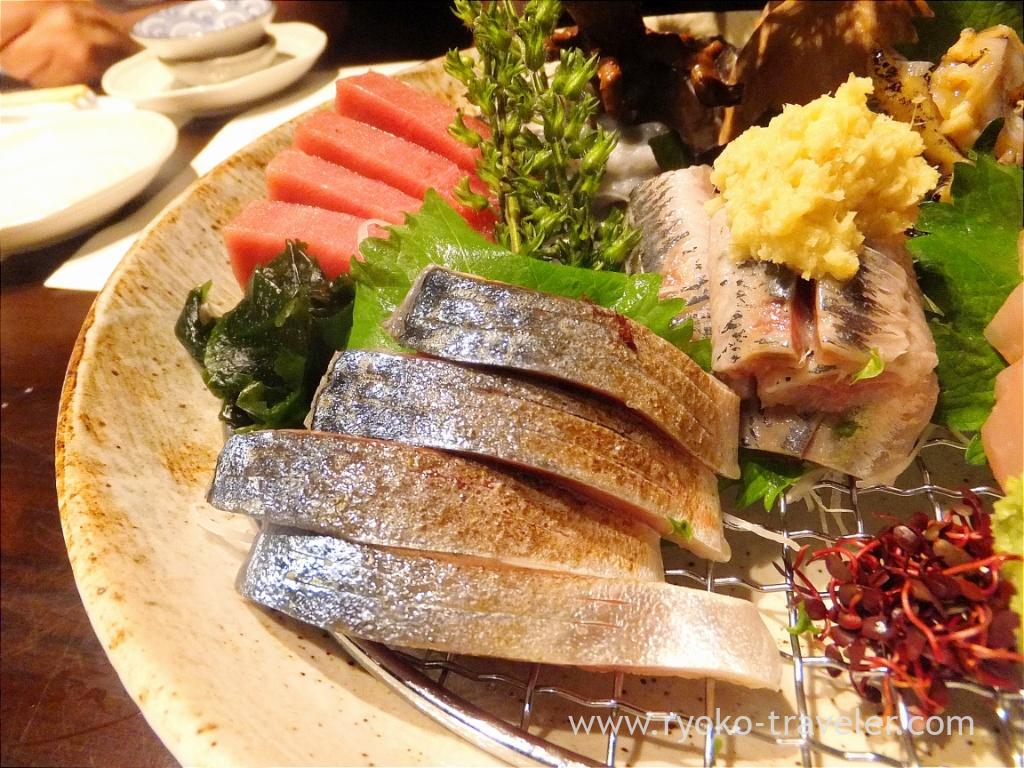 Jidori chicken karaage. It's far the best karaage that I had ever eaten ! The meat was so juicy, and its seasoning is good. I heard they serve karaage at lunchtime, so I want to visit there for it later.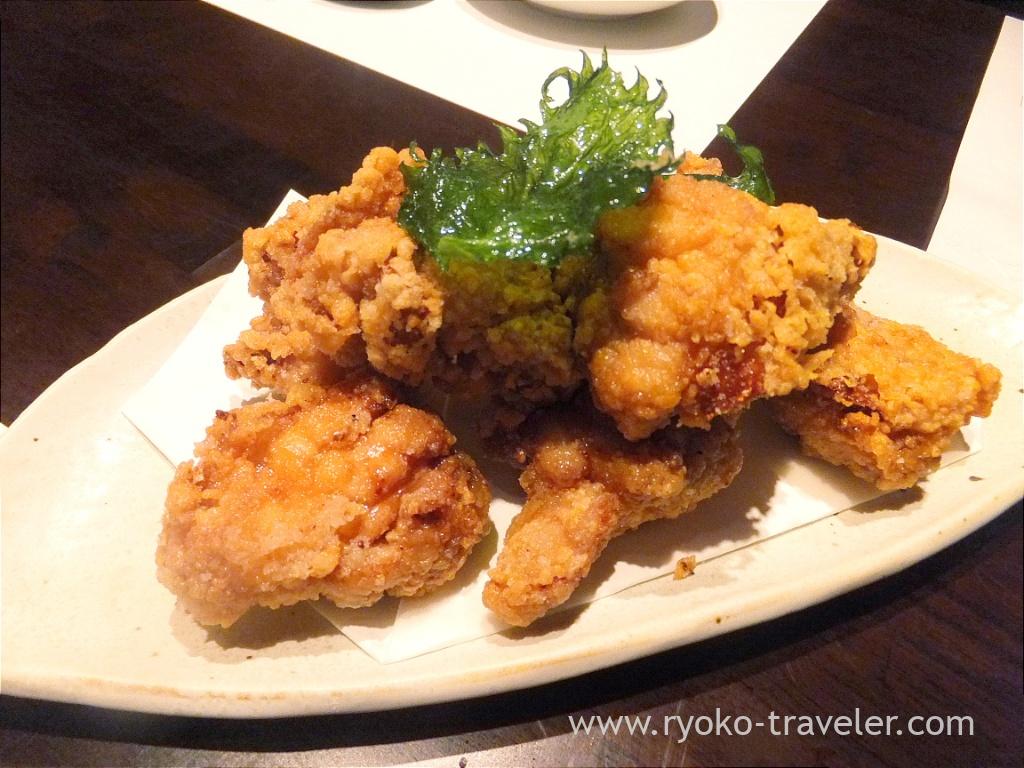 Though it isn't on the menu, my friend who is a regular customer of there ordered it and Fujimura accepted the order. Wiener fry. It's his delight and he said he always order it. Wiener fry is deep fried sausage.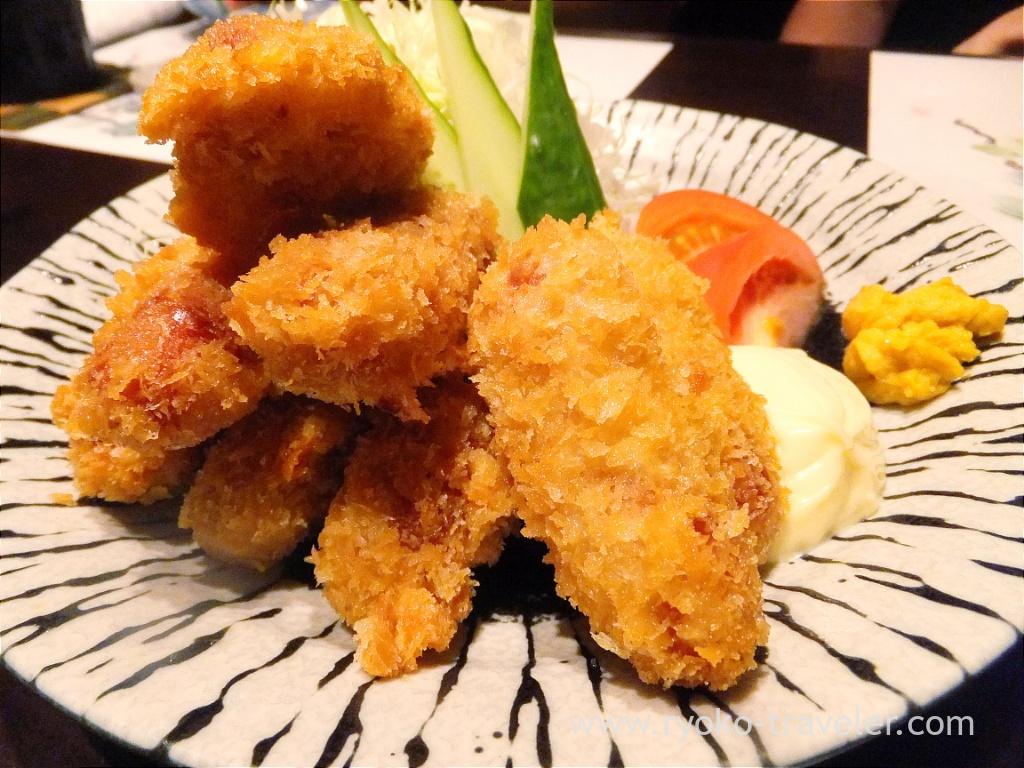 Deep fried minced shrimps ball. It's called "Shinjo-age (しんじょう揚げ) in Japanese. The flavor of shrimp was awesome. It was soft like Soufflé.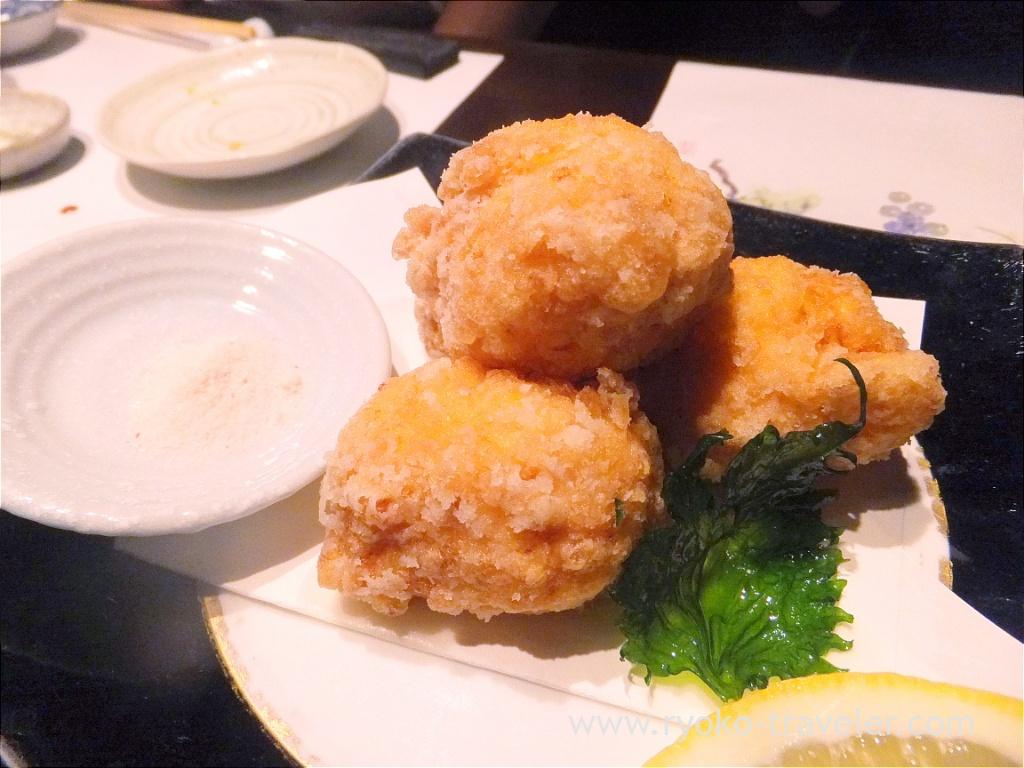 Grilled Jidori chicken with sansho pepper. We were impressed by the karaage, so we ordered another Jidori chicken dish. Juicy chicken go with pungent sansho pepper with well.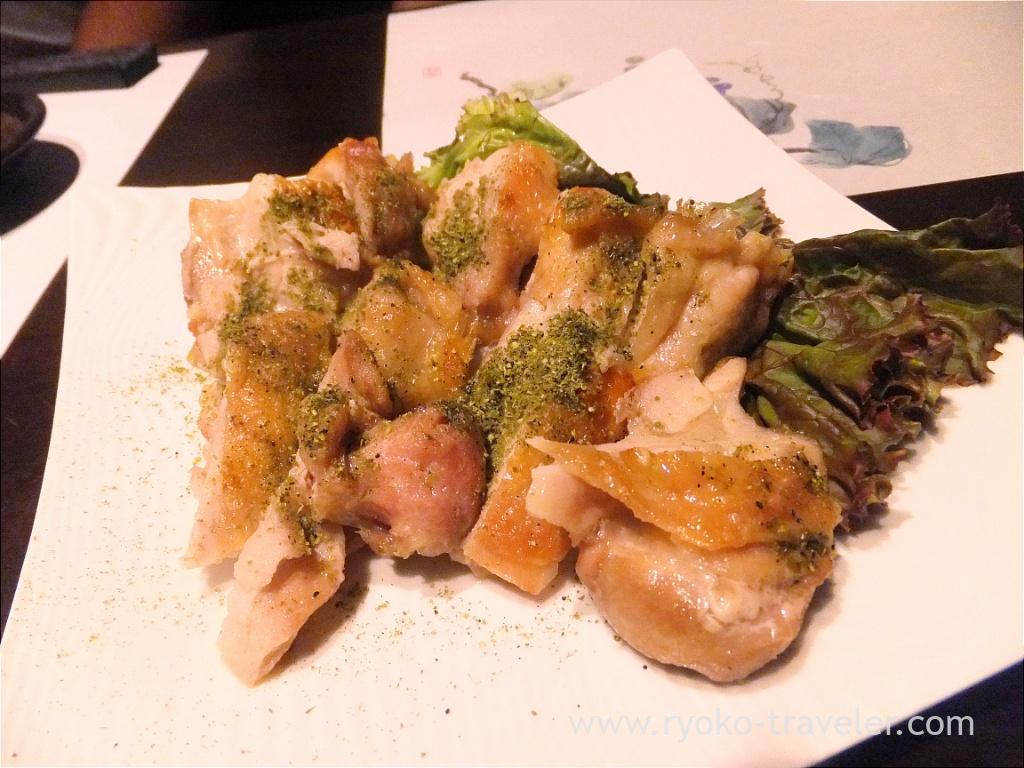 Simmered pork with soy sauce. The pork was so soft and it can be cut with chopsticks with easily. And daikon radish and boiled egg was good, too. Those were seasoned stronger, so sprouts and green onion added refreshing tastes. And mustard was good, too.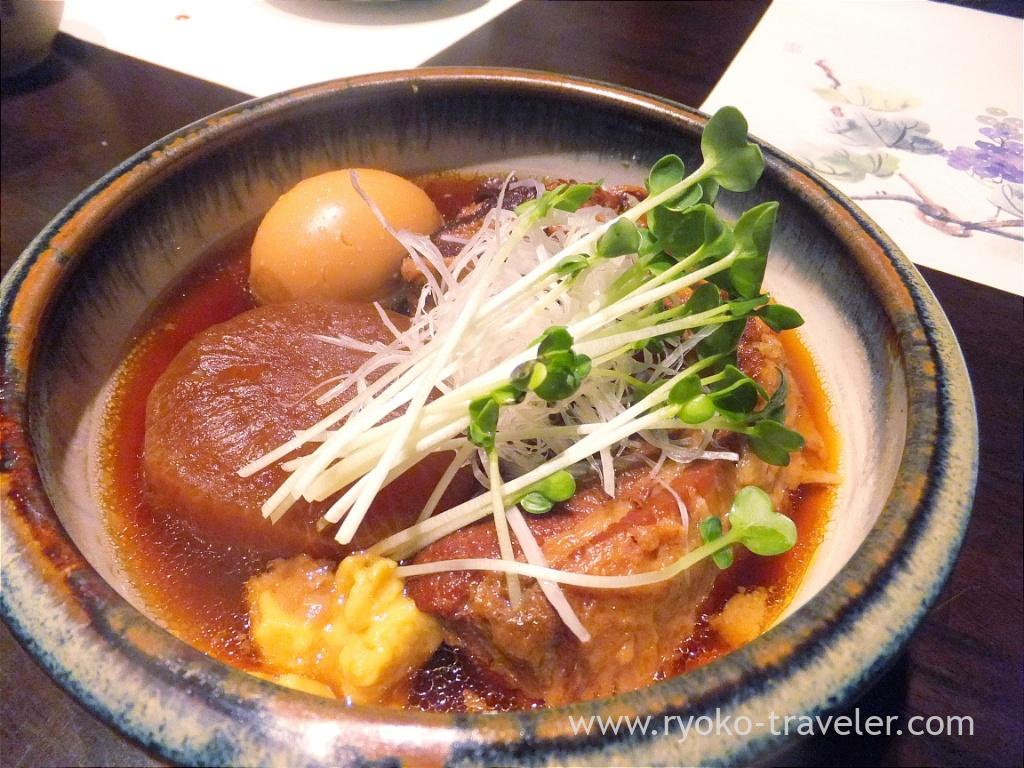 Last, Inaniwa Udon. Inaniwa udon is dried udon produced in Akita prefecture.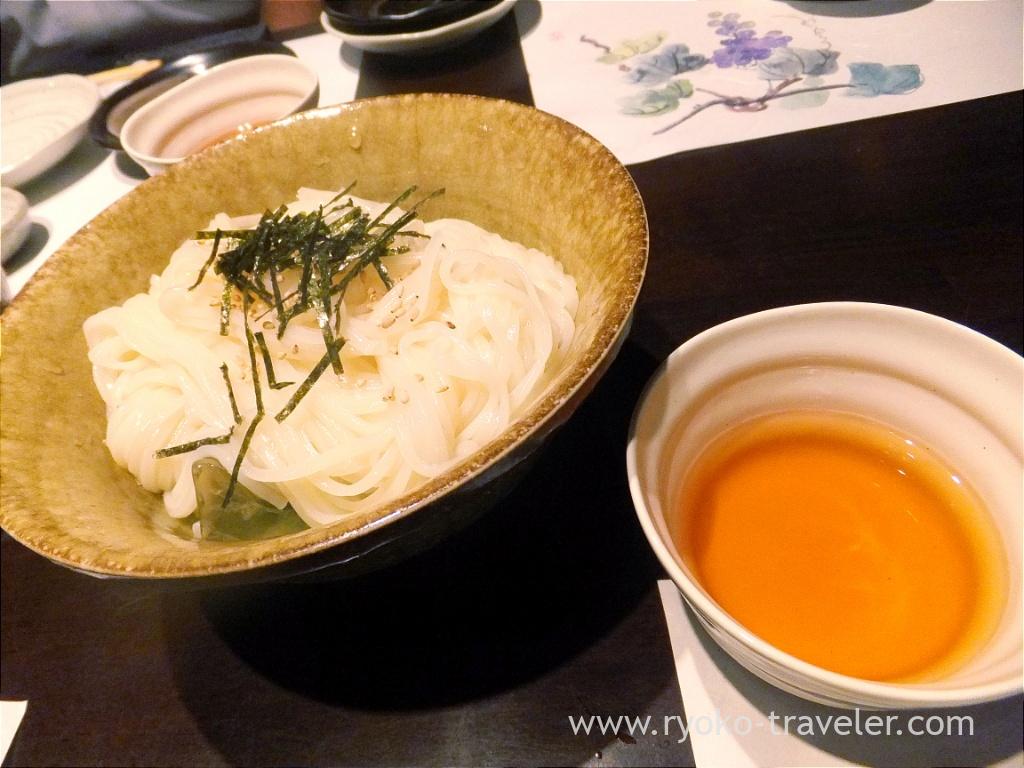 It had springy texture. Though I ate much today, I ate it up.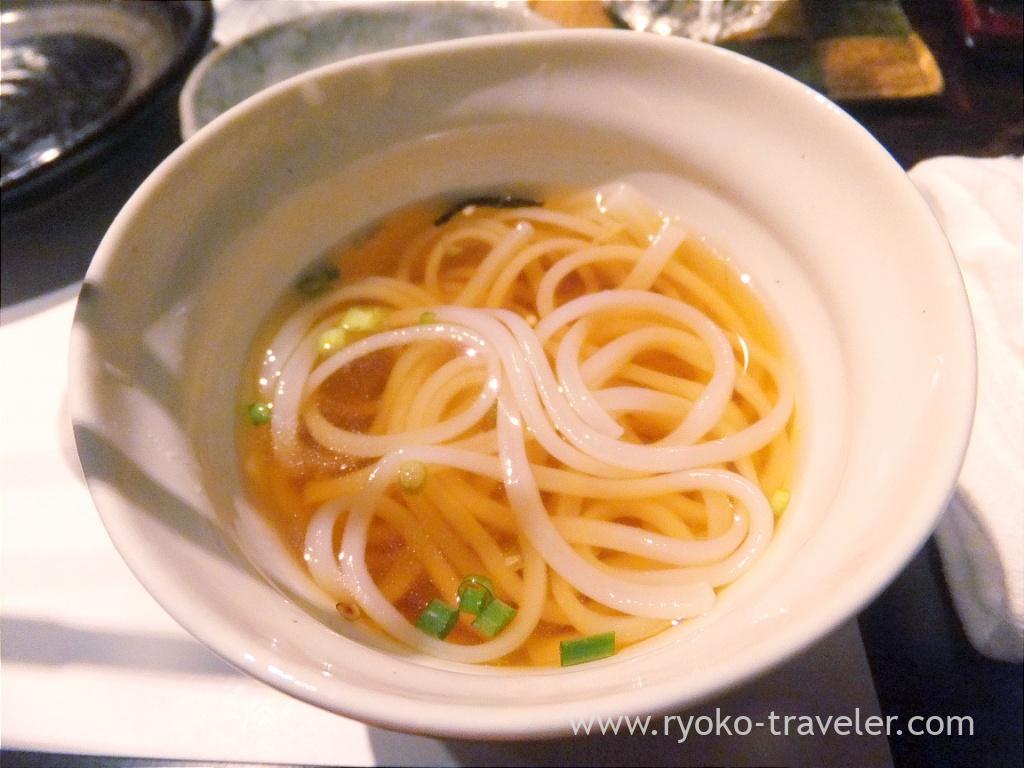 Assorted pickles. Takuan, radish, onion, eggplant and cucumber. Colorful.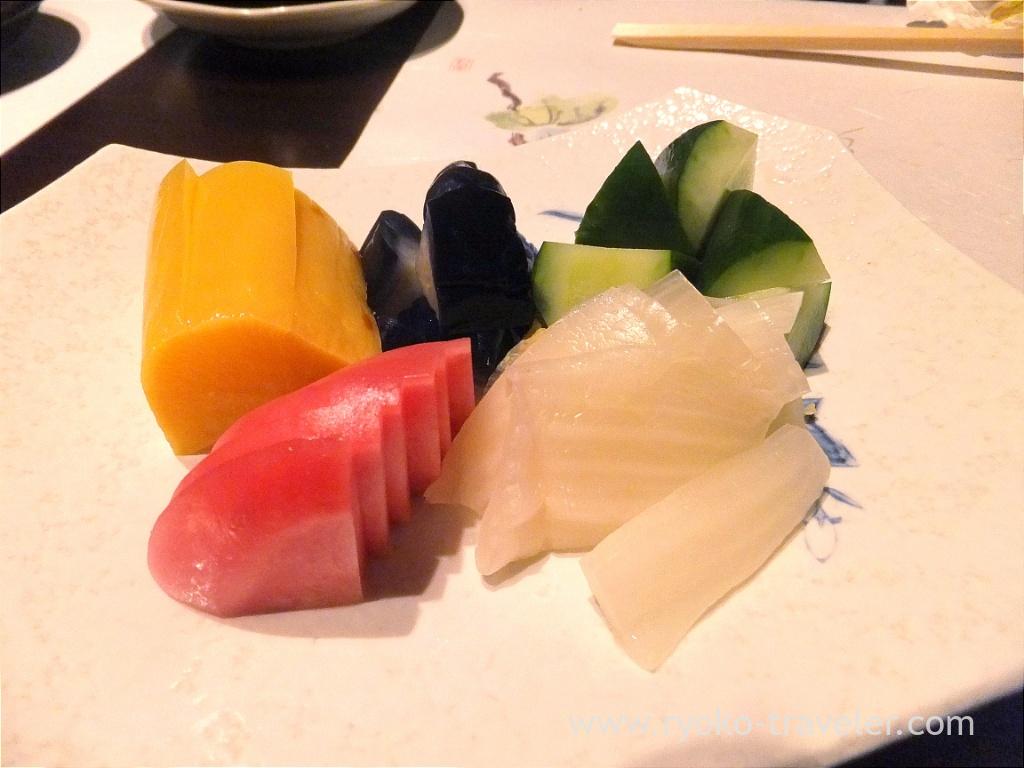 Though I didn't intend to drink alcoholic drinks, the manager recommended this Japanese sake, so I tried. It's Kuroobi (黒帯). Its name had 'mizore zake'. As its name, it's frozen Japanese sake ! But it wasn't frozen in the bottle, and somehow, once it was poured into the glass, it got frozen. Why…! The taste was sweeter. It's like juice.
Dessert. This is sardine sashimi from Osaka bay. Now is the best season of sardine. It's so fatty.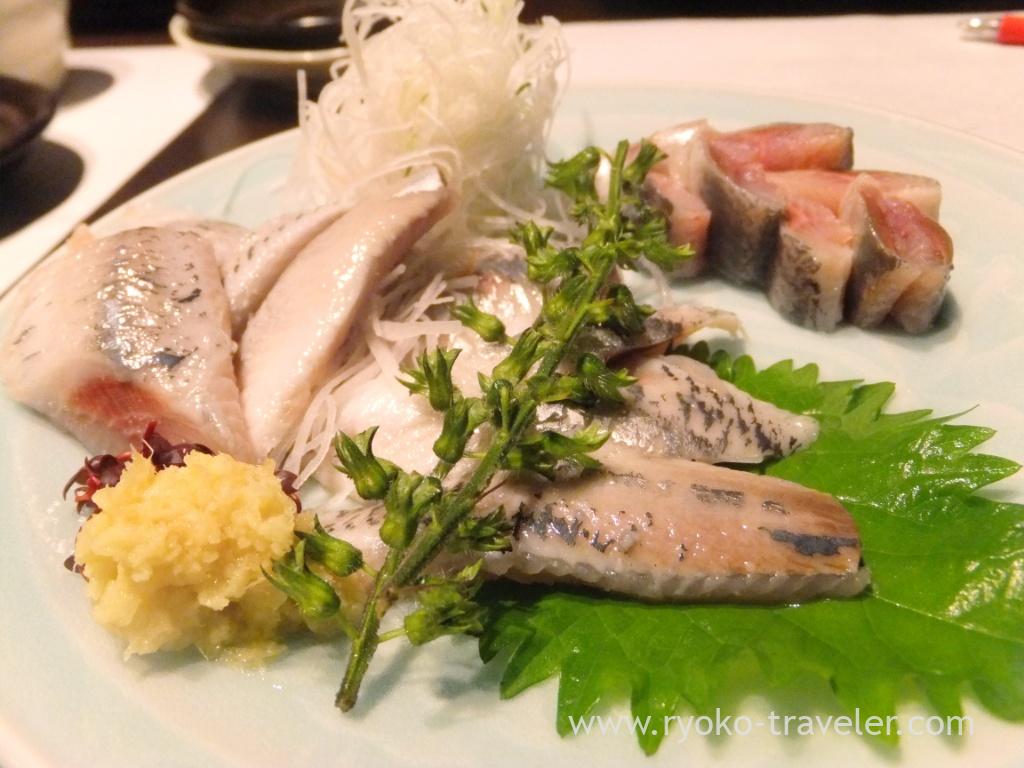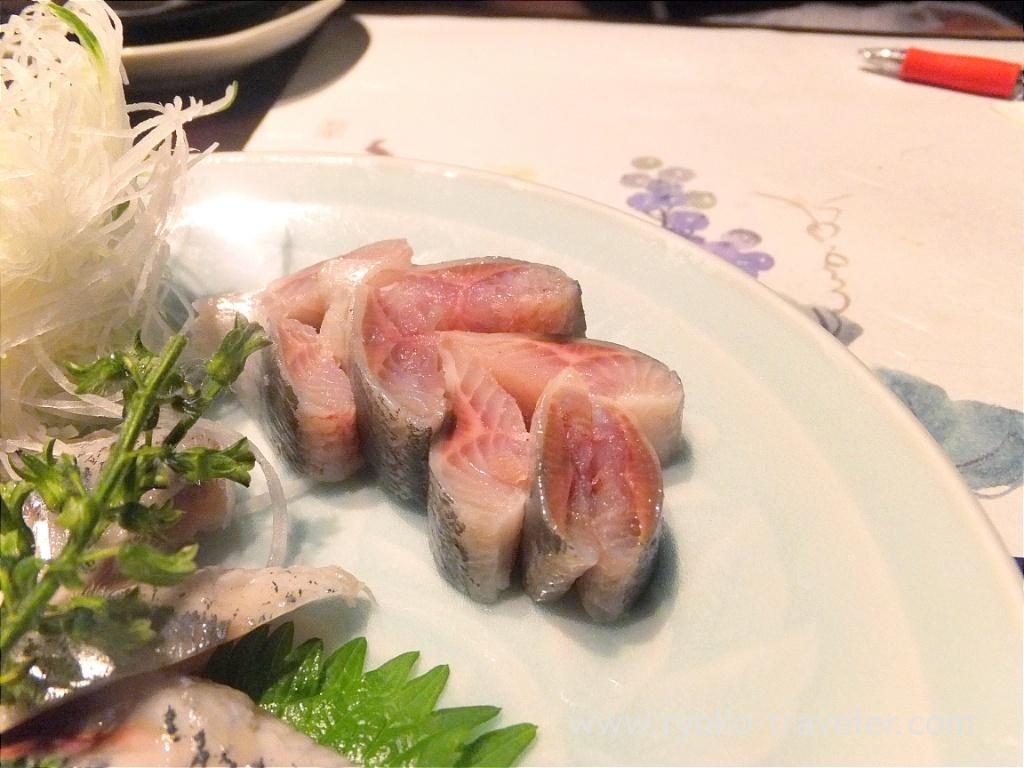 About

Name Fujimura (ふじむら)
Open Lunch, Dinner
Reservation Available for dinner time only
Credit card Unavailable
URL Instagram

Google Map