Best lunch spot in Kachidoki area.
Dourakutei is my best lunch spot around Kachidoki area. But somehow many months have passed since I visited there last time.
But nothing has changed.
The appearance of Dourakutei is, yes. It's private house. They use their ground floor for restaurant. Back streets of Kachidoki still has the scenery reminiscent of the old days. So, I recommend you walk around this area when you stay in Tsukiji and Ginza.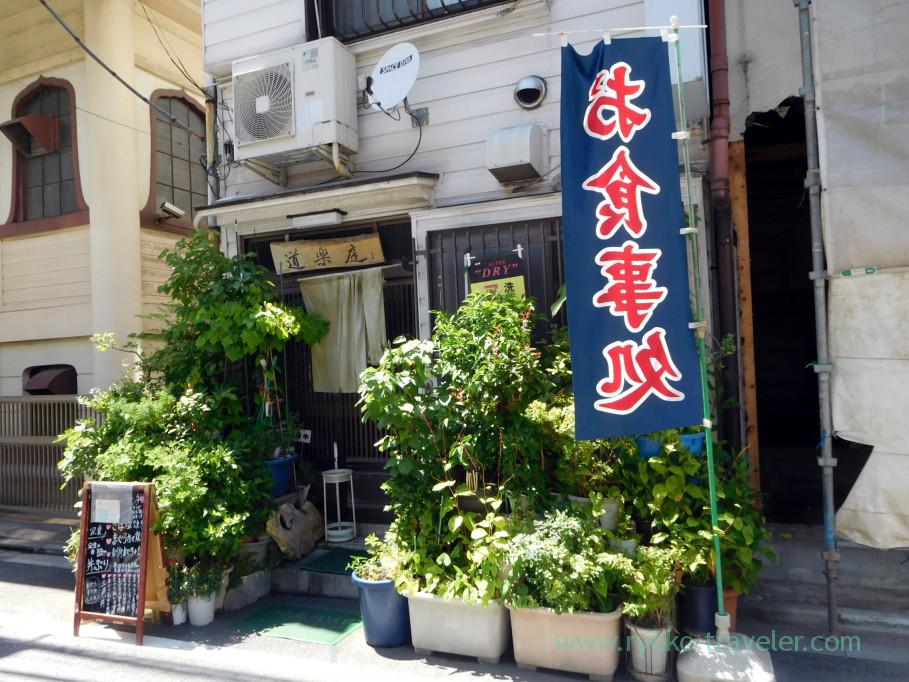 Lunch menu. It's hard to understand. Vertical line and horizontal line is written together. Every teishoku is 800 yen and every sashimi bowl is 900 yen. It seems there're many foods prepared, but almost all foods have tuna :p
So, when I want to eat tuna, Dourakutei is a good choice, but when I want to eat another foods, I go to another shops. That's why many months have passed since I visited Dourakutei last time. I eat tuna so frequently at Yonehana as chef's choice.
Dourakutei's interior is… excellent. Though it's a small house, I feel comfortable.
Mostly I go to there around 1 p.m., there aren't many people in the shop.
Dourakutei is far from big office buildings.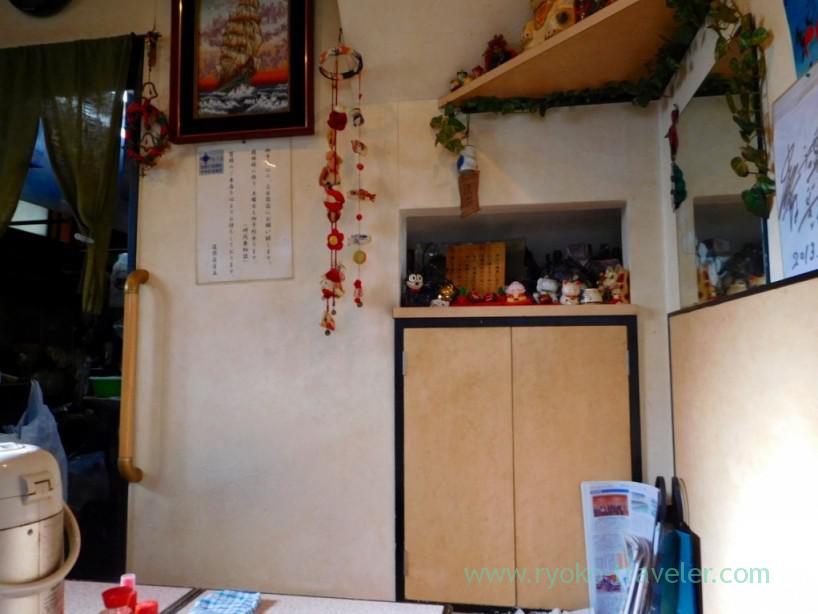 Whenever I visit Dourakutei, I order this set.
Grilled collar of tuna set (まぐろカマ焼, 800 yen)
It's so valuable set ! You can have both grilled tuna and raw tuna !
At first, tuna sashimi, miso soup, pickled vegetables, small dish and rice is served.
Ah, I could eat boiled tuna, too ! That day's small dish was boiled tuna and spinach with soy sauce.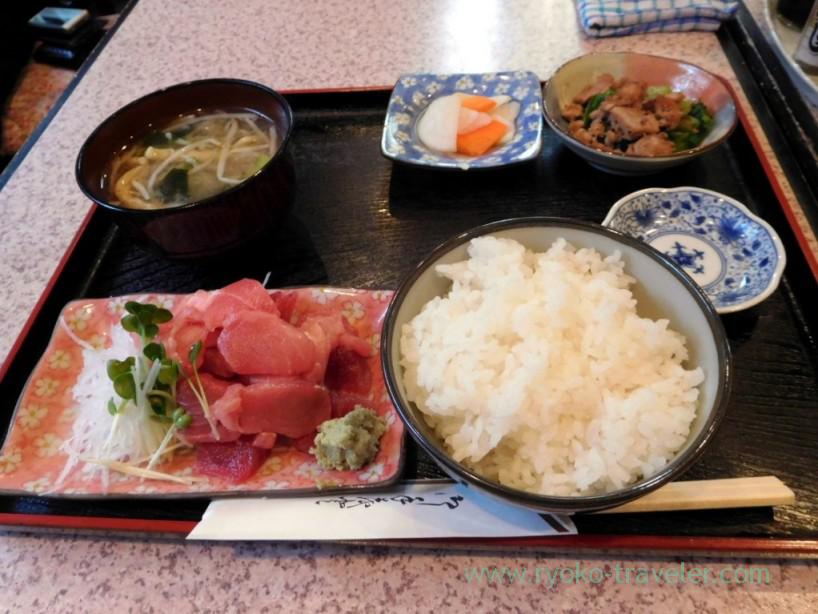 Tuna sashimi. Though it's frozen meat, it is enough tasty.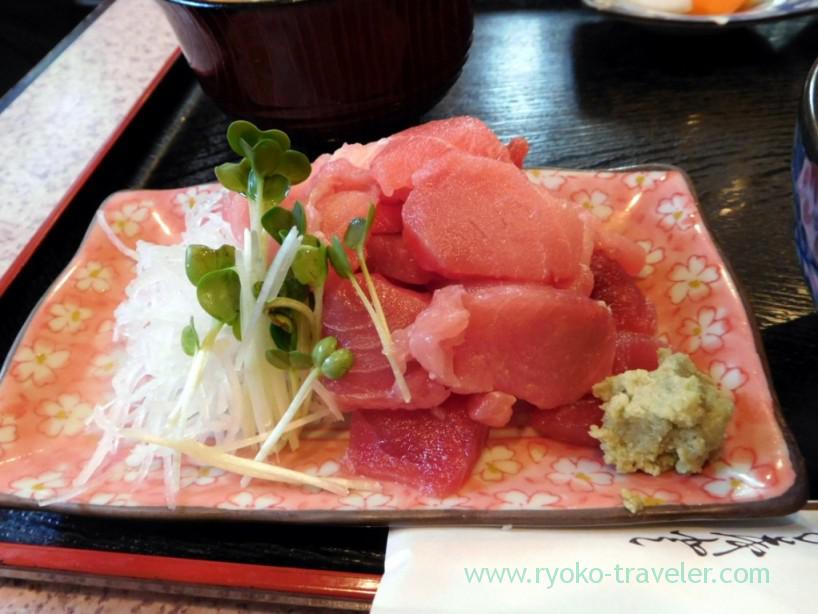 While eating tuna sashimi and another foods, I smelled collar of tuna cooked.
And after a while, my grilled collar of tuna was served. There're two large collar of tuna !
Don't worry. This is not a burnt collar. That's collar of sauce made of soy sauce and sugar 🙂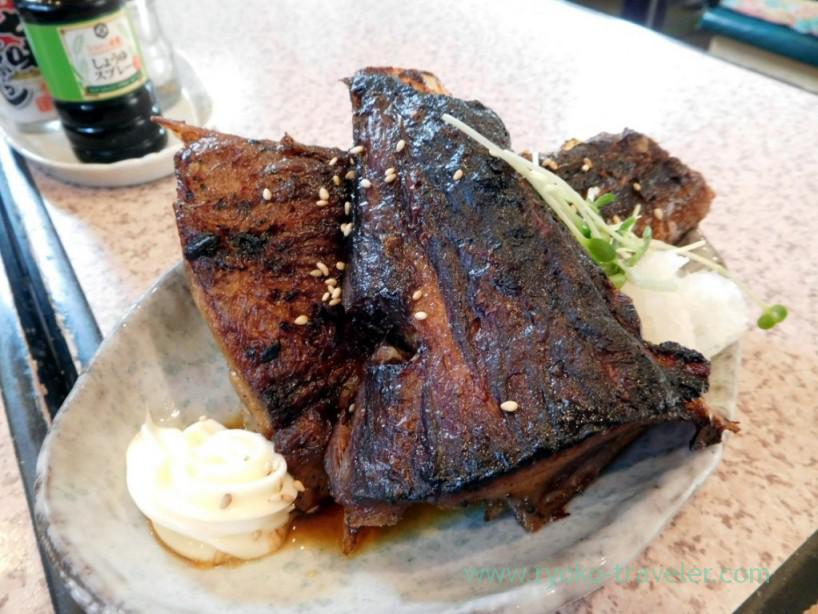 The collar was so juicy and tasty.
Of course, it is good without anything, but grated daikon radish and mayonnaise is prepared.  So, you can enjoy some tastes ! And there's shichimi peper on each table !
About Oshokuji-dokoro Dourakutei (お食事処 道楽庭)
Address / 4-12-4 Kachidoki, Chuo-ku, Tokyo
Station / Kachidoki station (Toei subway)
Open / 11:30 – 14:00, 17:00 – 22:00
Closed / Saturdays, Sundays and another national holidays