There're so many Taiwanese boba tea shops in Tokyo. How many shops survive in the world at the end of 2020 ?
A branch of Chatime is open in Ginza in 2017. It have rather long history compared to another boba tea shops.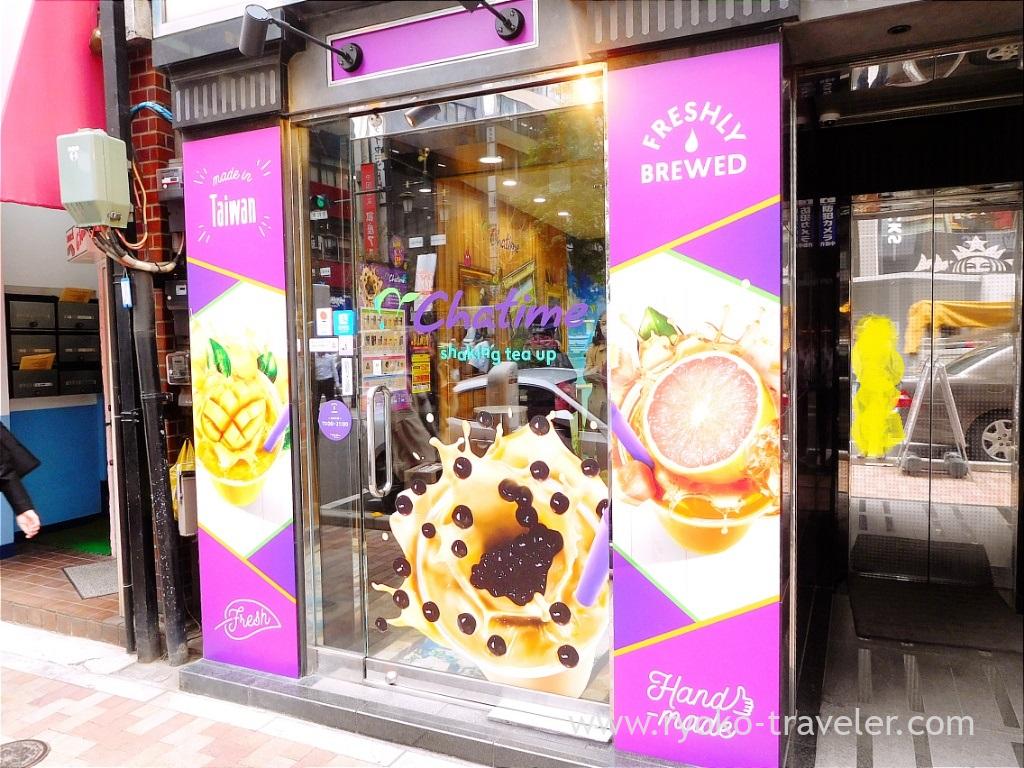 There are so many boba tea shops in Asakusa and Omotesando but around Ginza, there were scarcely any boba tea shop except this Chatime. But recently, branch of The Alley and Chun Shui Tang is open around Ginza and Yurakucho.

I love boba tea and when I visit Taiwan, I drink it so frequently. So, I'm glad 🙂
Where ?
It's located along the street at the back of Ginza SIX. This street is said to be "Ginza ramen street" because there're several popular ramen shops, for example, Mugi to Olive, Kudaime Keisuke, Kyusyu Jangara ramen.
Menu
Though there's a menu at the order counter inside the shop, also they put their menu outside.
I always decide what to buy at here and enter. (But sometimes I change my mind in the shop :p). They have two sizes, R (regular) and L (large).
Those drinks don't have any toppings. Not only tapioca, we can add grass jelly, coconuts milk jelly and azuki (red beans) with extra fee.
Chatime is from Taiwan, so, they accept order to adjust the amount of sugar and ice as well as in Taiwan. I always order my sugar 30% and less ice.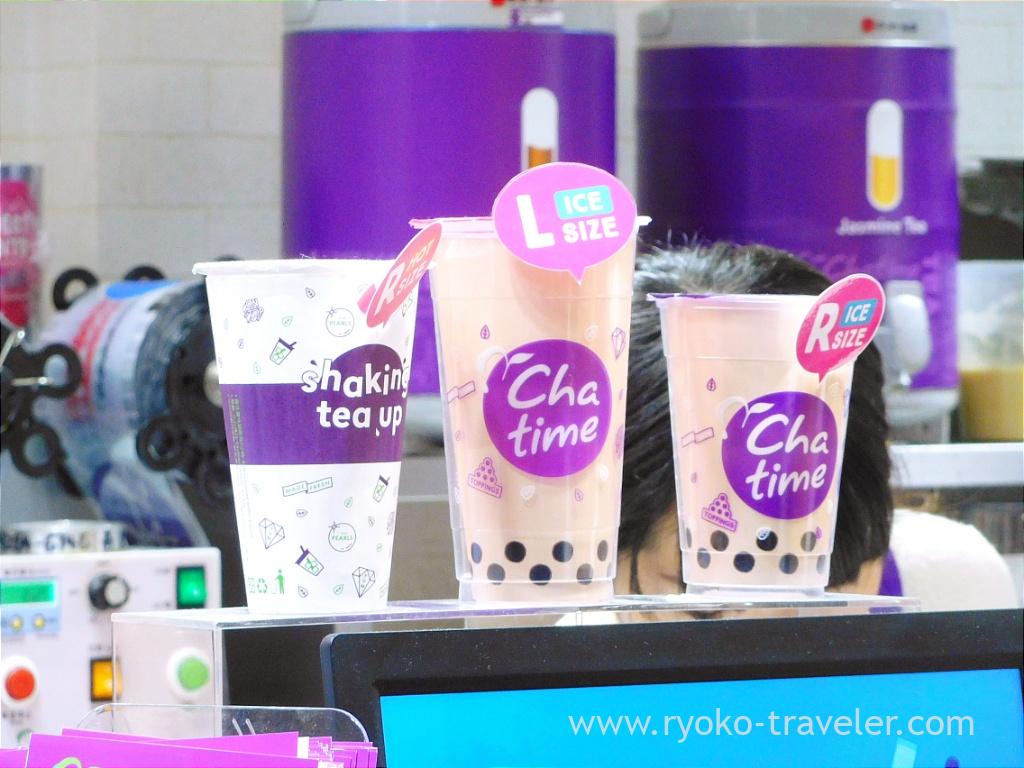 Interior
Almost all people buy drinks to go, but there're three tables for stand-up-drinking along the wall.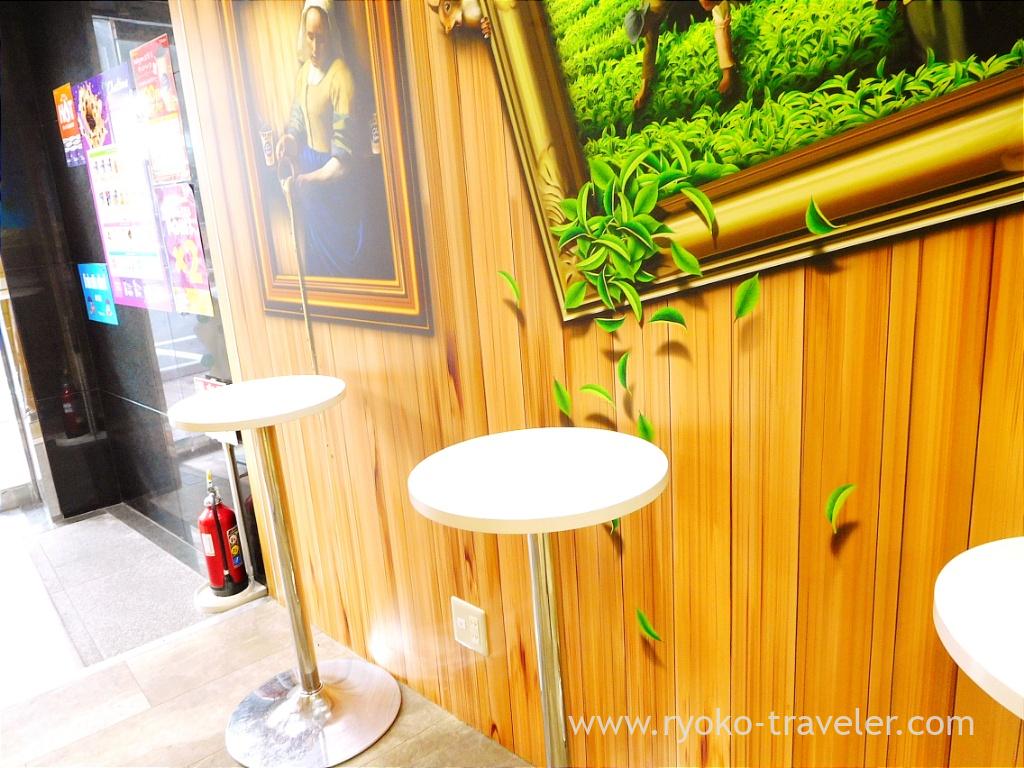 But the shop is small and sometimes overflow with people who are waiting their drinks.
I think you'd better drink outside the shop. They seal your drinks and put it into plastic bag to go. There're some parks in Ginza.
Both hot and ice is good.
Iced Chatime milk tea
Iced Chatime Milk Tea (チャタイムミルクティ / R / 440 yen) is the most popular in the shop. I added double pearl (=tapioca, 80 yen). 520 yen in total. I asked the staff about the amount of tapioca and decided. I thought single tapioca is little from her explanation. But single tapioca is better.
She showed the amount of tapioca without drinkings. Tapioca expanded in drinks.
Tapioca had springy texture and very tasty. I ate it up ! Milk tea had rich tastes and was good, too. I think I'm satisfied with the milk tea without tapioca.
Hot milk roasted green tea
Hot is good in winter. We can order tea and cocoa with hot. Of course, we they accept order it with tapioca. It's hot milk roasted green tea (ほうじ茶ミルクティ / R / 440 yen). I ordered it with single tapioca (50 yen).This tea was flavorful. Hot drinks can be choosen from 50℃ and 60℃. Not very hot.
50℃ drinks can be drink with straw. The surface of warm tapioca had sticky texture a bit. I like this texture.

About the shop
Name in English / Chatime Ginza branch
Name in Japanese / Chatime 銀座店
Address / 6-12-17 Ginza, Chuo-ku, Tokyo
Phone / 03-6264-6146

Open / 11 a.m. – 9 p.m.
Closed / No scheduled

Reservation / Unavailable
Credit card / Unavailable
Smoking / Not permitted
URL / Website, Twitter, Instagram