I visited Butaken (ぶたけん。) serving Jiro-style ramen in Motoyawata.
The chef trained at high-populated Tonsei (豚星。) in Kanagawa. So, there are so many people waiting before the opening time on weekends. So, I visited there at weekday's lunchtime. When I got to there 10 minutes before the opening time, I managed to be seated. Last one.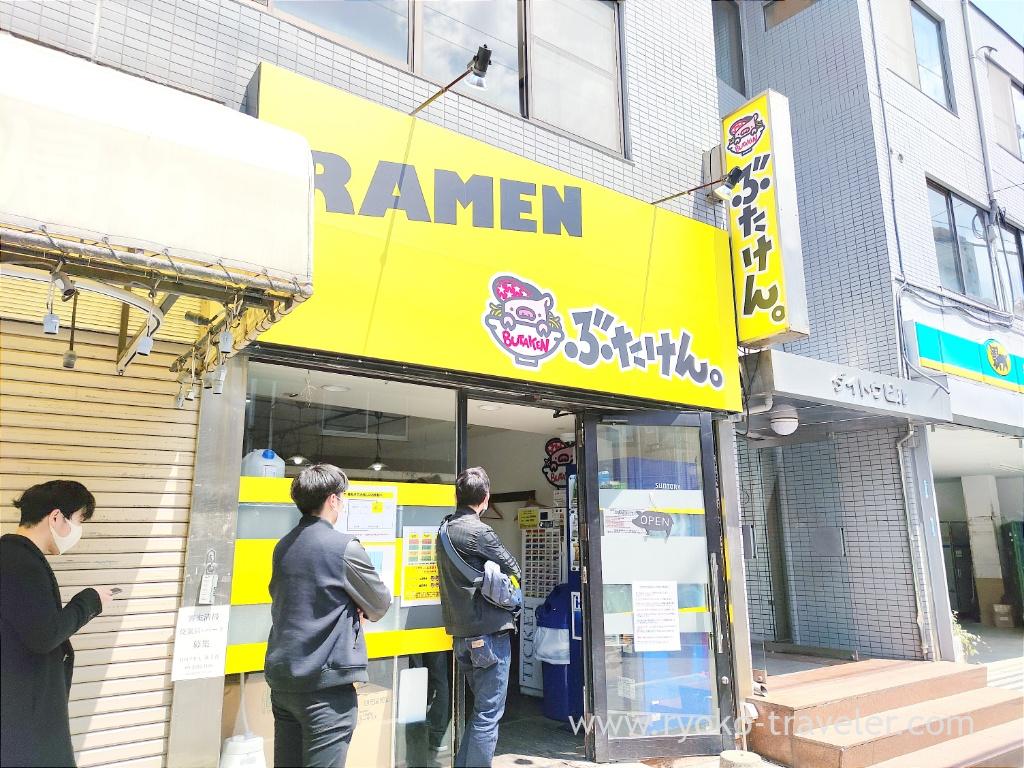 They sometimes change their open hour, so you'd better check their twitter in advance.
4/27(月)
本日の営業時間
11:00-17:00

持ち帰り豚、鍋あります🐖

先日、常連さんがうちの持ち帰り豚を燻製にしてきてくれました!
めちゃめちゃ美味しかったです🥺
アキラ100%さんありがとうございます。

てな感じで今日もよろしくお願いします! pic.twitter.com/BGYNFMzZqi

— ぶたけん。 (@katoken1213) April 26, 2020
There's a ticket vending machine on the right inside the shop.
Normal one is Ramen (らーめん, 900 yen). Red Ramen (あかいらーめん, 1000 yen) is spicy one. And they have ramen without soup, too. And they accept to go if you bring your pot. Also they sell roast pork.
いよいよ明日オープンになりました!

しばらくの間はメニューをしぼって営業します!当店の券売機は一万円札、五千円札が使えないので両替してからご来店していただけると助かります🙇‍♂️

車、バイク、自転車でお越しの方は近隣の駐車場をご利用ください!

よろしくお願いします🥺 pic.twitter.com/oPPeZKZeSE

— ぶたけん。 (@katoken1213) March 14, 2020
I ordered Petit ramen. Petit ramen have 150g of noodles and one slice of roast pork and a quail egg. Normal have 200g of noodles and two slice of roast pork. The soup is clear soy sauce based soup. And there're soybean sprouts, four quail eggs, and grated garlic. The soup isn't so fatty. But it's salty a bit.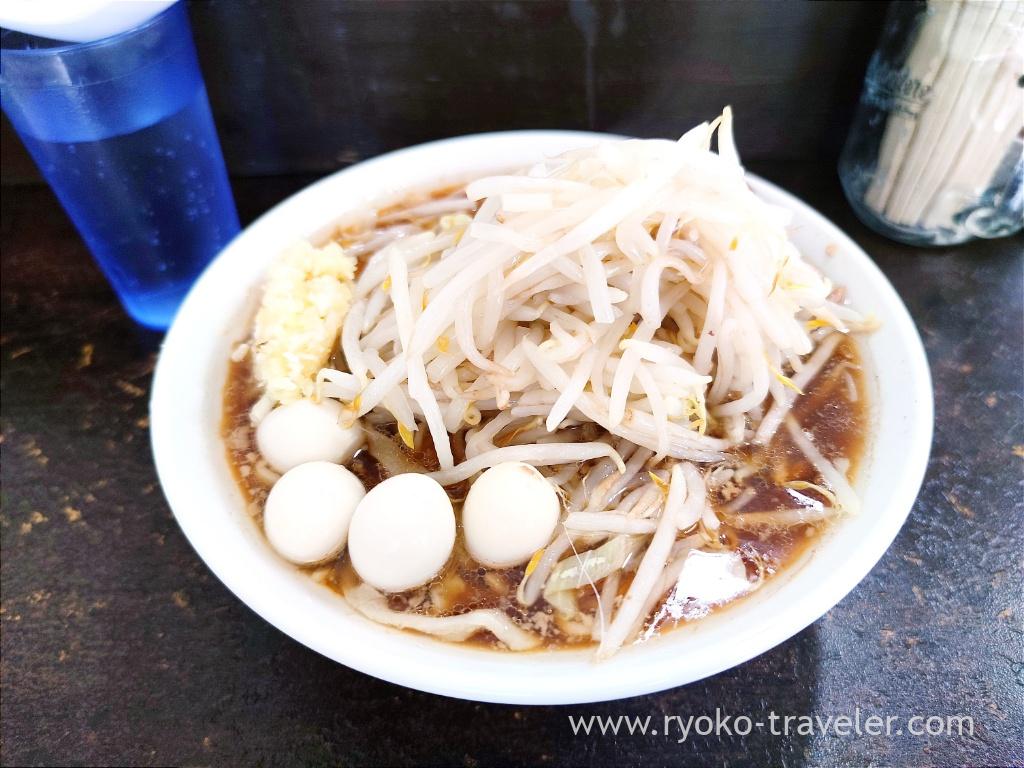 Pork. "One slice". Slice ? It's dice. it's simmered until soft. Not fatty.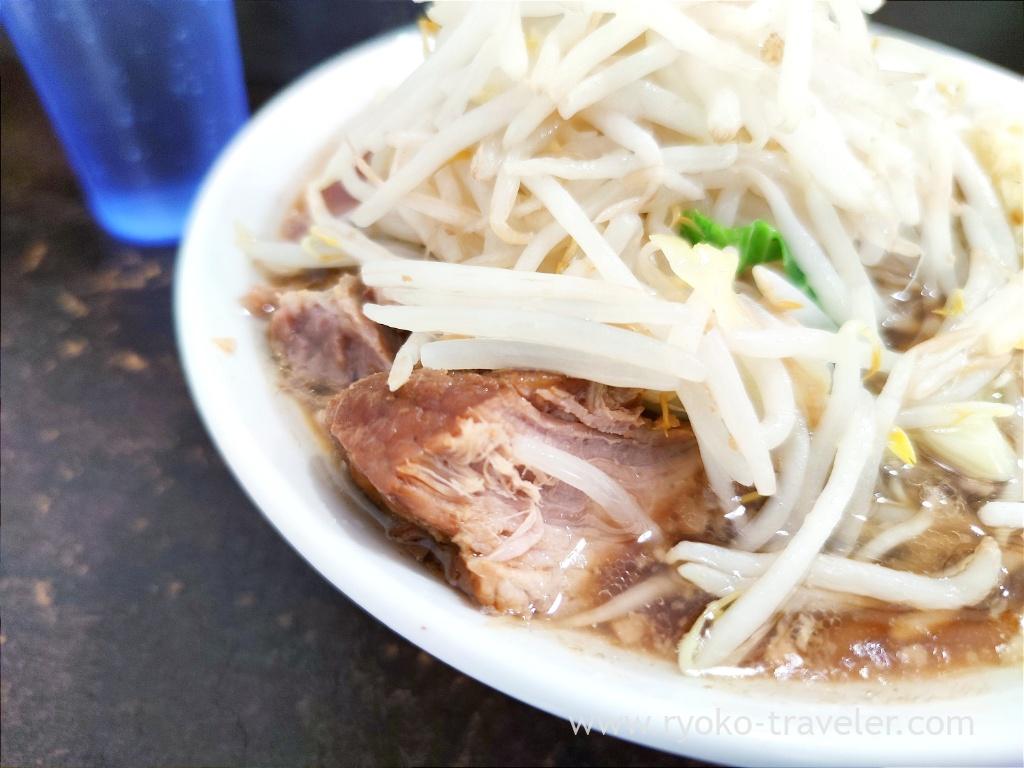 The noodle s are flat and curly. Those are uneven and there are many soy bean sprouts on the noodle. So, it's hard to hold by chopsticks a bit. But it had springy texture and was good. I thought it's small before eating. But the size of petit ramen was best for me because suddenly I felt full at the end of the time.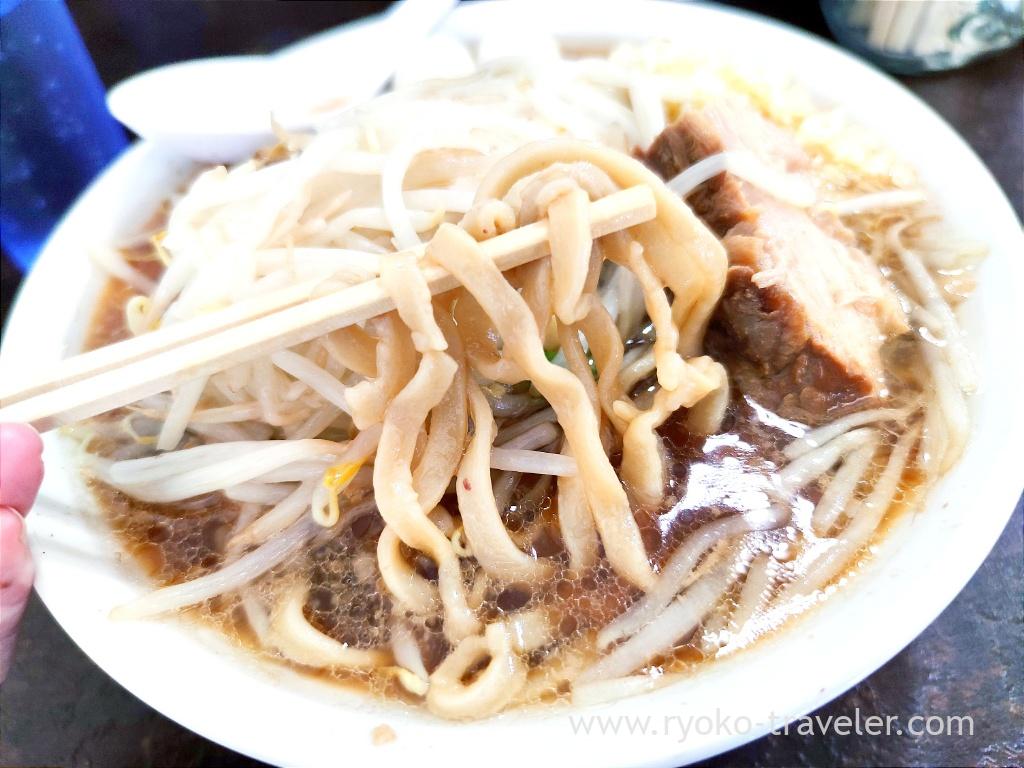 As they notice, their ramen have twice noodles as much as another ramen shops. So, you'd better order petit ramen if you visit and Jiro-style ramen for the first time. And they accept to adjust the amount of the noodles even if you order normal ramen. 200g ? Half ? OK !
About

Name Butaken. (ぶたけん。)
Open Morning, Lunch, Dinner
Credit card Unavailable
Reservation Unavailable
URL Twitter
Google Map