I had breakfast at A Chuan Oyster Omelet (阿川蚵仔麵線) close to Ningxia night market. Of course, I wanted to eat their specialty. Oyster vermicelli. This is the best breakfast spot when I stay in CU HOTEL next to the shop. Though they are close to Ningxia night market, they are open until 5 p.m., so, they are closed during the night market hour.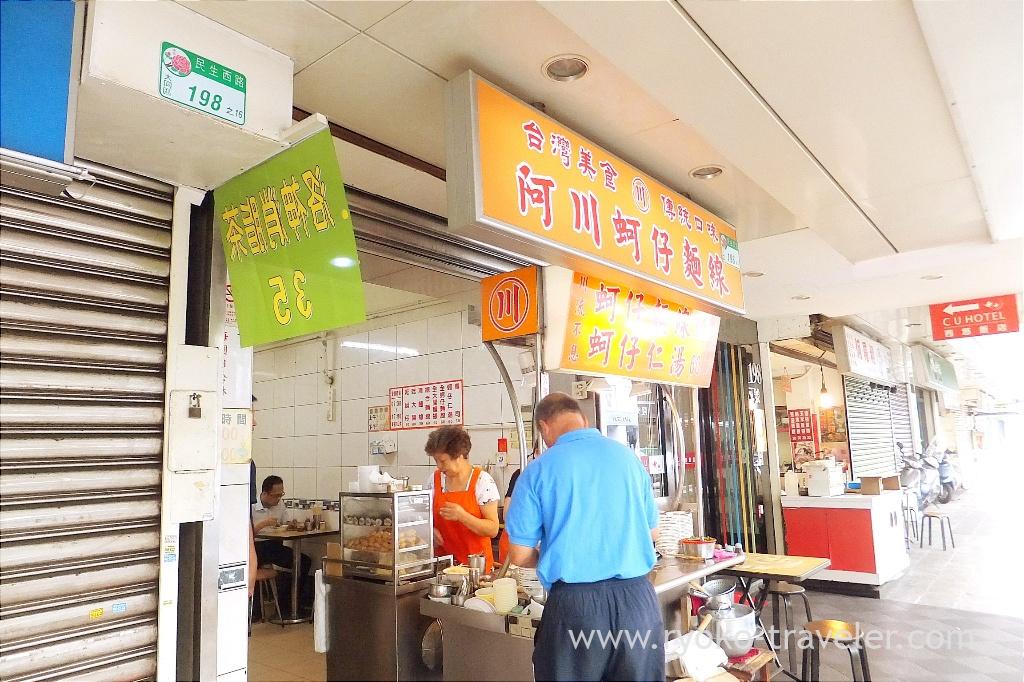 Somehow their English name is A Chuan Oyster Omelet. They don't cook oyster omelet…why.
There's a kitchen at the entrance. We order at the entrance and enter the shop. They don't have a variety of foods, and they have menus having photos, and Japanese and English words. So, it's easy to order.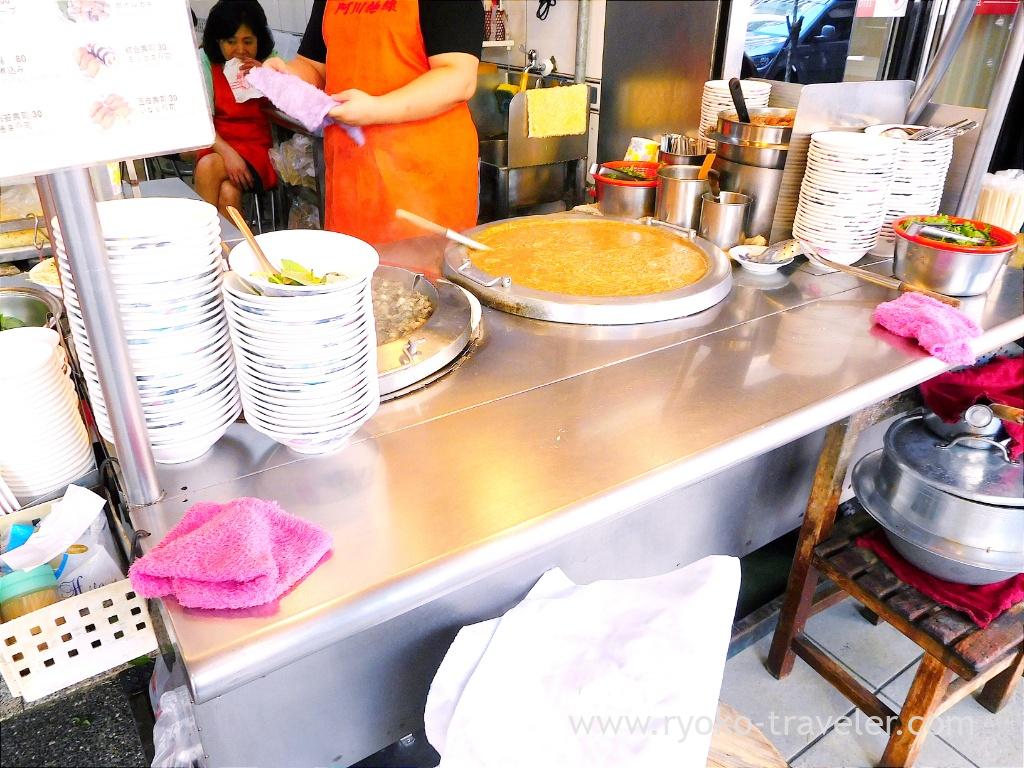 There're 5 tables having two chairs each. They are small shop. Of course, we can buy their foods to go. If you stay in CU Hotel and buy at this shop, you can enjoy freshly cooked oyster vermicelli in the room. I visited there and walked in front of the shop at several times, almost all people is solo visitor.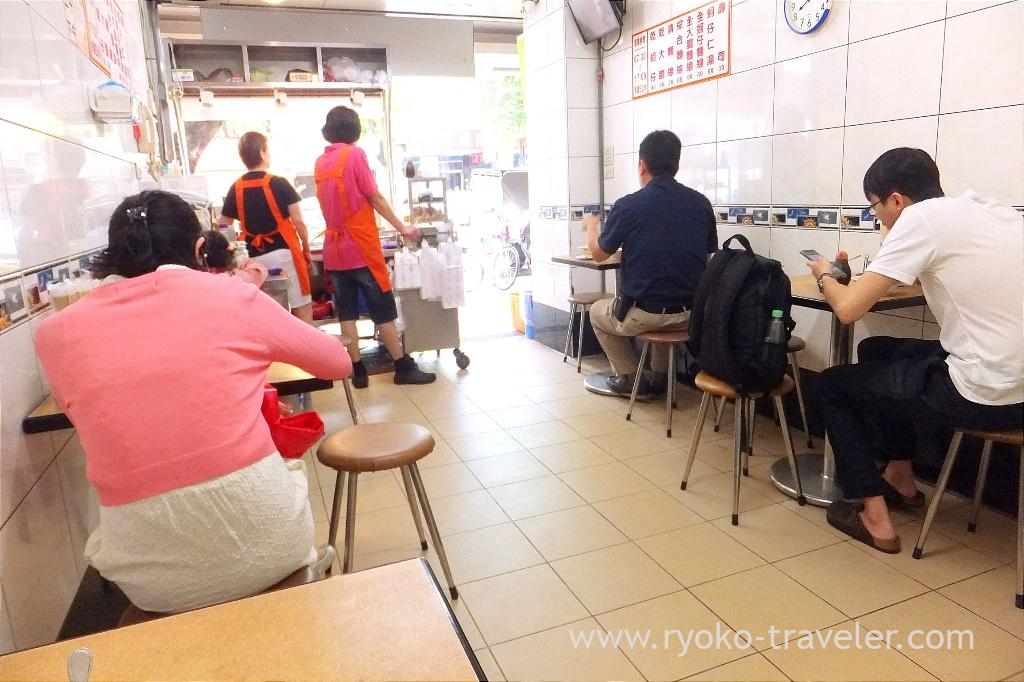 If you order vermicelli, they ask you about your coriander.
This is Oyster and pork giblet vermicelli. Much small oysters on it. The soup was thick. The soup had soup stock made of bonito and it's familiar with Japanese tastes. The pork giblet had springy texture. The soup don't have much extract of oysters. You can enjoy abundant flavor of oysters with those oyster meats. The green thing is, of course, coriander. I think coriander is MUST if you don't hate coriander 😉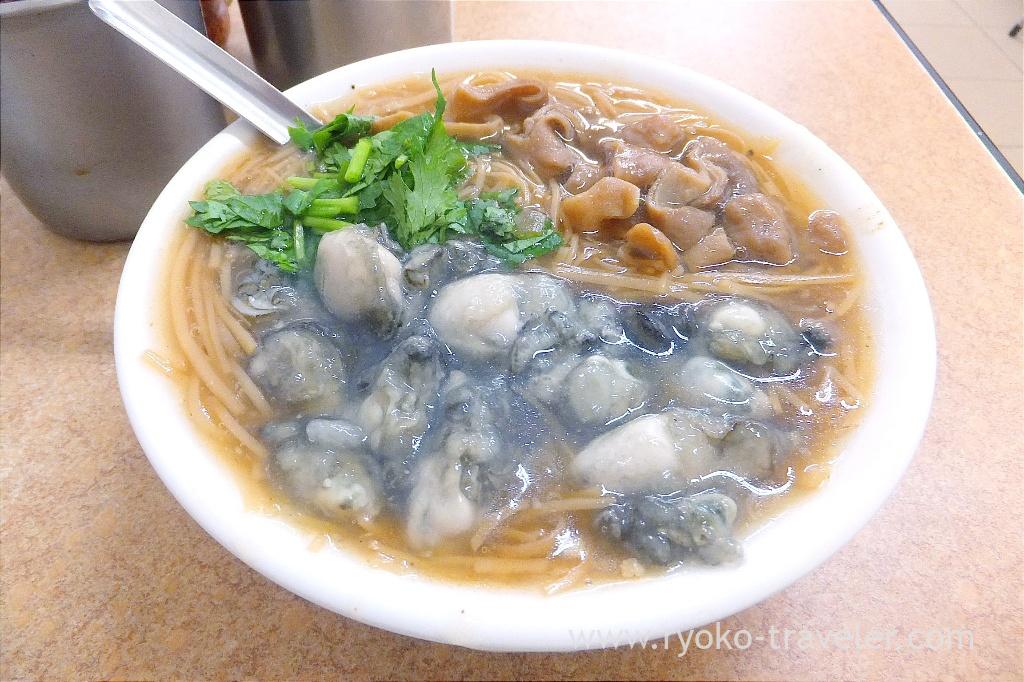 It's fun to change its tastes with seasonings on the table. There's chili oil, grated garlic and chili bean miso. I always put much grated garlic and chili oil. Delicious.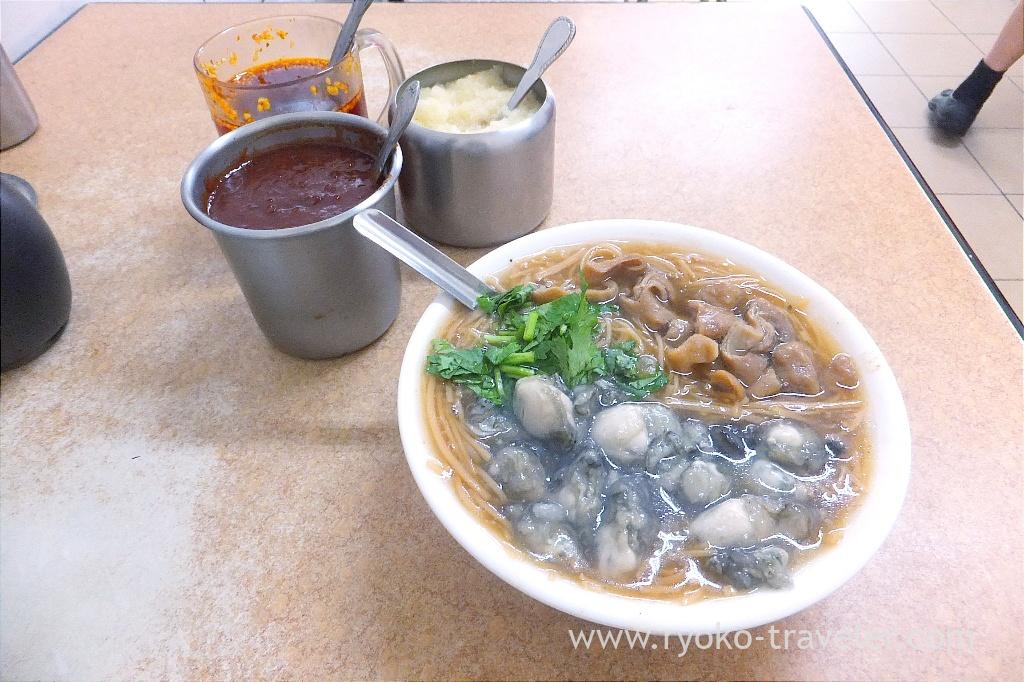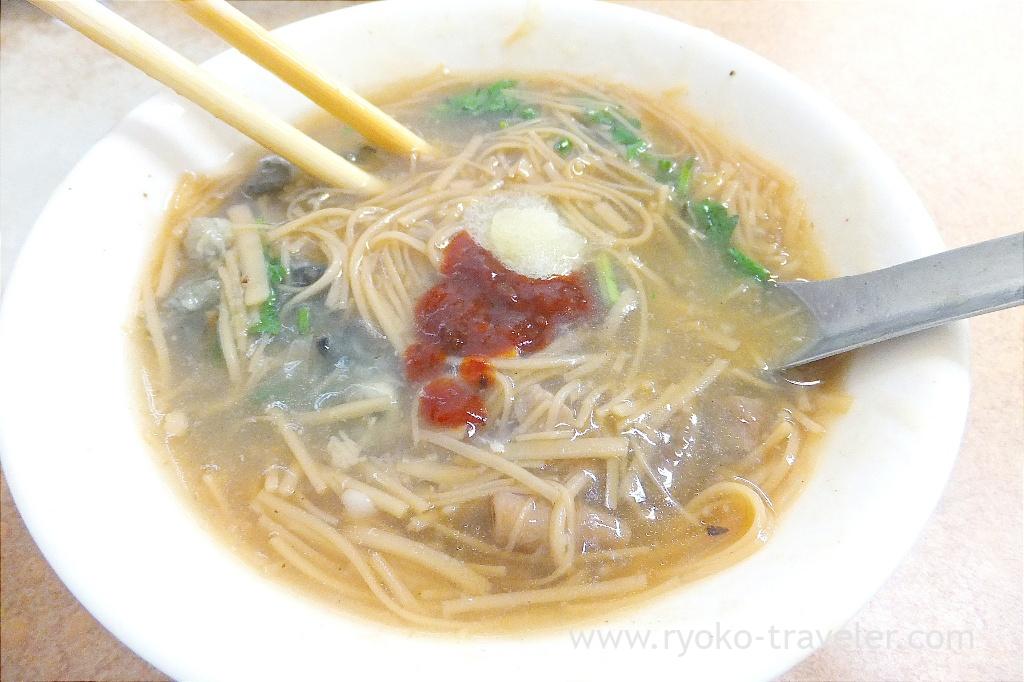 Taiwanese eat this thin vermicelli with Chinese spoon. Not with chopsticks. But of course, I found some people use both chopsticks and Chinese spoon like me.
If you want soup, oyster soup is good. As you see, it have much small oysters. The soup was seasoned with salt and it had refreshing tastes because of shredded ginger and Taiwanese basil. It's suitable for breakfast.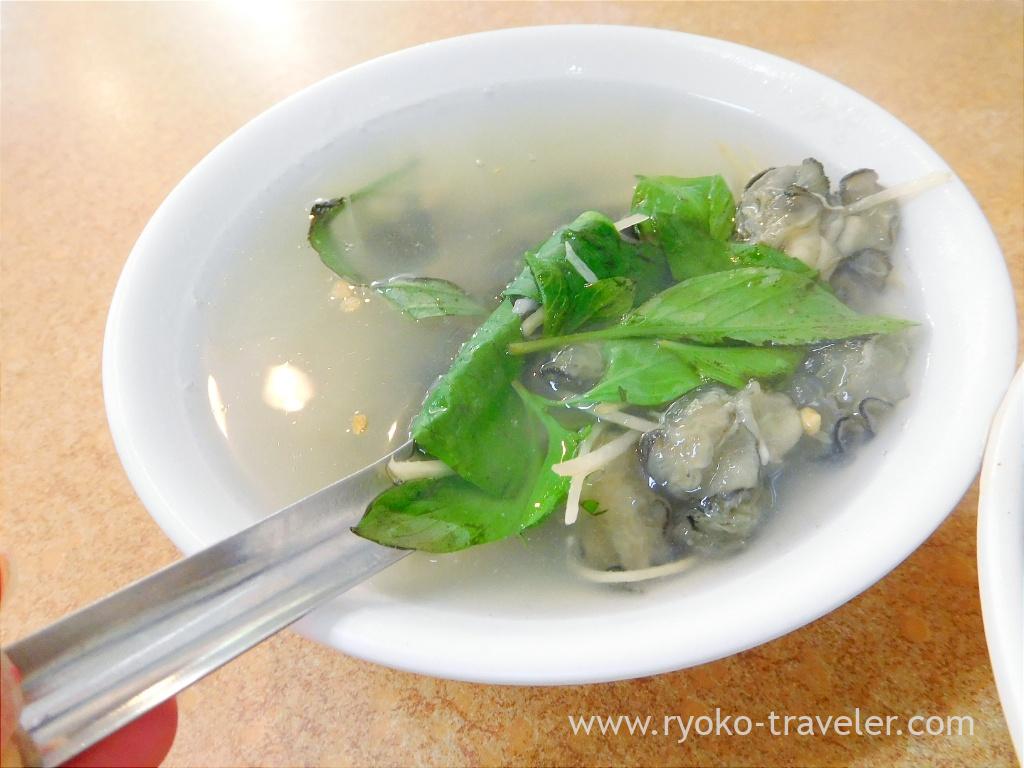 If you don't want pork giblet and want oyster only, they have oyster vermicelli(全蚵仔麺線, 60TWD), too. And they have pork giblet vermicelli(全大腸麺線, 60TWD). But I want to eat both all the same 🙂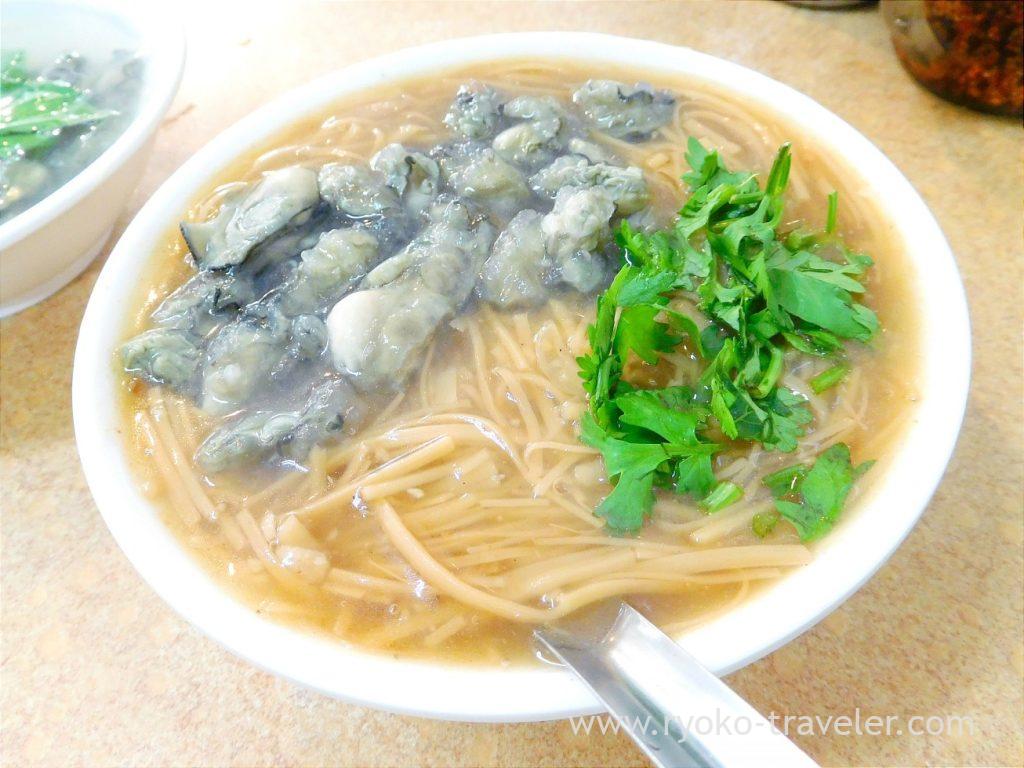 About

Name A Chuan Oyster Omelet (阿川蚵仔麵線)
Open Morning through evening
Reservation Unavailable
Credit card Unavailable

Google Map