New yakiniku restaurant was open in Tsukiji area last December. The restaurant's name is Yakiniku Kokokara R Tsukiji branch.
"R" have double means. They serve rare (=precious) meat and want their guests to eat them with rare (= near raw)
The restaurant is so small. The location is former small cafe named "Kissa Bon".
I couldn't believe yakiniku restaurant is open in such a narrow house.
The shop curtain says "Our room is small" 🙂
It's not good for groups having many people. Largest table have four seats (But the table is too small for four people :p)
We were five that time. We used two tables between the aisle.
Where?
The location is easy to find. Go straight along Harumi street from Tsukiji station and turn right in front of the street having Namiyoke Inari Jinja shrine. The restaurant is there. It's too small restaurant, so you'd better reserve in advance.
Menu
This is menu of drinks. I'm afraid they don't have English menu. But they prepare beer, highball, hoppy, sour, shochu, wine and another non-alcoholic drinks.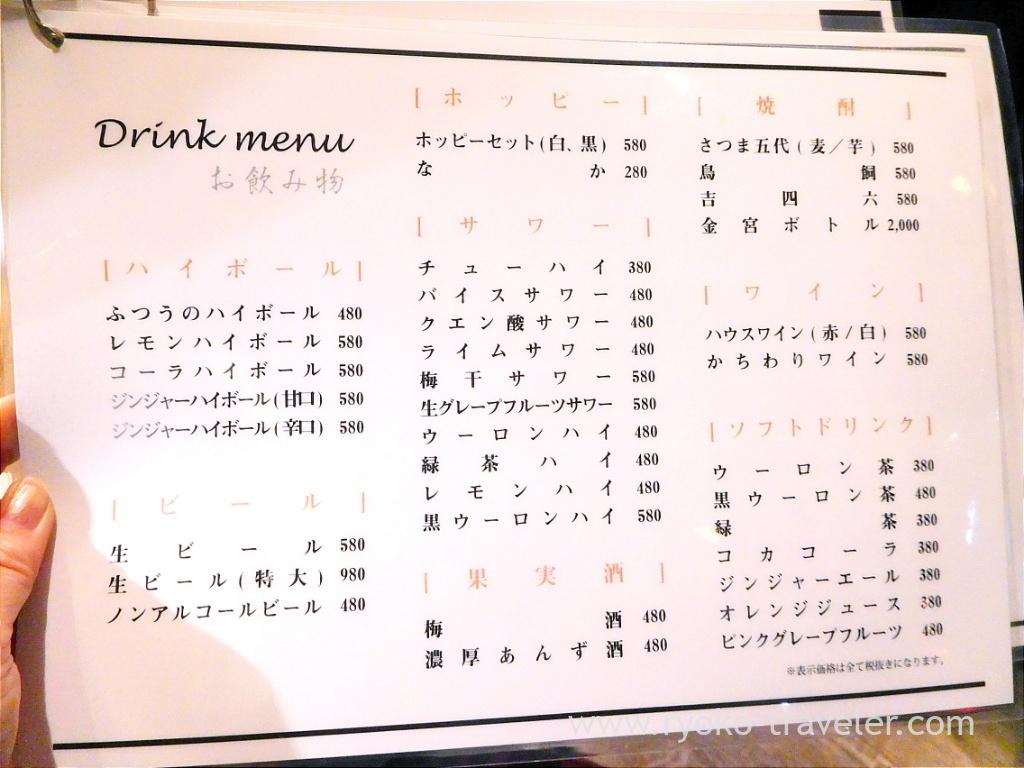 Anyway, I ordered a beer (生ビール, 580 yen).
This is the food menu.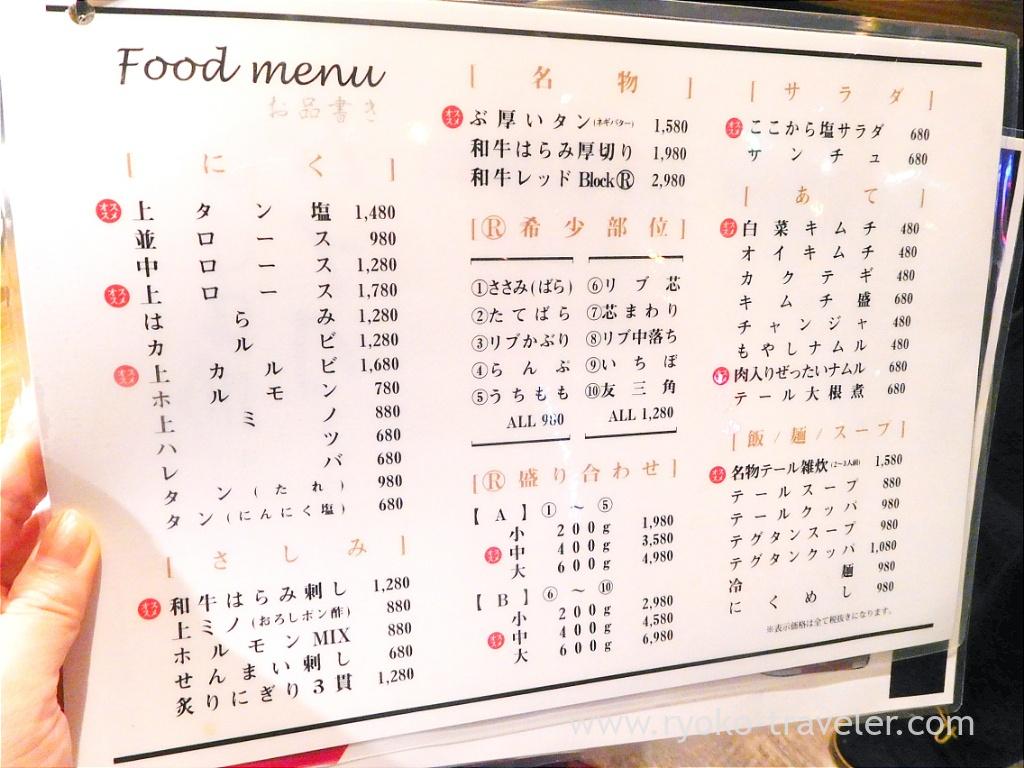 Also they have blackboard menu. We couldn't decide, and the staff recommended "Today's assorted meat (本日の盛り合わせ)" on this blackboard menu.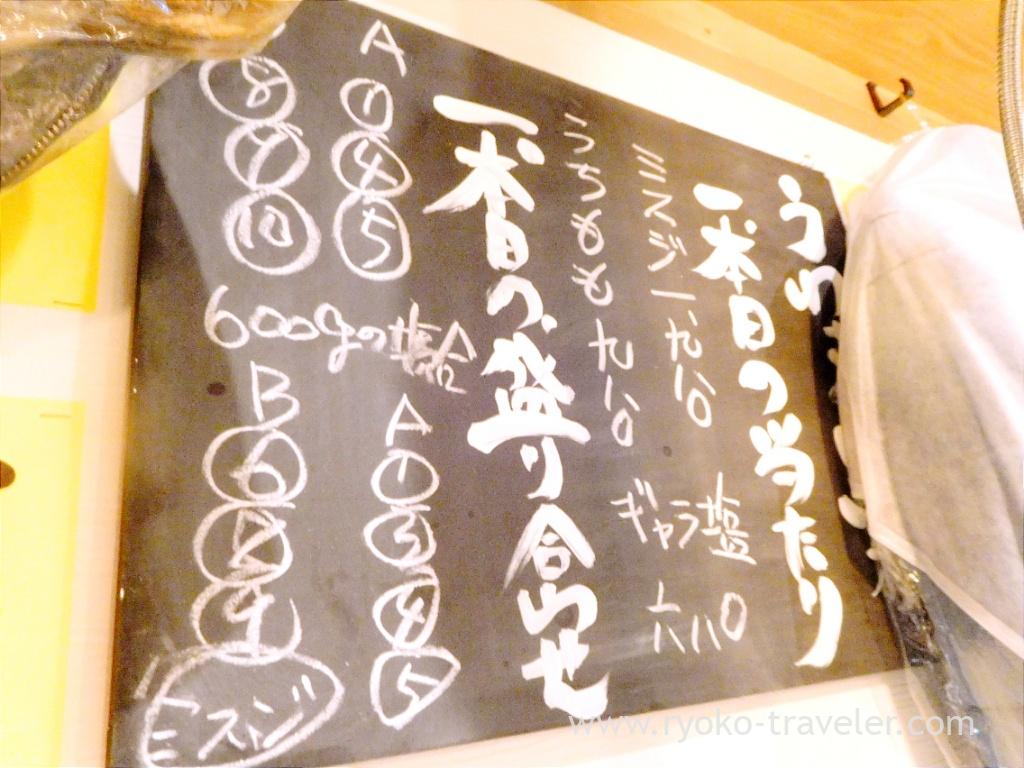 Each assorted meat can be choosen from small (200g), medium (400g) and large(600g).
They have lunch menu until 2 p.m. on weekdays. All lunch set have tail soup.
Assorted kimchi
Assorted kimchi (キムチ盛, 680 yen) have Chinese cabbage, radish and cucumber.
Wagyu skirt sashimi
Wagyu skirt sashimi (和牛ハラミ刺し, 1280 yen) is, as you see, so fresh. It was served with yolk. At first, we ate the meat without yolk, and then ate with yolk. Both was excellent !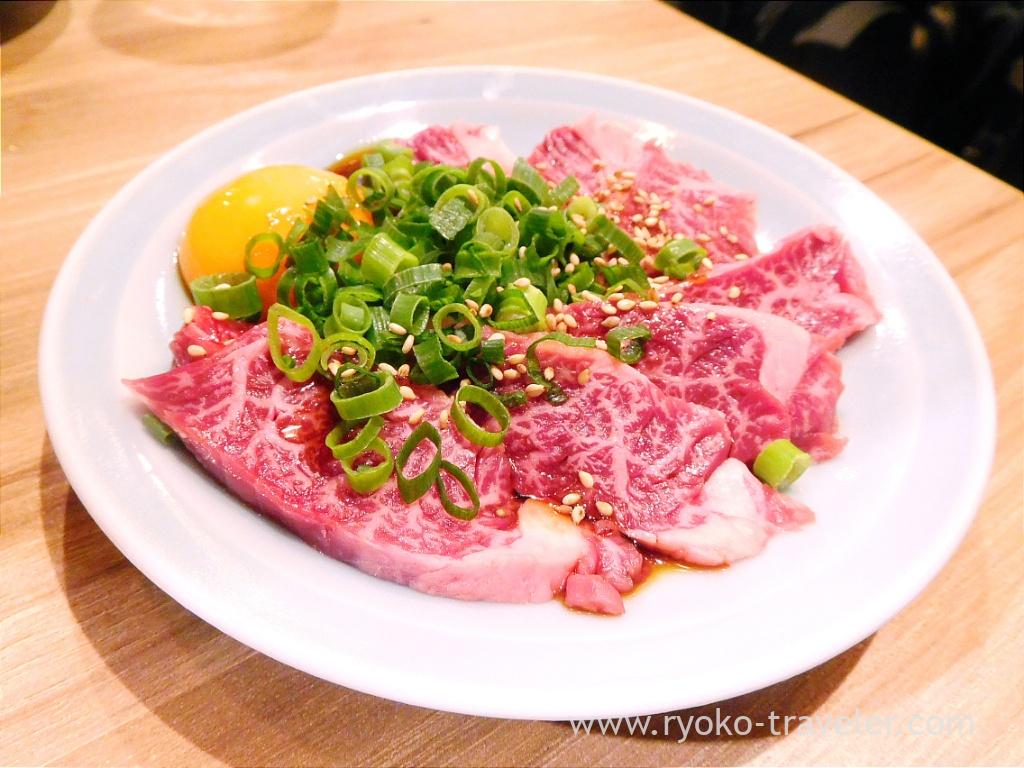 Assorted rare meat A / B
Both is 400 g. 800g in total. Those marbled meats were fatty.
Everything was delicious. The staff recommended us to cook them at rare. We did so.
Of course, those meats can be ordered separately. So, we added meat after finished eating the assorted dishes.
Jyo (= Superior) beeftongue
Jyo beeftongue with salt (上タン塩, 1480 yen).
It occupy top position on the menu. I agree. It was thick, fatty and tasty !
Wagyu red Block R
Wagyu red Block R (和牛レッドBlock R, 2980 yen) is chunk of Wagyu beefmeat that is cooked by staff at the table. Part of meat is changed day by day.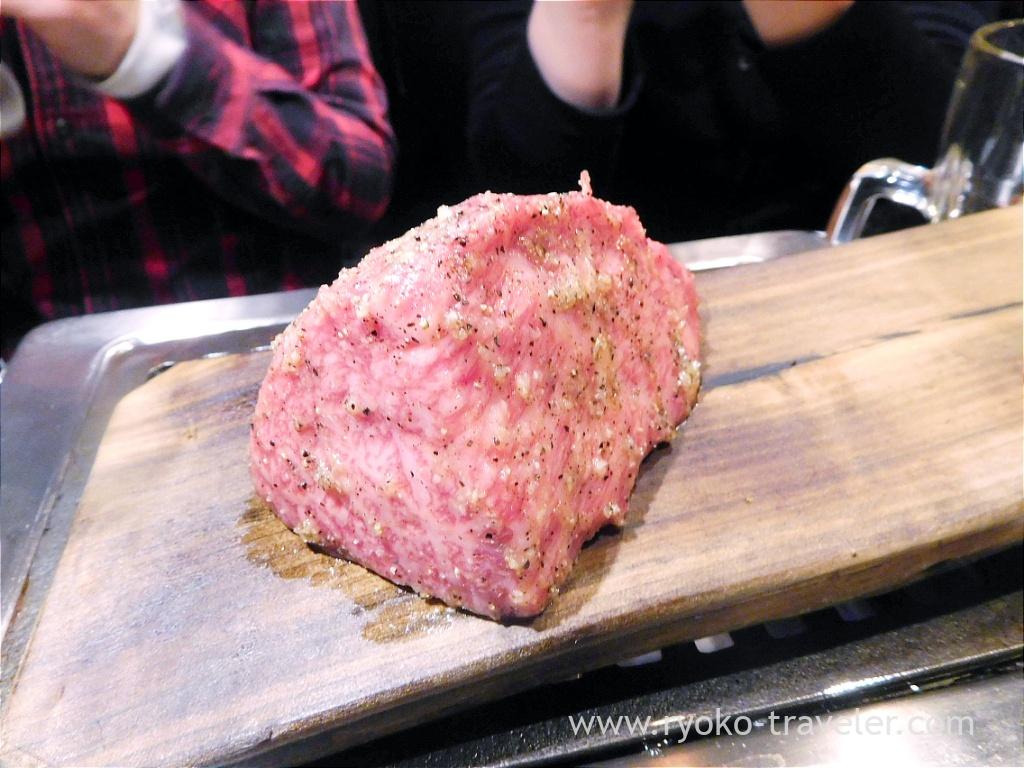 After it was cooked, the staff brought it to the kitchen to dish up.
Complete. It is like seared meat. Unexpectedly it had light tastes.
After that, they also serve it. Edge of the chunk with yolk. It's like yokhoe.
So thick beeftongue
They have some beeftongue menu.
The most fascinating food on the menu was it.
So Thick beeftongue with green onion butter (分厚いタン ネギバター, 1580 yen).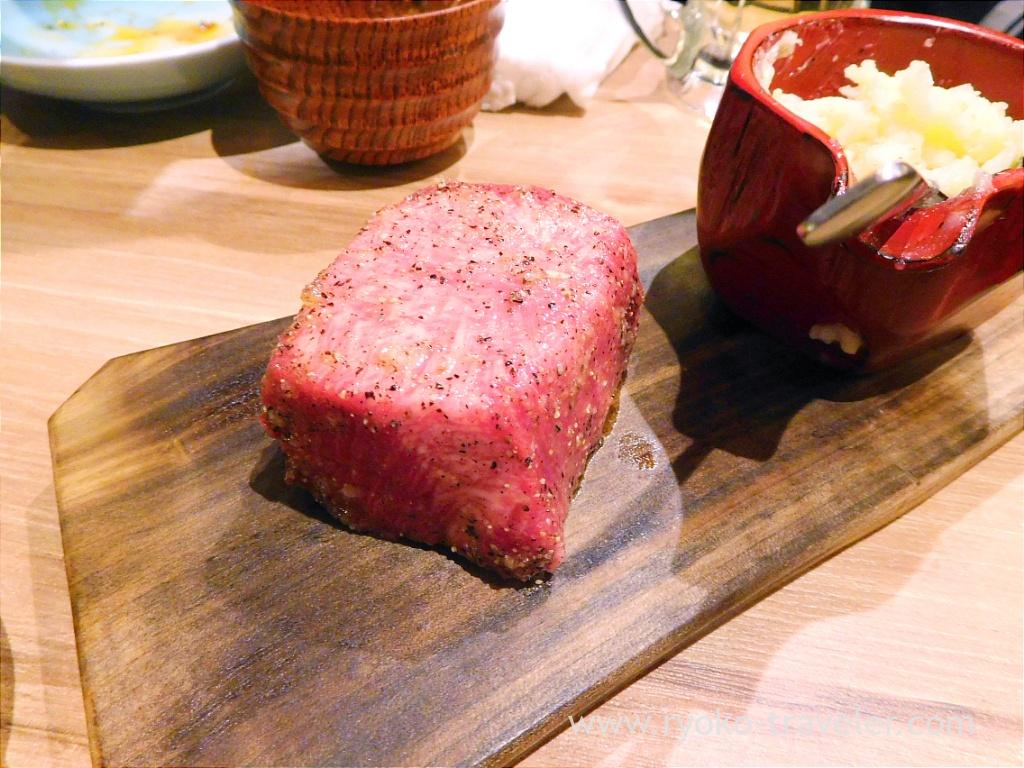 We ordered it, too. Green onion butter is in the bowl on the right. Staff cook it at the table, too. Though it was cut thick, it's soft.
Hearts and livers
Hearts (ハツ) and livers(レバー) (680 yen yeach). Those were seasoned with spice. It didn't have bad smell at all. It was thick and tasty. Most foods are suitable for two or three people.
Meat rice
We ordered Nikumeshi (にくめし, 980 yen) at last. Nikumeshi is meat rice.
At first, we couldn't imagine the food, so we asked the staff. He explained us that it is like baked ビビンバ. The rice was seasoned with yakiniku sauce and some meats were in it.
It was like junk food, but it was tasy ! The amount was good for us five people !
Everything was delicious.
Though we ate much precious beefmeat, the cost wasn't so high 🙂
About Yakiniku Kokokara R Tsukiji branch (焼肉ここからR築地店)
Address / Kachidoki View Tower Bldg 1F, 1-8-1 Kachidoki, Chuo-ku, Tokyo
Phone / 050-5594-7902
Open / 12 p.m. – 0 a.m.
Saturdays / 2 p.m. – 0 a.m.
Sundays and another national holidays / 4 p.m. – 11 p.m.
Closed / No scheduled
Reservation / Available
Credit card / Available
Smoking / Not permitted