I visited Wolfgang's Steakhouse in Marunouchi. Now there's four branches in Japan. Roppongi, Marunouchi, Osaka and Fukuoka.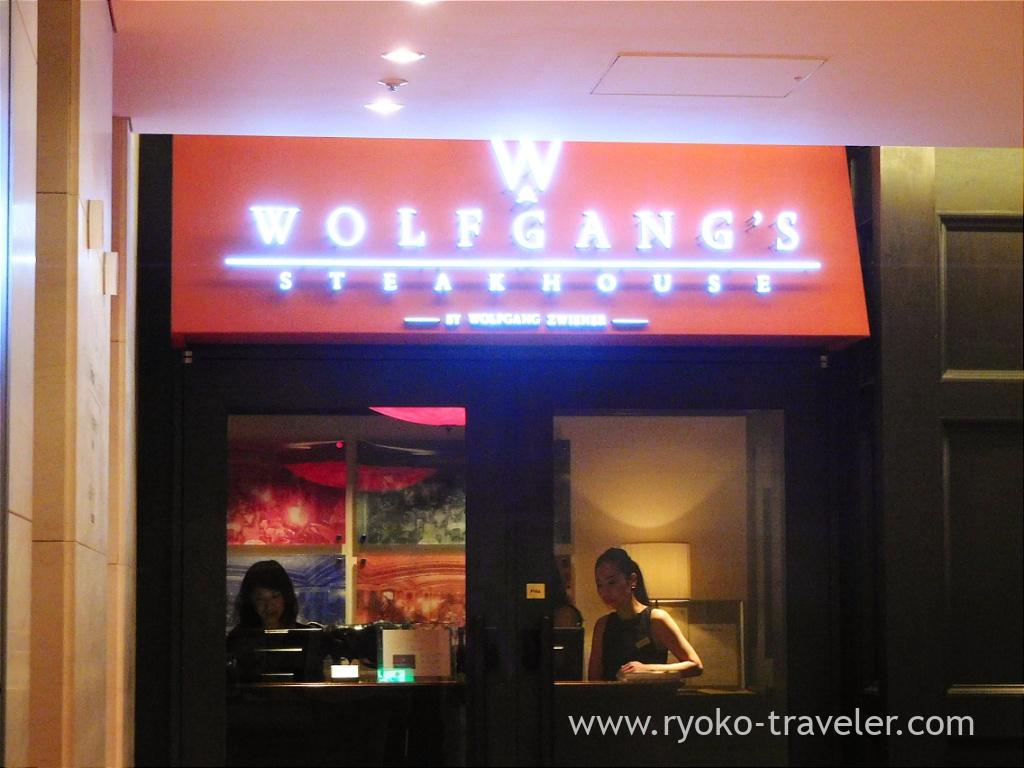 Wolfgang's was founded in Manhattan in 2004. Dress code is "smart casual". They prohibit from men's flip-flops, tank top and knee trousers. Also T-shirt and jeans is not good.
Where?
It is located on the ground floor of Meiji Seimeikan bldg in Marunouchi area. This building is one of the important cultural properties. So, it's worth visiting only for viewing this building.
Menus
Drink menu. Beer, wine, cocktails and non-alcoholic drinks.
Foods menu. Appetizer, steak, vegetables and so on.
It's hard to see. So, visit Official website. They have PDF menu.
Yummy foods that we had
Bar area and restaurant floor is divided. White cloth is attracting in the restaurant floor. This bread (included in service fee) is really tasty.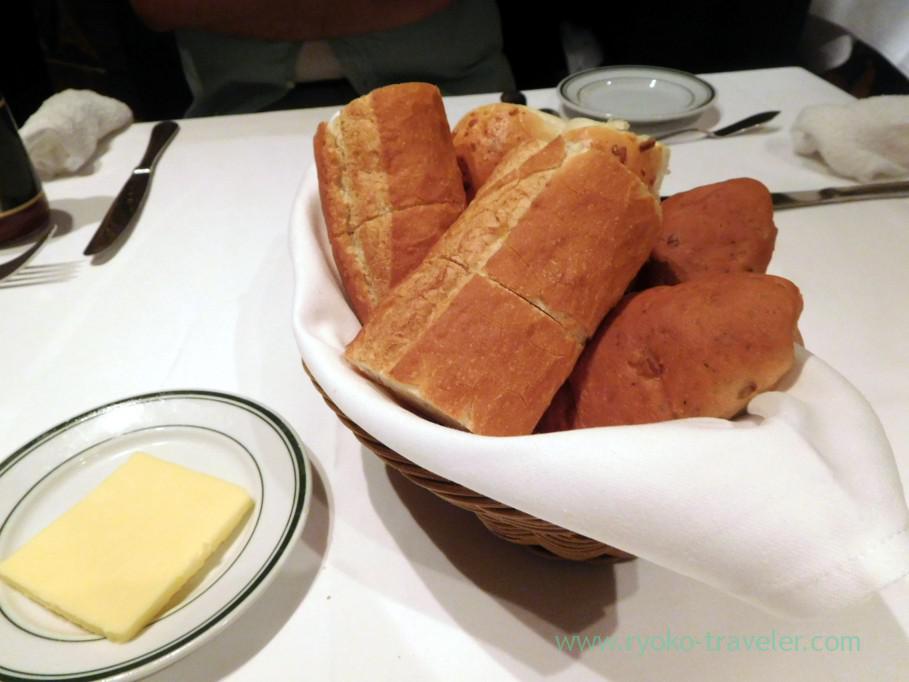 They have several beer (Domestic beer, Imported…) on the menu. I chose Hoegaarden White (ヒューガルデンホワイト, 1100 yen). I was surprised at the smooth foam. The temperature of beer and glass was perfect !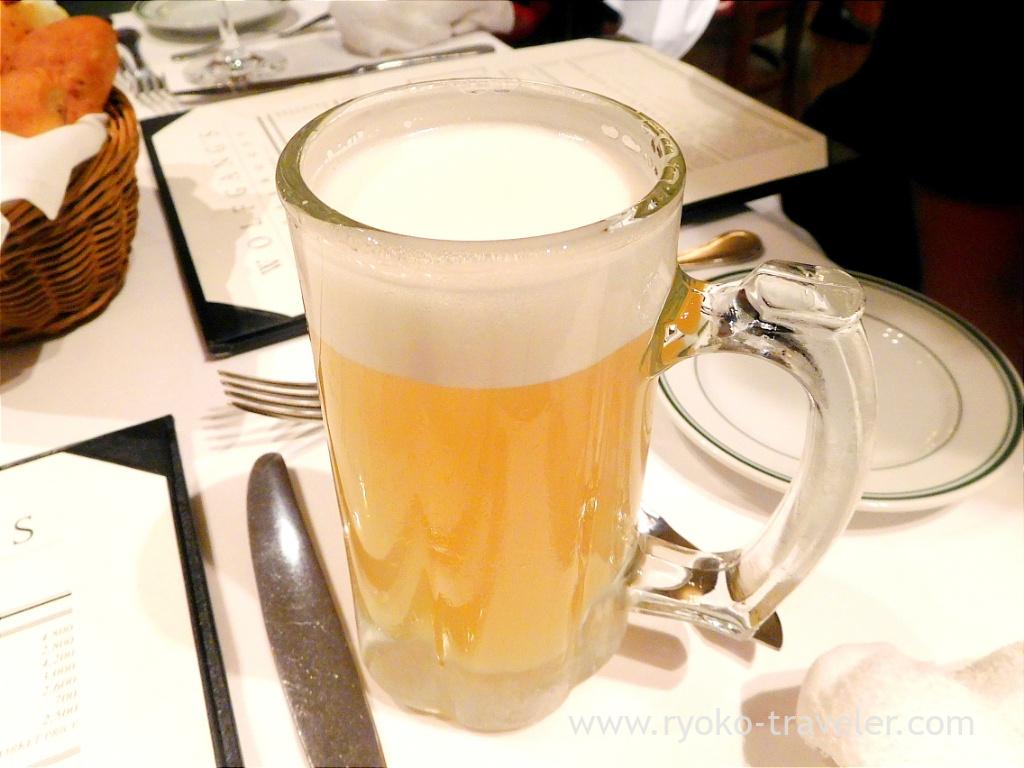 We were four and shared those foods. We choose Wolfgang's salad (ウルフギャングサラダ, 1800 yen) as starter. The staff divided one dish into four dishes. Of course, leaf, too 🙂 Unexpectedly it was seasoned lightly. (I imagine American foods are seasoned stronger and fatty). Thanks to that, I felt flavor and tastes of those ingredients clearly.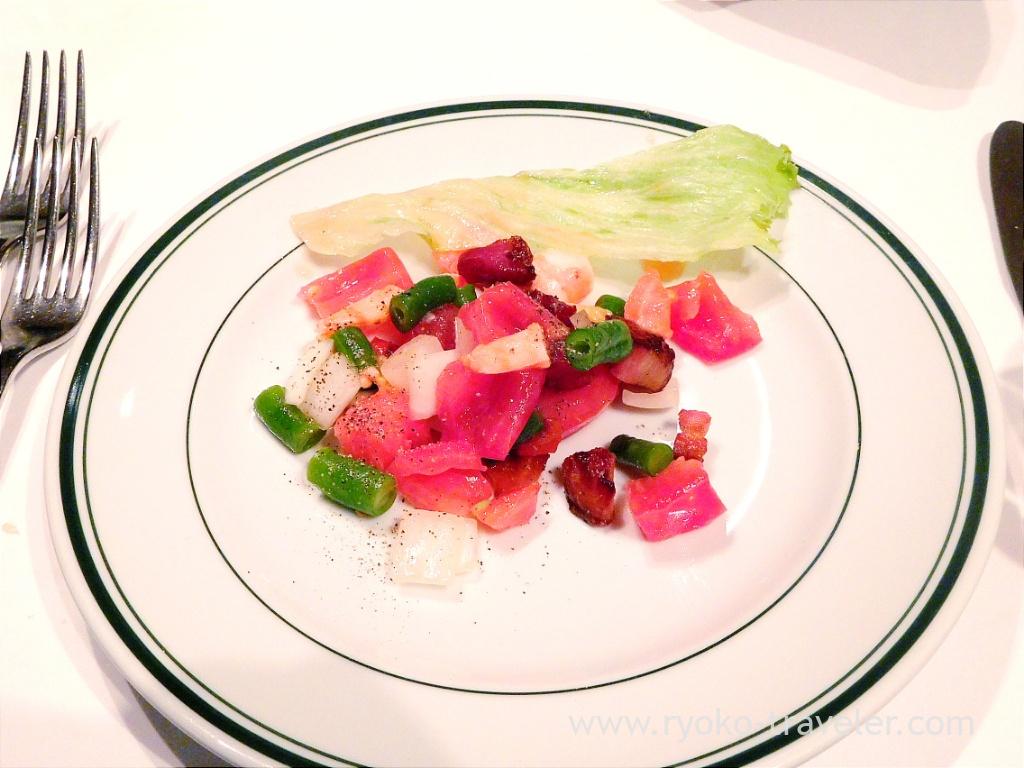 After that, steak and vegetables were served. Prime dry aged beef steak for two person (プライムステーキ2人前, 16000 yen). is a specialty of Wolfgang's. This steak have both fillet and sirloin. Of course, the staff dished them up, too. We ordered the steak with medium rare.
And Lobster mac n' cheese (ロブスターマックンチーズ, 1600 yen)  and sauted mushrooms (1400 yen). Lobster mac n' cheese is like macaroni salads. The steak was, delicious as their high reputation.
Asparagus (アスパラガスのボイル, 1500 yen)
Thick and long asparagus ! I was surprised. Wolfgang's serve not only awesome steak but also good vegetables.
Steak fry (ステーキフライ, 1500 yen). French fry.  My friend recommended potatoes. I agreed with her.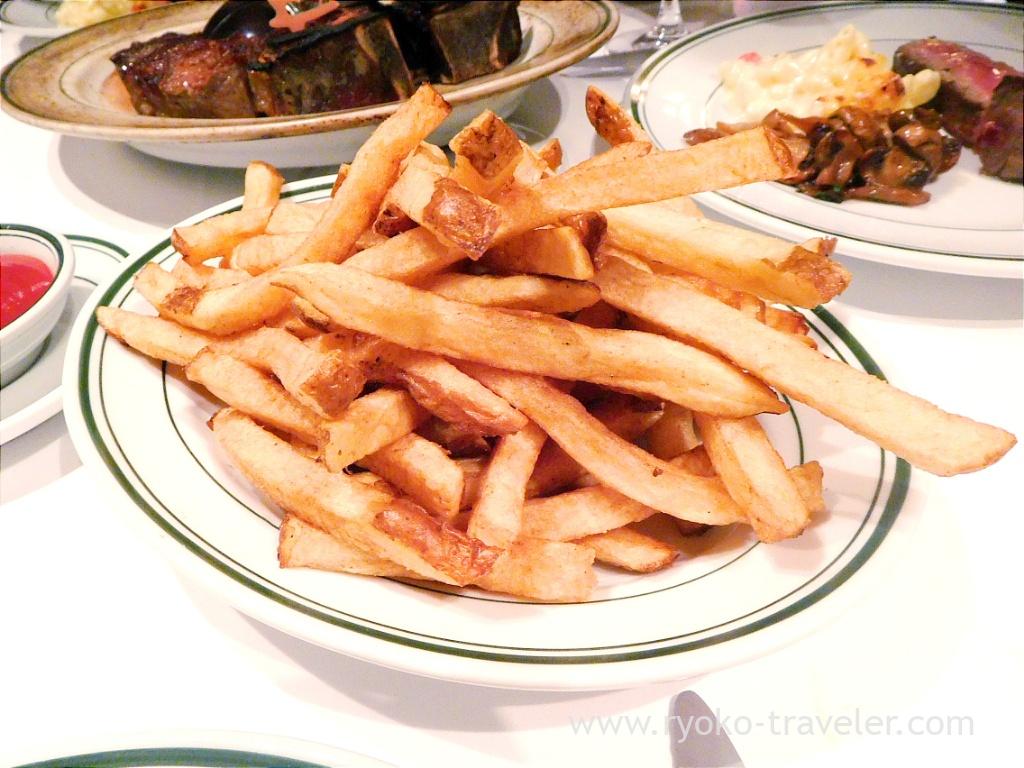 We wanted to have more steak, so we added it. Rib eye steak (プライムリブアイステーキ, 9400 yen)

We took as much as we can eat. I took just it. Truthfully speaking, we liked it better than Prime dry aged beef that we ate at first.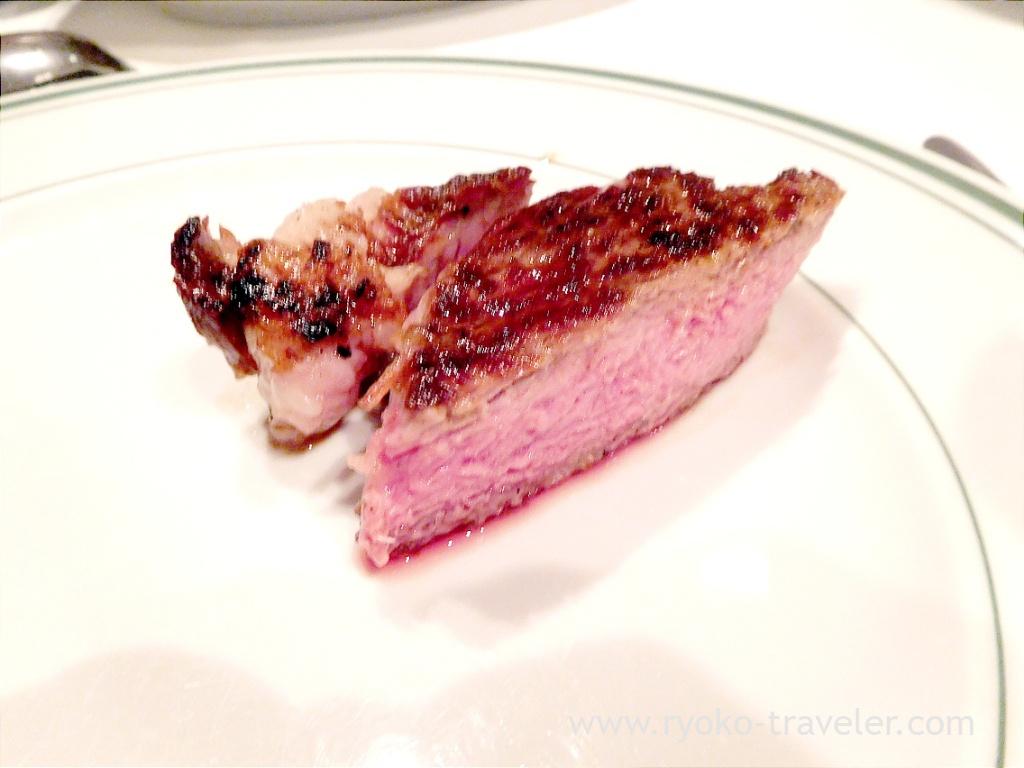 We tried steak only this time, but I heard their seafood is awesome.
You'd be better reserve in advance. You can reserve at Open Table.
Amazon.com : Wolfgang Puck Organic Tomato Basil Bisque, 14.5 oz (Pack of 12) : Tomato Soups : Grocery & Gourmet Food
Amazon.com : Wolfgang Puck Organic Tomato Basil Bisque, 14.5 oz (Pack of 12) : Tomato Soups : Grocery & Gourmet Food
About the restaurant
Name in English / Wolfgang's Steakhouse Marunouchi branch
Name in Japanese/ ウルフギャングステーキハウス丸の内店
Address / Meiji Seimeikan bldg B1F, 2-1-1 Marunouchi, Chiyoda-ku, Tokyo
Phone / +81352246151

Open / 11:30 a.m. – 11:30 p.m.
Closed / No scheduled

Reservation / Available
Credit card / Available
URL / Website