I took a day off and went to Uotake (魚竹) in Tsukiji at lunchtime. Though Uotake is far from the center of Tsukiji, they serve simple but delicious fish lunch. Especially, their grilled fishes have high reputation. Its appearance have historic atmosphere. They have been there since 1975.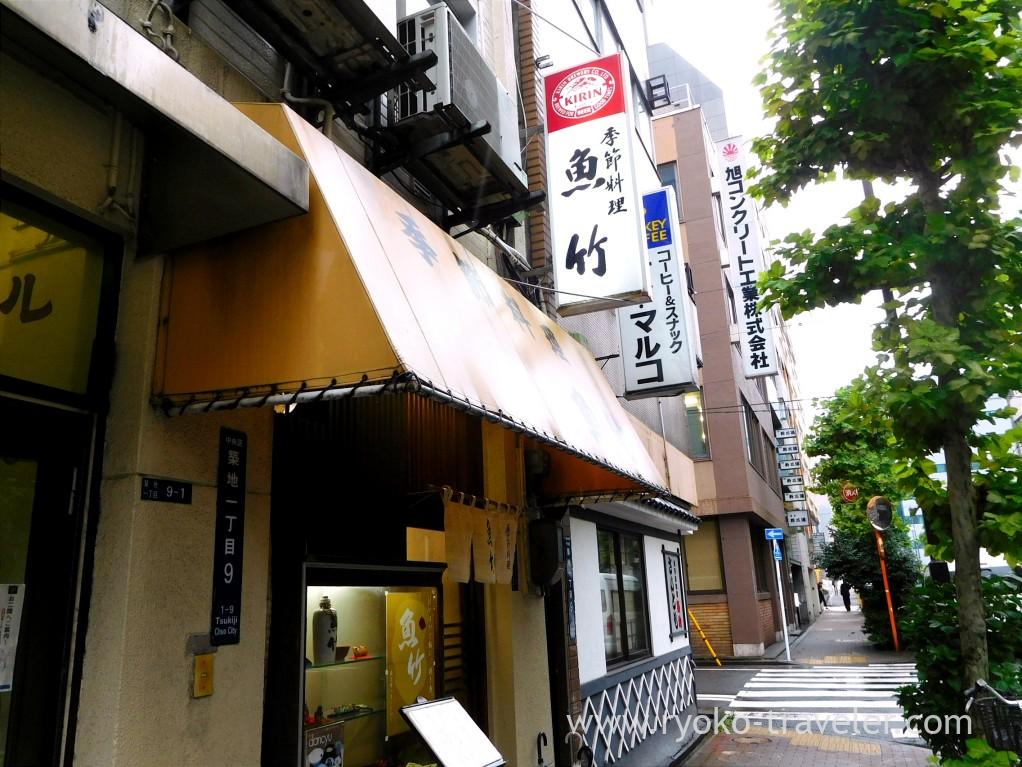 I want to visit more, but they are open on weekdays only and too far from my office. So, it's very hard to visit there. There're only counter seats and lots of people gathering. So, sometimes I had to give up having lunch at there.
Where?
It's the middle between Tsukiji and Ginza. Though their address is Tsukiji, they located rather in Ginza.
Lunch menu
There's lunch menu outside. It's written in vertical. Menu have about 4 – 6 foods on the whiteboard. From right to left, grilled salmon with teriyaki sauce, grilled mackerel, tuna and yellowtail sashimi, and grilled salmon with teriyaki sauce and sashimi (choice one from nakaochi, marinated tuna, squid and sardine) set.
Mostly their menu have grilled salmon. The species of fishes are changeable day by day, but if you can't decide, I recommend grilled fish and sashimi set.
You can have second (and third…) helping of rice and soup by free of charge. When I entered the shop around 1 p.m., they ran out of grilled mackerel. If you want to choose from menu as you want, you should be there sooner.
Yummy foods that I had
Grilled salmon with teriyaki sauce and nakaochi set
I decided my order before I got to there. Grilled salmon with teriyaki sauce and nakaochi set (銀鮭照焼となかおちのセット, 1300 yen). The rice is small portion. Ideal view of Japanese lunch 🙂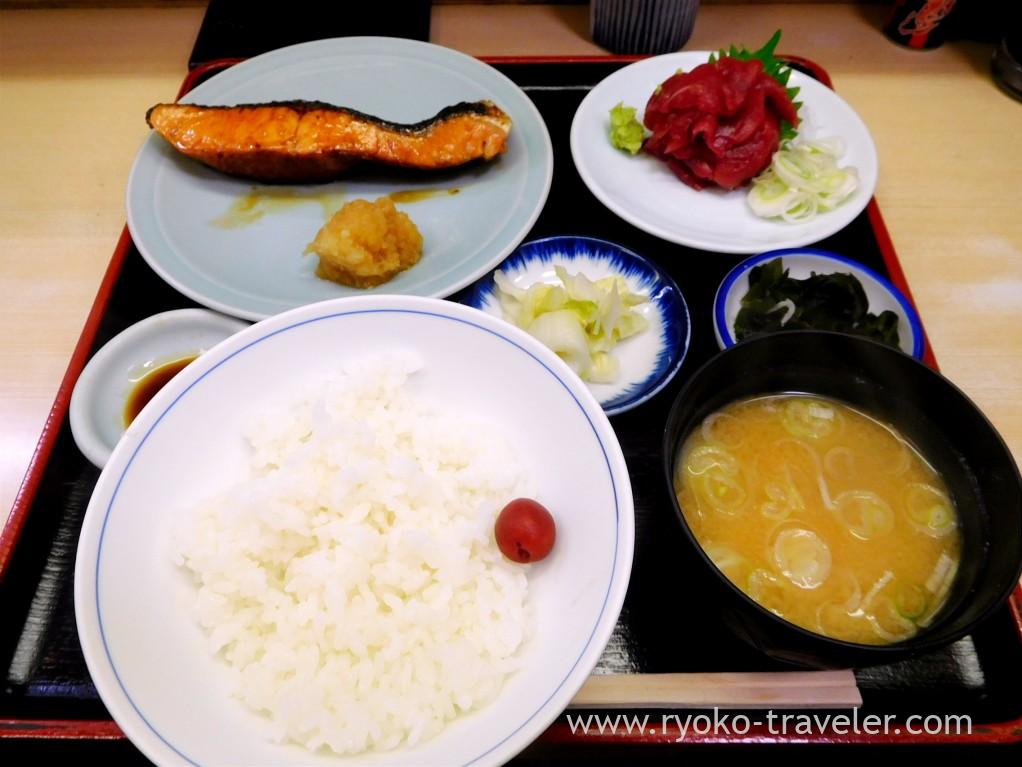 It have grilled salmon, tsukemono (pickles), miso soup, vinegared seaweed and kari-kari-ume (dried plum).
Grilled salmon seasoned with teriyaki. The meat was fatty and its skin was crisp. Teriyaki sauce wasn't sweet. It's my tastes. It went with rice very very well.
And the fresh nakaochi like ball. Leftover fresh on the spine of tuna. It had smooth texture and was delicious. So, I ate my rice up soon. Uotake's rice is good, too. Though I can't eat much, I wanted to eat more rice.
I think I won't be bored with their lunch even I have it everyday.
About the restaurant
Name in English / Uotake
Name in Japanese / 魚竹
Address / 1-9-1 Tsukiji, Chuo-ku, Tokyo
Phone / +81335410168
Open / 11 a.m.- 2 p.m., 5:30 p.m. – 9:30 p.m.
Closed / Saturdays, Sundays and another national holidays
Reservation / Available for dinner time only
Credit card / Unavailable