I got flight ticket at inexpensive price, so I went to Takamatsu to eat udon. Only a few years have passed since I visited Takamatsu last. But Takamatsu station became cute 🙂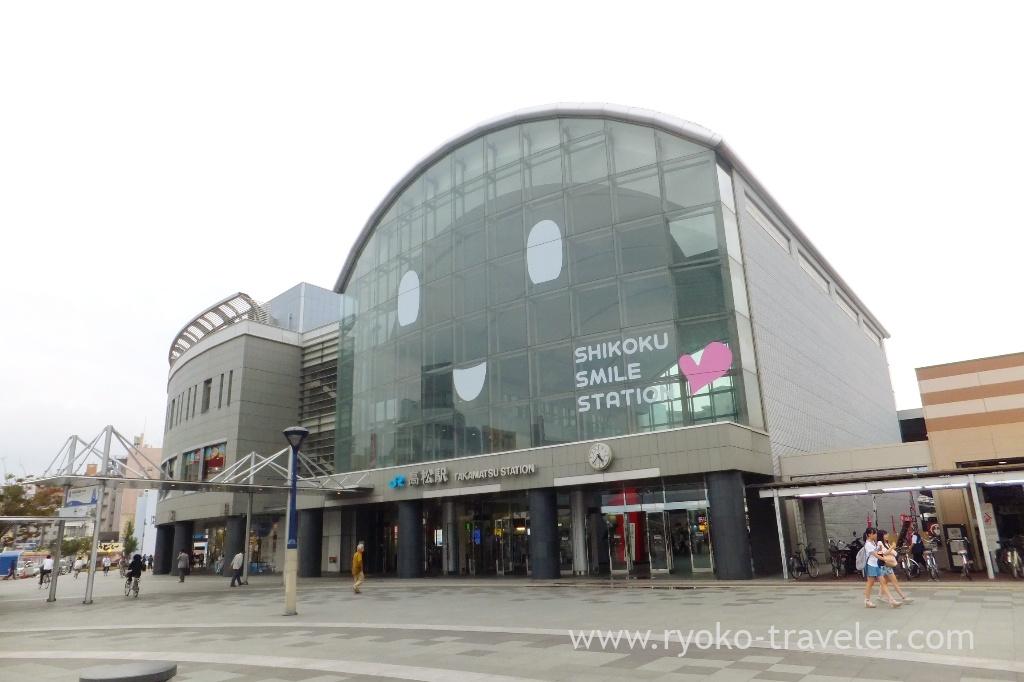 Kamatama udon is the best way to eat udon for me. I love raw eggs. So, I went straight to Udon Baka Ichidai (手打ち十段 うどんばか一代) to eat kamatama udon at first.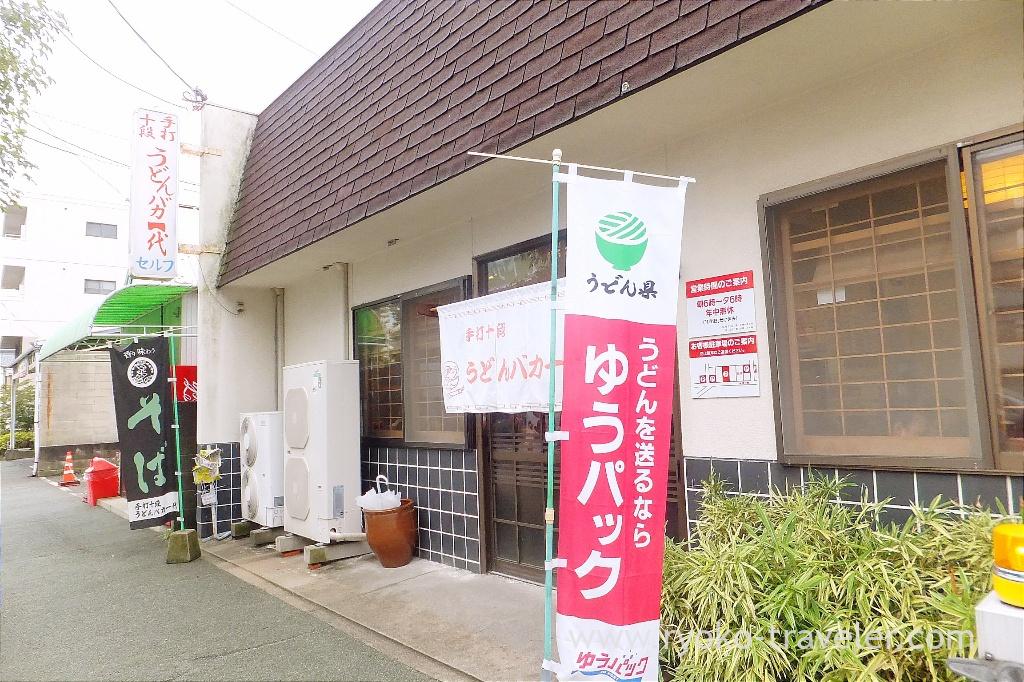 The shop is large. They have counter seats, tables, and tatami seats. Solo, family, couple… they accept all people. Actually there are some families having small children. Much signatures. They looks more udon factory than shop.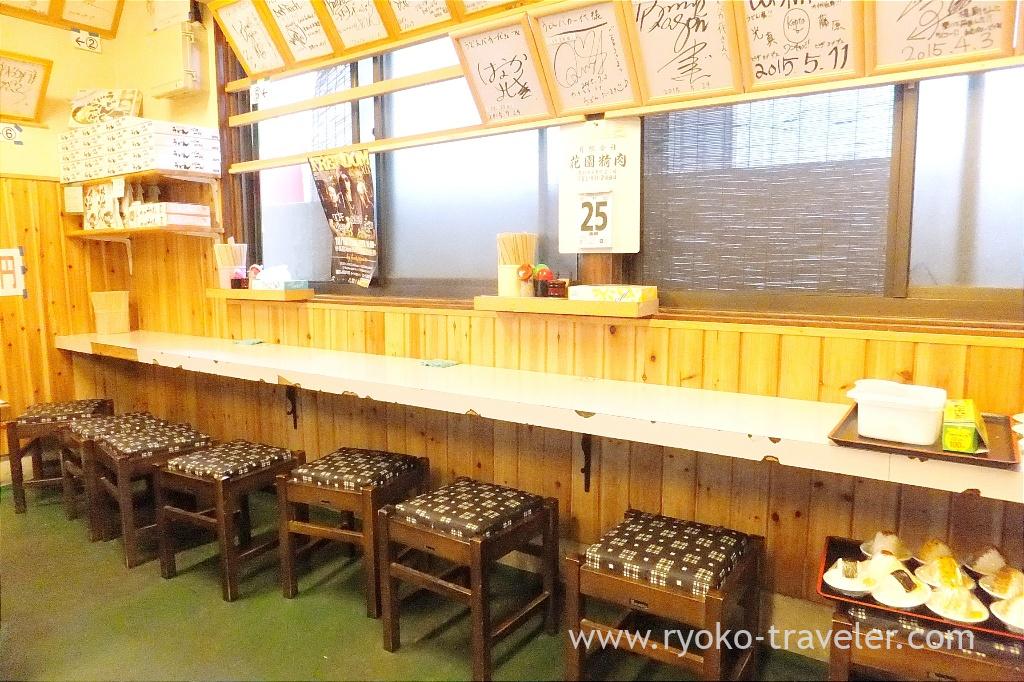 When we got to there around 10 a.m. on weekend. About 1/3 seats were vacant. When we got to there again past 3 p.m., there were many vacant seats, too. I heard there are always many people waiting, so we were lucky. Also we avoided busy season.
As soon as we entered the shop, we followed the line at the order counter. Udon can be chosen from small, medium and large. Many people order small one. Also much people two small udons :p People who visit Takamatsu to eat udon eat many udon during one trip. I want to do so, but I have small stomach… 🙁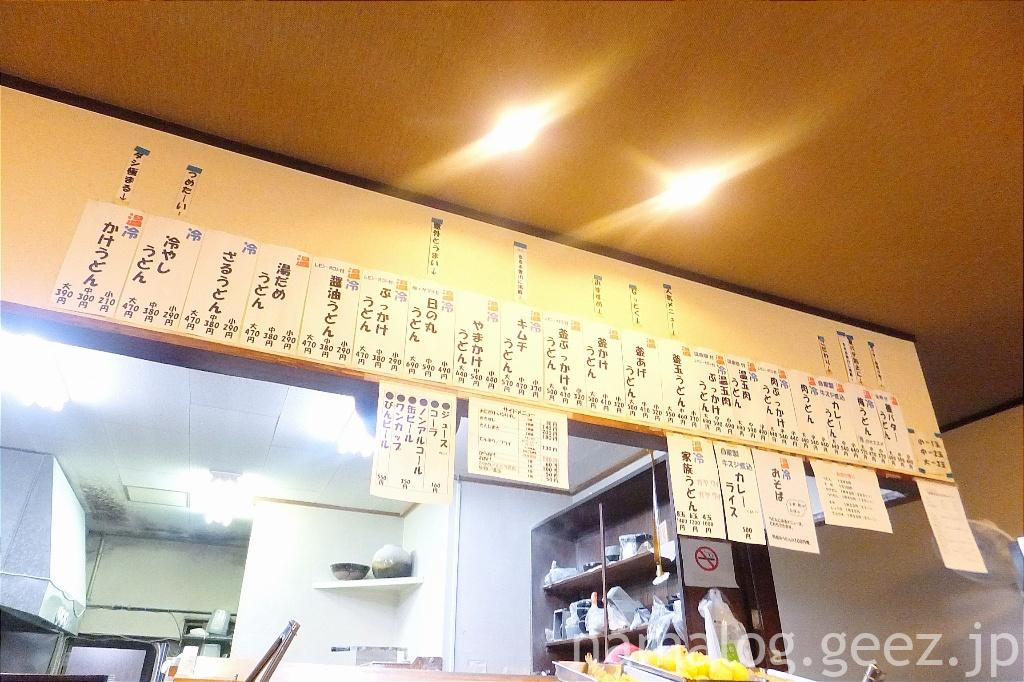 I picked tray and put tempura, onigiri on the tray. And ordered udon. After that we paid. The photo is half-cooked egg tempura. This order system is familiar with people who live in Tokyo because of Marugamen udon and Hanamaru udon.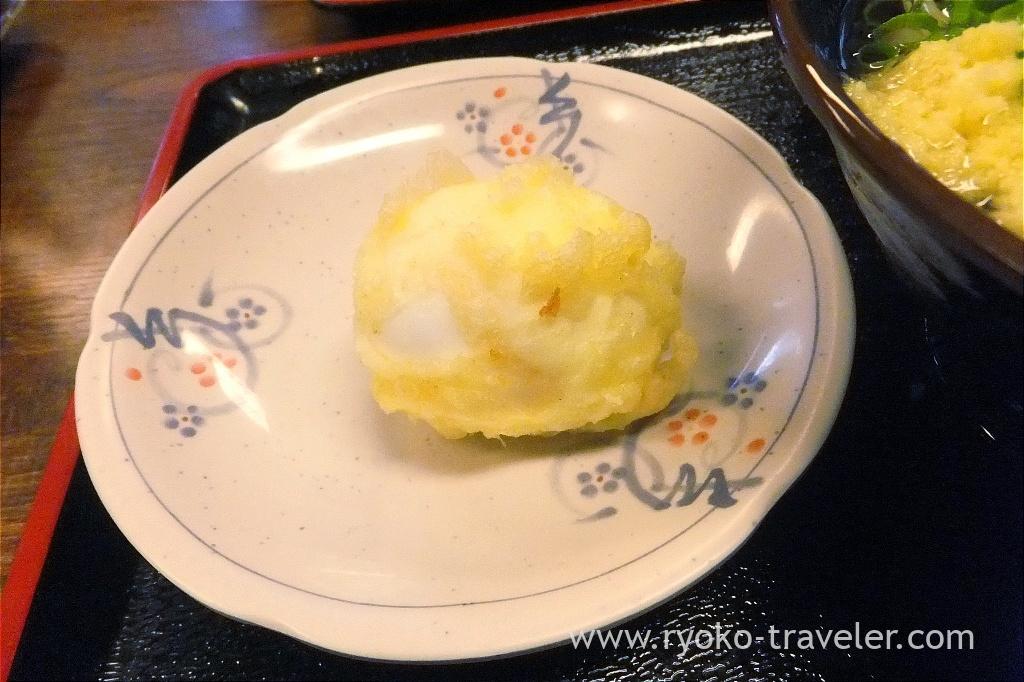 They serve udon soon. But just Kamaage udon take much time because they boil kamaage udon after taking order. So, if there're many vacant seats, waiting at the seats is OK. Actually, we were seated while waiting udon.
This is their most popular udon. Kama butter udon. It's not simple Kamatama udon, it have butter ! Also it had black pepper. I mixed altogether well.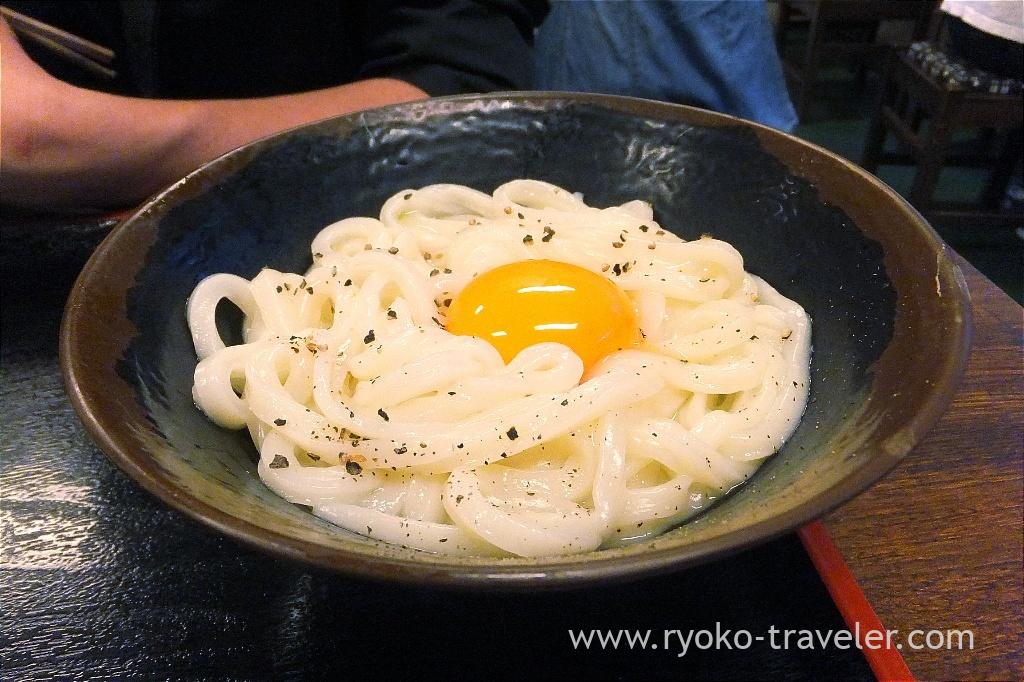 It's kamatama udon. But its looking and tastes is like carbonara. The udon dressed with beaten eggs had spingy texture and good.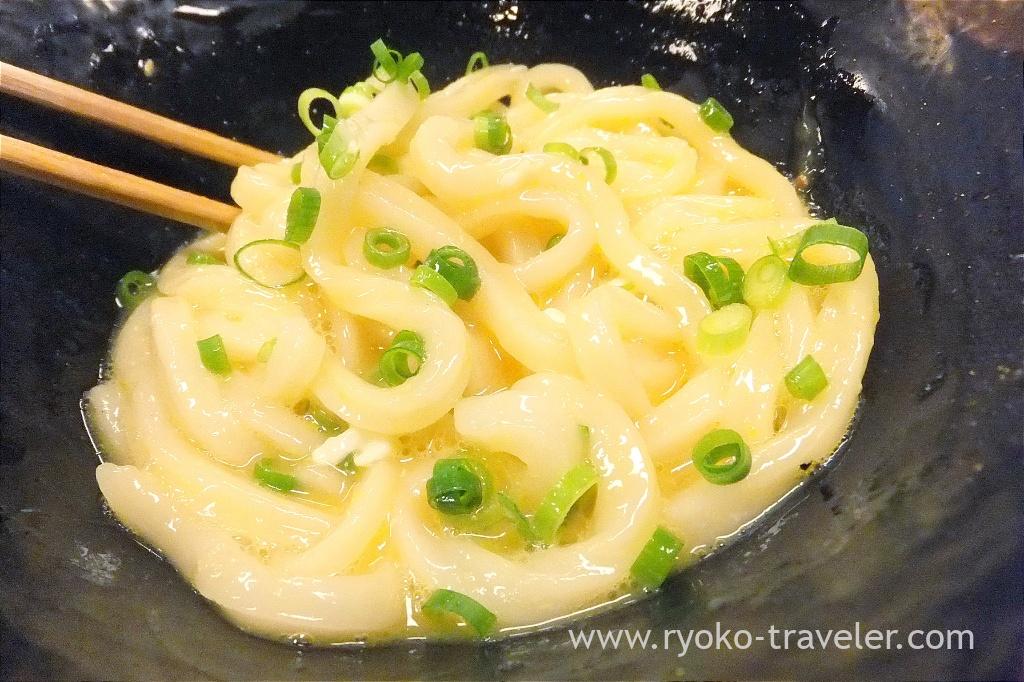 Hiyakake udon is very simple udon. Cold soup and udon. That's all. I liked it best. I put much grated ginger. I got tired because of the flight and it made me refreshed.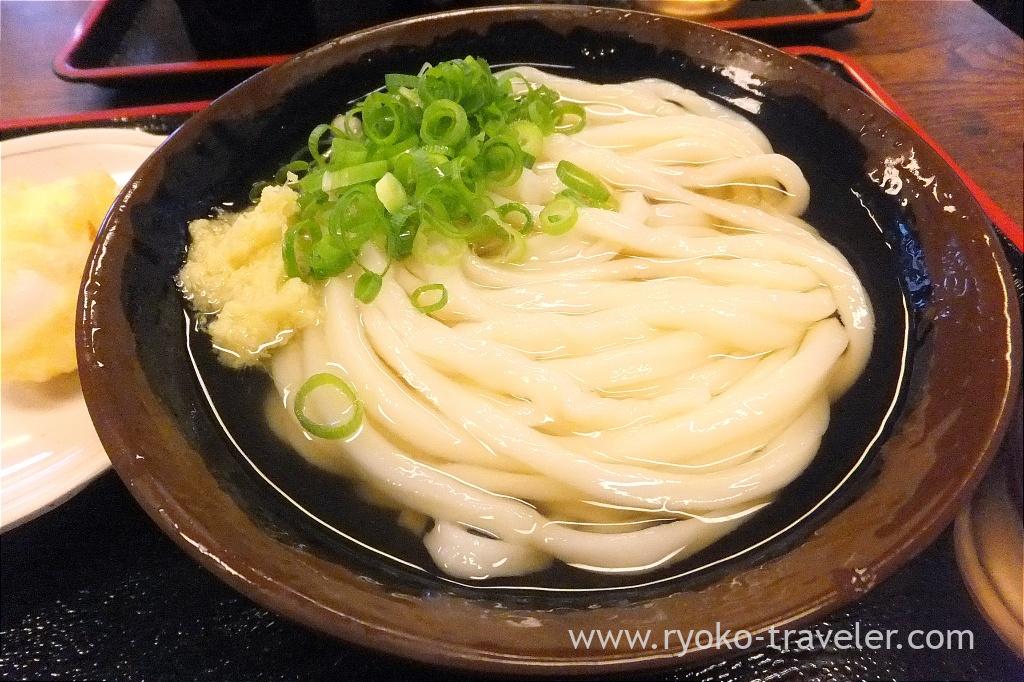 Kamaage udon. Warm udon is good, too. Its surface get softer in the hot water. It went with the soup well.
The soup is not too sweet and I liked it. I agree that they are MUST udon shop when we visit Takamatsu.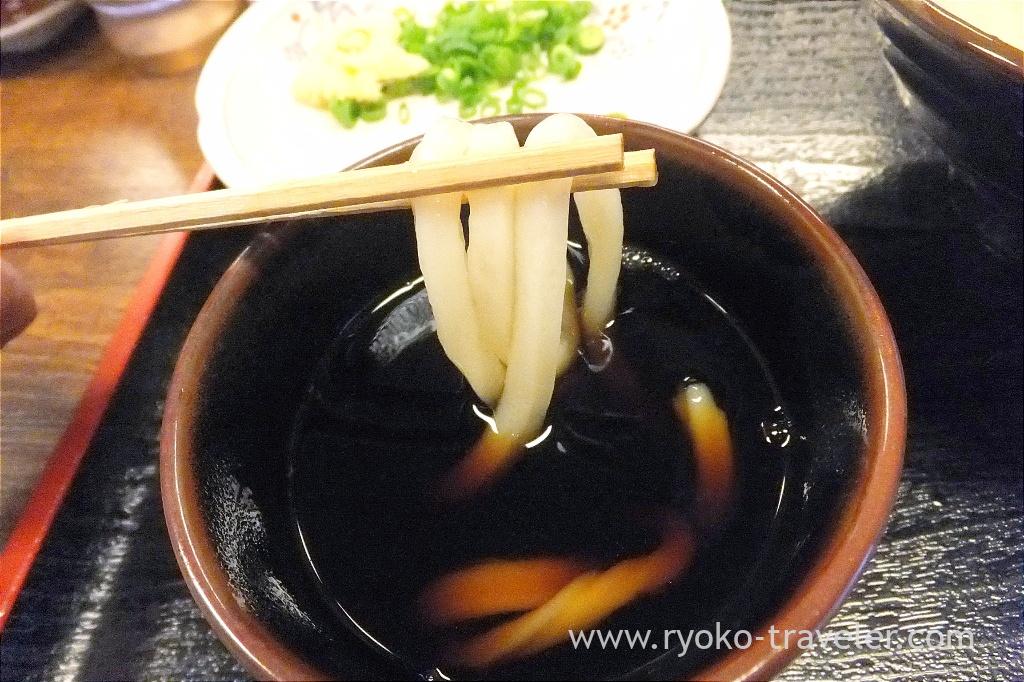 About

Name Udon Baka Ichidai (手打ち十段 うどんばか一代)
Open Morning through evening
Reservation Unavailable
Credit card Unavailable
URL Website

Google Map