Speaking of Tsukiji, you remember fresh seafood at first because there was the largest fish market in Japan. But also there're some good restaurants that serve delicious meat dishes.
Toriyaki tatsunoji is at the back of street.
TORIYAKI means "grilled chicken meat". Yes. They're izakaya serving yakitori mainly.
They are long-established izakaya and the character "鳥" on the signboard is artistic.
Though I knew nothing about this shop, my acquaintance highly recommended their oyakodon.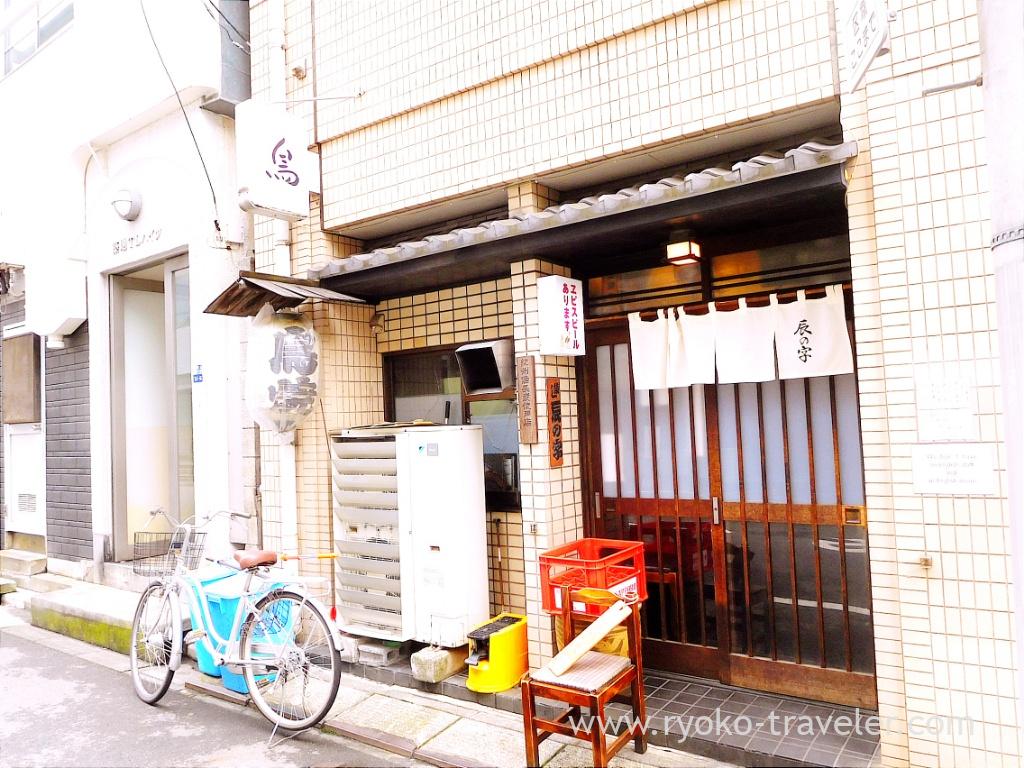 Where?
It's located at the back of Tsukiji Honganji temple.
Lunch time and menus
They are open weekdays only.
You can have yakitori mainly and another foods (of course, they serve seafood, too) with alcoholic drinks at nighttime.
And they are open during lunchtime, too.
Lunch menus. They serve three foods only at lunch time.
From right to left, Yakitori bento (焼鳥弁当), oyakodon (親子丼) and shinjo-age (真如揚げ). 850 yen. Large portion cost 900 yen.
Most popular "Oyakodon"
I love Tatsunoji's oyakodon (親子丼). I think this is the best oyakodon in all oyakodon that I have had ever. Miso soup and pickled green vegetables included (All lunch set include it).
This Oyakodon is very simple. Chicken, egg and rice. That's all.
Chicken have springy texture and beaten egg was melting.
But be careful if you don't like raw egg. As you see, eggs of this oyakodon is nearly raw.
Rices and chickens are dressed with almost raw eggs. The Daisen-dori chicken meat had springy texture !
Though it is hard to understand from this photo, so much rice was in the bowl. I managed to eat it up. But I was over full. If you can't eat too much, say "Gohan sukuname (= small rice)". Price don't change though.
"Yakitori bento"
I like it, too. Yakitori bento (焼鳥弁当). Though it have "bento" in its name, it is cooked after order and you can eat it in the shop. It looks beautiful. There's grilled Daisen-dori chicken (yakitori), chicken soboro, kinshi tamago (thin omelette cut into strips), snow pea and kari-kari ume (crunchy pickled plum)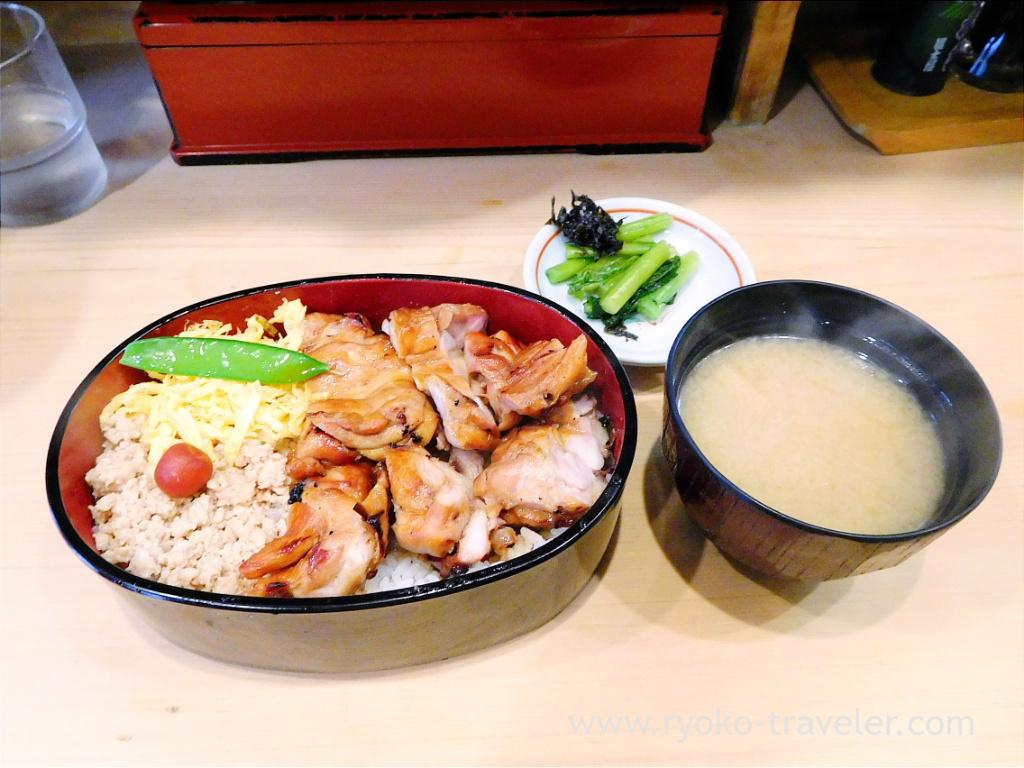 Breast meat of Daisen-dori chicken is not fatty but springy. Its sauce wasn't sweet. So, it's my tastes. And soboro have cartilage and it had crunchy texture. I love this soboro. I need soboro-don (soboro bowl) 🙂
I recommend it because I think no one don't like it from children to adults, men and women on earth.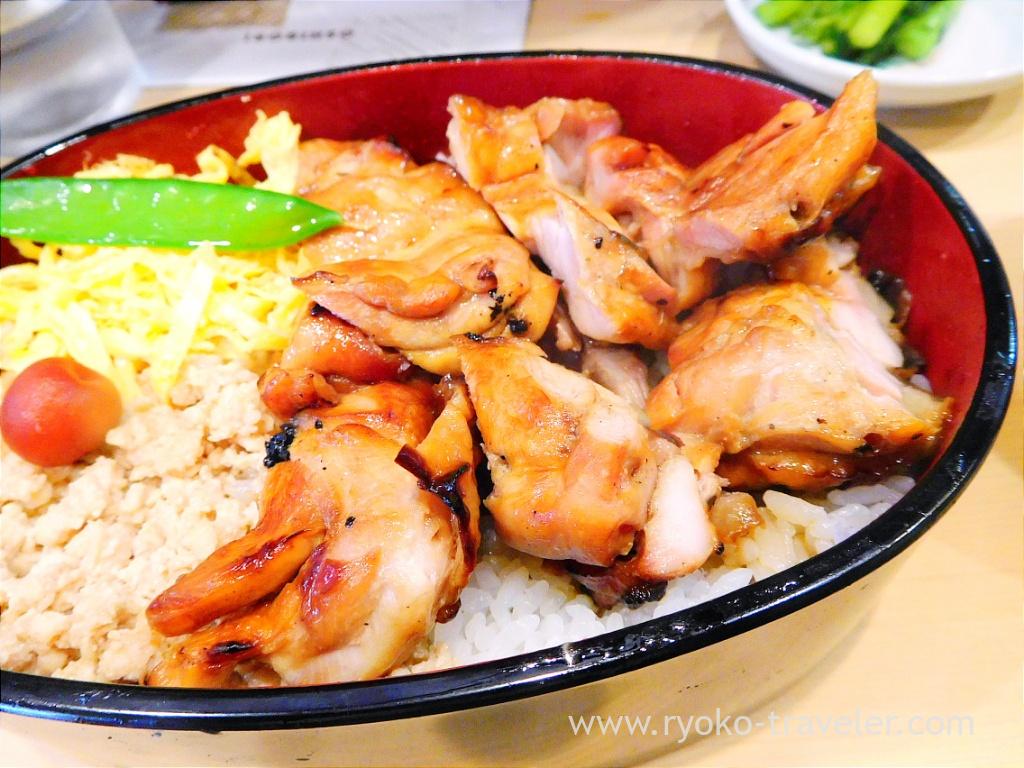 Deep fried chicken. "Tori-Shinjo-age"
Shinjo-age (真如揚げ) is deep fried minced chicken. It is similar to chicken nugget.
It was lightly seasoned and not so fatty. It went with ketchup and mustard well. This lunch set also have two pieces of karaage. Karaage was so fatty and seasoned strongly. Those are symmetric. Those chickens are Daisen-dori chicken. Tatsunoji use Daisen-dori chicken (大山鶏) and eggs from Okukuji (奥久慈). Of course, at lunchtime, too.
Japanese words only.
There's no English menu and there's no one who can speak English.
But at lunchtime, there're only 3 foods and the way of order is very simple.
So, I hope you try them once.
There's counter seats and tables on 1F and there're tables on 2F.
After you open the door and say hello to waitress. She ask you "how many you are?". So, you answer the number of your group. If you are one, you'll be lead to vacant counter seats on 1F.
And you order what you want from Oyakodon, Tori Shinjo-age and Yakitori bento.
I think showing the photo of my blog is good, too 🙂
Tori Shinjo-age and yakitori bento will be sold out soon every day. So, if you want to eat them, you have to go there before noon. (if you want to eat them without fail, you should go there just after the opening time)
Payment is after you finish eating. You say lady to "thank you" and hand money to her. And you get out of the restaurant.
About the restaurant
Name in English / Tatsunoji
Name in Japanese / 辰の字
Address / 3-14-5, Tsukiji, Chuo-ku, Tokyo
Phone / 03-3546-2162

Open / 11:30 a.m. – 12:50 p.m. , 5 p.m. – 10 p.m.
Closed / Saturdays, Sundays and another national holidays

Reservation / dinner time only
Credit card / NO
English menus / NO