Speaking of dumplings in Taipei, Takumi Dumplings (巧之味手工水餃) is one of the best for me. Their green dumplings having scallops are awesome. They are located halfway between MRT Shandao Temple station (善導寺站) and Zhongxiao Xinsheng station (忠孝新生站).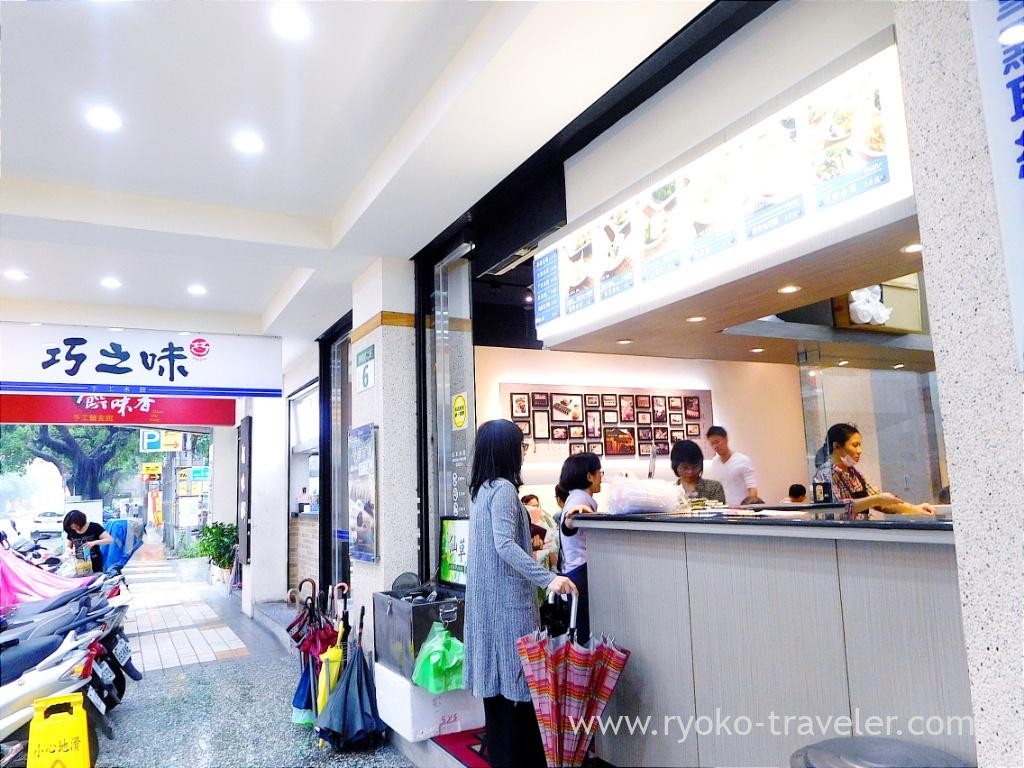 I got off at Shandao Temple station. It takes about 10 minutes walk from Gate 5 of the station. If you go from this station, there're some schools and there're not many shops. If you go from Zhonxiao Xinsheng station, you meat busy streets.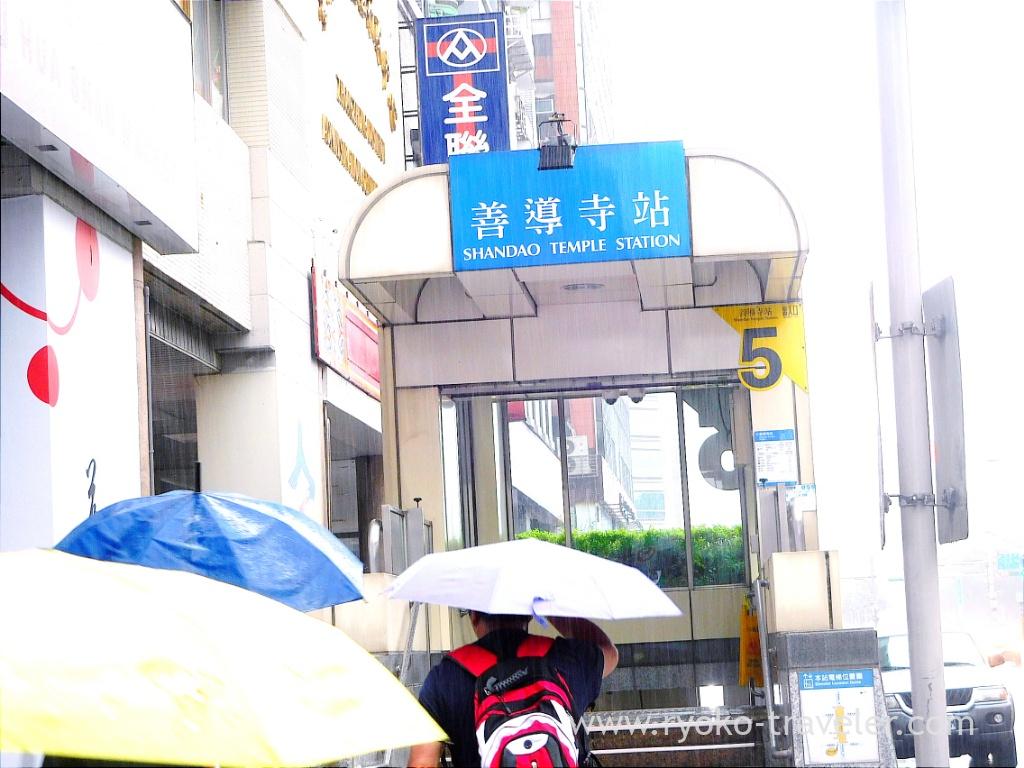 They are located an inconvenient place a bit. But there're many visitors. Many of visitors are for "To go". Once I enter the shop, they always ask me, "For here ?", So I always answer "Yes, fore here". "For here" is 内用 (neiyon) in Chinese. And then the staff give me order sheet and I'm seated and write down my order. And then I hand it to the staff nearby. If you want to get "To Go", you can order at the counter outside.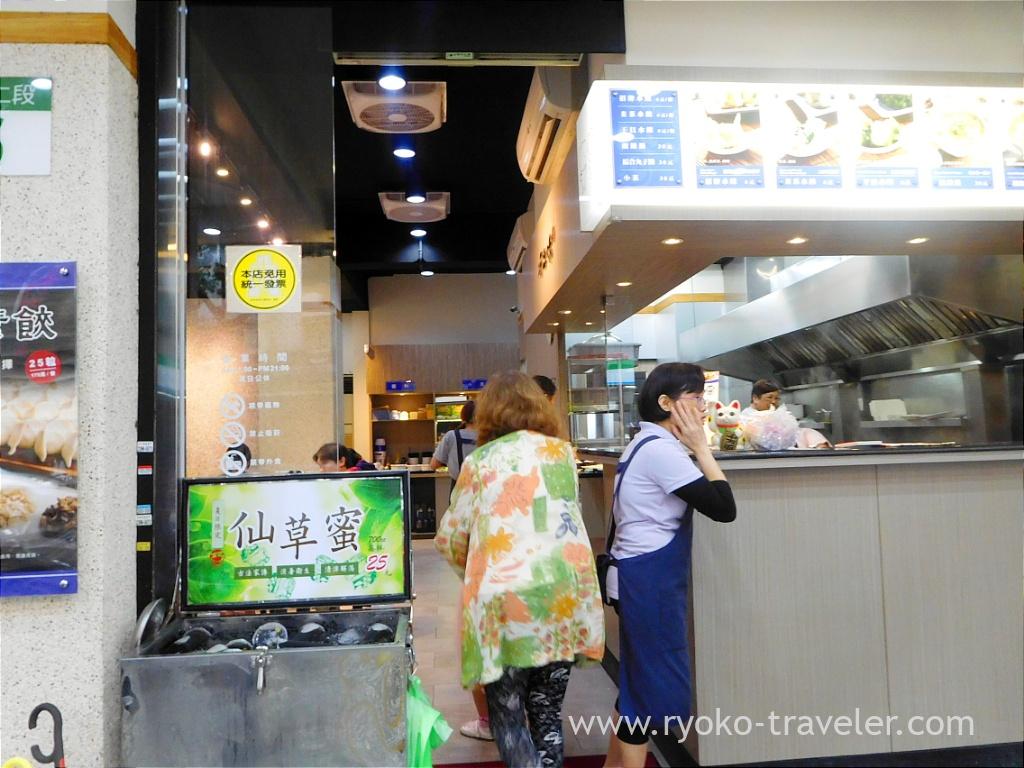 There're about 7 tables in the shop. It's not large shop. We have to share tables while busy hour.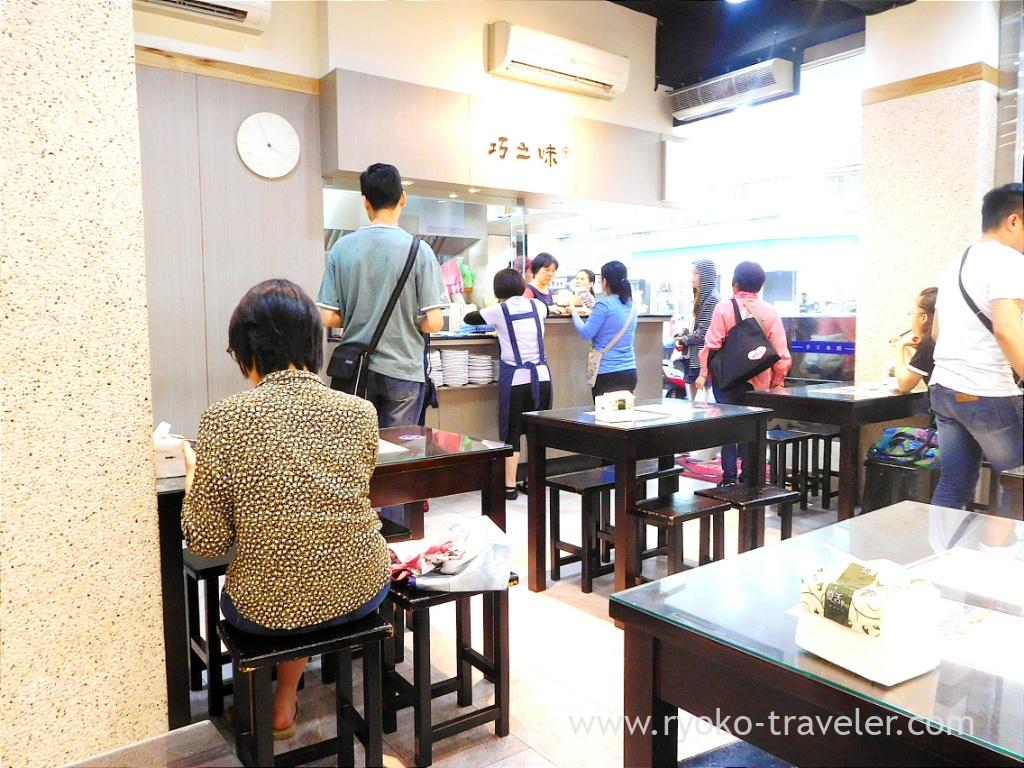 Order sheet. They have only three types of dumplings and two types of soup. "NO" is for table number. Mine was 9. Not 6.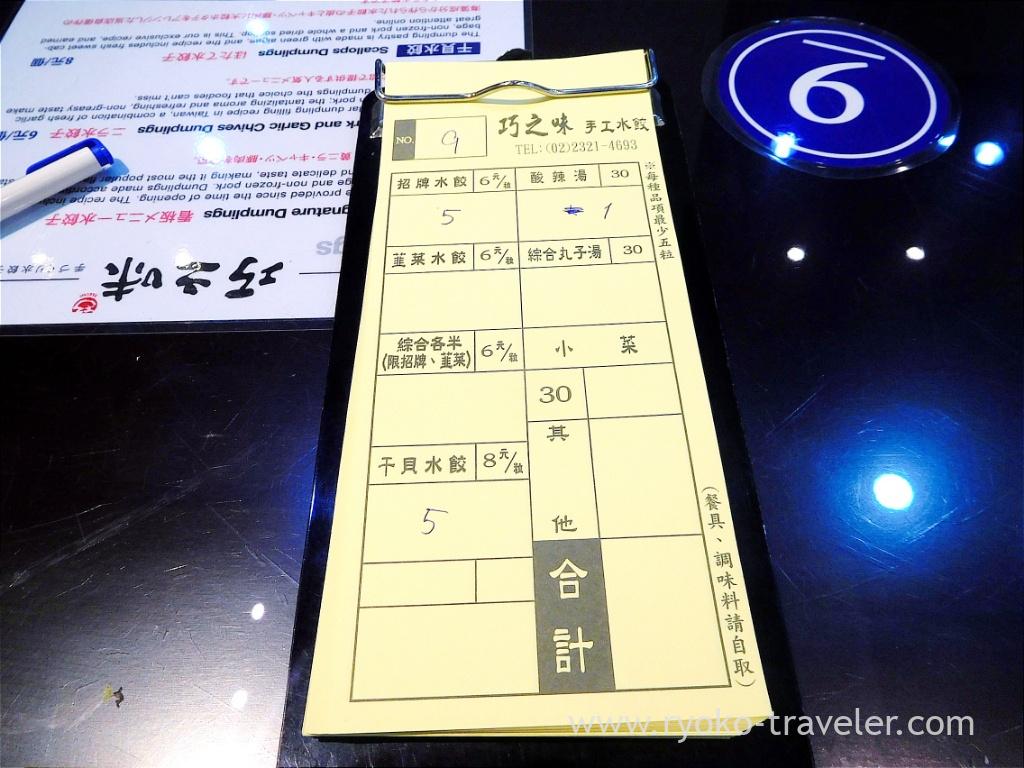 They also have English and Japanese menu on each tables. They require us to order at least 5 pieces per 1 type of dumpling. "綜合各半" on the order sheet is half and half (招牌水餃 and 韭菜水餃).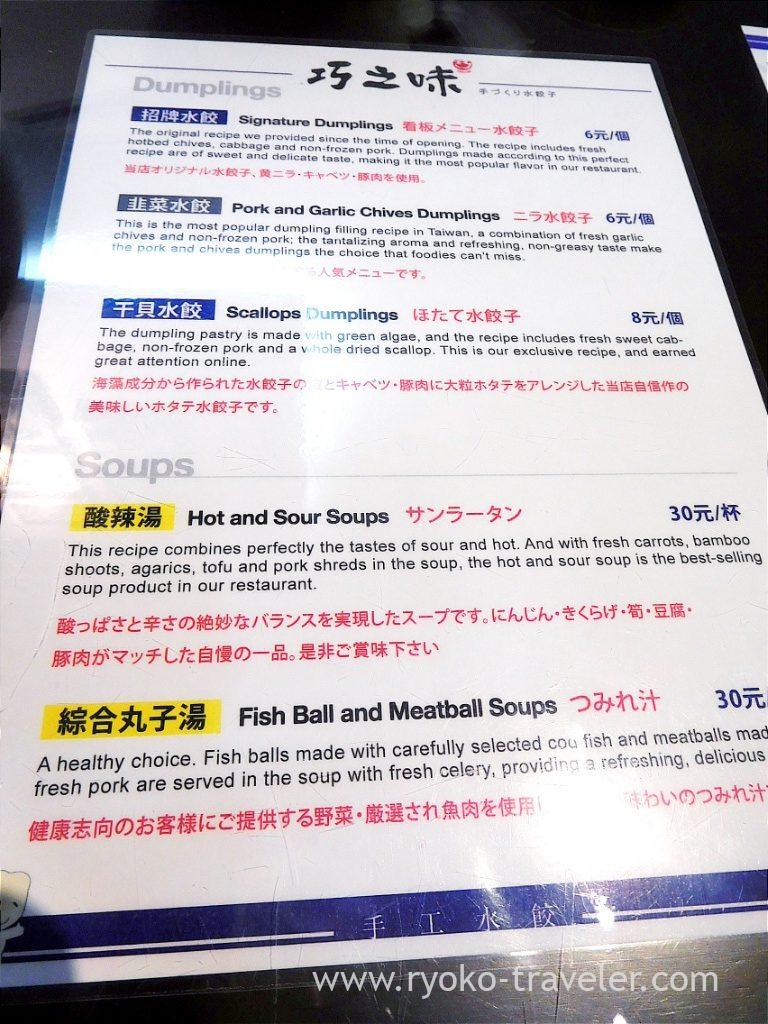 Also they have a variety of small dishes at the back of the shop. You can get something that you want to eat as you like. 30 TWD each. Also there's seasonings, chopsticks papers on the shelf.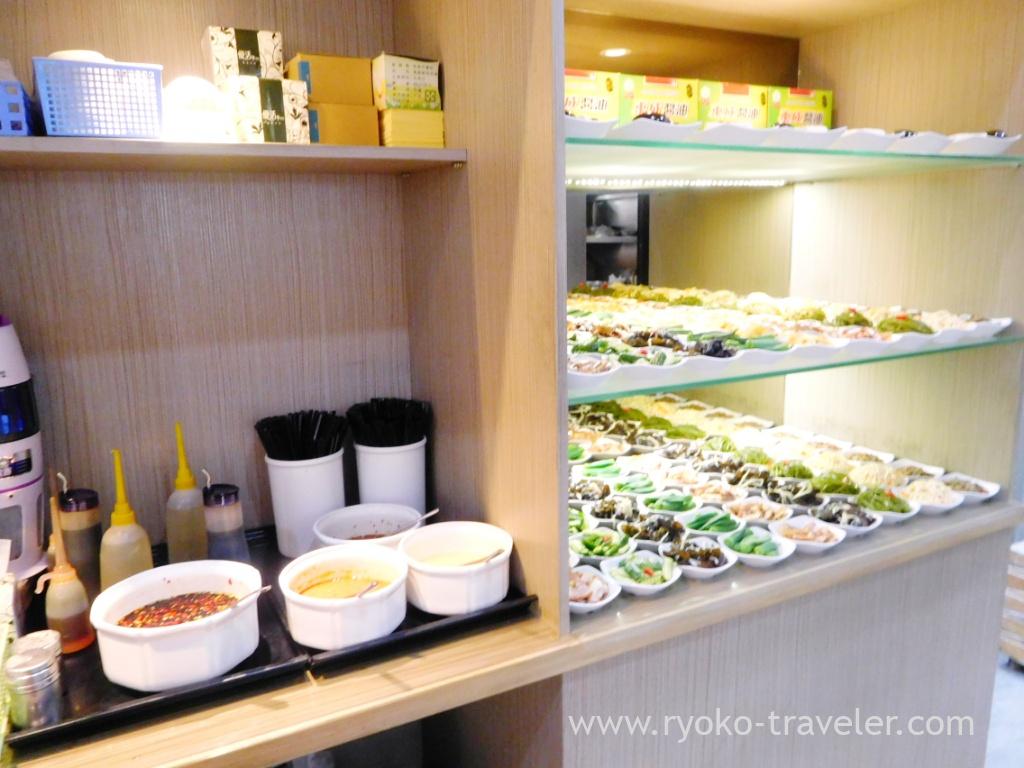 After I pick up it, the staff put sweet sauce on it. Pig's ear. It had crunchy texture. Good. But the sweet sauce wasn't my tastes. I didn't need the sauce.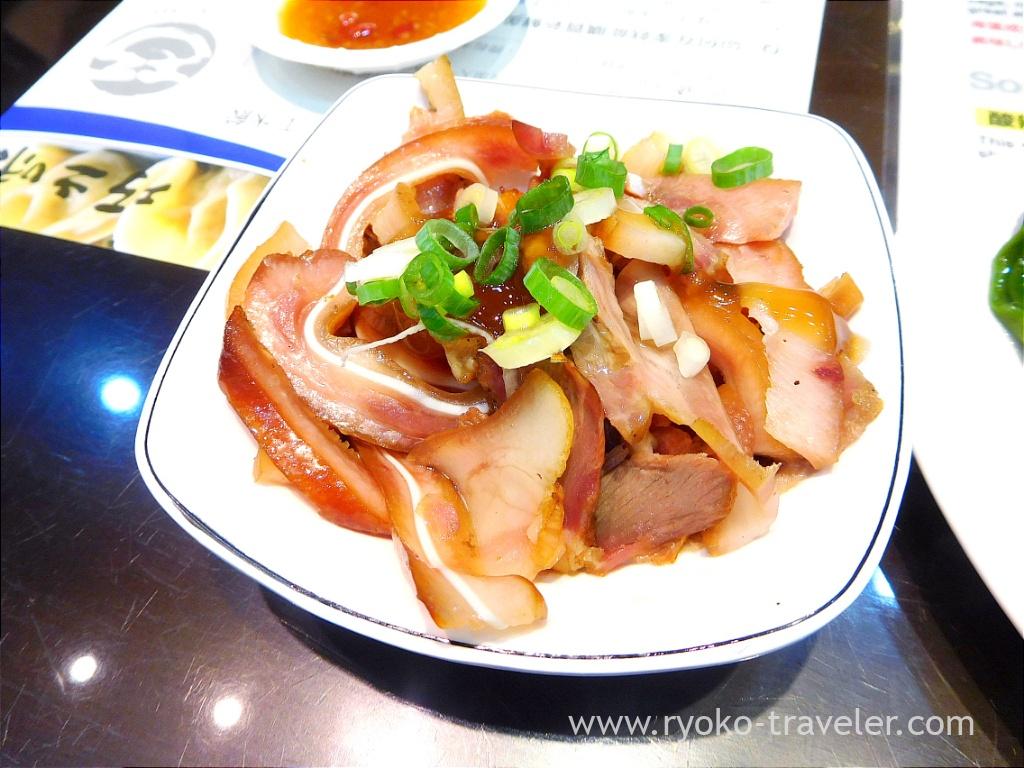 This is Signature dumplings having cabbage, Chinese yellow chives and pork. "招牌" means signature dish. I ate it with my special sauce 🙂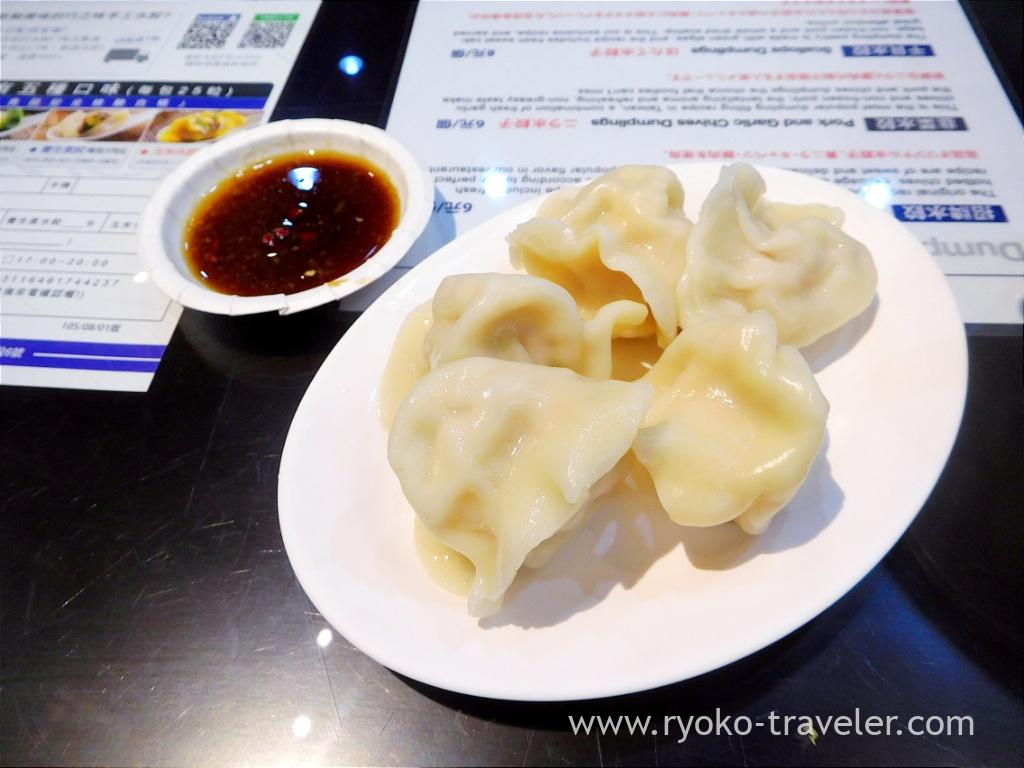 Its skin had springy and sticky texture. The skin is rather thick. Though I don't like dumplings having thick skin. But I like it. I love its springy skin.
It had mild tastes. It was seasoned well, so I think it don't need sauce. But making my original sauce is fun all the same 🙂
This is my best dumplings in Taipei. Scallops dumplings. Can you imagine about the tastes of this green skin ? This dense green is from seaweed. It's completely deprived from natural ingredients.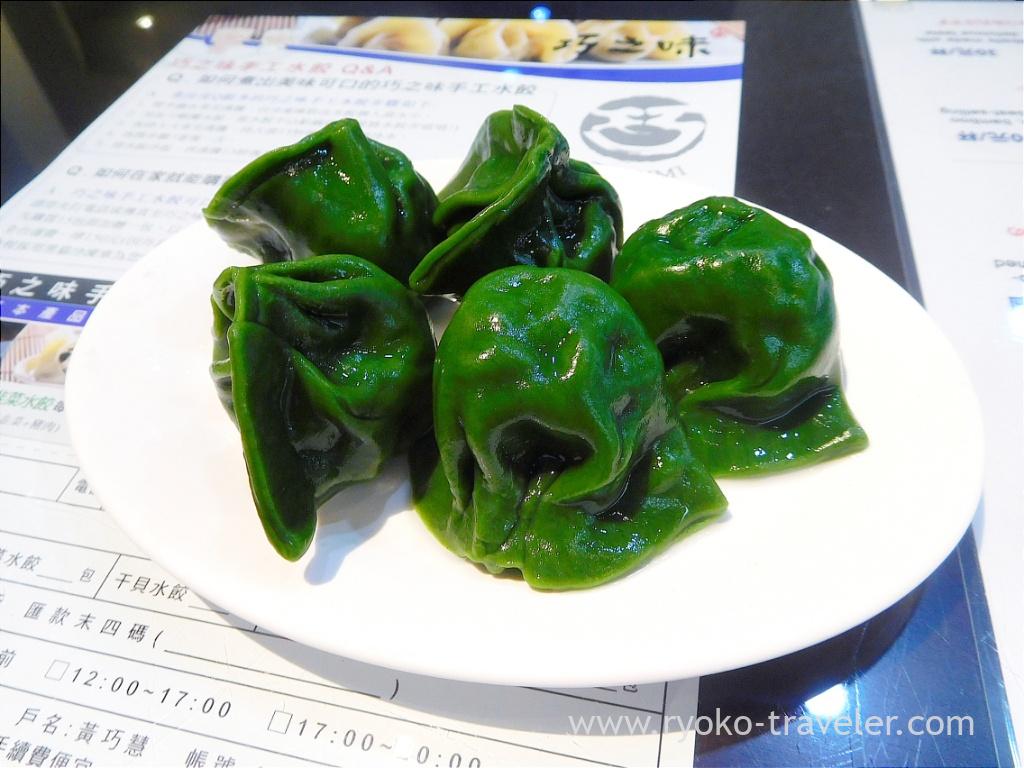 Because of its skin ? or from scallops inside it ? It tasted like sea a bit. Delicious. I recommend it.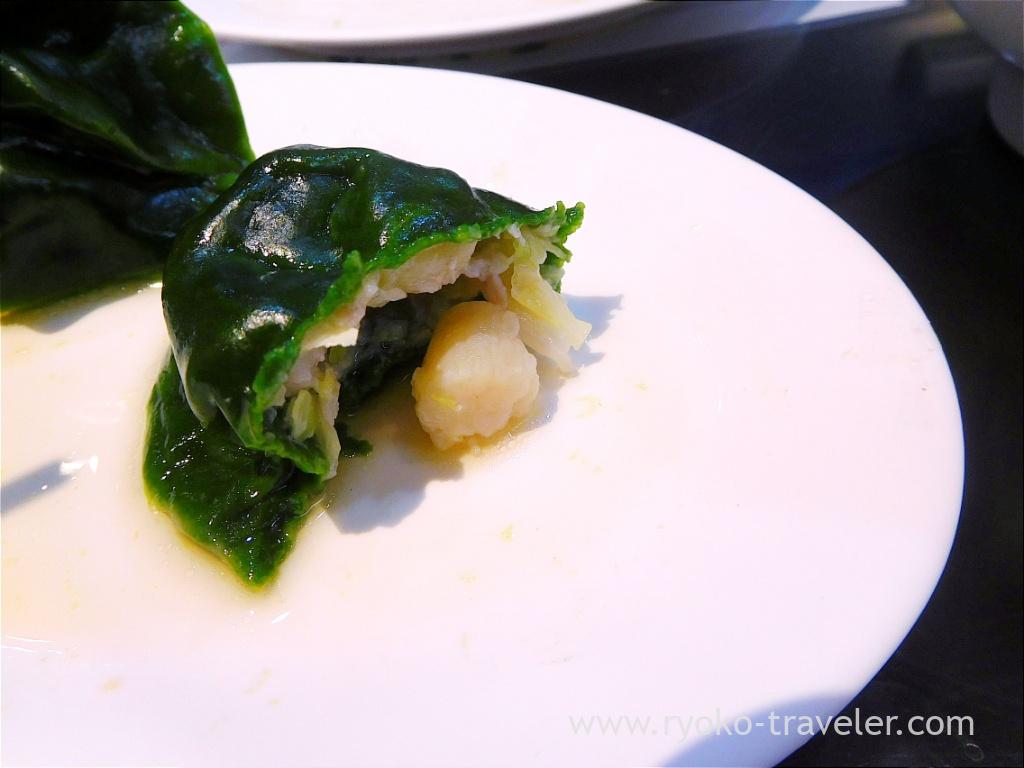 This is also good. Pork and garlic chives dumplings. I think its skin is the most thinnest in those three dumplings.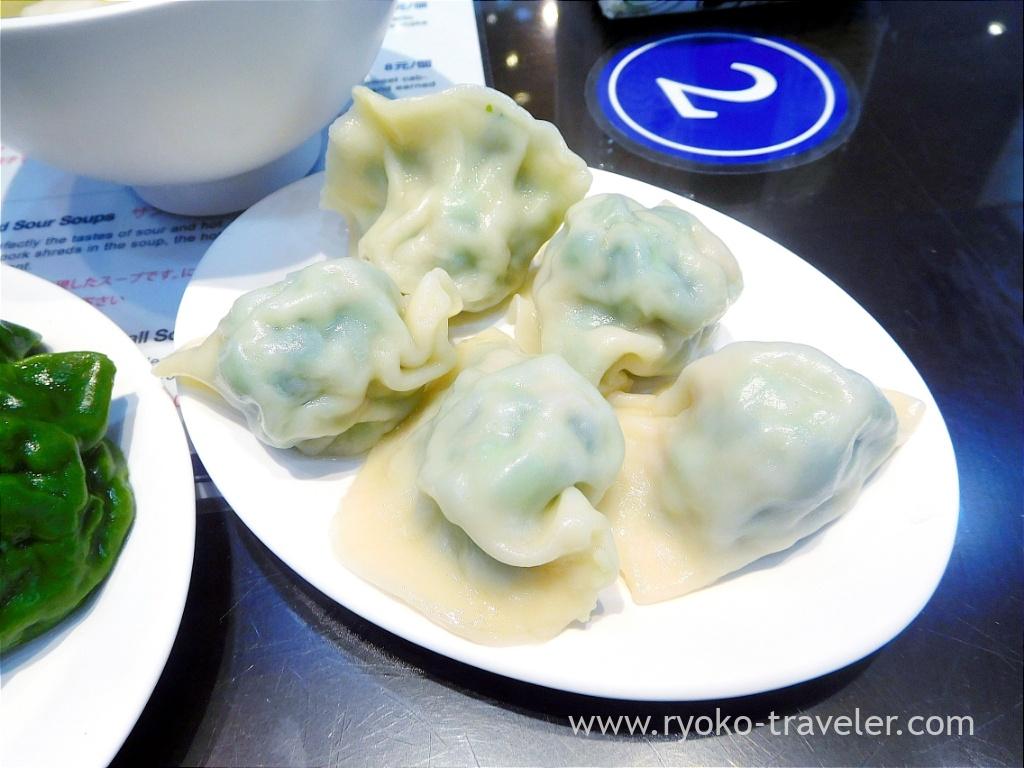 So much chives. Chive is perfect ingredients for dumplings.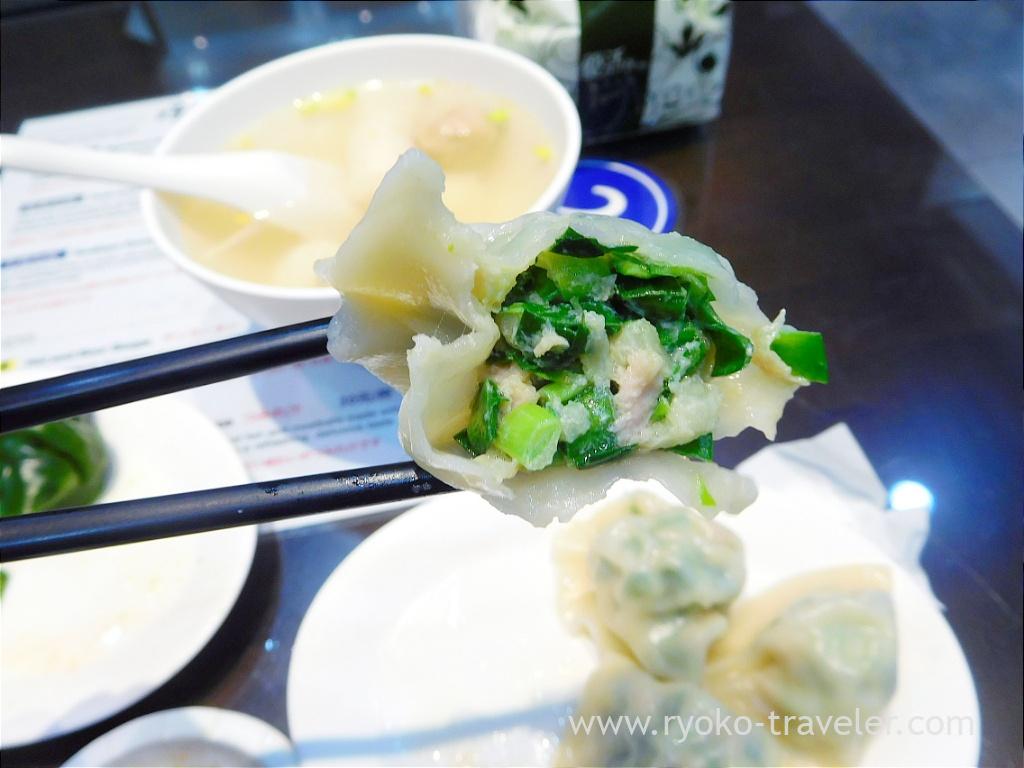 This is Hot and sour soup. It have much ingredients like vegetables and jew's ear. It wasn't very sour. But it had much black pepper. It also had duck blood jelly. Many of alone visitors ordered 5 pieces of dumplings and it.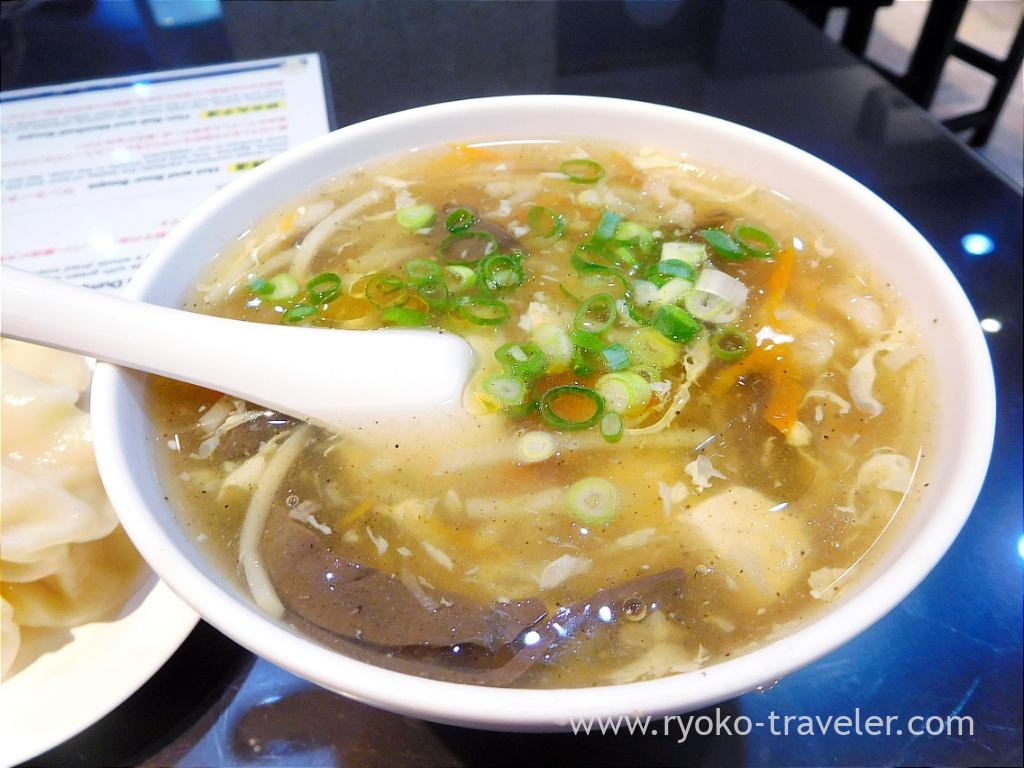 Fish ball and meatball soups is a mild soup. Fish and meat balls were so soft. The flavor of celery was good.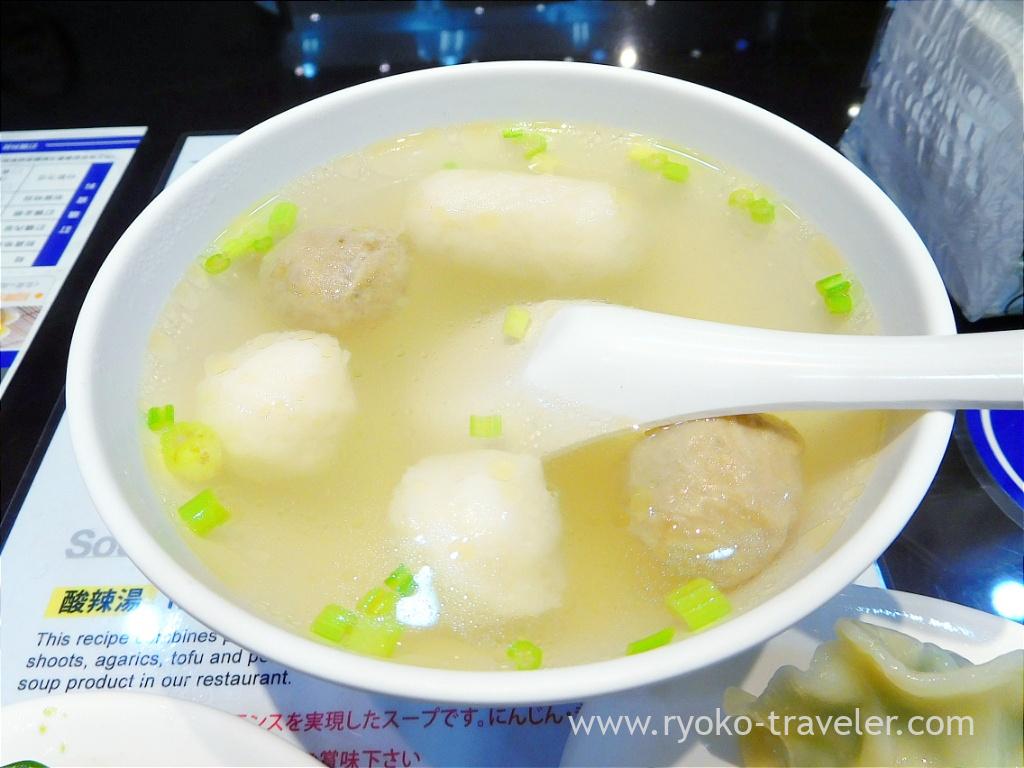 I found some people got it and then went into the shop, so, I bought it, too. It's summer-limited drinks. Grass jelly drink.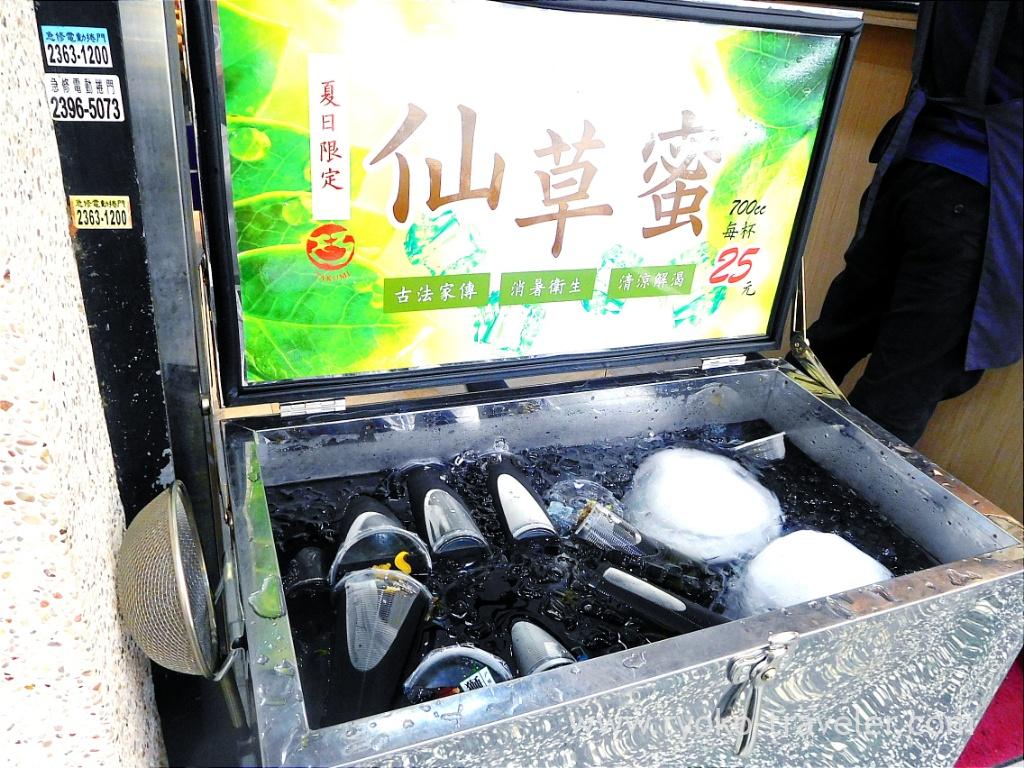 It's 700 cc ! Large ! But grass jelly drink is not too sweet. So, I could drink it up easily. It's like hojicha tea !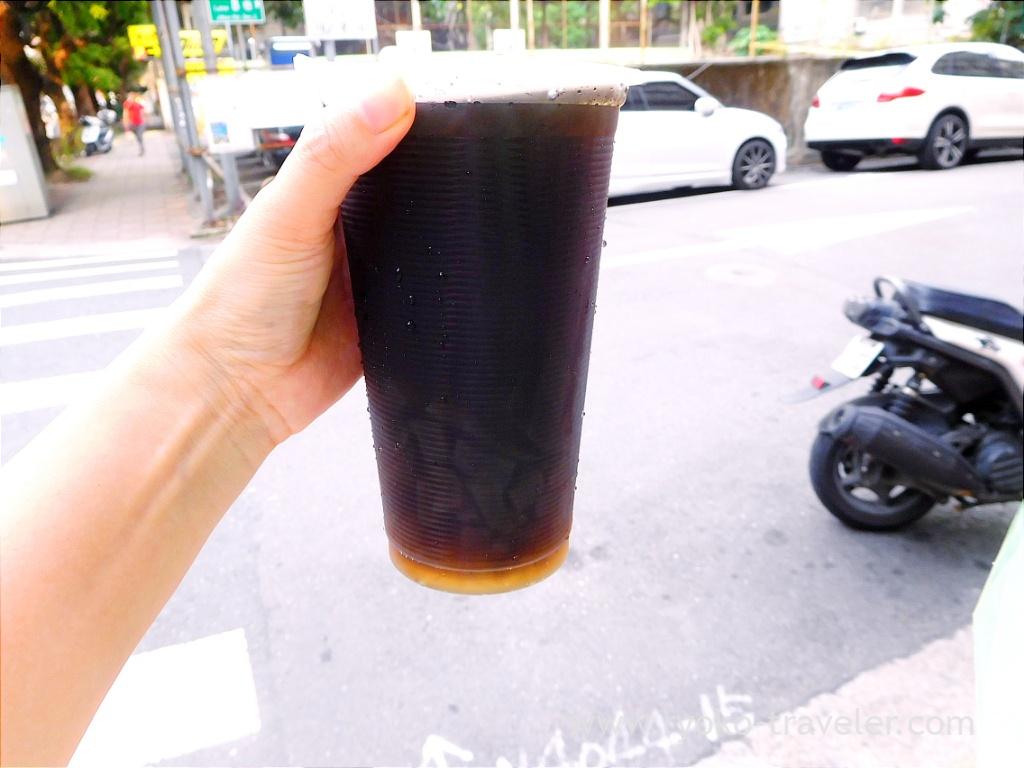 There're many pieces of grass jelly at the bottom of it. Those grass jelly was sweet. I also found some people who bought it only. I agree. It's delicious and good when I'm thirsty.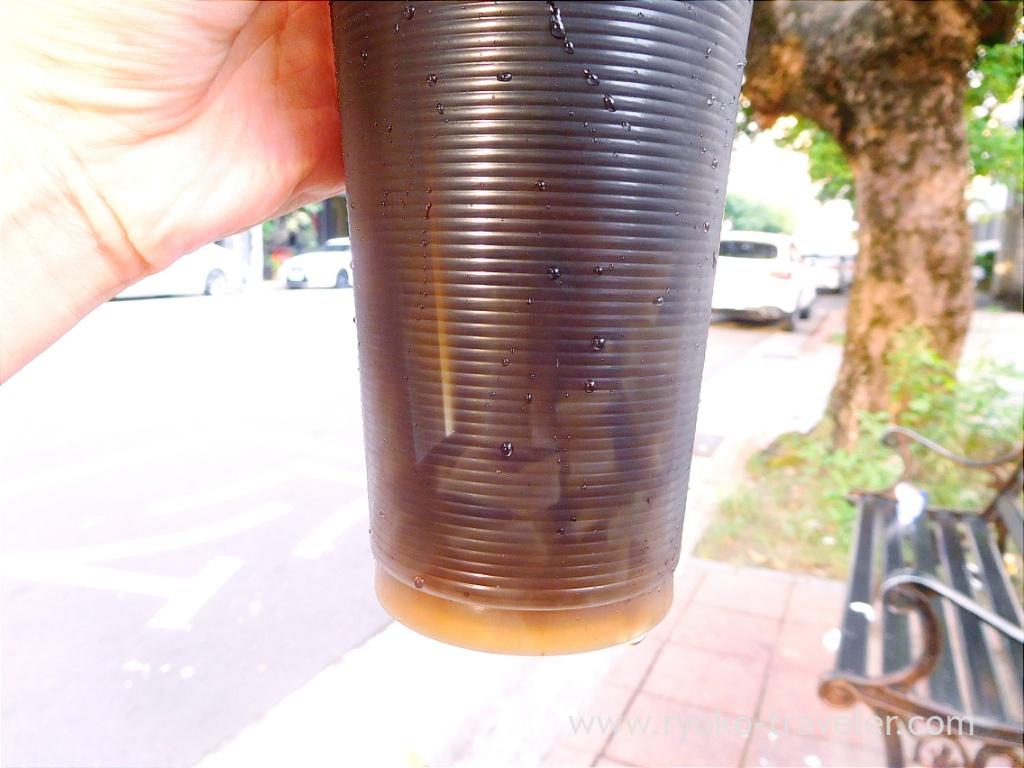 About

Name Takumi Dumplings (巧之味手工水餃)
Open Lunch through dinner
Credit card Unavailable
Reservation Unavailable

Google Map