Soft serve having tastes of Hokkaido.
I visited KOTSU KAIKAN bldg (交通会館) in Yurakucho area.
KOTSU KAIKAN have many shops having local products from all all over in Japan.
Hokkaido Dosanko Plaza is Hokkaido local products shop and they have the largest number of visitors in the building. Hokkaido is the most popular all the same.
There are many local products in Hokkaido area. Though the shop is packed with people on weekends, as you see, there aren't many people on weekdays.
Even if you don't go to Hokkaido and another prefecture like Osaka, Wakayama, Hiroshima and so forth, you can get local products of these prefectures at the center of Tokyo.
Of course, local products have high reputation, but their soft serve might be the most popular among visitors 🙂
If you want to eat soft serve, there're two ticket vending machine close to the door.
This is the vending machine. Last Order is 7:50 p.m.Basically they have two flavors of soft serve. Vanilla and Yubari melon. And you can choose Melon Mix having vanilla and Yubari melon, too.
In addition, they have limited flavor of soft serve. And hot soup in winter.
After you get ticket,hand it to the staff on the left.
They make soft serve soon. Eating and walking is not allowed in the shop. There's eating area on the left. (Though it's small…)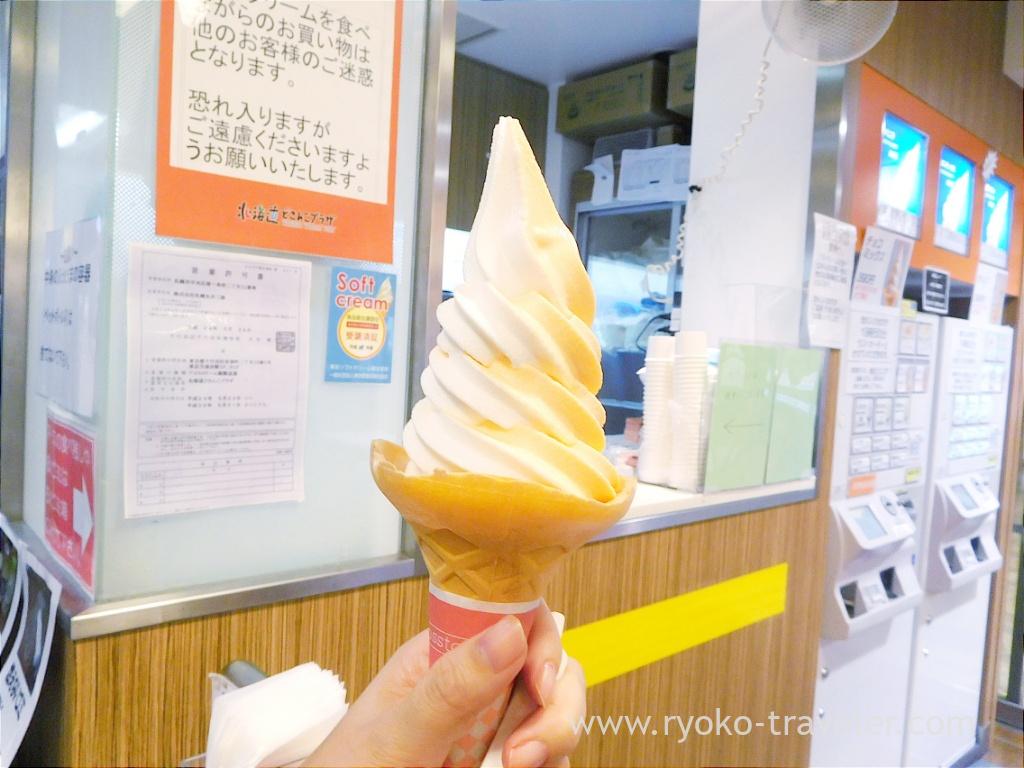 I got Melon Mix (390 yen). Basically they serve it on the corn. If you want to get soft serve in the cup, you have to ask when you hand the ticket to the staff.
The flavor of melon is like real melon ! It's delicious. And abundant flavor of vanilla is good, too.
About Hokkaido Dosanko Plaza (北海道どさんこプラザ)
Address / 2-10-1 Yurakucho, Chiyoda-ku, Tokyo
Station / Yurakucho station (JR, Tokyo metro)
Open / 10 a.m. – 8 p.m.
Closed / no scheduled