I felt like having beer at early evening on weekday around Ginza area and visited Pilsen Alley (ピルゼンアレイ) that is stand-up-drinking bar. They are not normal bar. They serve Asahi Super Dry mainly. Their goal is to become the most skillfully bar that fill Asahi Super Dry all over in Japan ! So, they don't have another drinks. No wine. now Japanese sake !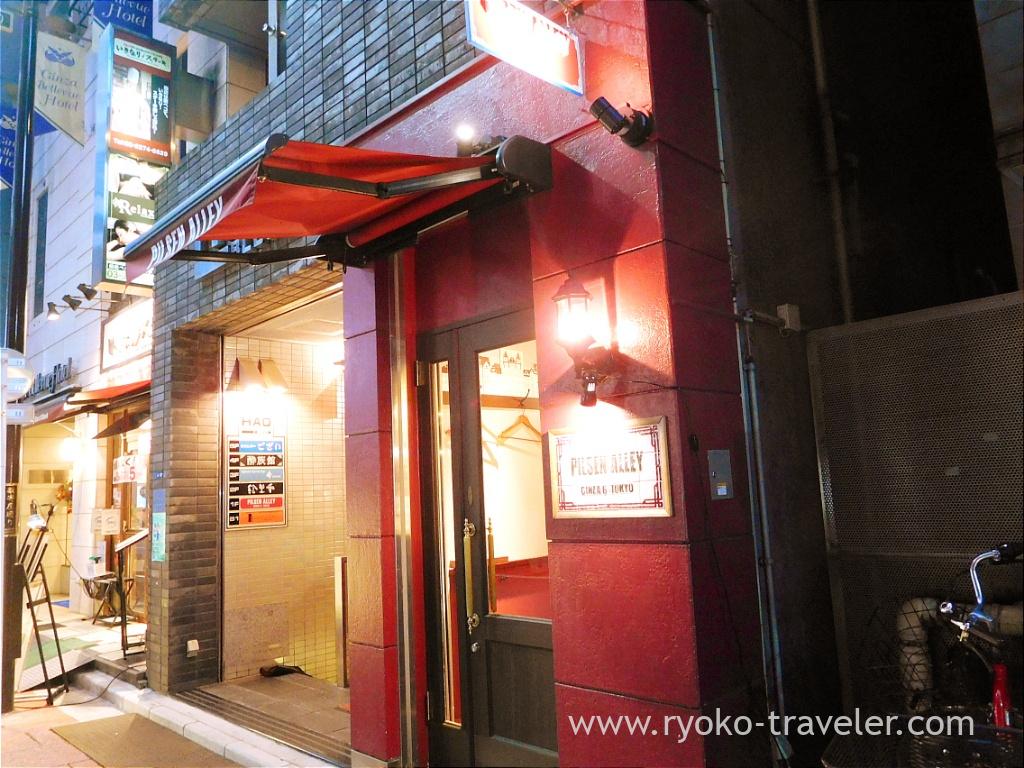 They never seems anything concerning with Asahi Super Dry from its appearance. Of course, inside, too. The red appearance is cool. It's like bar in Europe. Actually, "Pilsen" in their name is a name of place in Czech Republic. It's the origin of Pilsner.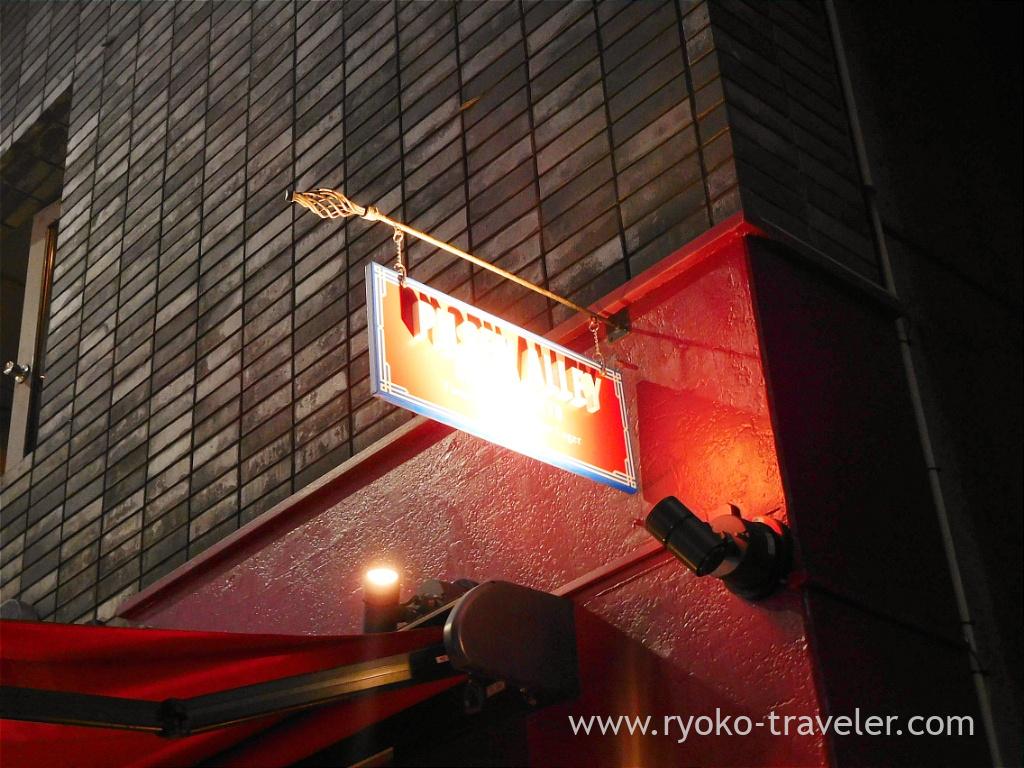 There's L-shaped counter tables in the shop. There's a beer server made in Czech Republic at the center of the table. The shop is narrow. It's hard to walk through behind the back who drink at there. There's also door at behind the counter table. So, when it's crowded, you'd better enter from there.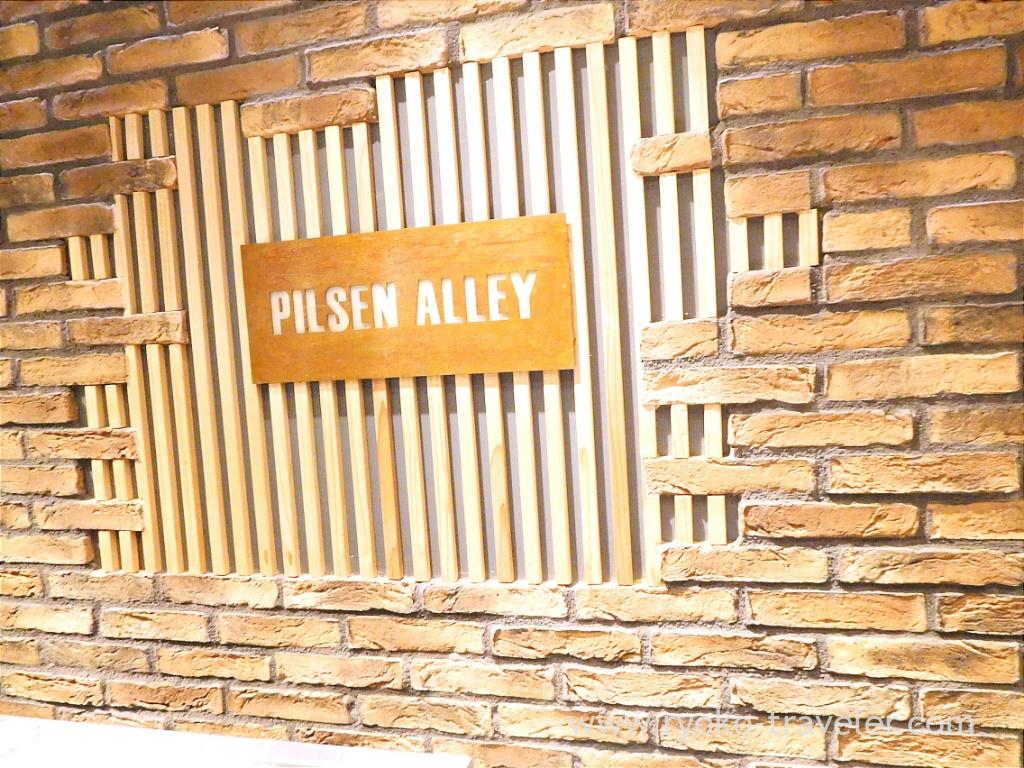 I said "This is Asahi Super Dry specialty beer bar" at first. But they have another beer. Pilsner Urquell from Czech Republic. Those two beer have three ways of filling into glass each.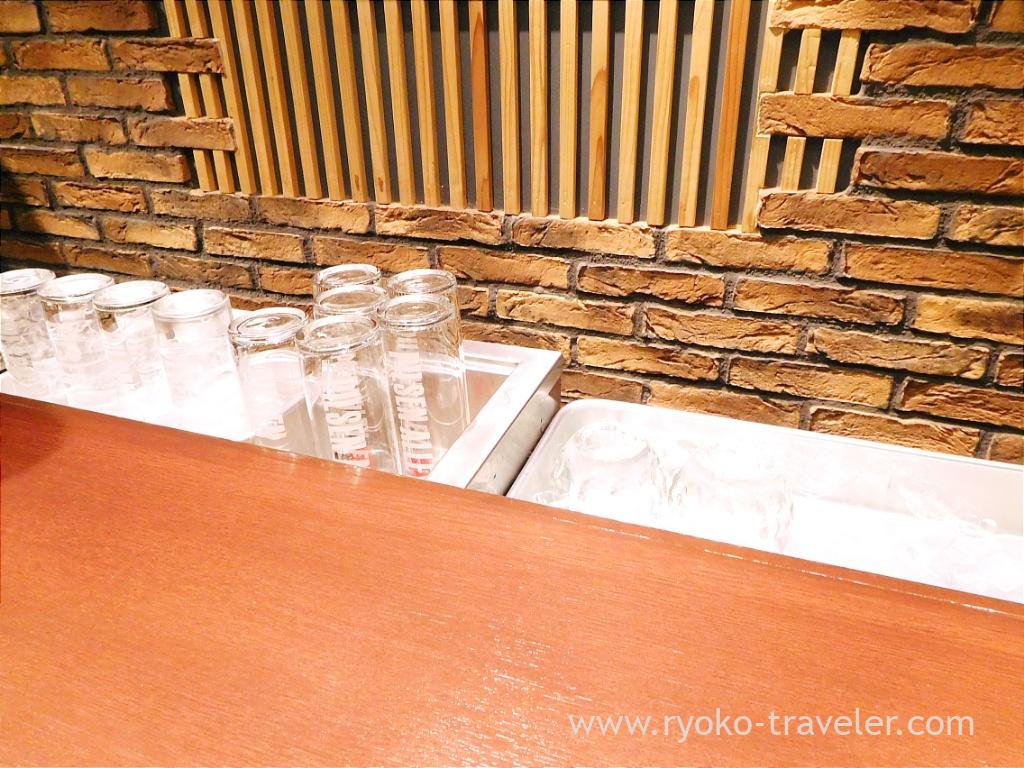 They way of filling beer..
*Asahi Super Dry
1. Sharp – Close to the normal way of filling beer in Japan. The foam is less.
2. Sato – Filling into glass quickly.
3.Matsuo – Much foam like mountain is characteristic of the way of filling.
*Pilsner Urquell
1.NA DVAKRÁT – Standard way of filling beer. After filling beer, they add foam.
2.HLADINKA – It's traditional way of filling beer in Czech republic.
3.MLÍKO – Almost all beer in the glass is foam.
As soon as we are at the counter table, this drink coaster is put in front of us. When they serve, they write down on the coaster. When checking, they calculate with it. It's not unusually in Japan, but I heard it's usual way of checking at another countries.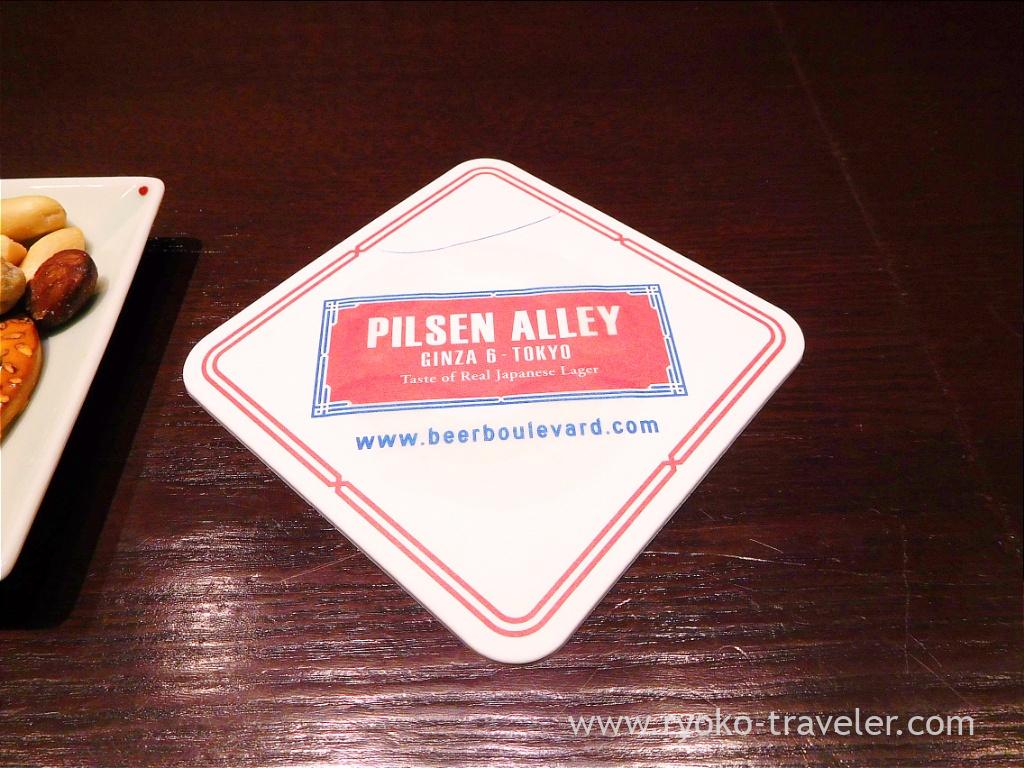 This is Asahi Super Dry with Sato style. Creamy foam and I felt strong sweetness. So, I said to the man, "It's sweet ! So, it is named Sato(u) way of filling !". Yes. Satou means sugar in Japan. But I mistook. He said, "Yess…it have sweetness.. but. It's means of our manager who devised the way of filling beer…" :p But I feel stronger sweetness than another ways of filling Asahi Super Dry all the same.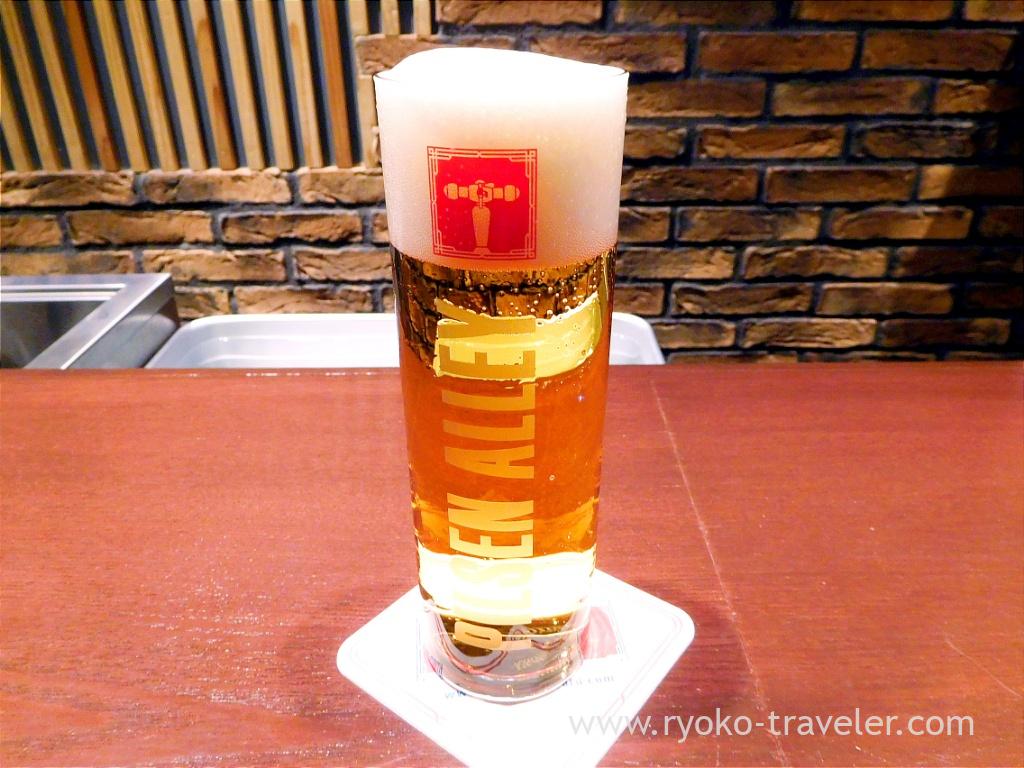 Though I haven't had the beer with Sharp way of filling, I'm surprised at that it become quite another looking and tastes by changing the way of filling. And truthfully speaking, I didn't like Asahi Super Dry until then. Their skill is great.
And this is Pilsner Urquell. with NA DVAKRÁT. The foam was really creamy.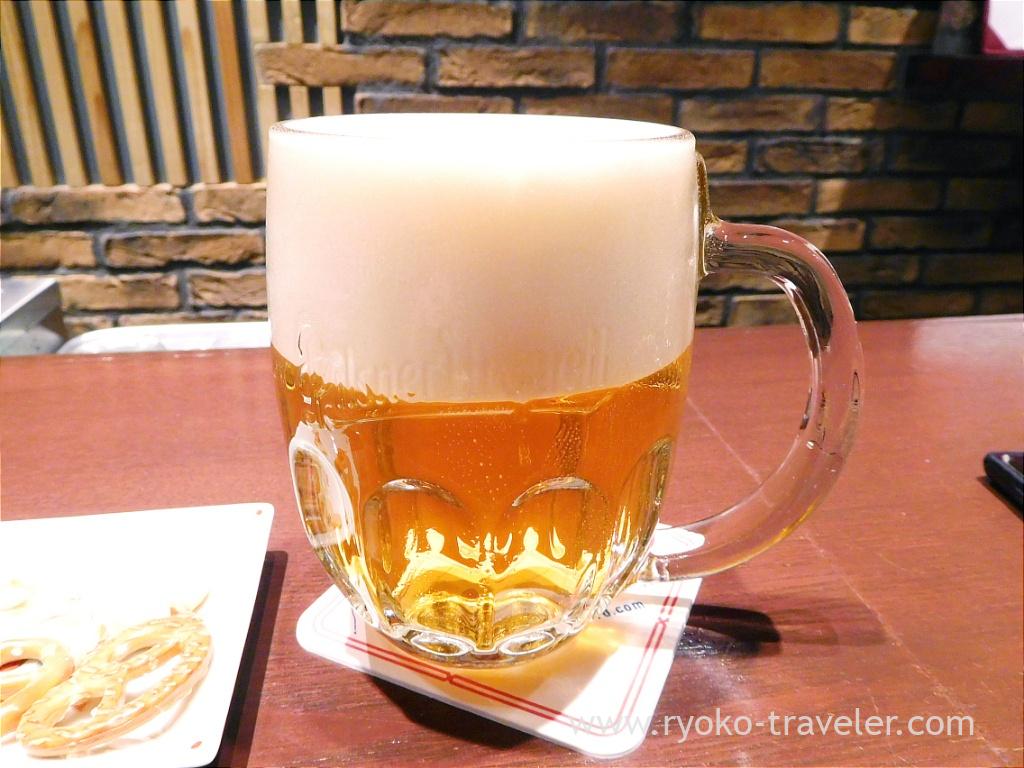 Appetizer (included in charge 300yen)。Sometime it isn't served. Why ? What's the difference. ? Of course, when it isn't served, without charge.
There're some light foods.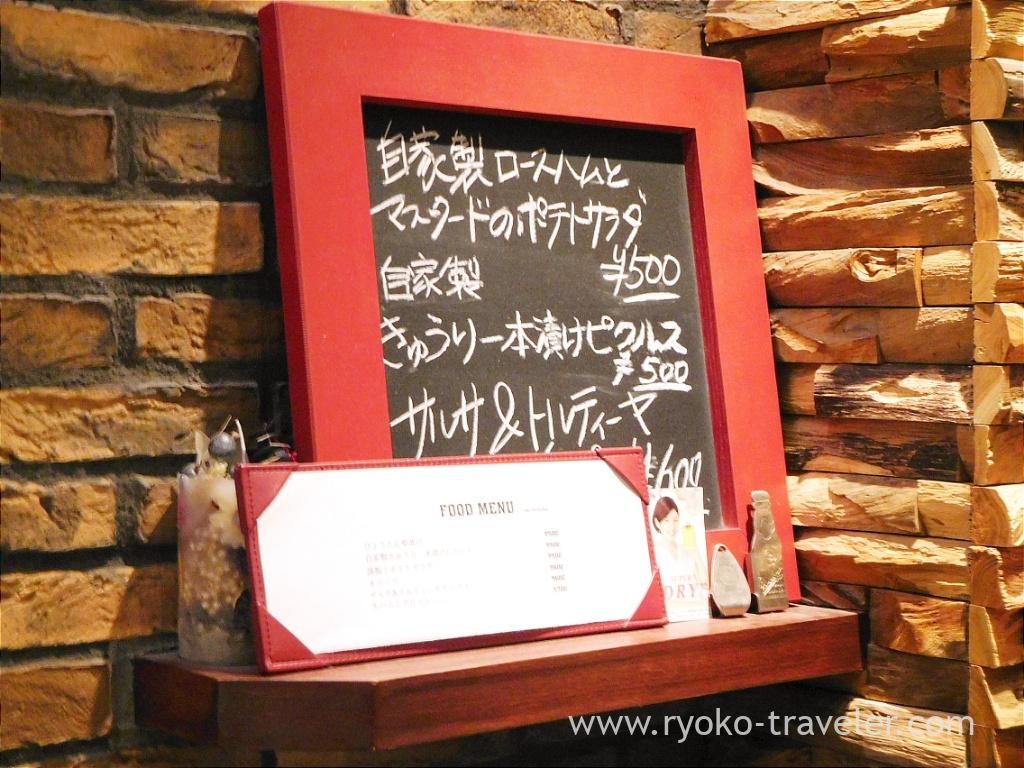 I met Mr. Sato for the first time the other day. His skill of filling beer is wonderful. I sometimes go through in front of the bar, but always there's no space to stand. They are always crowded. If you want to enjoy beer with relax, you'd better visit there just after the opening time, especially on weekdays.
About

Name Pilsen Alley (ピルゼンアレイ)
Open Evening through night
Reservation Unavailable
Credit card Unavailable
URL Website, Instagram

Google Map