Finally, branch of Mengyo(麺魚) was open in Funabashi. They serve madai (red sea bream) ramen. They are located on the ground floor of NEXT FUNABASHI. Speaking of Mengyo, the manager was founder of Maruha that is the largest ramen chain store in Funabashi. The head shop of Mengyo in Kinshicho have always a long line in front of the shop. So, he returned in triumph. Congratulations !
There's a ticket vending machine on the left at the entrance. I took this photo just after starting business. So, it didn't have much available buttons. But now, they serve aburasoba, limited ramen and so on. When I ordered highballs and lemon sour, they handed canned one without ice and glass. So, I decided not to order alcoholic drinks here :p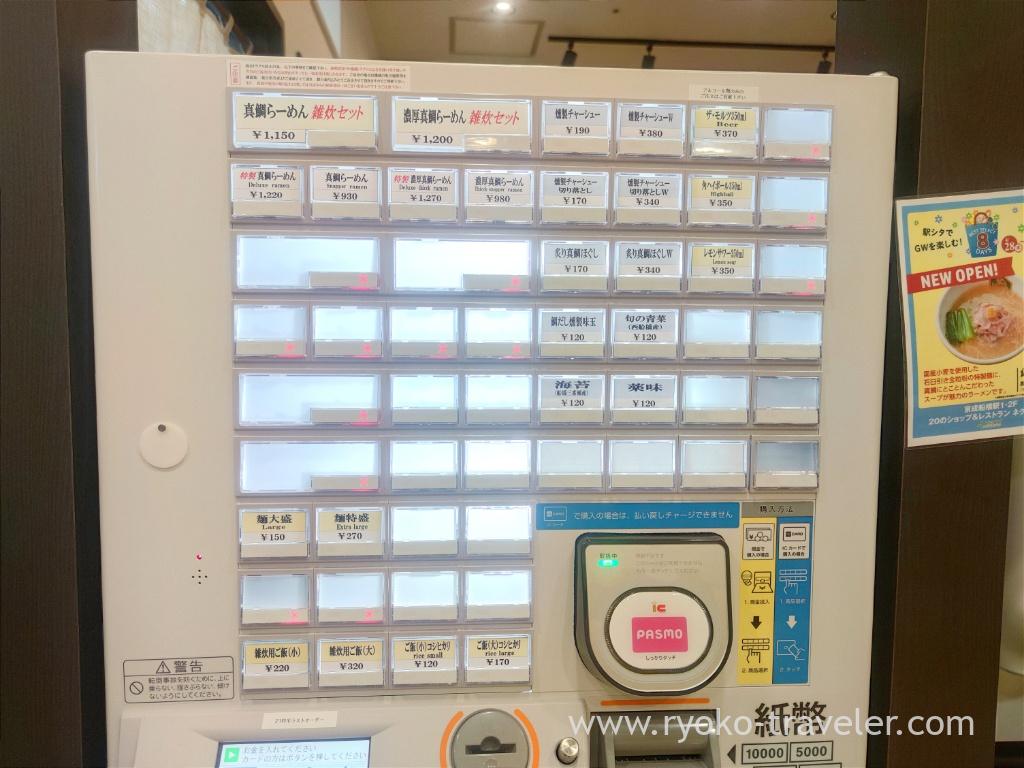 We can see inside of the shop from the aisle very well. They have counter seats and tables.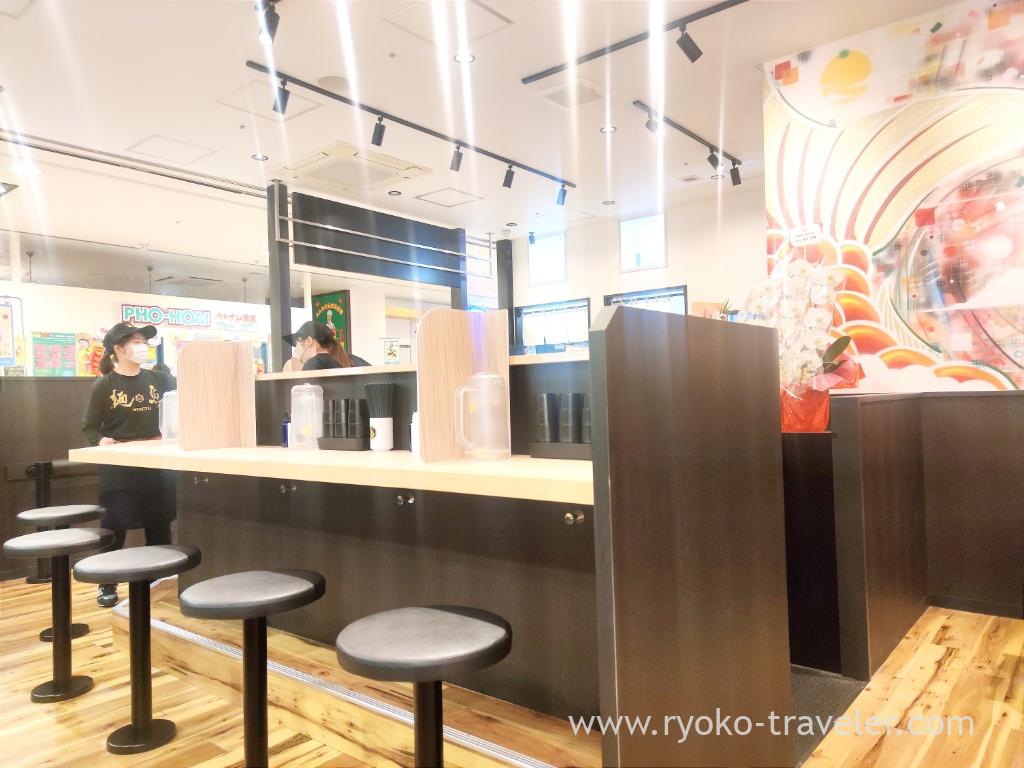 Those table have two chairs. It's not convenient because pot and glasses occupy those tables. So, I like counter seats even if I visit there with someone. The picture of red sea bream is gorgeous. By the way, the green things aren't seaweed. Komatsuna (Japanese mustard spinach) made in Nishi-Funabashi 🙂
This is special madai ramen. I ate rich one at Kinshicho PARCO branch before. I felt chicken broth was too fatty and strong and flavor of red sea bream was weak. So, I ordered normal one this time. I felt strong impact of red sea bream broth extracts this time ! It have roast pork, boiled eggs, komatsuna, laver, and yuzu peel on it. This gray soup also had extract of shell.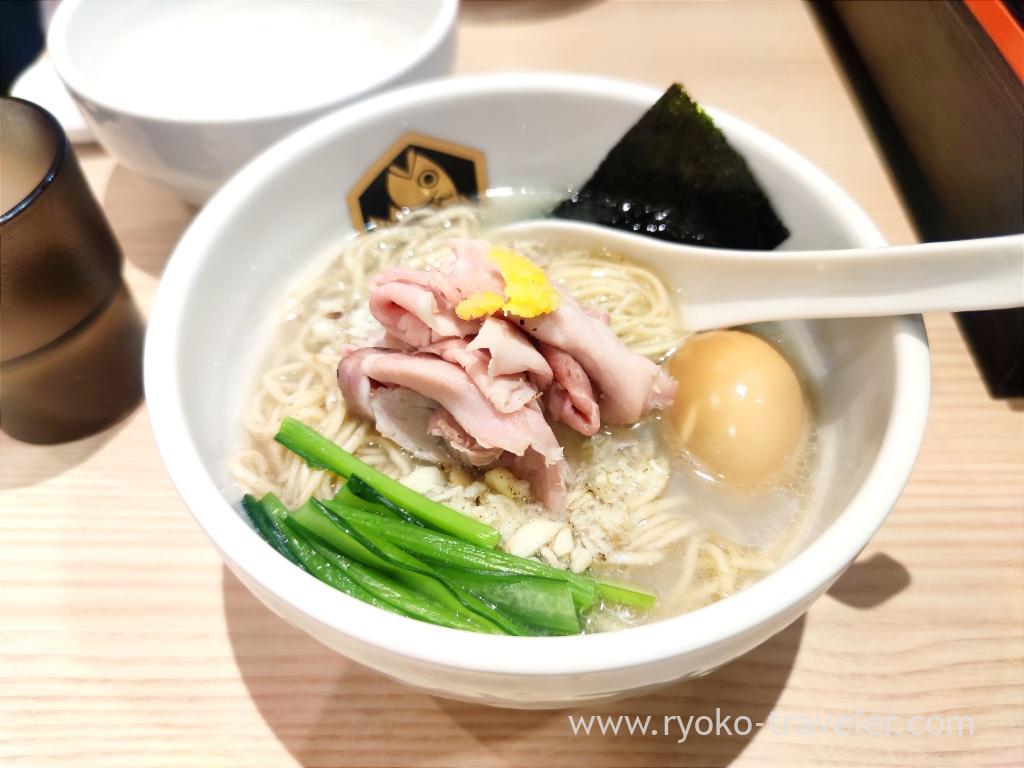 It's meat of grilled red sea bream. It's MUST. Those meat added strong flavor of red sea bream. "Special" have it. So, I recommend you order your ramen "special". And more, they accept extra meat of grilled red sea bream with 170 yen. But I think "Special" is enough.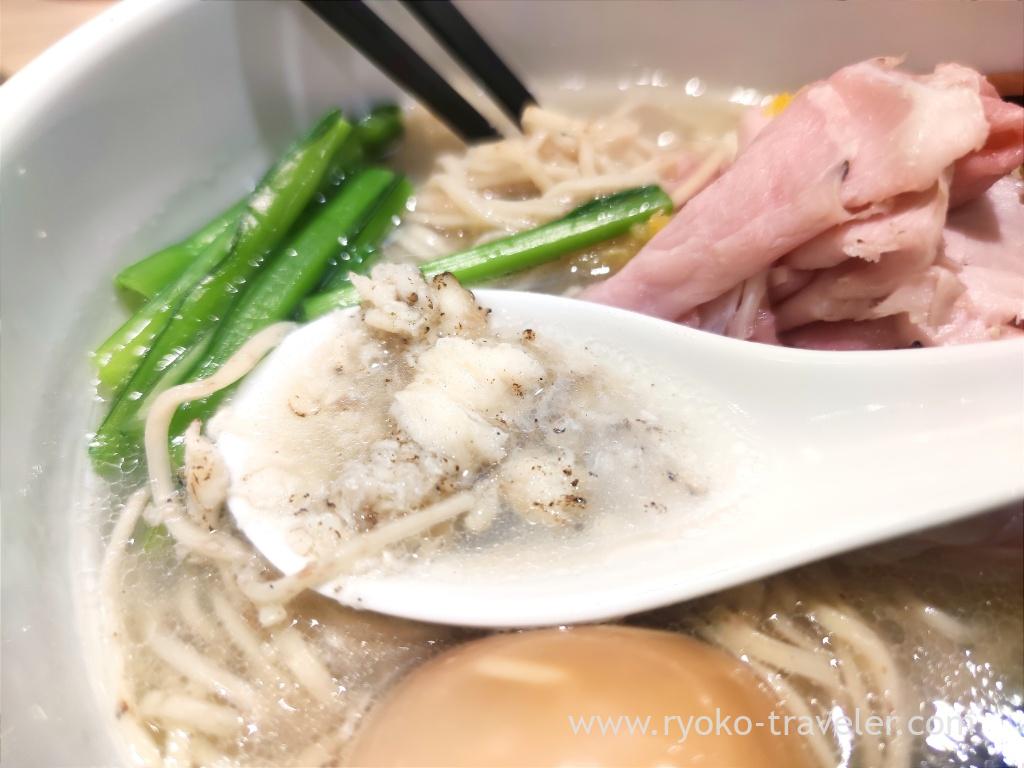 They use whole wheat noodles. And they use narrow noodles for normal soup and wide noodles for rich soup. Both catch soup well. If you want to feel the flavor of red sea bream well, I recommend normal soup. The roast pork was smoked lightly. It was flavorful.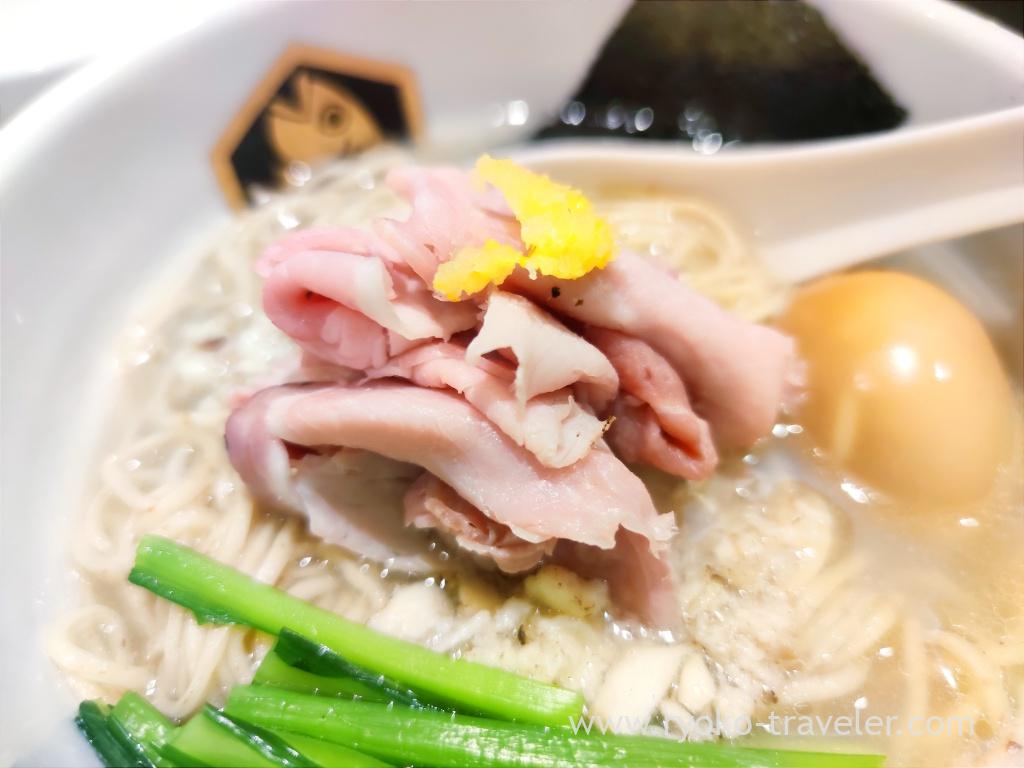 Though there're not on the table, if you ask, they serve wasabi, grated ginger, yuzu pepper. Well, if you have enough space in your stomach, I recommend madai zosui (porridge).
Funabashi branch have aburasoba ! I know Kinshicho head shop don't have it. This is special tai aburasoba. Basic one is 830 yen. It have meat of grilled red sea bream, roast pork and boiled egg as well as madai ramen. I say again. The meat is MUST. Speaking of aburasoba, I imagine so fatty sauce. But it's not. It's more aesoba than aburasoba. It have soup separately.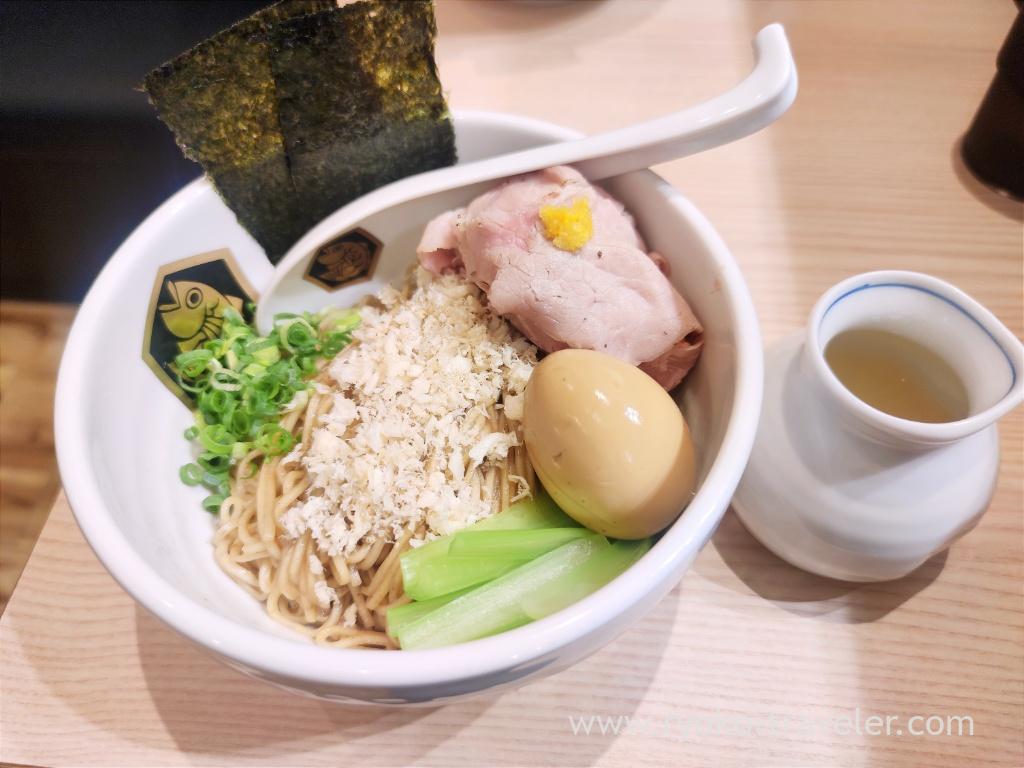 If you love shrimp, I recommend their new ramen. Special rich shrimp and miso ramen. Though it have shrimp-color soup, I felt it have strong flavor of red sea bream. Well, their specialty is madai (red sea bream) all the same. But of course, the flavor of shrimp was strong, too. The balance was good. I think it's good for porridge, too.
About

Name Mengyo Funabashi (麺魚 NEXT船橋店)
Open Lunch through dinner
Reservation Unavailable
Credit card Unavailable
Website Website / Instagram / Twitter

Google Map