I dropped in at Masurao (ますらお) in Monzen-Nakacho with my friend to have some alcoholic drinks and foods lightly. They are on the 2th floor in the old building. They have no chairs. They are stand-up-eating izakaya. Tachinomi-style. Yes 🙂 When we got to there around 6 p.m., there were already so many people after work. From solo to group having 5 people.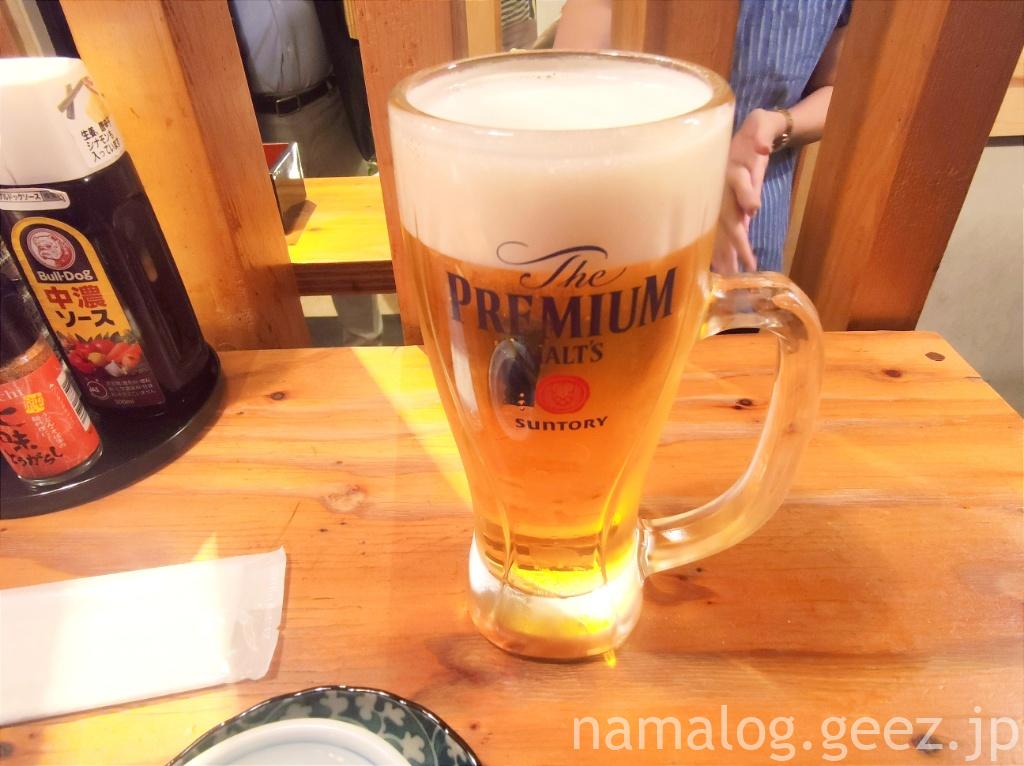 They are close to the Gate 2 of Monzen-nakacho station. They are located at the back of Uosan . Uosan is very popular as seafood izakaya.
There's a menu of drinks at each tables. They have Japanese menu only.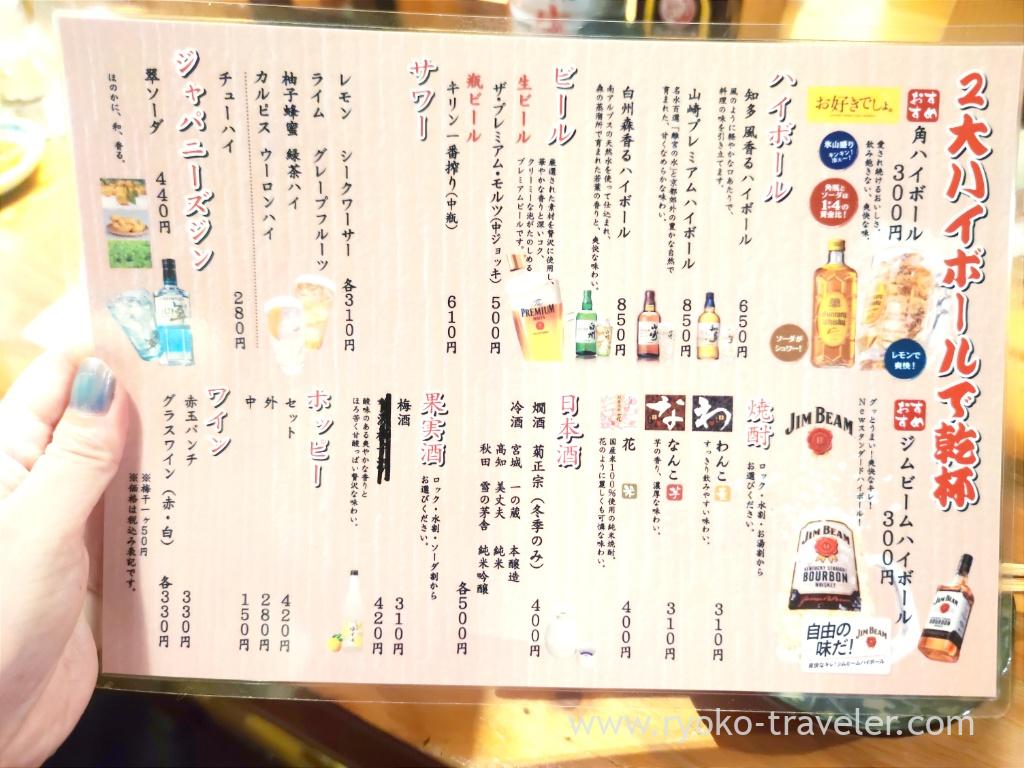 Highball cost only 300yen ! I worried about its strength because it's too inexpensive. But it's over thinking. The strength of alcohol was enough.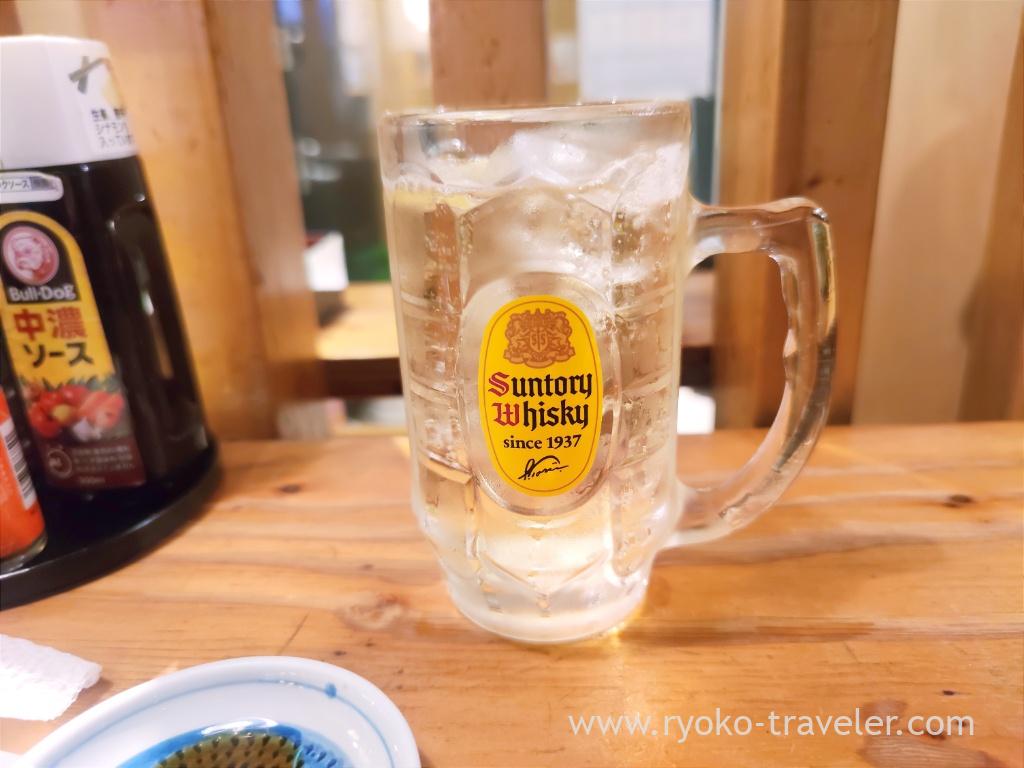 Draft beer is only 500 yen. Premium malt's !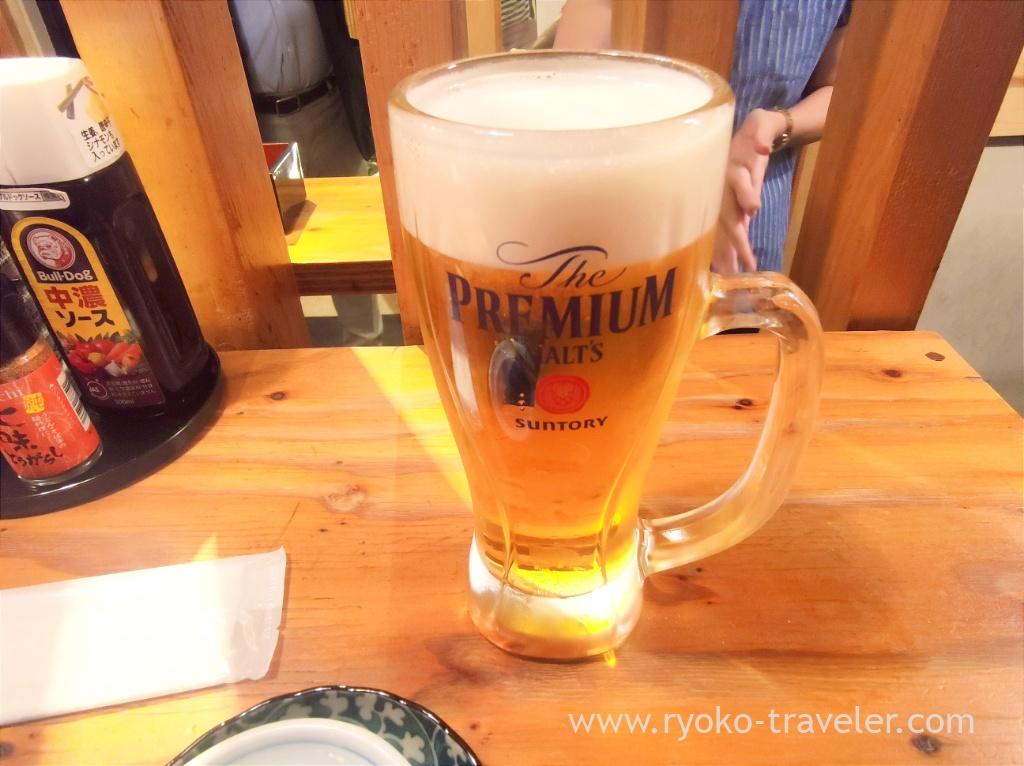 Foods menu is on the wall. Black board and paper. They have a variety of foods, for example, sashimi, tempura, grilled fish, vinegared mozuku and so on.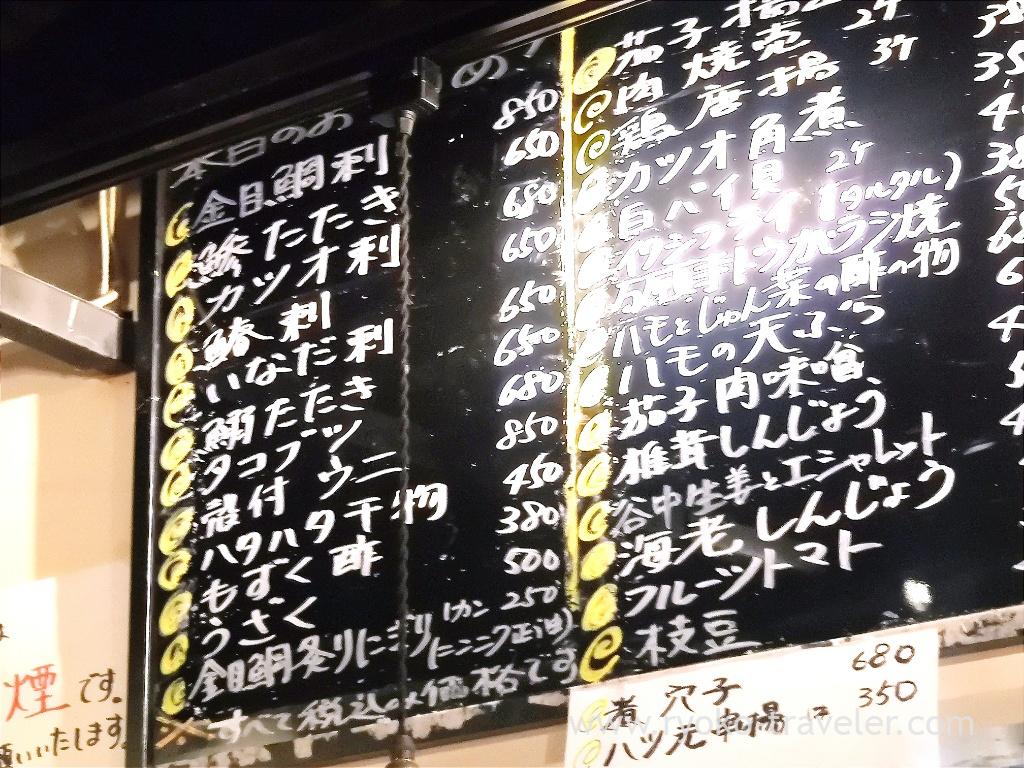 We had one sashimi. Inada sashimi. It have 6 slices of Inada on the dish. As you see, it's fresh. You might know… in Japan, "yellowtail" have a variety of name according to its size. The most popular yellowtail name in Japan is Buri (over 80 cm). But this is Inada sashimi. Inada is young yellowtail from 35 cm to 65 cm. Difference of tastes ? To be honest, I can't find the difference clearly. I think many Japanese, too. But it's said baby and young fishes are softer all the same.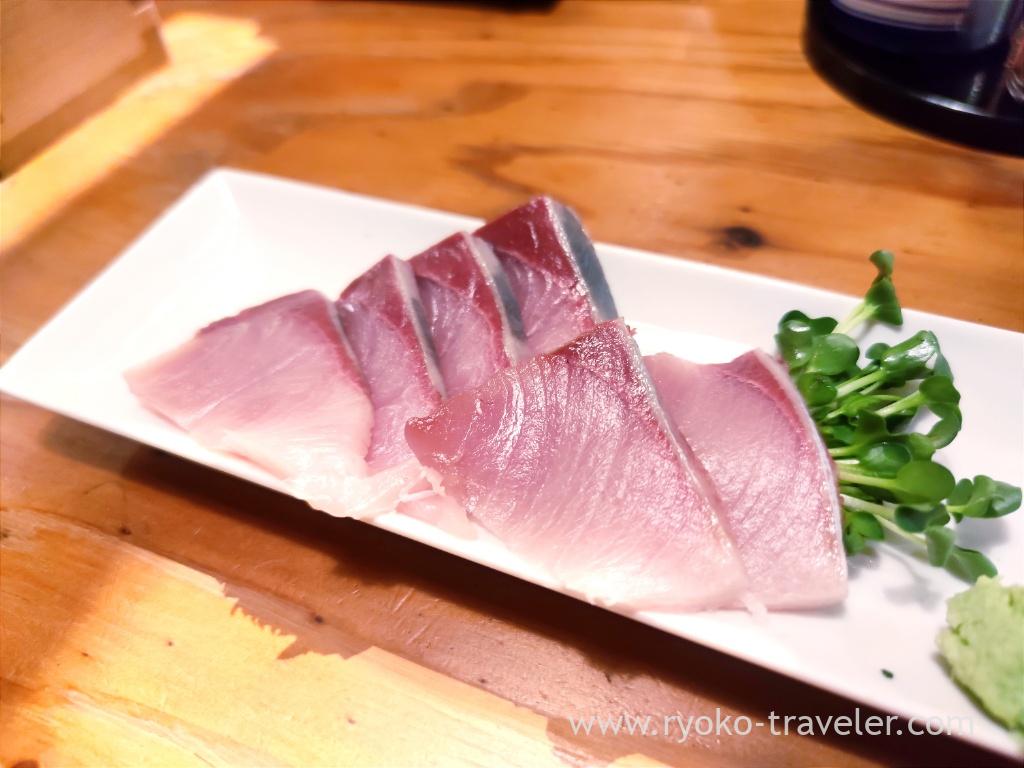 Also we had it. Baked Manganji red and green pepper. Manganji pepper is produced in Kyoto mainly. So, in Kanto region like Tokyo, we don't see it at restaurants frequently. Basically, it's sweet pepper (sometimes very hot though :p). And it's sweeter by grilling.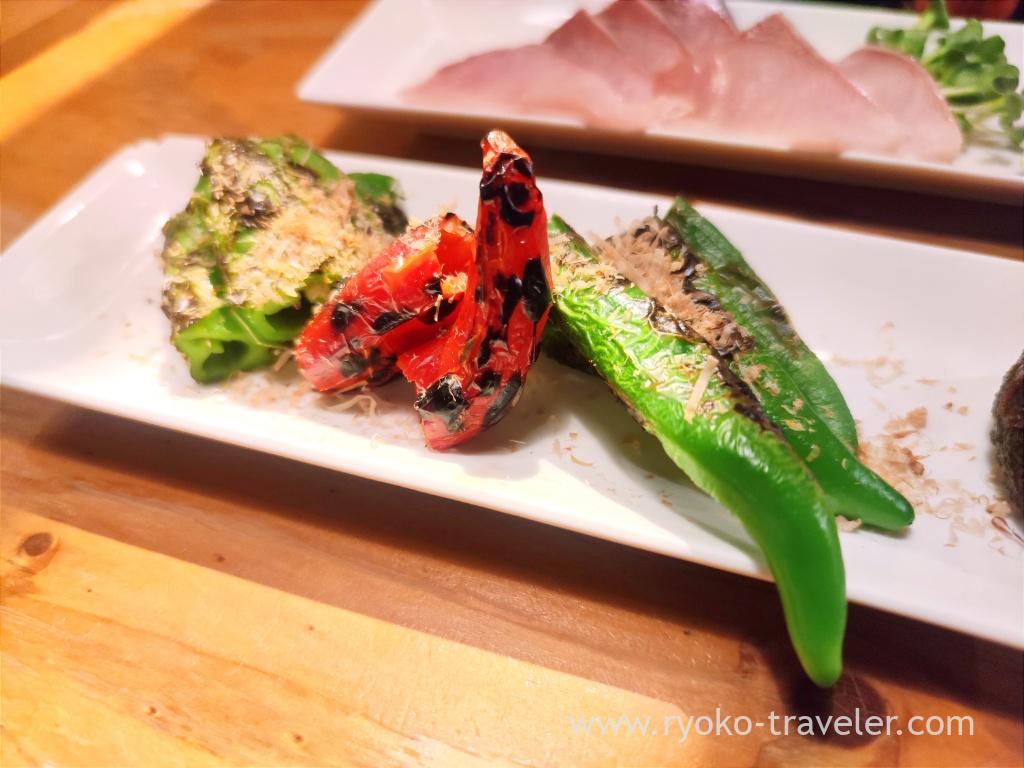 Hamo tempura. Hamo is sea eel. It's also eaten in Kansai region like Kyoto so often. But recently, Hamo became popular fish in Tokyo, too. Its coating was crisp. The meat was soft and good. Pink powder on the dish is Himalayan rock salt.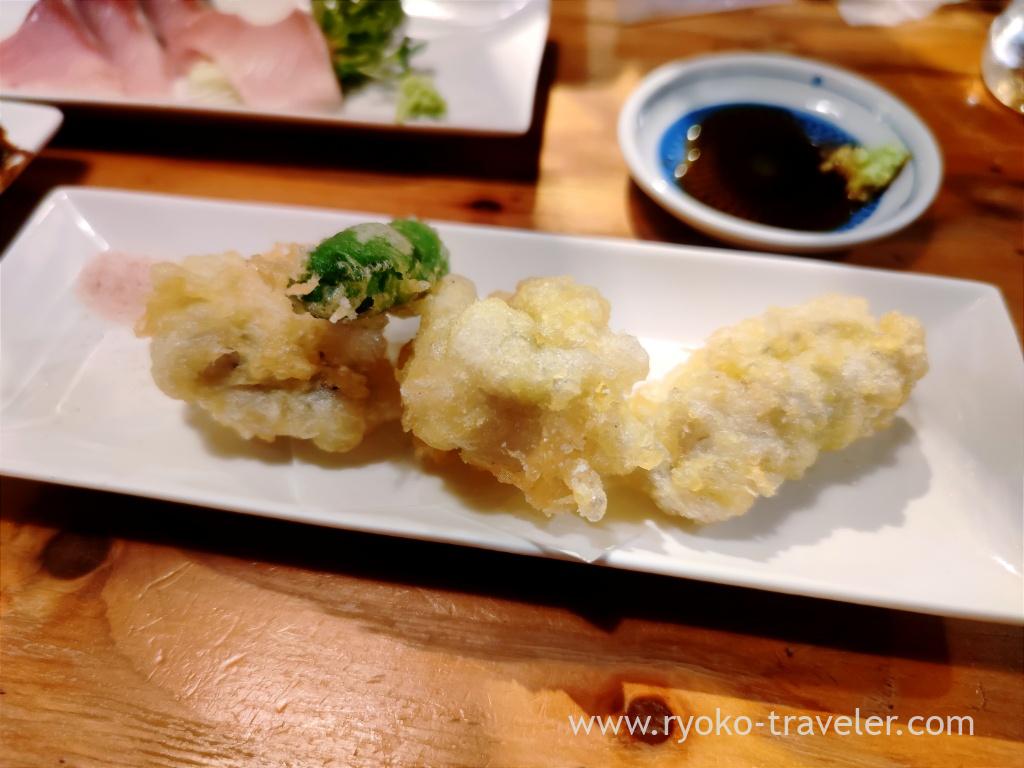 All foods are smaller portion and inexpensive. So, it's suitable for one or two person 🙂
About

Name Masurao (ますらお)
Open Dinner
Reservation Unavailable
Credit card Unavailable

Google Map