Because recently our delight sushi restaurants are hard to reserve, we are exploring another sushi restaurants. And one of the restaurant among them attracted us. The restaurant's name is Manten Sushi (まんてん鮨). They are located in Marunouchi, Nihonbashi (COREDO) and Hibiya (Hibiya Okuroji).
We visited Marunouchi branch this time. They are on the B1F of Marunouchi Brick Square. They have counter seats surrounding the kitchen and two tables.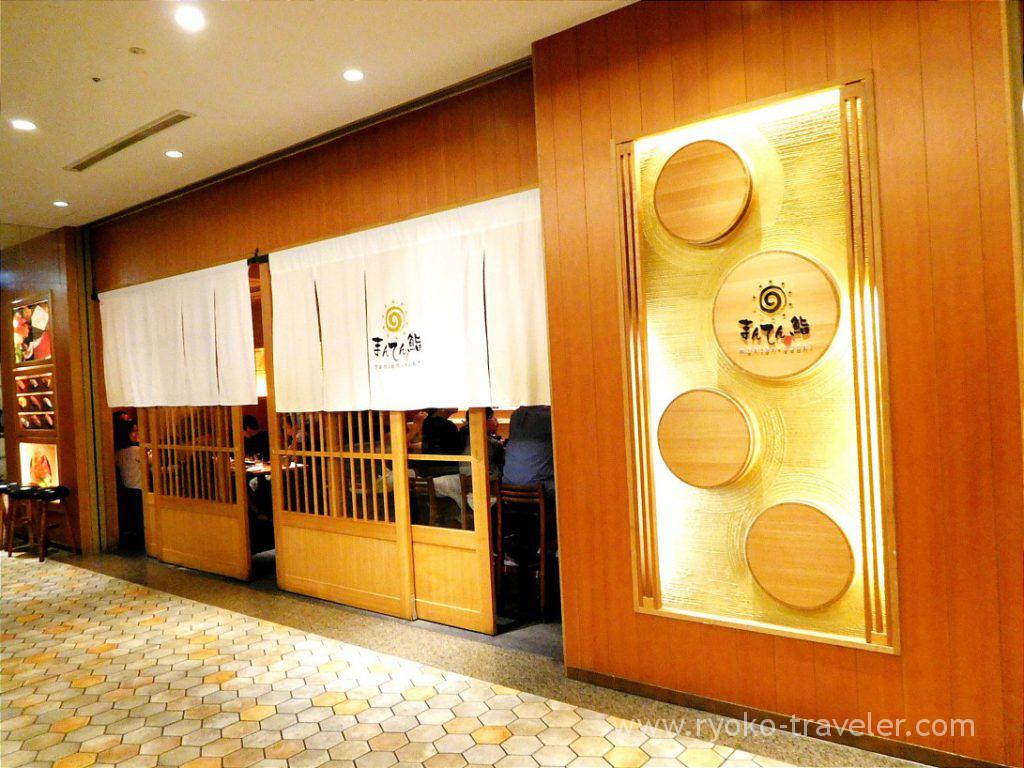 Their closest station is Tokyo station. And the closest gate is not both Marunouchi and Yaesu gate. Keiyo Line's gate is the closest. Keiyo Line gate is very far from the center of Tokyo station. I think you'd better get out of Tokyo Station at Marunouchi or Southern gate soon and walk outside. Tokyo station is complex.
Basically, they prepare chef's choice course at 6600 yen only. It have dishes and sushi. You can reserve from their website. And they have weekdays' lunch course at 3300 yen. I heard the lunch course is really valuable. But they don't accept reservation for lunch course.
They served dishes and sushi alternately. At first. the chef served shijimi clam soup.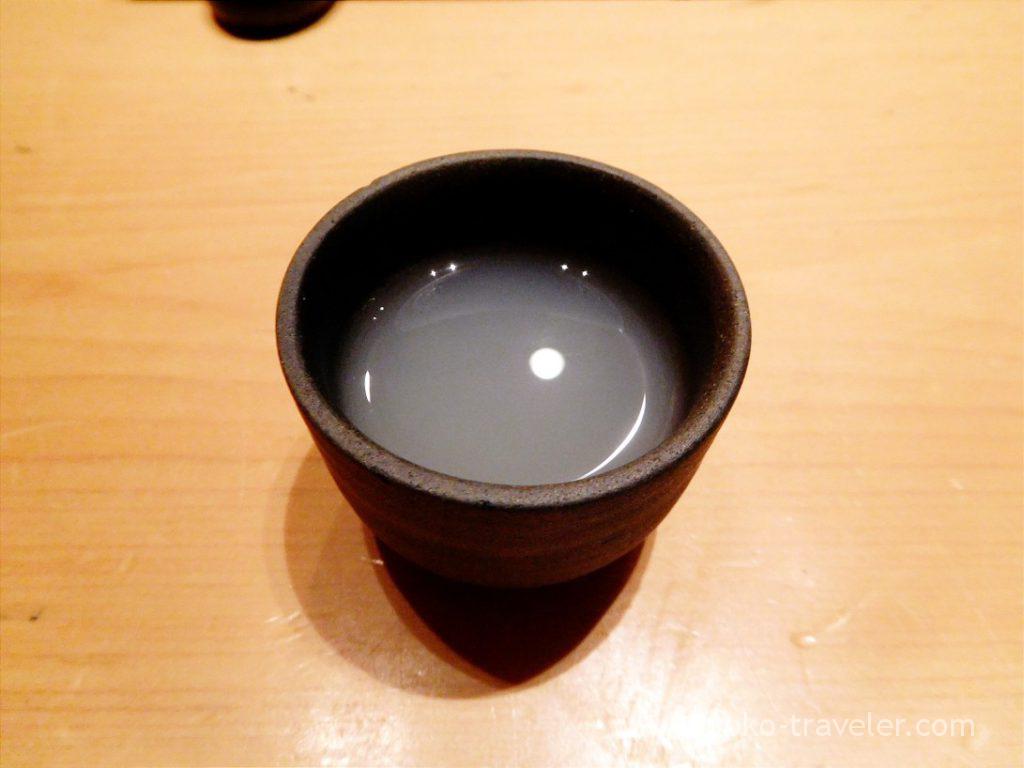 The first sushi was marinated tuna. The sush is smaller. It's easy to eat for ladies. Though it was marinated strongly and delicious. It go with Japanese sake.
Hirame (Flatfish). Sashimi.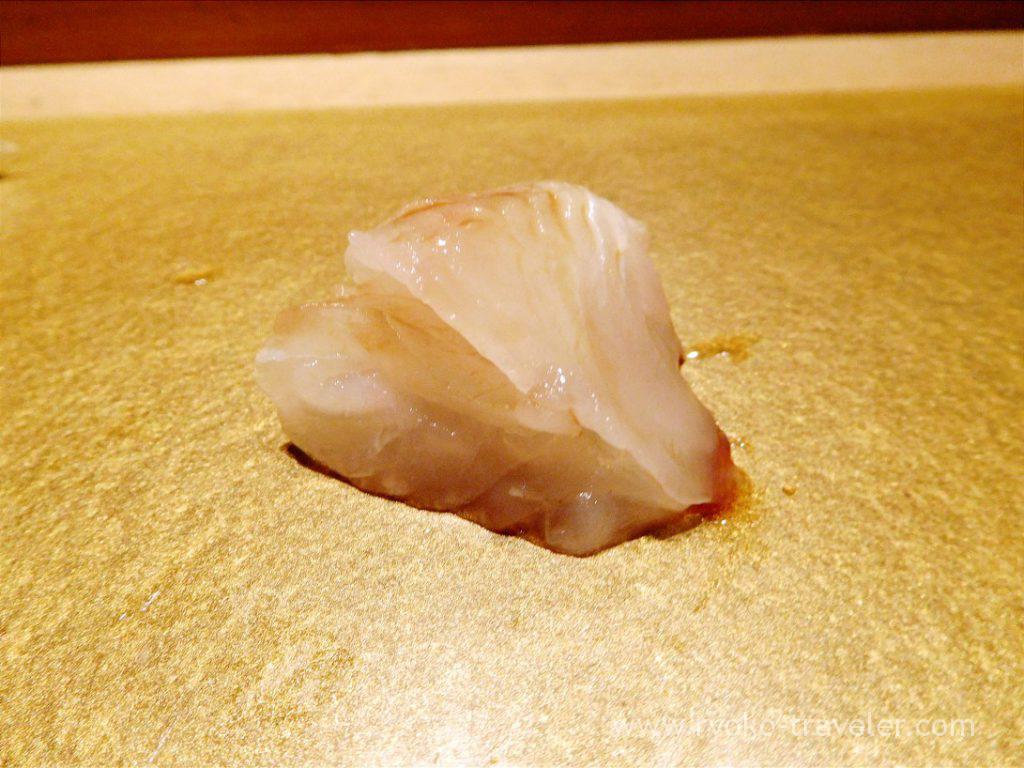 Marinated bonito. Another sashimi. Delicious. It had springy texture like jelly.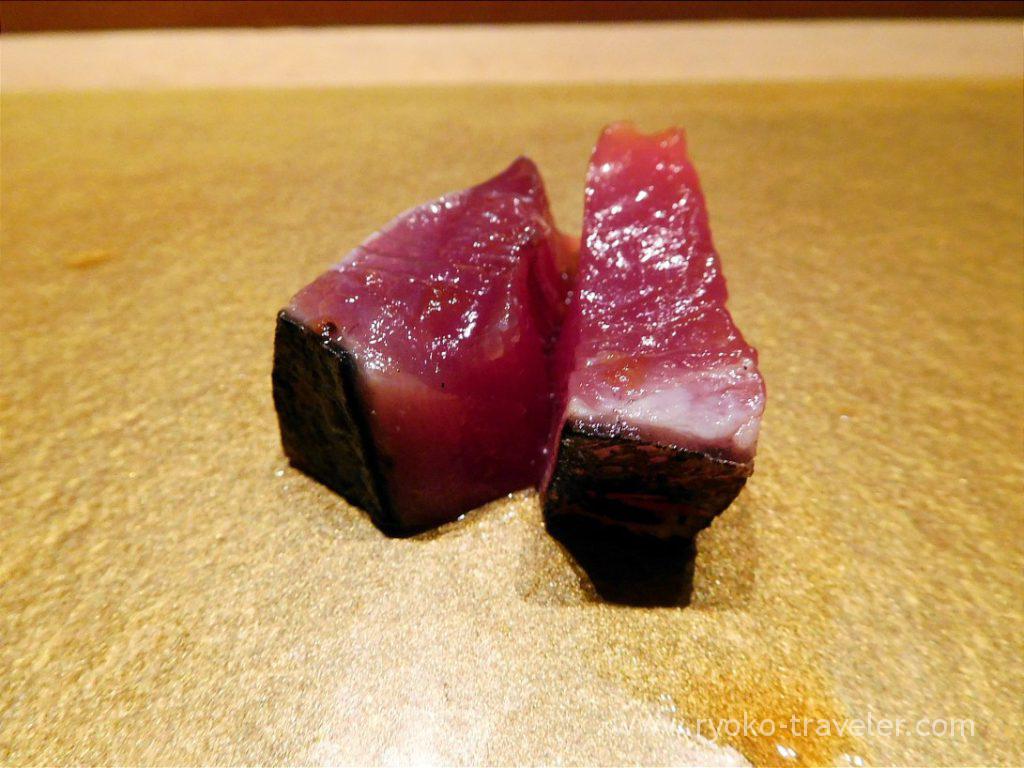 Mekabu seaweed.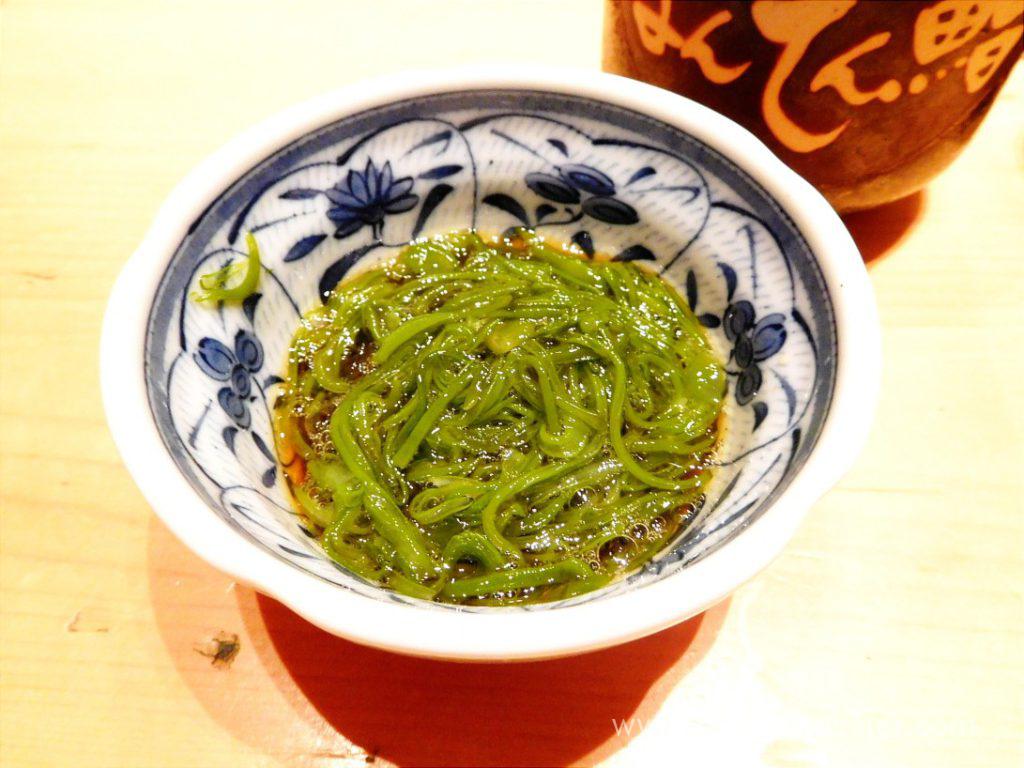 Boiled abalone. It was boiled in stronger soup. Delicious. Its crunchy texture was good.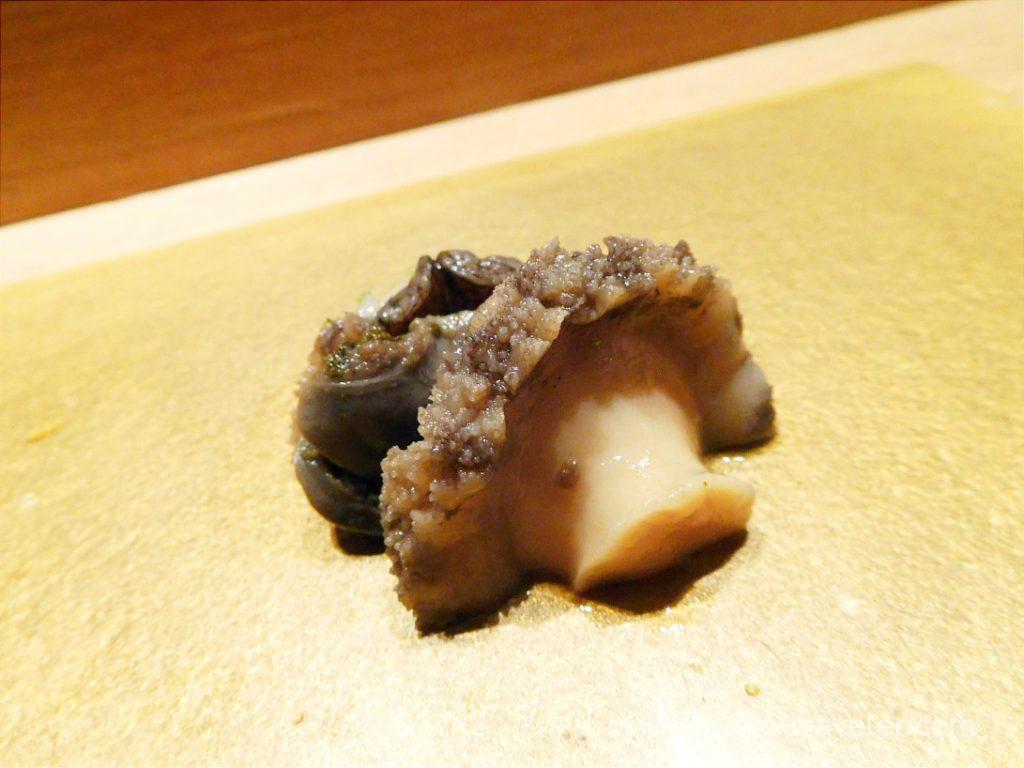 Sea bass (Suzuki). Though its looking is not good because of blood lines, it had springy texture and was good.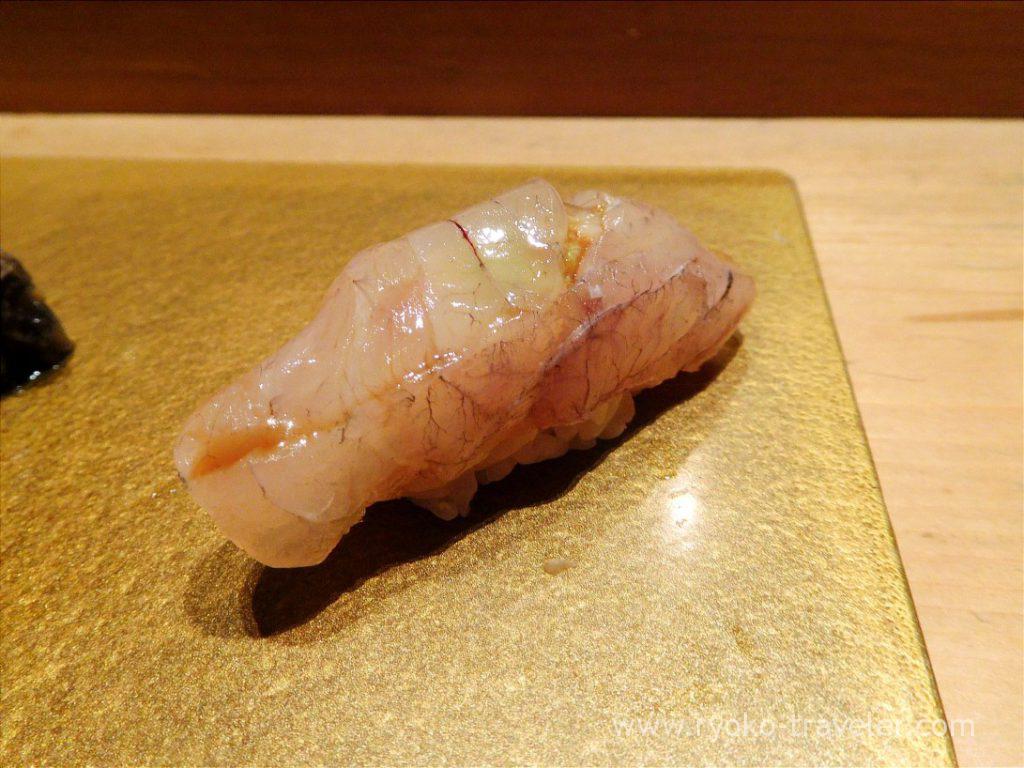 And the such a novel thing was served. Tarako marinated with wasabi. Springy eggs had flavor of wasabi lightly. I needed rice.
Yuba tofu. I heard it's their specialty. It's not completely fixed as tofu. It's millefeuille of yuba.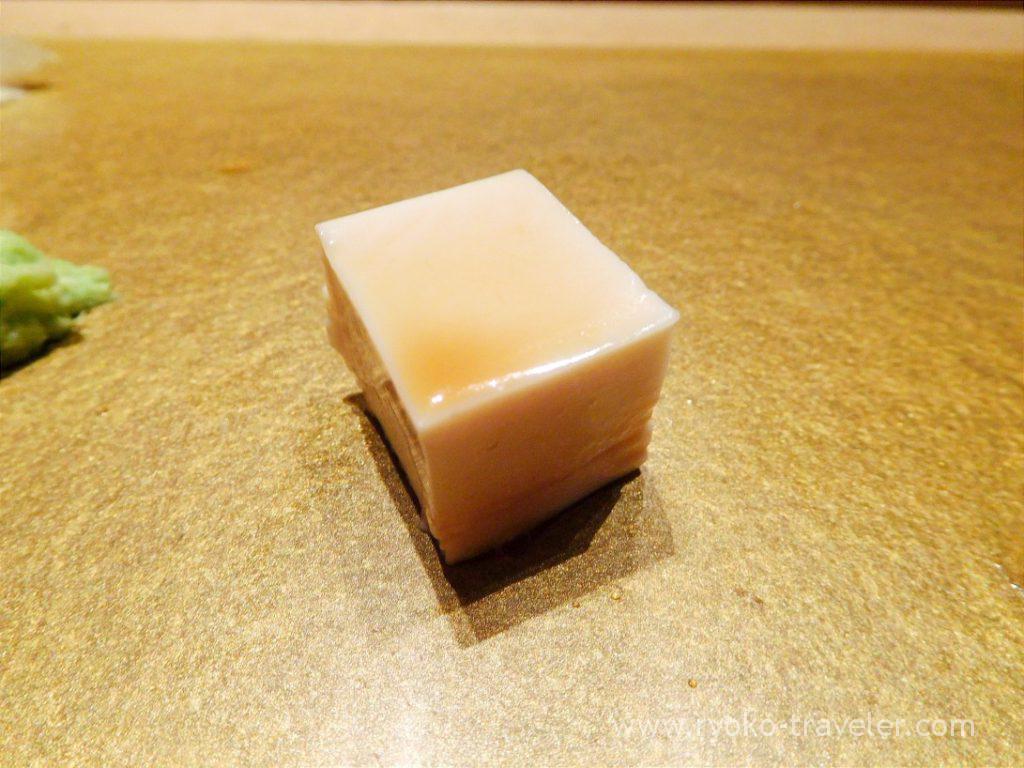 Spanish mackerel. With mustard.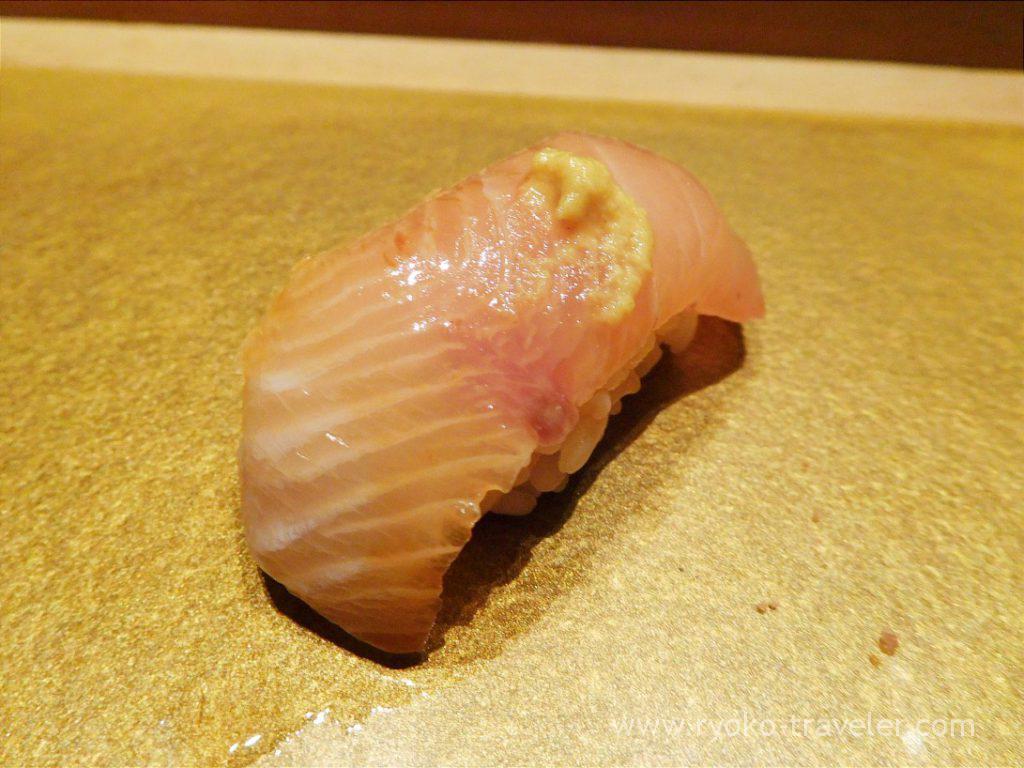 Green vegetable. It refreshed our mouth.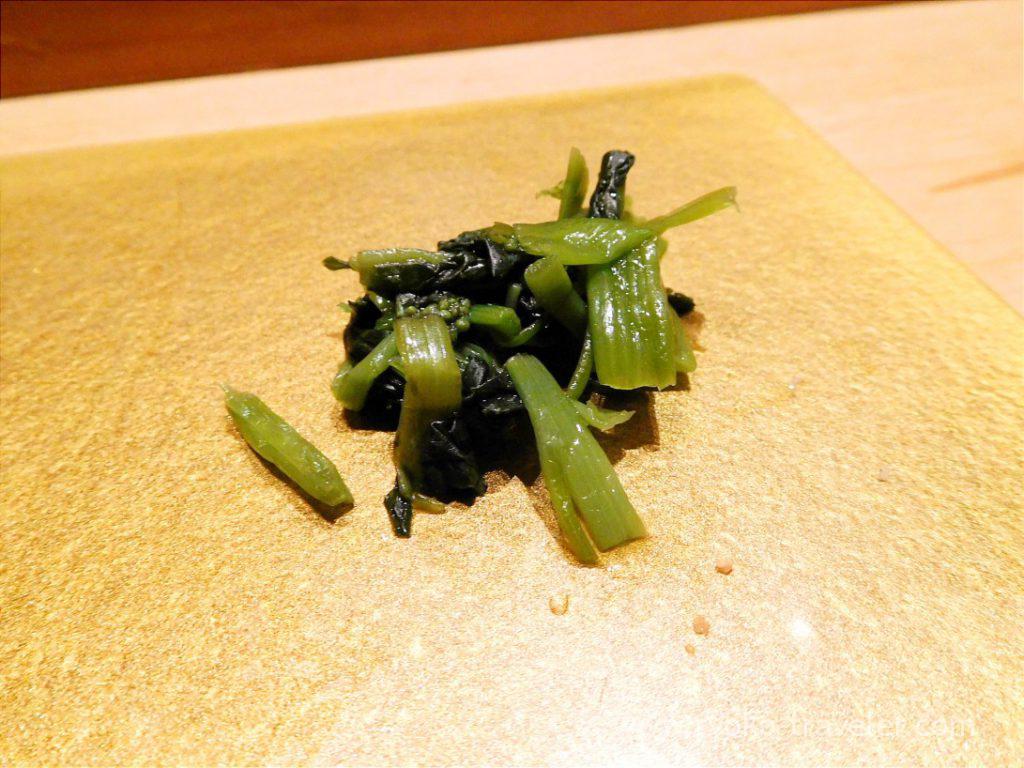 Enoki mushrooms marinated with konbu. Fun ! This was the first time to eat mushroom sushi ! And delicious. I love enoki and I was surprised that enoki go with vinegared rice !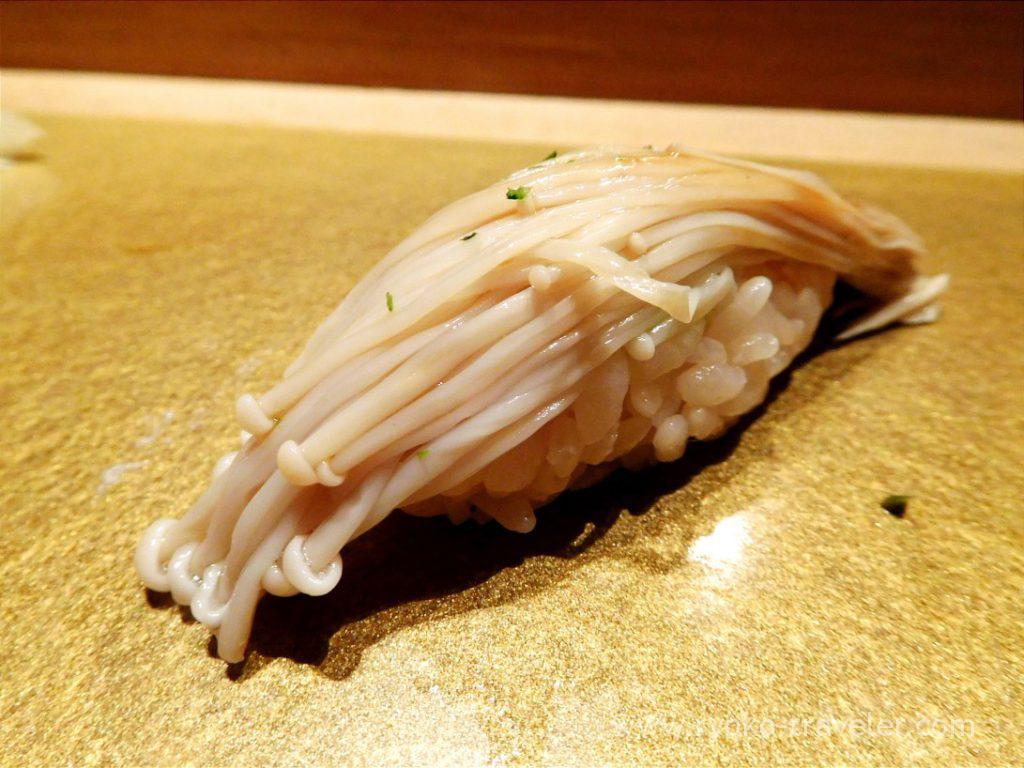 Red sea bream marinated with konbu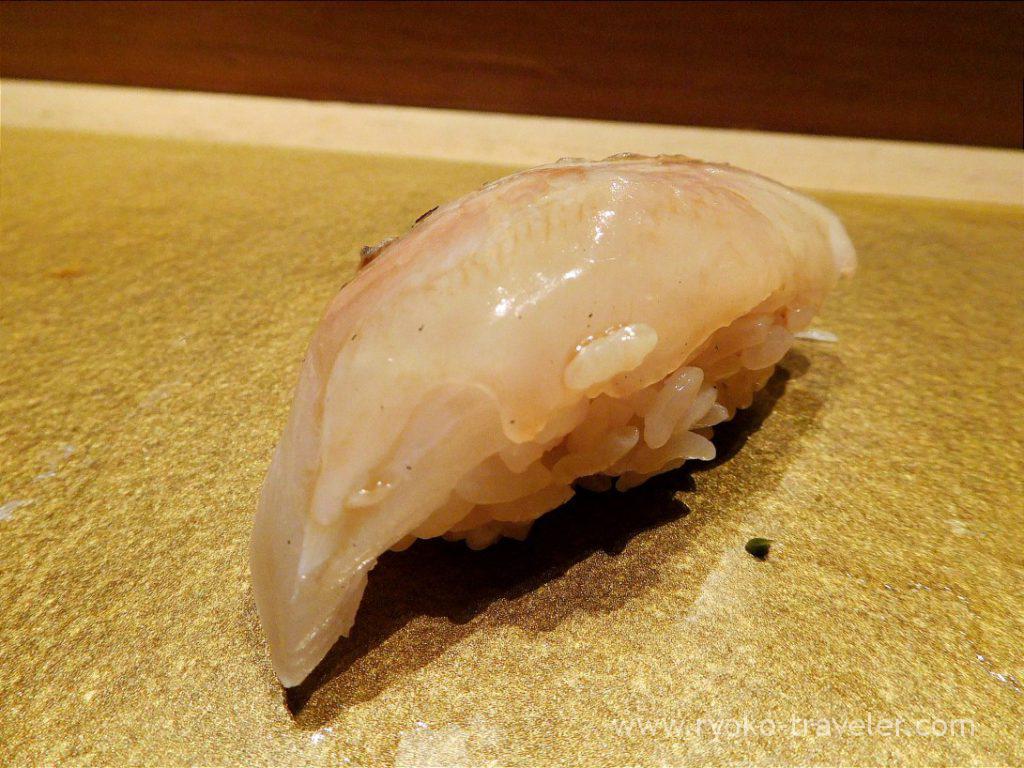 Crab and salmon roe. The rice was at the bottom. It had shredded wasabi. So, it had pungent flavor.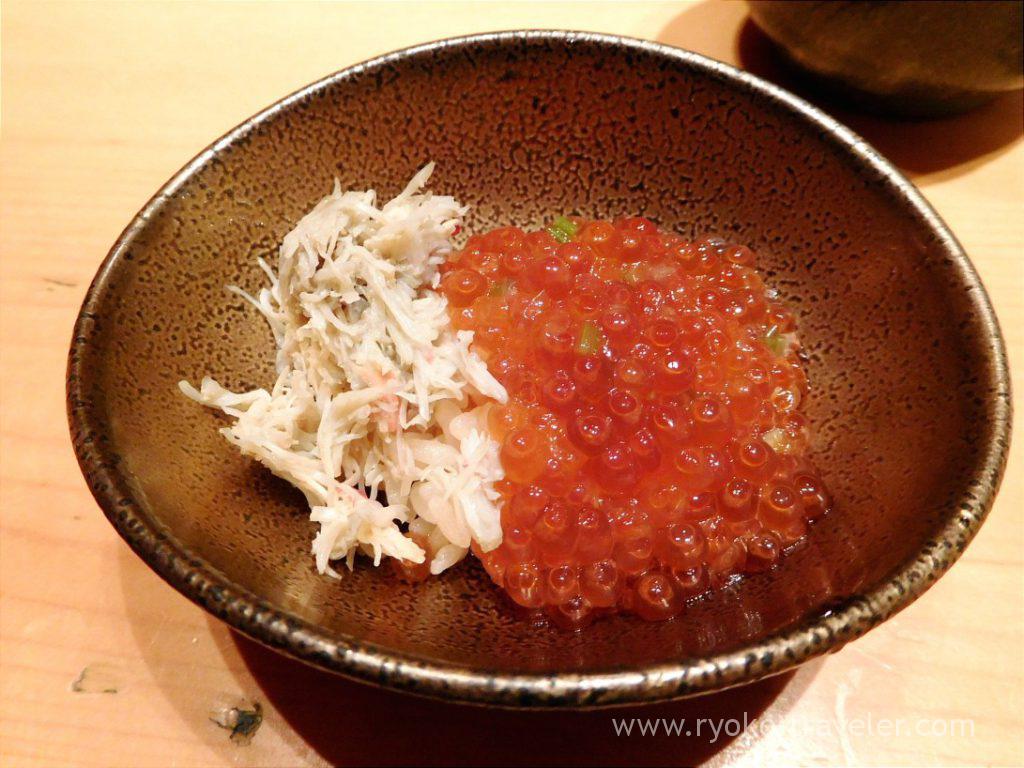 Simmered tuna. So soft. I like it with much wasabi. I think it go with Japanese sake, too.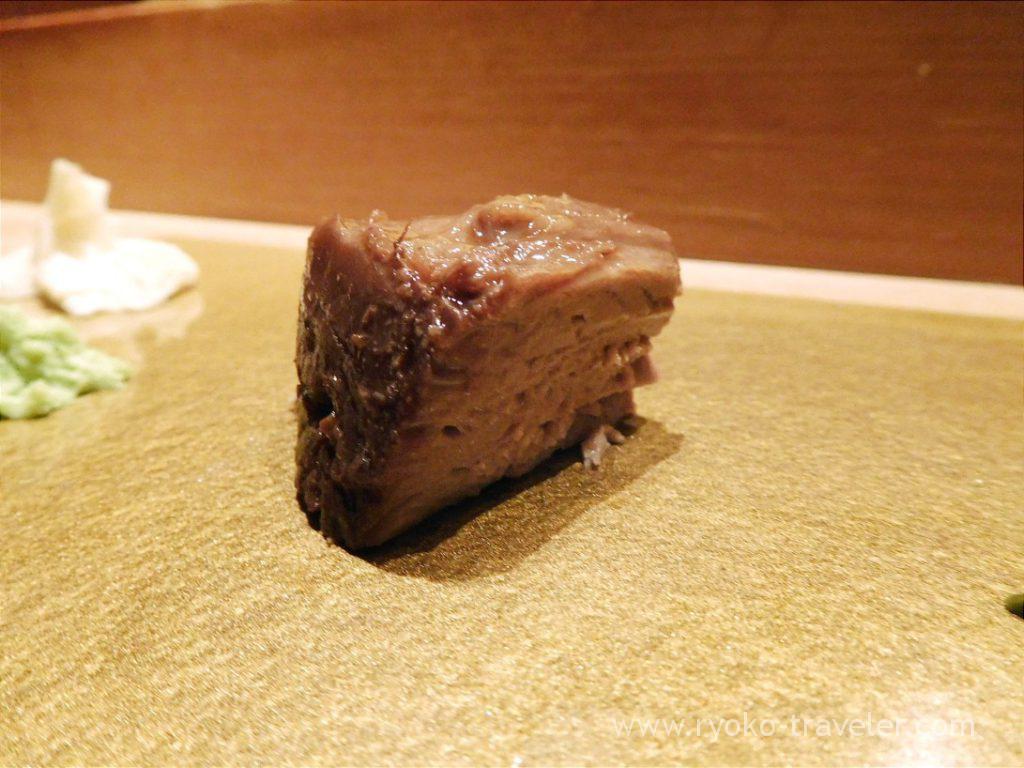 Horse mackerel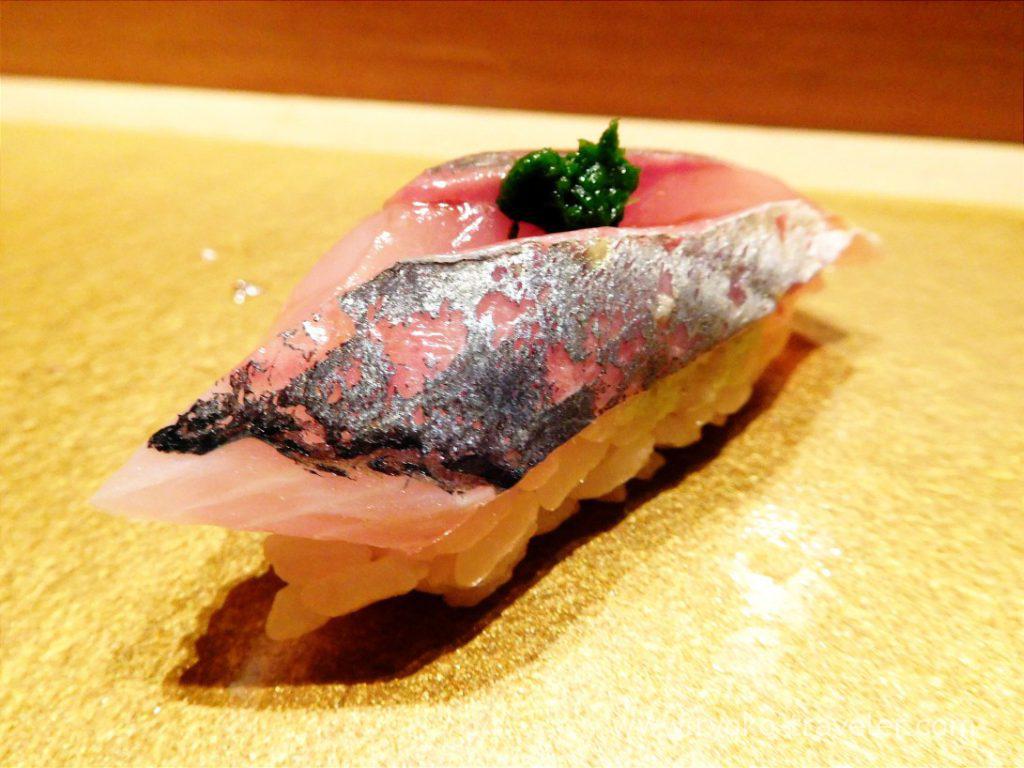 Botan shrimp. My delight was served one after another… 🙂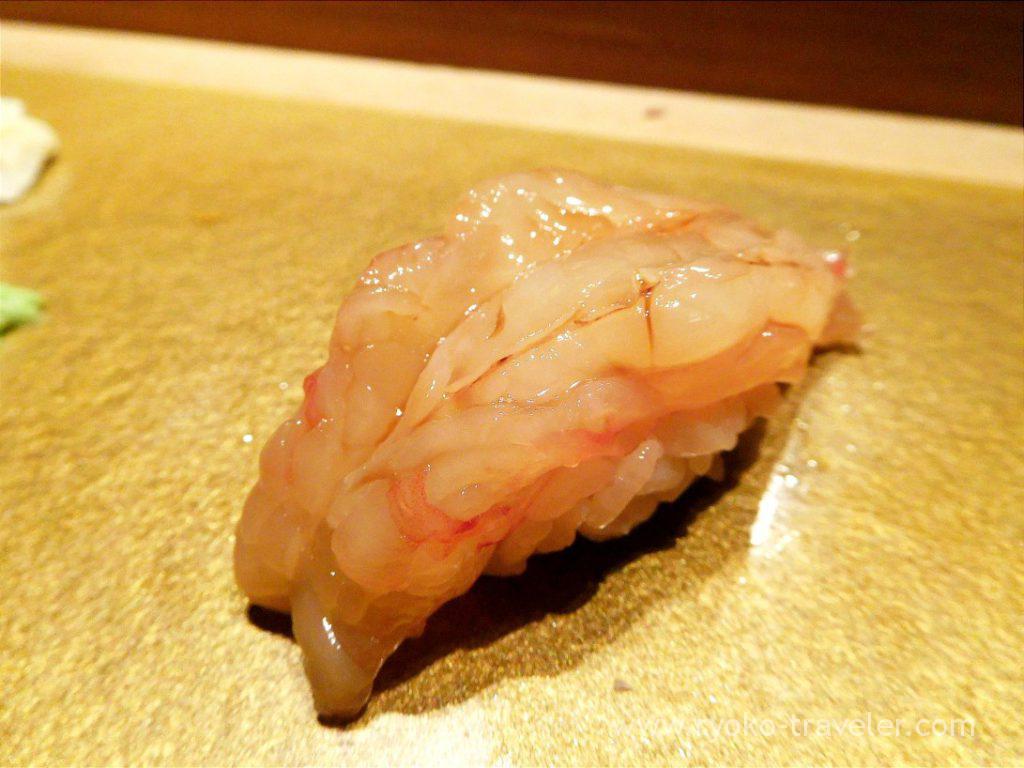 Two sea urchin. Because those were easy to break, the chef said to us, "put out your hand".
One was horse-dung sea urchin (Bafun-uni) and another was purple sea urchin (Murasaki-uni). But I forgot because I did my best to get and eat them. I liked first one better (Probably second photo)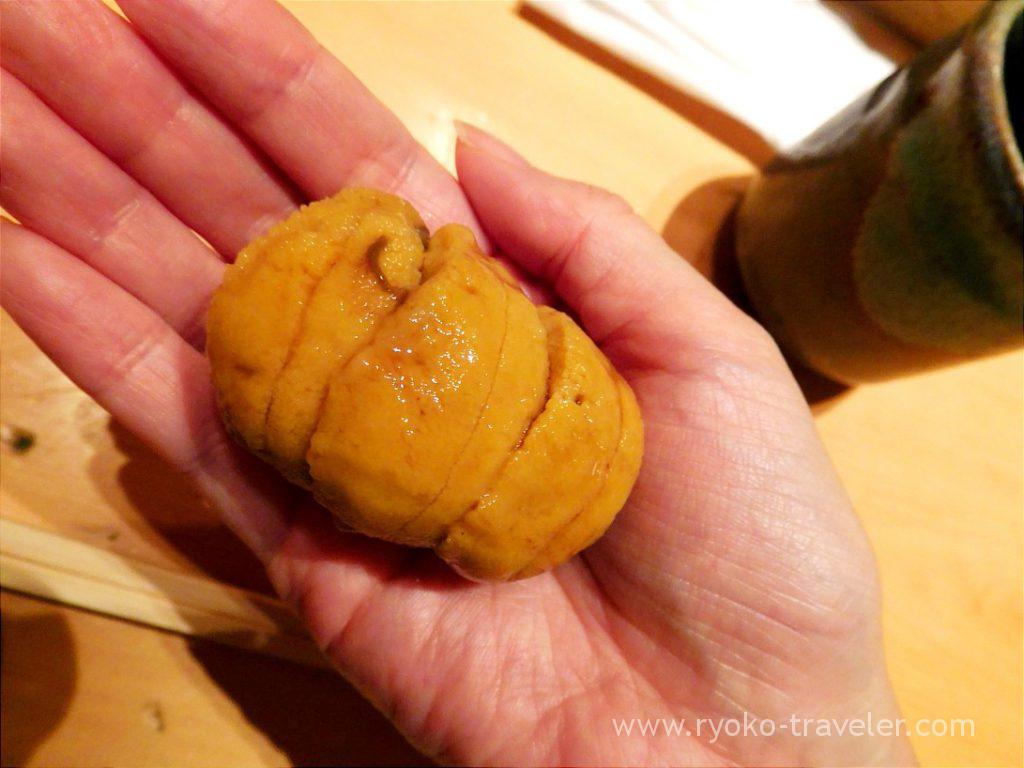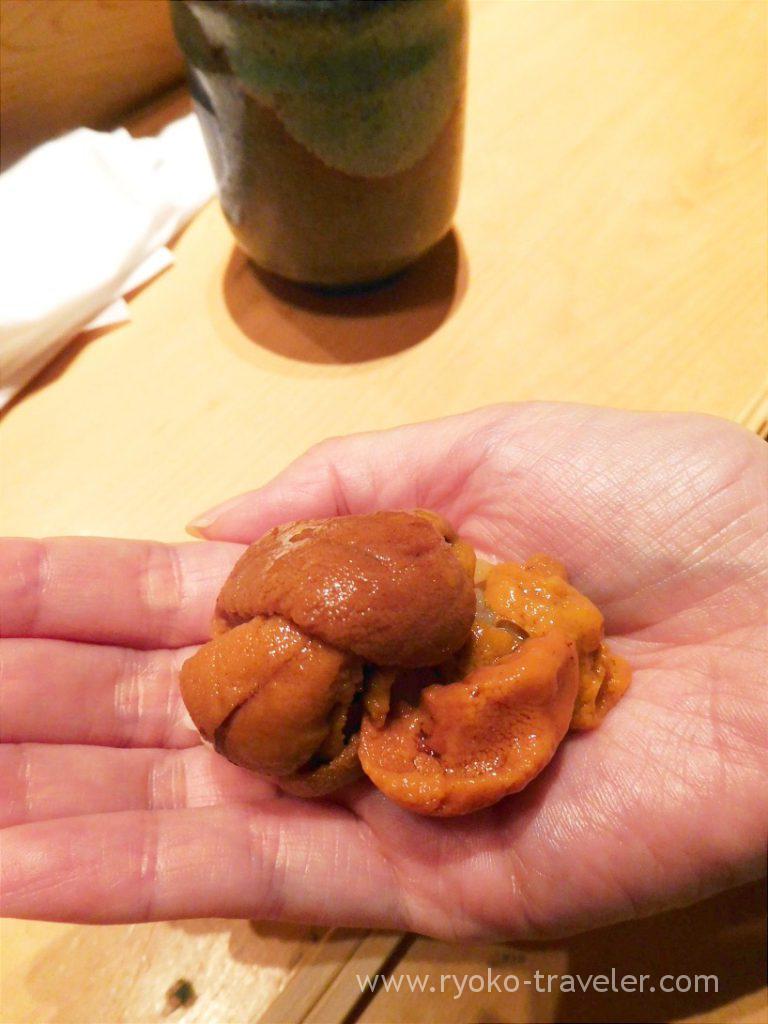 After we enjoyed rich texture of sea urchin, tomato was served. Well, I think someone don't like this order. It's not bad for me, though.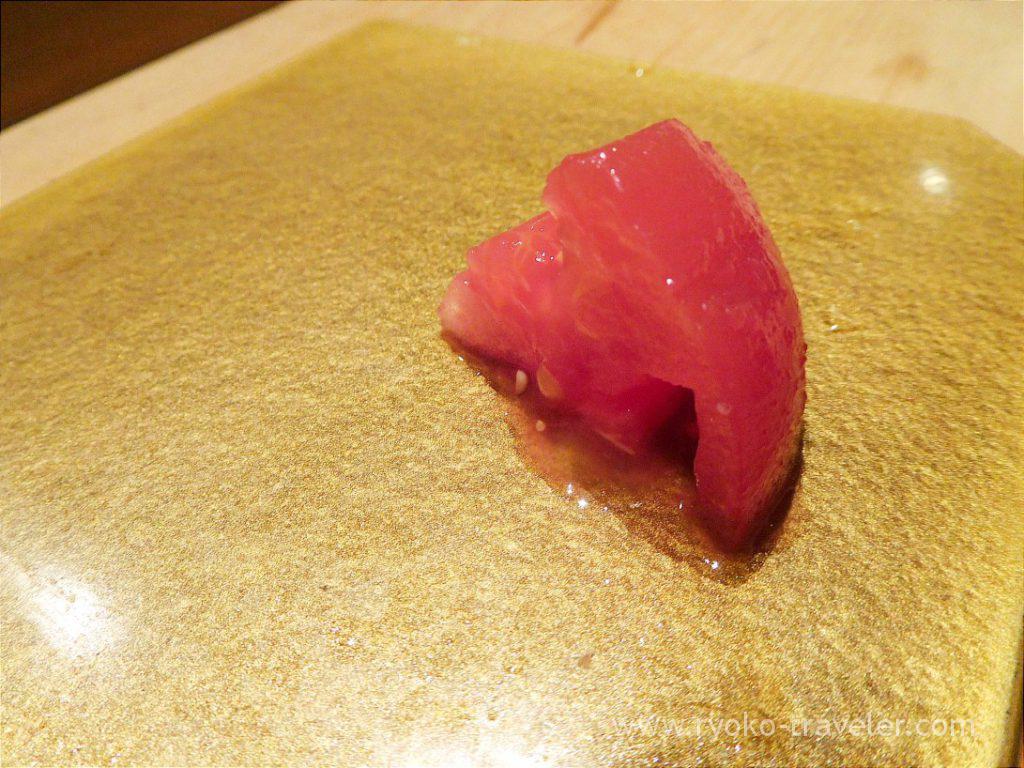 Toro part of tuna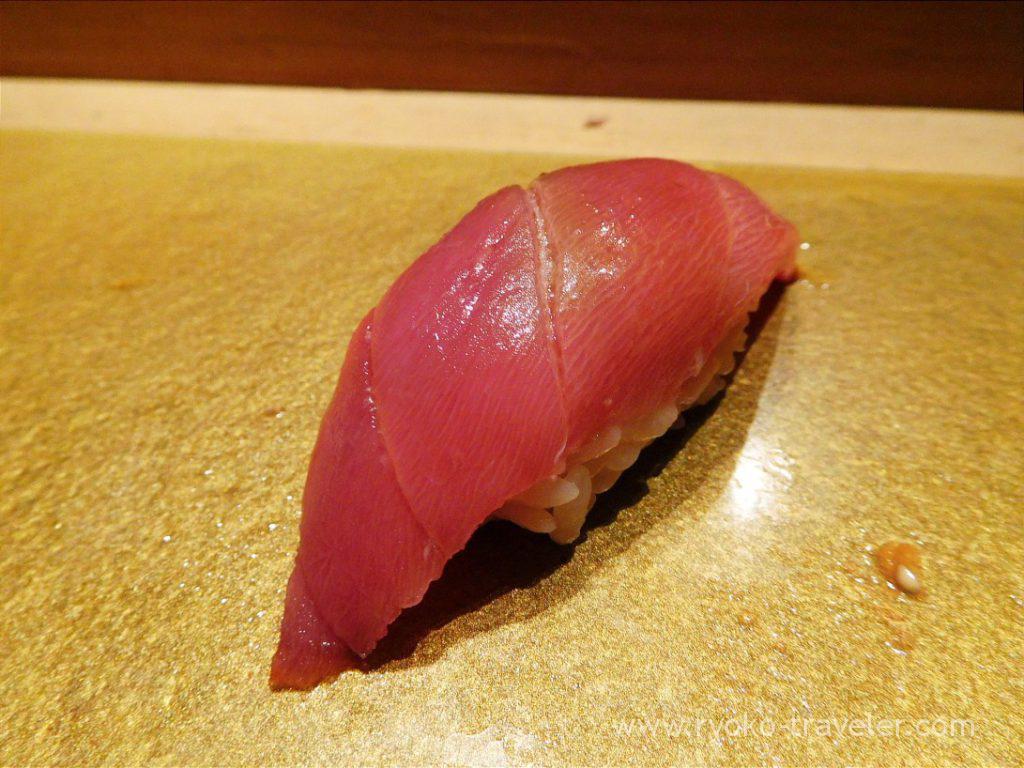 Negitoro roll. Mostly negitoro is served with green onion, they served it with onion. Those larger pieces of onion had pungent flavor and its flavor go with the vinegared rice and fatty tuna.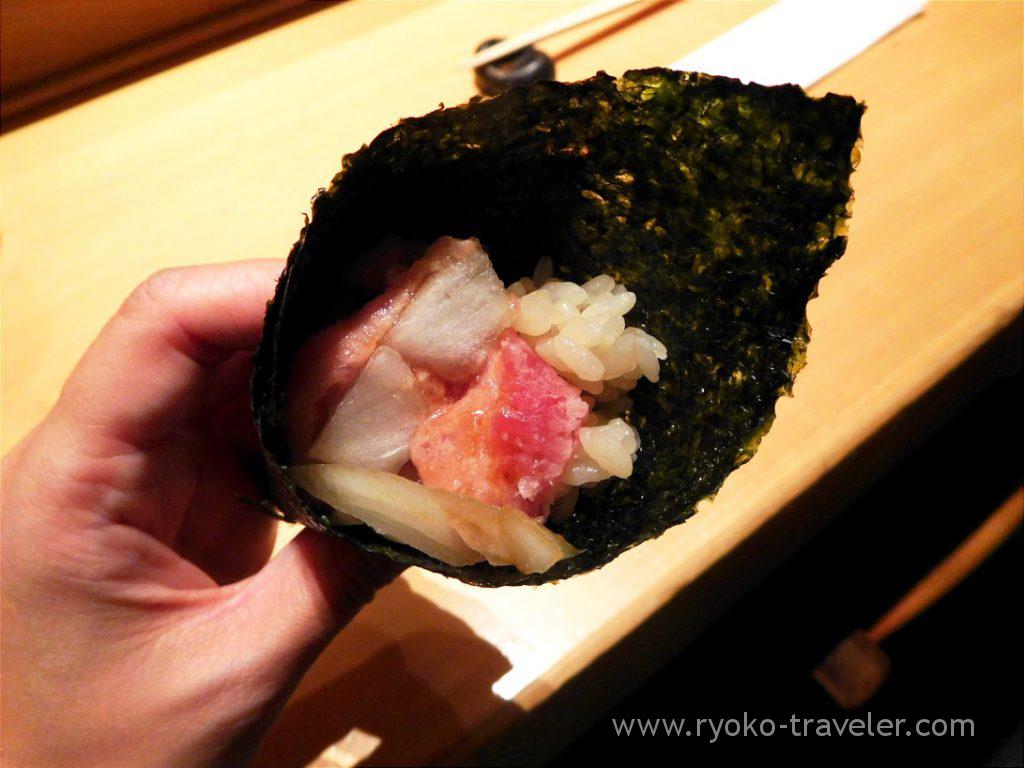 Conger eel (Anago). It's so soft like bed.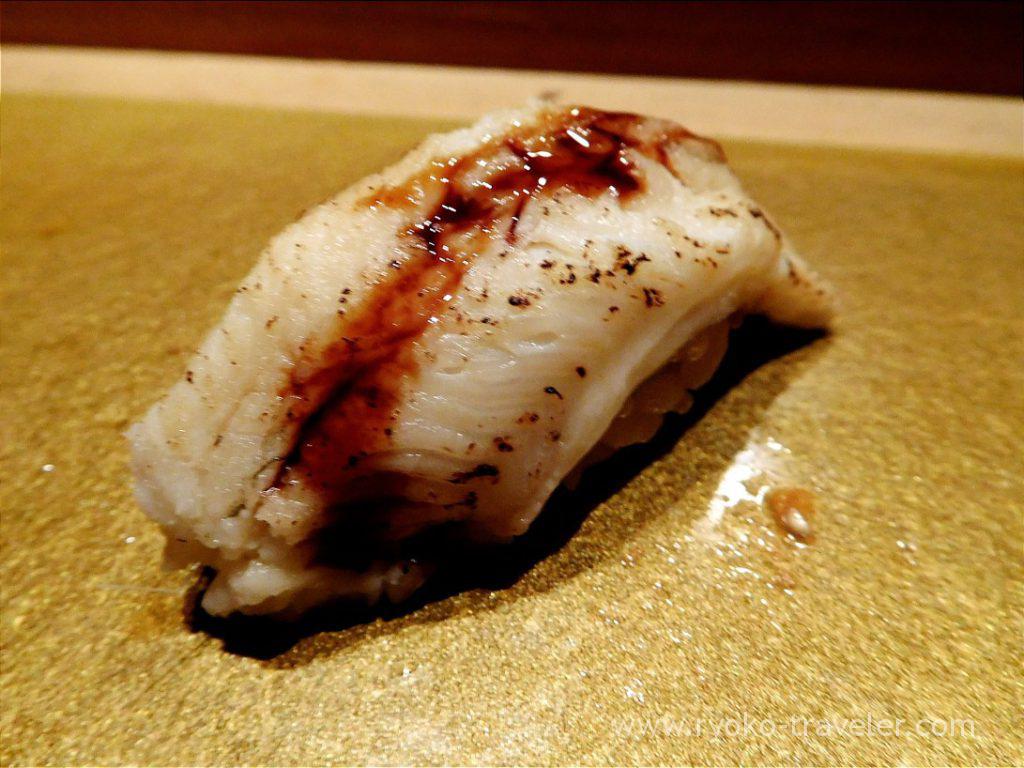 Tamagoyaki (like pudding)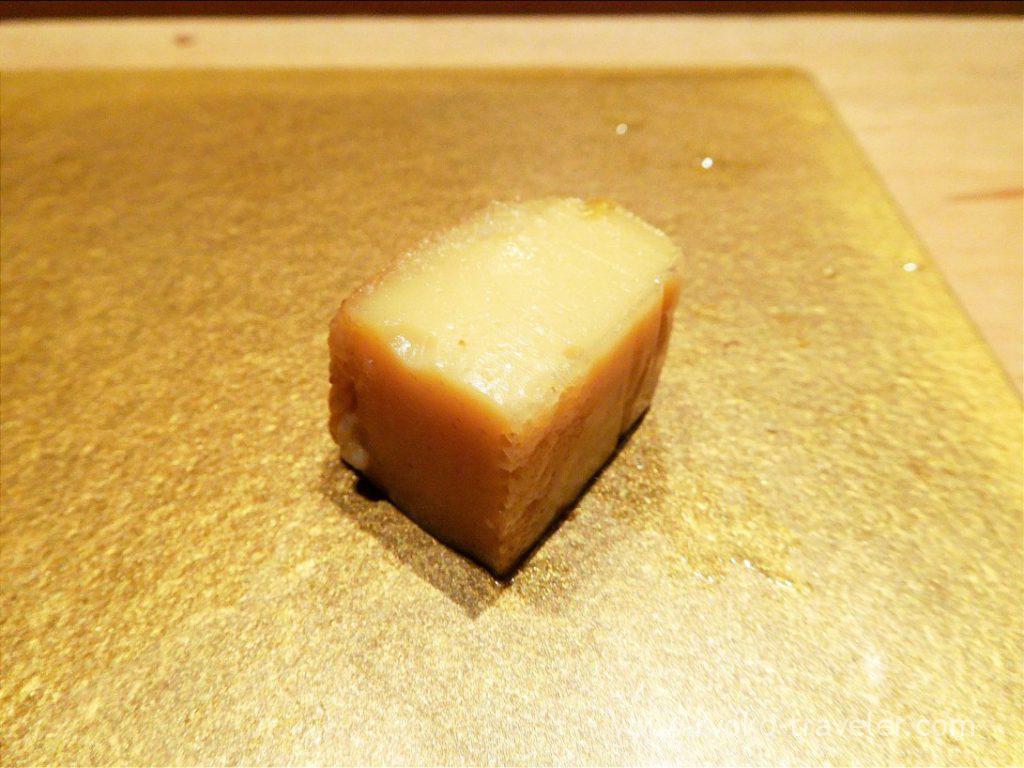 Miso soup with shijimi clam. Though it had so much small shijimi clams, those don't have extract. I think those were used clams (for soup that was served at first?). So, I left everything. I just enjoyed the miso soup only.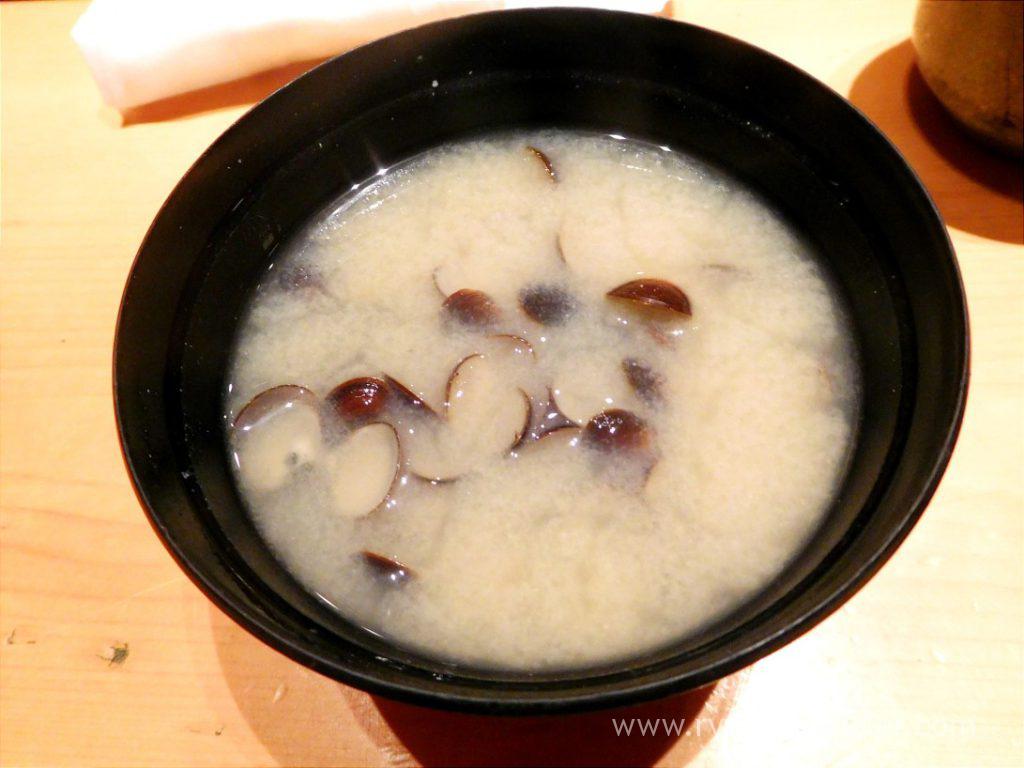 Last, Kanpyo-maki. We rolled it by ourselves and eate.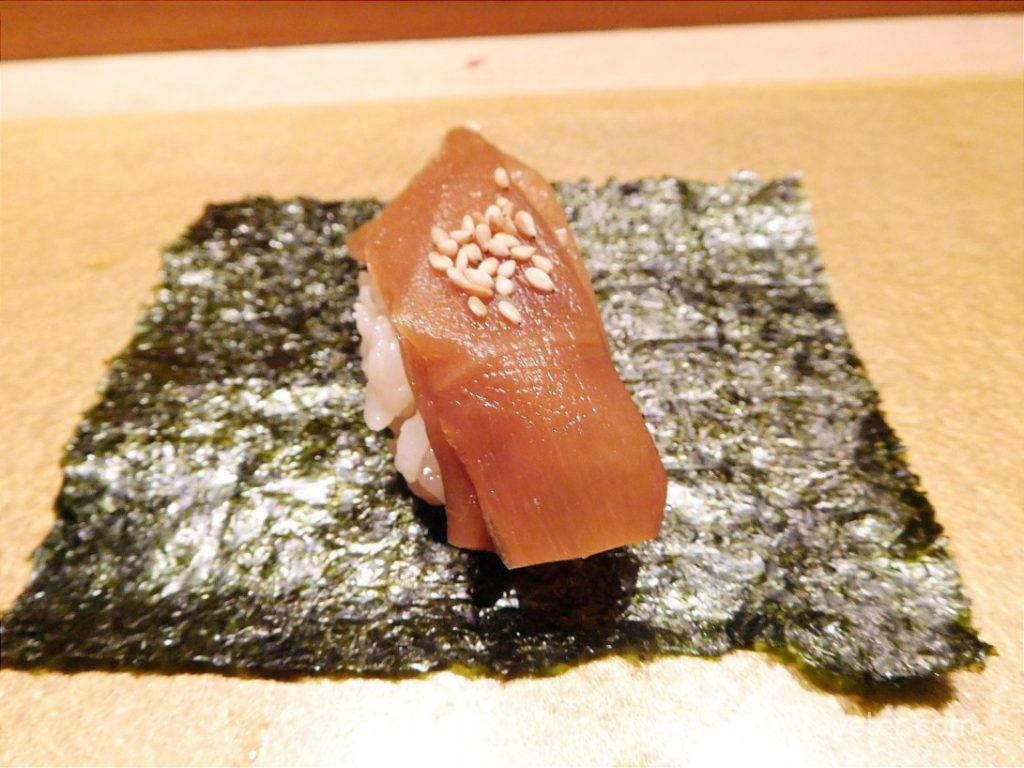 Watermelon as dessert. It was sweet.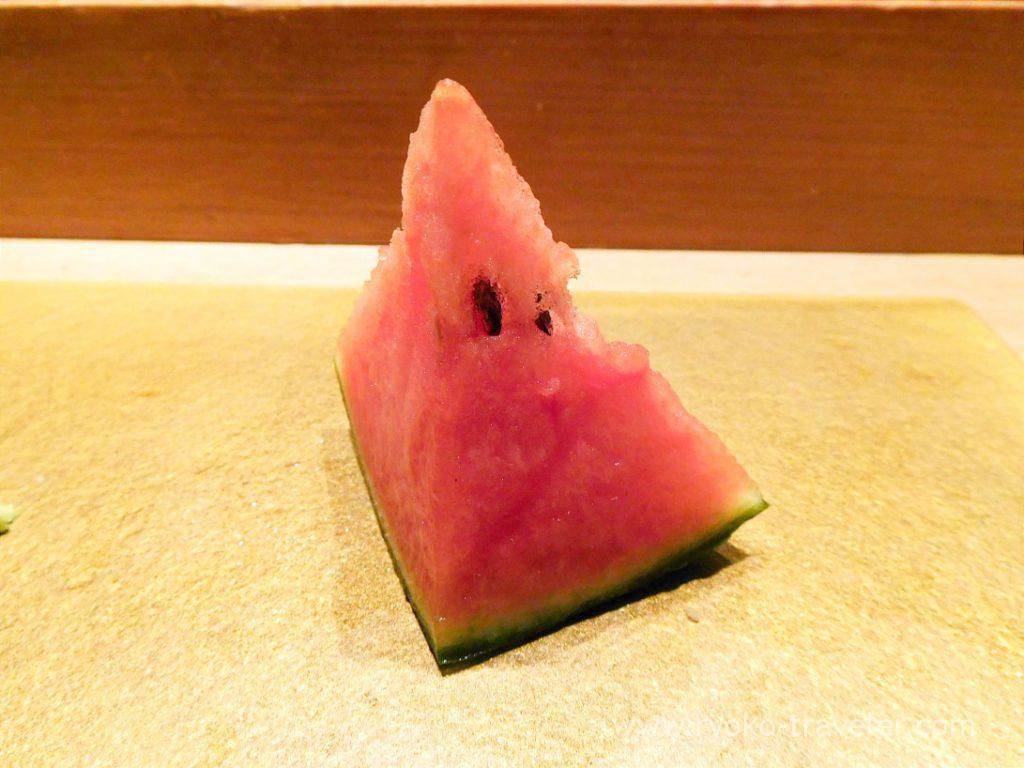 Their course is seasonal. All of their dishes and sushi is small, so we can enjoy many foods at one course. Especially I like their sushi. I wish they prepare only sushi set and serve quickly at lunchtime.
About

Name Manten Sushi Marunouchi / Manten zushi (まんてん鮨 丸の内店)
Open Lunch, Dinner
Credit card Available
Reservation Available
URL Website, Twitter, Instagram

Google Map