Speaking of shao long bao in Taiwan, everyone know "Din Tai Fung".But there's another great restaurant in Kaohsing. The restaurant's name is Long Bao dumpling Long pao tang bao(龍袍湯包).
龍袍湯包 means "Dumpling as same quality as dumpling that is served for emperor".
Where?
It's very close to Hanshin department store.
There's free bus between Central park station and Hanshin department store.
Interior and dupling menu
Though yellow and big signboard outside was outstanding, but its inside is not large. But it's clean and nice.
The pleasant lady speak Japanese a bit.
And also the menus have Japanese words !
There's a paper cup and tea pot on each table.
Foods are rather expensive. As you see, the soup dumplings have expensive ingredients !
And another they have many foods on the menus !
Of course, their standard steamed pork dumplings is popular, but top 2 of their foods is Steamed crab meat and pork dumplings and Steamed mullet roe and pork dumplings.
魚子湯包
This is Steamed mullet roe and pork dumplings (魚子湯包, 5pcs 250 TWD)
You can find something yellow thing on the top of the dumpling ? Yes. It's mullet roe.
Much mullet roe in it. Delicious. Because Kaohsiung is port town, they are proud of seafood. Mullet roe is one of their specialty.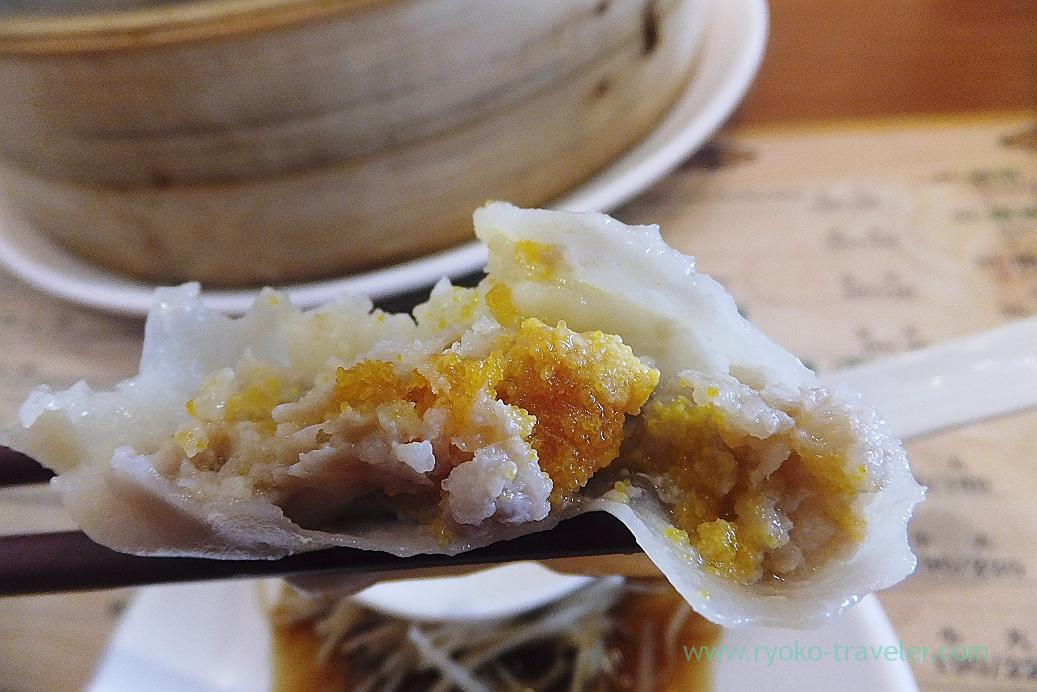 Hot and sour soup
Hot and sour soup (酸辣湯, 90 TWD) had much ingredients. For example, bamboo shoot, carrot, mushrooms, tofu and so on. Nutritious. It had mild sourness and not too spicy. I felt full with the soup dumpling and soup. Also they have hot and sour soup noodles.
Certainly, they are rather expensive compared with another restaurant in Kaohsiung. But I think it's worth to visit and eat.
About Long pao Tang pao (龍袍湯包)
Address / 高雄市苓雅區新田路375號
Phone / (07) 2510562
Open / 12 p.m. – 9 p.m.
Closed / no scheduled
Website / http://tangbao.com.tw/tangbao/main/
Credit card / Available
Reservation / Available
Smoking / Not permitted