There's long-established tonkatsu restaurant in Tsukiji. The restaurant's name is Katsuhei (かつ平). Katsuhei has started their business in 1983 (38th year of Showa period). Syotaro Ikenami used to be a regular customer of there. There're some chairs leaning against the wall. These are for waiting people ? 🙂
Katsuhei is not large restaurant. They have about five counter seats and some tables only. They don't accept reservation. Especially many people who have wide bodies and work around this area wait in front of the entrance. So, if you want to go there at lunchtime, I recommend you go to there before the opening time or past 1:40 p.m. They are open until 2:30 p.m.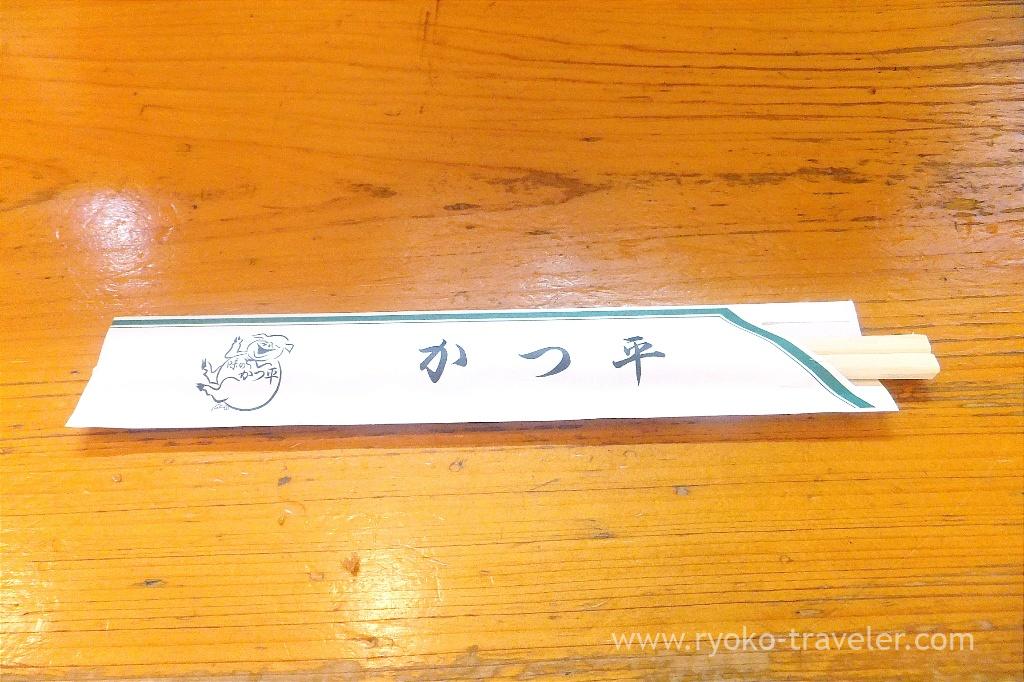 Menu is this.
There seems to be no English menus, but don't worry. There are only a few foods.
*Fillet tonkatsu and Ebi-furai set (ヒレ海老ライス) 1500 yen
*Sirloin tonkatsu set (ロースカツライス) 1150 yen
*Fillet tonkatsu set (ヒレカツライス ) 1050 yen
*Ebi-furai set (海老フライライス) 1050 yen
*Curry and rice with cutlet (カツカレー) 850 yen
Cooking tonkatsu takes much time. But if you are seated at the counter seats in front of the kitchen, you can see sound and smell tonkatsu cooked 🙂 I always sit down on this seat because I go there by myself. I wasn't boring at all !
Their No.1 food is this Sirloin tonkatsu set. Of course, Syotaro Ikenami loved it, too. This have quite fat. So, the waitress said to me, "It's a quite fatty part of meat. Is that right ?". Certainly, my friend can't eat it up.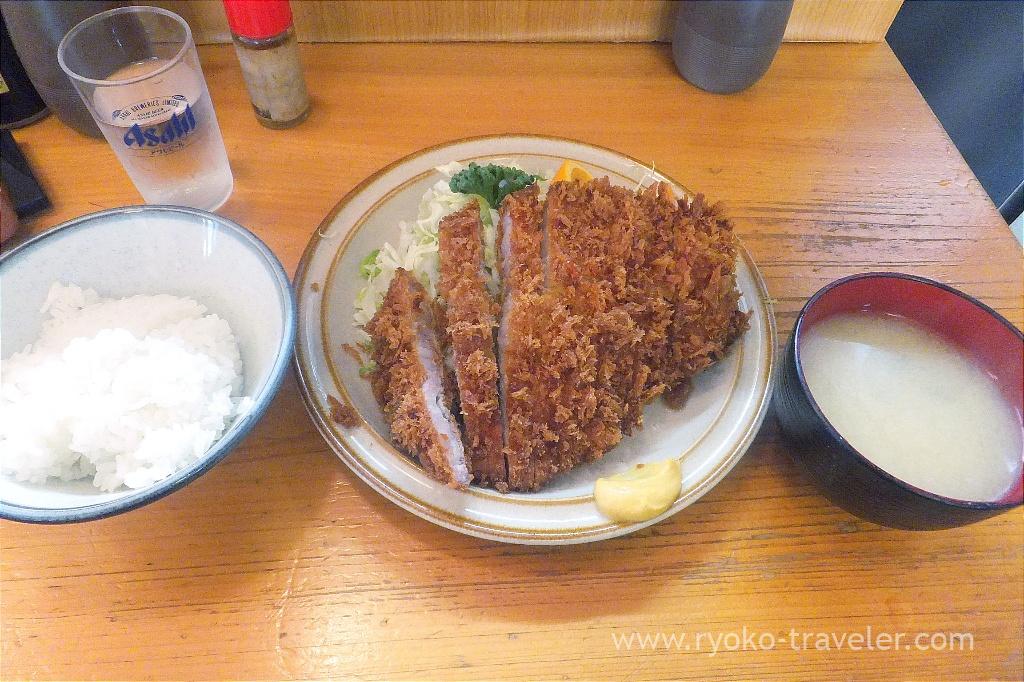 But I wanted to eat fatty tonkatsu that day. So, there was no problem. Its coating was so crisp but the meat inside had lots of meat juice ! It looks so large, but the meat was thin, so I could eat it up. Mustard is put on the dish, and there's salt, soy sauce, shichimi pepper, Worcester sauce and so forth on each tables. Fatty tonkatsu go with mustard well 🙂 I always need more mustard.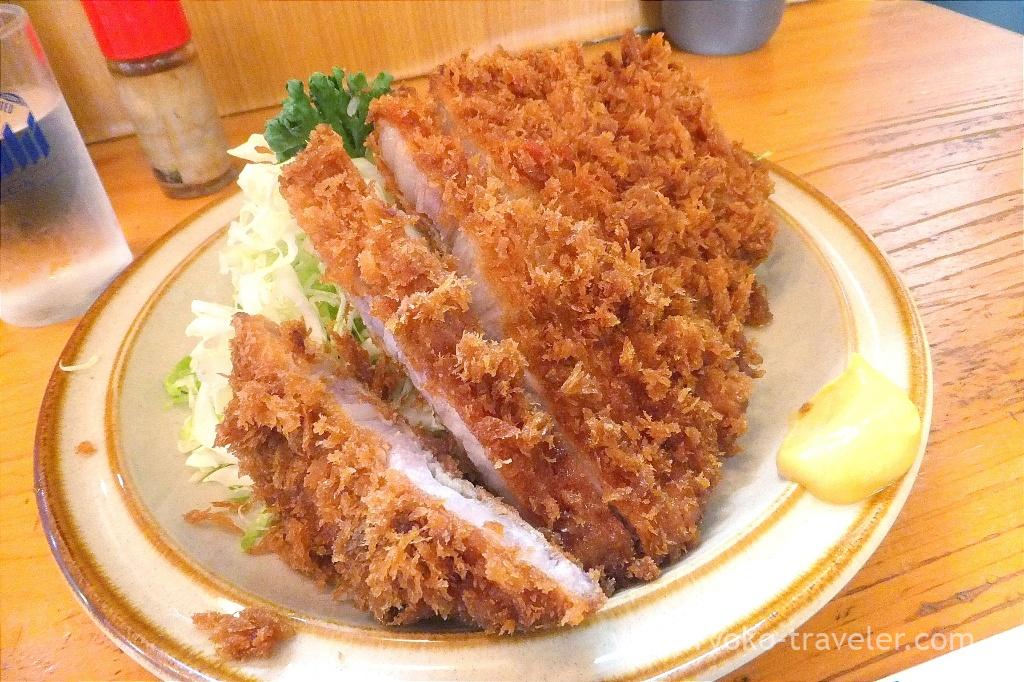 Napolitan and sliced orange gathering on the plate. I felt Showa period !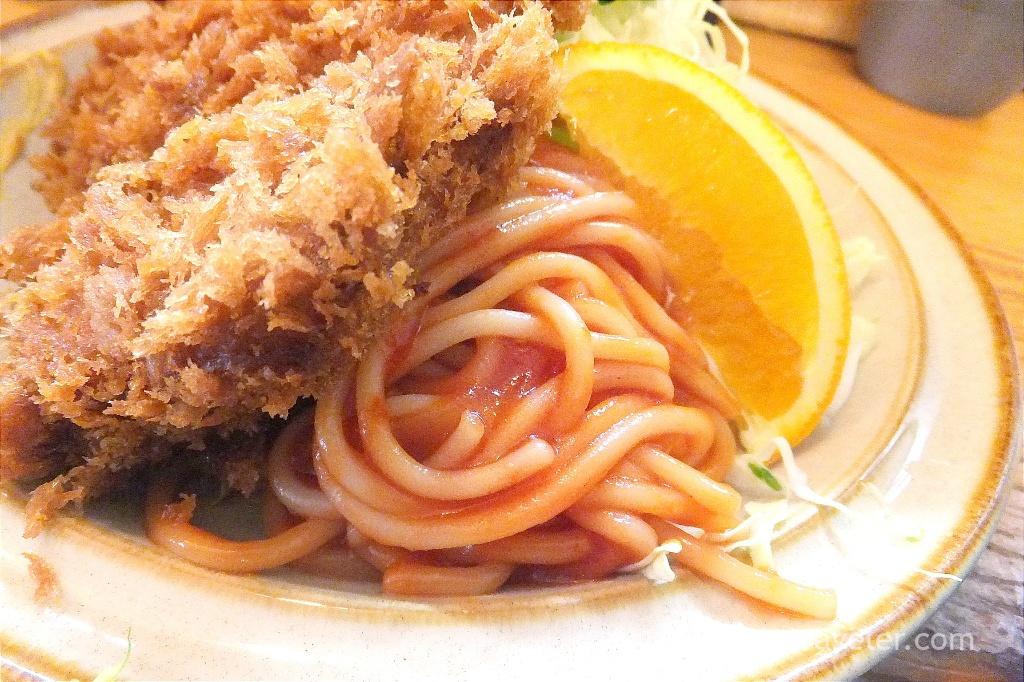 The waitress asked me of my rice's size when I ordered it. I answered smaller is good for me. That's right decision because so much shredded cabbage was hidden. Healthy.
And another day, I visited there to eat Fillet tonkatsu set. Fillet is not fatty part. So I wanted to eat it, too.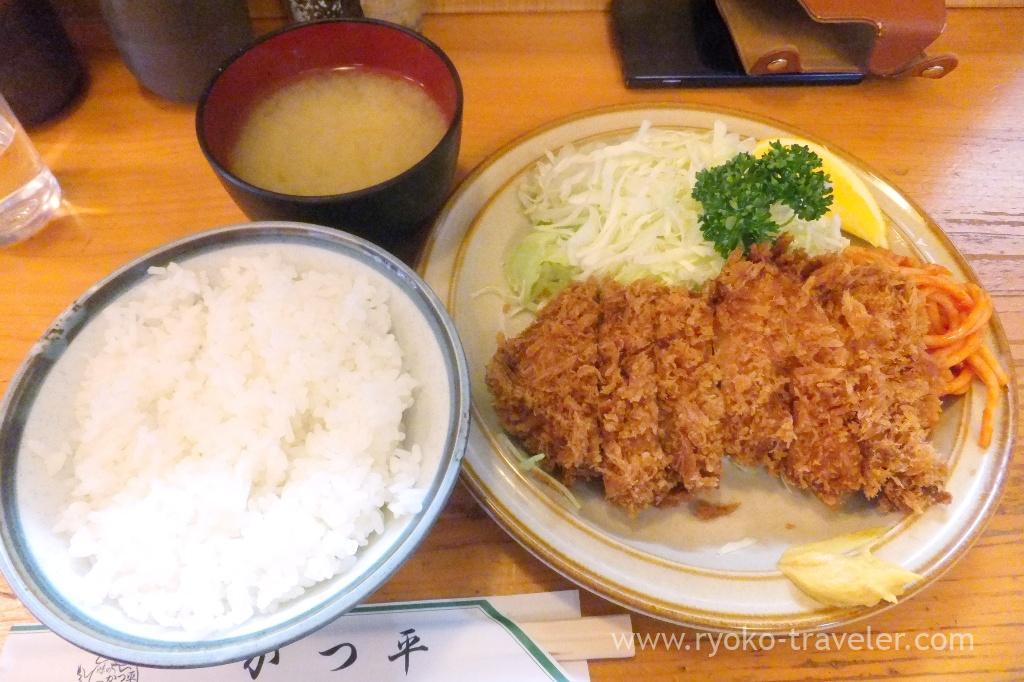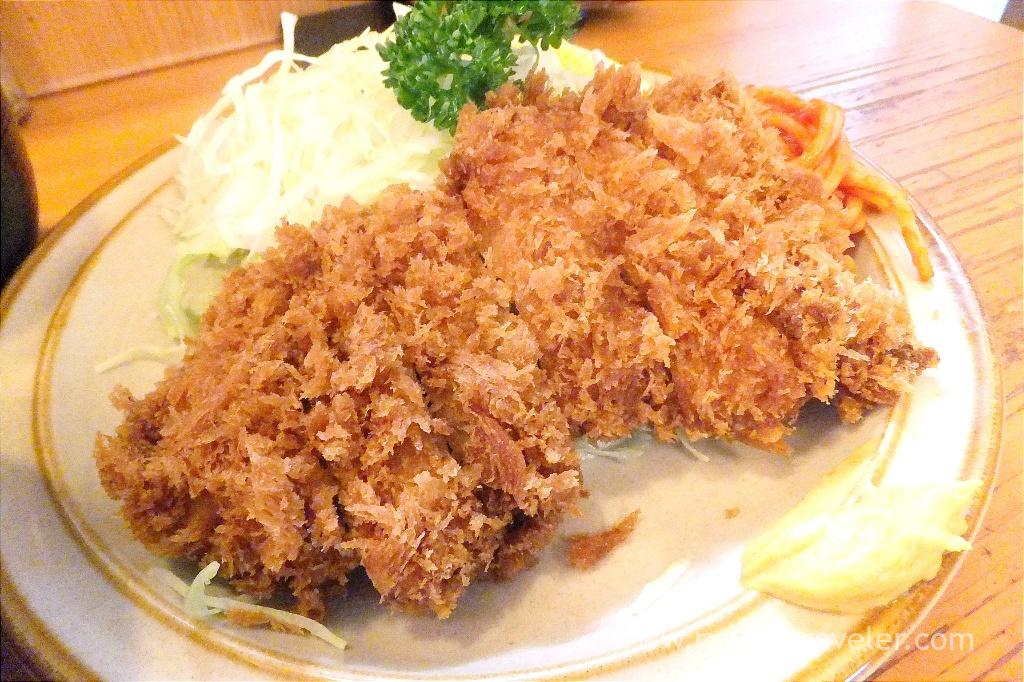 The section of the tonkatsu. It was enough juicy and delicious, but I like more fatty tonkatsu. Between sirloin and fillet of Katsuhei's is the best :p So I recommend sirloin tonkatsu at this shop all the same if you like fatty parts of meat.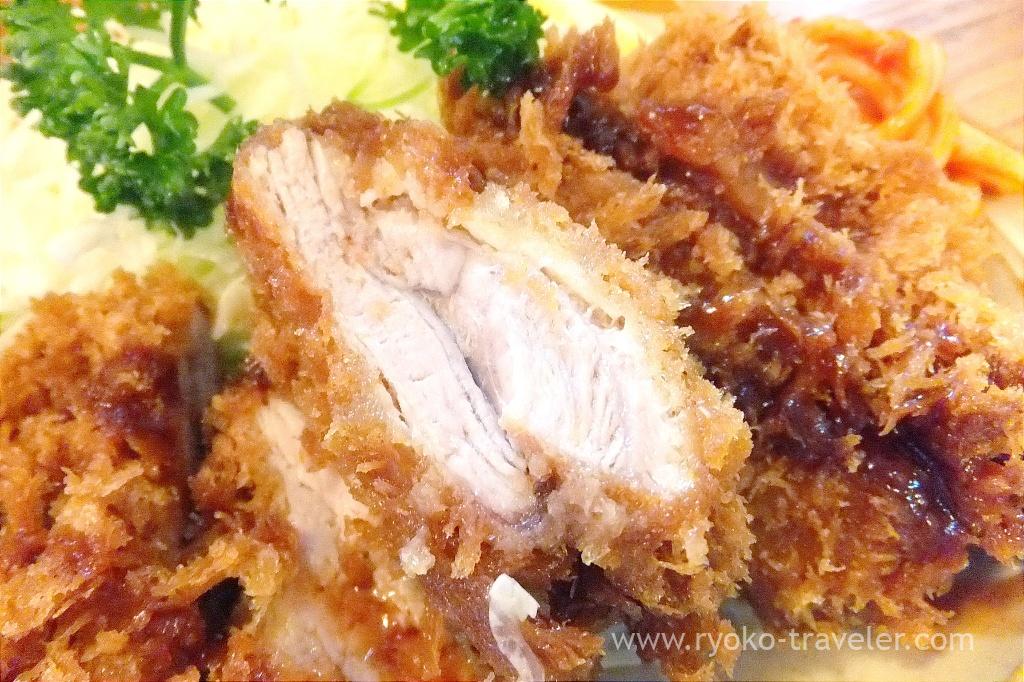 Shredded cabbage go with Worcester sauce.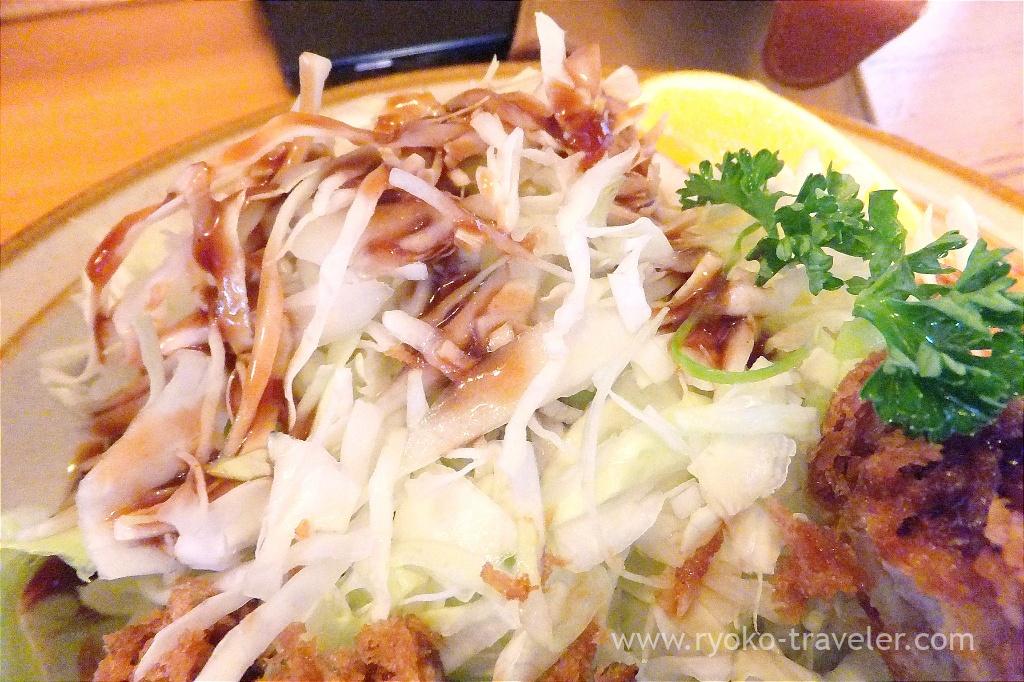 I like sirloin tonkatsu better than fillet tonkatsu, so I visited there again to eat sirloin tonkatsu in a week.
About

Name Katsuhei (かつ平)
Open Lunch, Dinner
Reservation Unavailable
Credit card Unavailable

Google Map