We heard that there is a restaurant that serving branded meats tonkatsu like black Iberian pig near Kanamachi station 🙂
Kanamachi is in the area of height above the sea level zero. I can't swim at all, so everytime I went to Kanamachi, I get antsy…
The restaurant name is Katsu (喝) The character looks cool on the woody plate.


Why the they such a thing is because The word "Job hunting" in Japanese contains the word "katsu"
But I'm afraid persons who don't get their job until the summer will be angry at the notice….

Menus.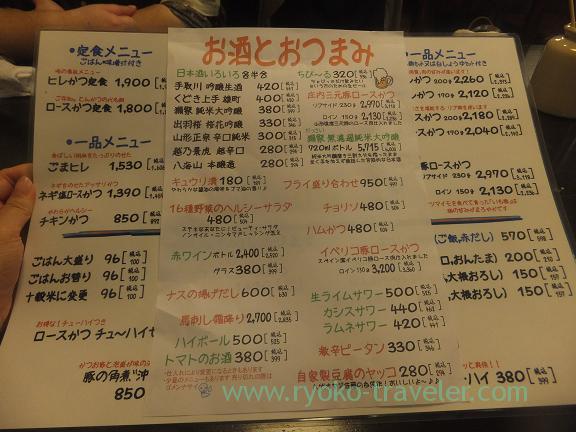 But to our great, great regret, they didn't have black Iberian pig !
And another, the restaurant serve some branded pork meats, but almost all branded pork meats wasn't there. (>_<)
There was only one portion of loin of Sangenton pork tonkatsu. Of course, we got it.
We disappointed, but we pulled ourself together and the tonkatsu party started.
*Appetizer.
Kimchi, pickled cucumber and smoked cheese

*16 kinds of vegetable healthful salads (16種野菜のヘルシーサラダ) 480 yen.


The vegetables weren't fresh. But the dressing was good 🙂
*Pickled cucumber (キュウリ漬) 180 yen.


Well, the same food was on the appetizer plate. But we needed such a refreshing taste for much tonkatsu.
*Deep fried eggplants into the boiling soup (ナスの揚げだし) 600 yen.


Umm..it had much oil in it….
*Extremely hot century egg (激辛ピータン) 330 yen.
I didn't aware of it while eating, but the dish is cute 🙂


As its name, it was so hot. But why century egg at tonkatsu restaurant ? 😛
*Assorted fry (フライ盛り合わせ) 950 yen.


Fillet tonkatsu, and chicken with cheese fry, Ham katsu( Ham fry)
*White soy sauce set (白醤油セット) 157 yen.
It is for tonkatsu. Dipping tonkatsu into the sauce. But I felt this restaurant's tonkatsu go rather with worcester sauce 😀


*Rice set (ごはんセット) 598 yen.


Too much rice for me ! Everyone except me ate up with easily,,, oh, great.
We ate
*Special loin tonkatsu (特ロースとんかつ) 2180 yen.
*Loin of Berkshire pig from USA tonkatsu (アメリカ産黒豚とんかつ ロイン) 1680 yen.
*Loin of Sangenton pork tonkatsu (庄内三元豚ロースかつ) 2970 yen.
*Special fillet tonkatsu (特ヒレカツ) 2260 yen.
etc
about six dishes ?
But I like Special fillet tonkatsu best. Next, Sangenton pork tonkatsu.


I took all kinds of tonkatsu picture, but every pictures looked same, so I uploaded only this picture.

Instead of that, here's section of tonkatsu 🙂

So fat meat 🙂