When I visited Kyoto in April, I had dinner at Kanesho (かね正) in Gion-Shijo that is so popular as Kinshi-don.
Where ?
They are located at the back of street. So, it's difficult to find.
You may go through in front of the restaurant when you visit there for the first time. I did, too.
The entrance is between the post office and the small building. So, you'd better find the post office at first.
Kanesho was born in Gion as eels restaurant about 150 years ago.
Reservation
There're 6 counter seats and 2 tables having 4 seats each. They're small restaurant.
They don't accept reservation for lunchtime and I heard that we have to wait for 1 or 2 hours or so.
But they accept reservation for dinner time. And mostly seats are full with reservation at dinner time. So you'd better reserve if you visit there at dinner time.
Over half of people in the restaurant was from abroad when I visited there.
But they don't accept reservation on phone except Japanese language.
Fortunately I could reserve one seat just before leaving for Kyoto nevertheless during best cherry blossoms season.
Menu
This is food menu. Eels only. They have drinks menu, too.
Don't worry. They prepare English and Chinese menu.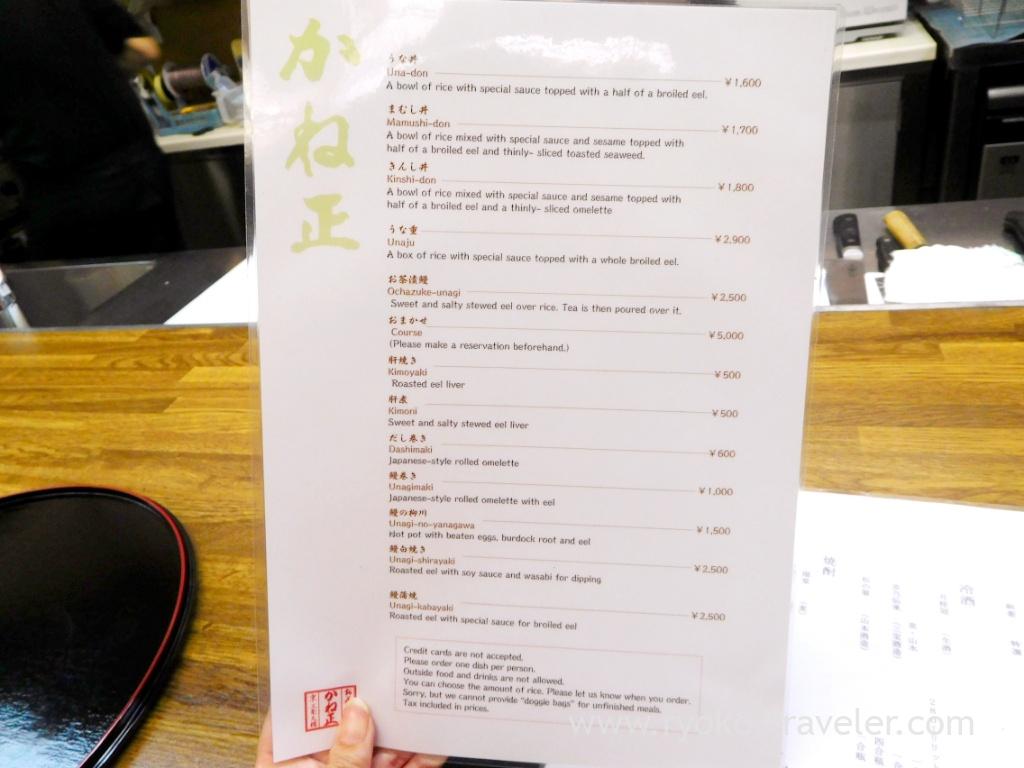 After they took our order, they put tray, chopsticks and pickles on our each tables. Cooking eels take much time. But drinks were served quickly.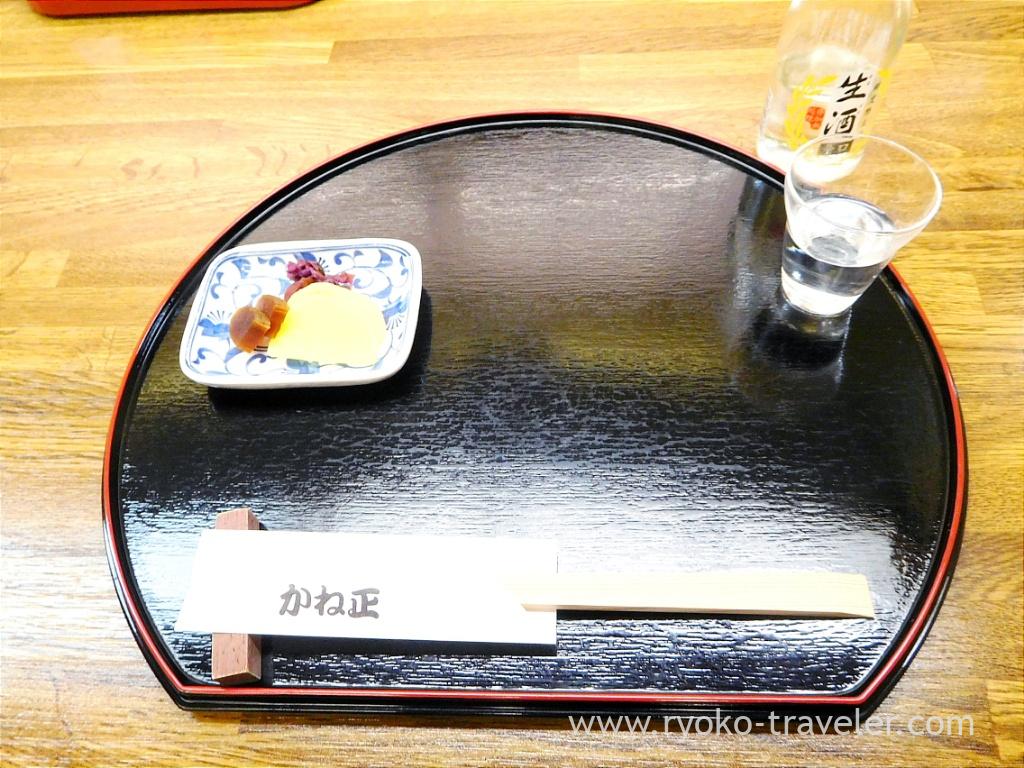 Though it's simple kitchen, it's clean and tidy.
The burning tool is at the left. As soon as he started to grill eels, smells of eels grilling attacked us.
Yummy foods that I had
Kinshi don
Maybe over 90% of people who visit there would order this Kinshi-don (きんし丼, 1,800 yen). It took about 30 minutes to be served.
What is Kinshi-don ? "Kinshi" is shredded egg crepe (thinly cooked tamagoyaki)
Grilled eels on the rice is covered with much kinshi. So, eels can't be seen.
Kinshi was so soft. Eels and rice are seasoned with soy sauce-based sauce, But kinshi is seasoned very lightly.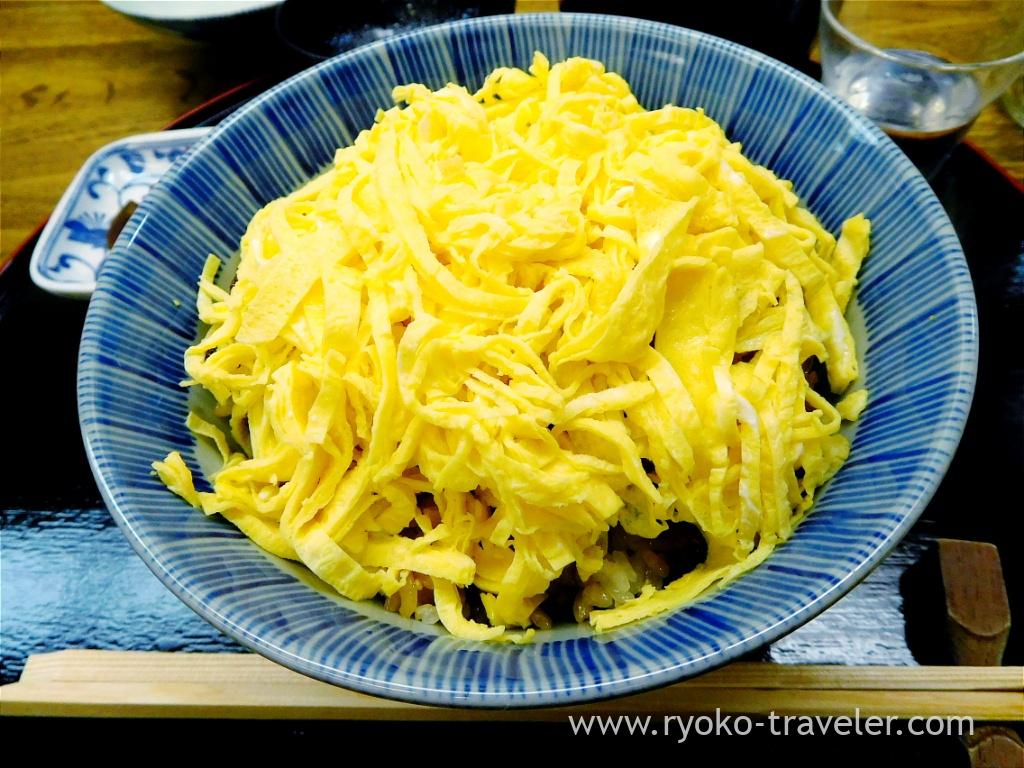 Of course, it have enough eels under kinshi ! They cut domestic eels as Kanto-style but grill and don't steam as Kansai-style.
Though they don't steam eels, but my eels were steamed by kinshi while taking photo. The eel was rather light and wasn't so fatty. Ah, it's effect of kinshi ?
Rice was mixed well with sauce in advance. So, even if you finish having eel and kinshi, you won't leave rice 🙂
There's Black Shichimi togarashi, Ichimi togarashi and sansho pepper on each table.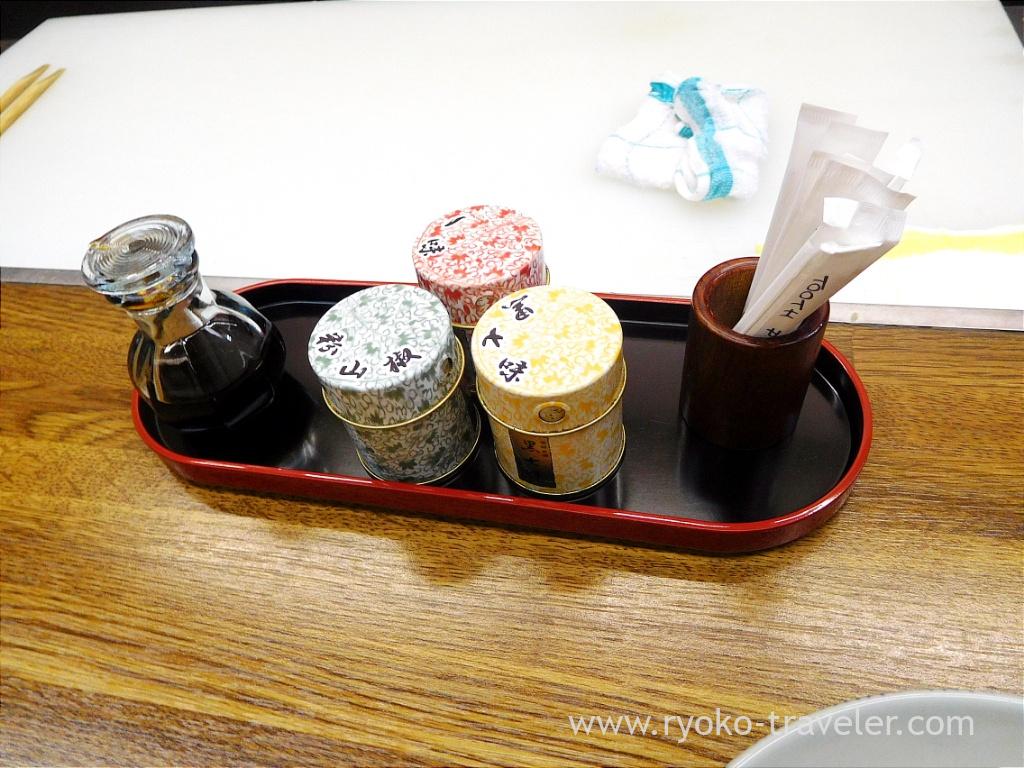 So I enjoyed some tastes. Black Shichimi was good. But sancho pepper went with eel very well all the same. I recommend counter seats if you visit there because we can see the kitchen very well. They grill eels, cut eggs, mix rice and sauce altogether…. they do everything in front of us. So, I wasn't bored with waiting for 30 minutes. And people at the table seemed to get tired.
Kimoyaki (Roasted eel liver)
I ordered kimoyaki (肝焼き, 500 yen), too. I thought eels' livers with skewer would be served. But eels' livers were served on the small dish. Because it was fresh, it didn't have bad smell and it had springy texture. But as well as eels bowl, it takes much time (about 20 minutes). So I drunk my Japanese sake very slowly because I wanted to eat it with alcoholic drinks :p
Enjoying Gion at night was affordable and multicultural.
About the restaurant
Name in English / Kanesho
Name in Japanese / かね正
Address / 155-2 Tokiwacho, Higashiyama-ku, Kyoto-shi, Kyoto
Phone / 075-532-5830
Open / 11:30 a.m. – 2:00 p.m., 5:30 p.m. – 9:30 p.m.
Closed / Thursdays, Sundays
Reservation / Available for dinner time only
Credit card / Unknown
English menu / OK