Speaking of Lu rou fan (braised pork rice) in Taipei, Jinfen Braised Pork Rice (金峰魯肉飯) close to Chiang Kai Shek memorial hall is so popular. Actually, when I went to there, there were so many people waiting in front of the shop.
They have two lines. Left is "to go" (外帯), and right is "for here"(内用). Both lines were long. I wanted to eat foods inside of the shop, so I followed the right line.
Foods are cooked at outside of the shop. Good smell attack pedestrians.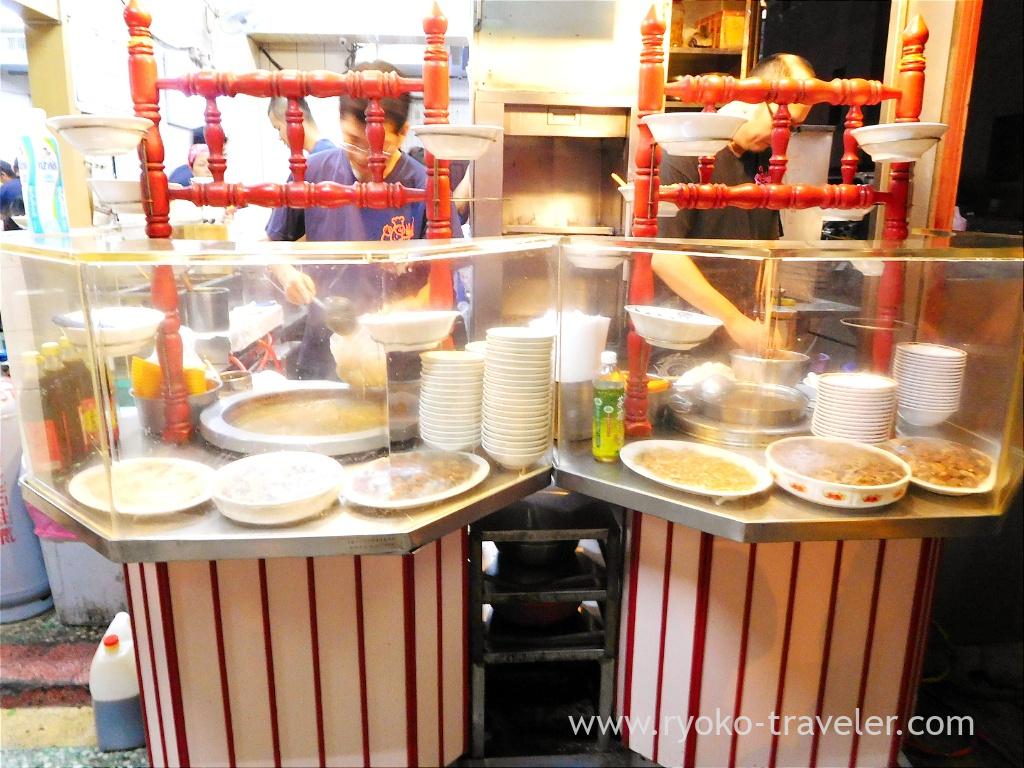 Though there were about 30 people following the line, but I was seated in 15 minutes. They don't serve drinks and they serve foods quickly, and everyone get out of the restaurant as soon as they finish eating. The staff recognized that I can't speak Chinese and he thought I'm Japanese, and then he spoke simple Japanese 🙂
As soon as I was seated, I wrote on the order sheet what to eat. I learned in advance, so there was no problem. But the staff kindly handed menu having photo, Japanese and English words with this order sheet. After I wrote on the sheet, I handed it to him. By the way, I was surprised at the word "頭髄湯". It's soup with chunks of pork brain in it. I was interested in it, but I didn't have the courage to order.. I think its looking is like soft roe. I love soft roe. But..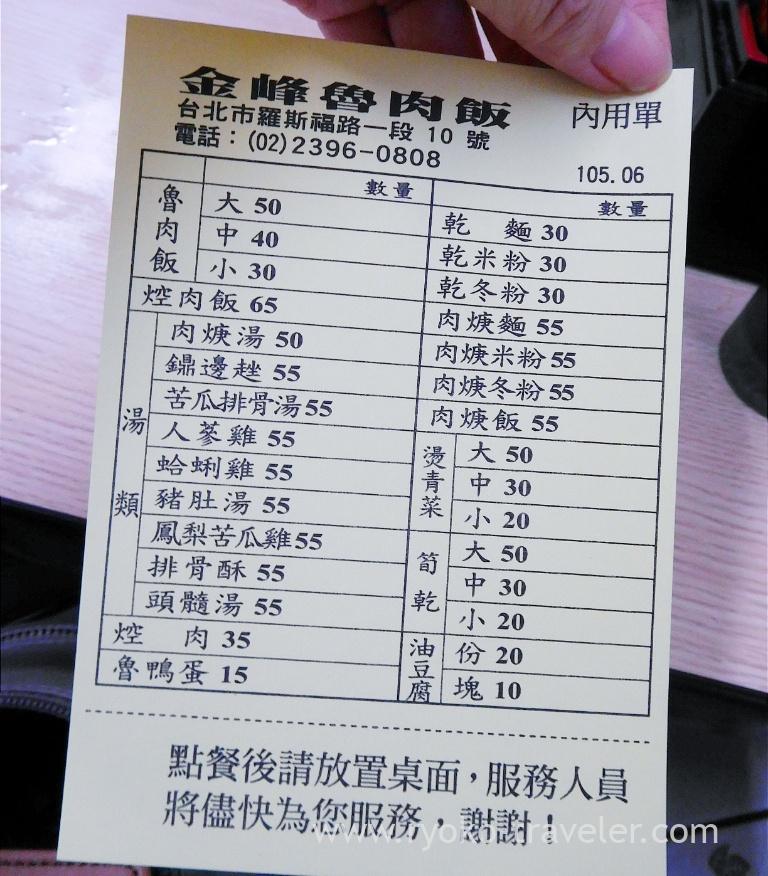 Lu rou fan (Braised pork rice) is their specialty. They have three sizes of Lu rou fan. Medium size is 40 TWD and large size is 50 TWD. Small is suitable for me. I usually eat rice in such a size of bowl at home. It didn't have much meat. I wanted to eat more. But braised meat was tasty. And much sauce soaked into the rice. It didn't have much smell of star anise, so it's easy to eat.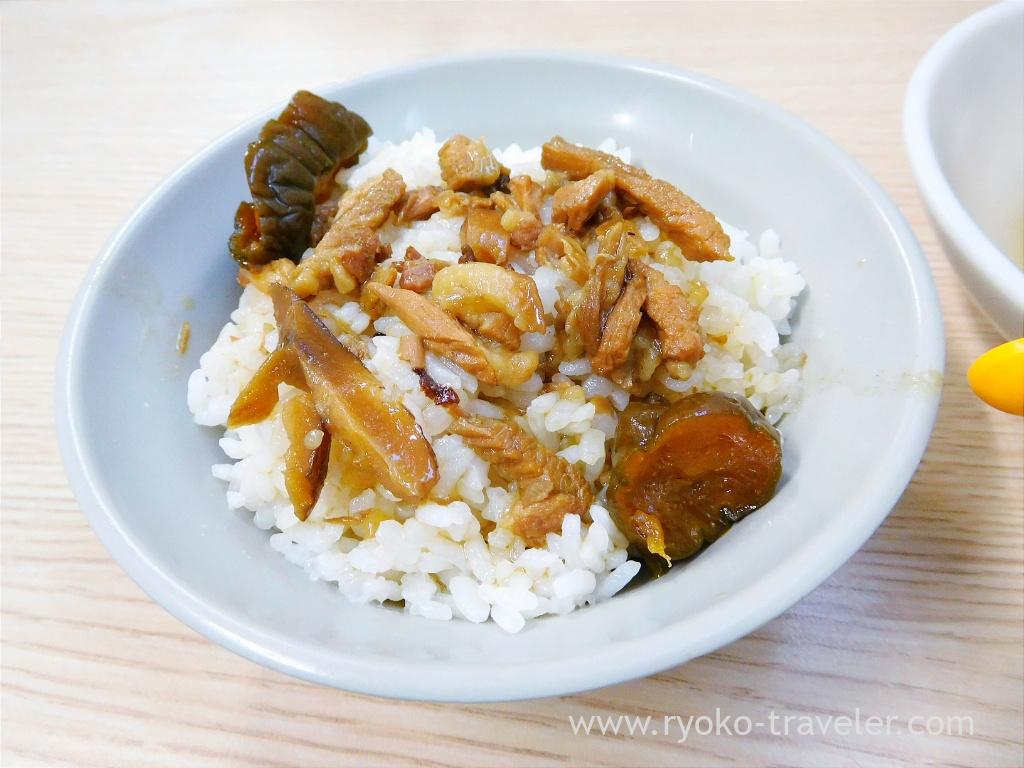 If you want to eat Lu rou fan with much smell of star anise, I recommend Huang Ji braised pork rice close to Shuangcheng Street.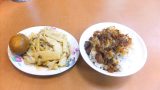 [Taipei] Huang Ji Braised Pork Rice (黃記魯肉飯)
I found Huang Ji Braised Pork Rice (黃記魯肉飯) when I walked around night market nearby. I knew they are so popular restaur...
Boiled green vegetable. Also it have three size. Medium is 30 TWD and large is 40 TWD. Vegetable that is used for it is seasonal green vegetables. It was Chinese water spinach that time. It was seasoned with soy sauce and garlic. The Chinese water spinach had crunchy texture. If you visit there alone, small size is the best.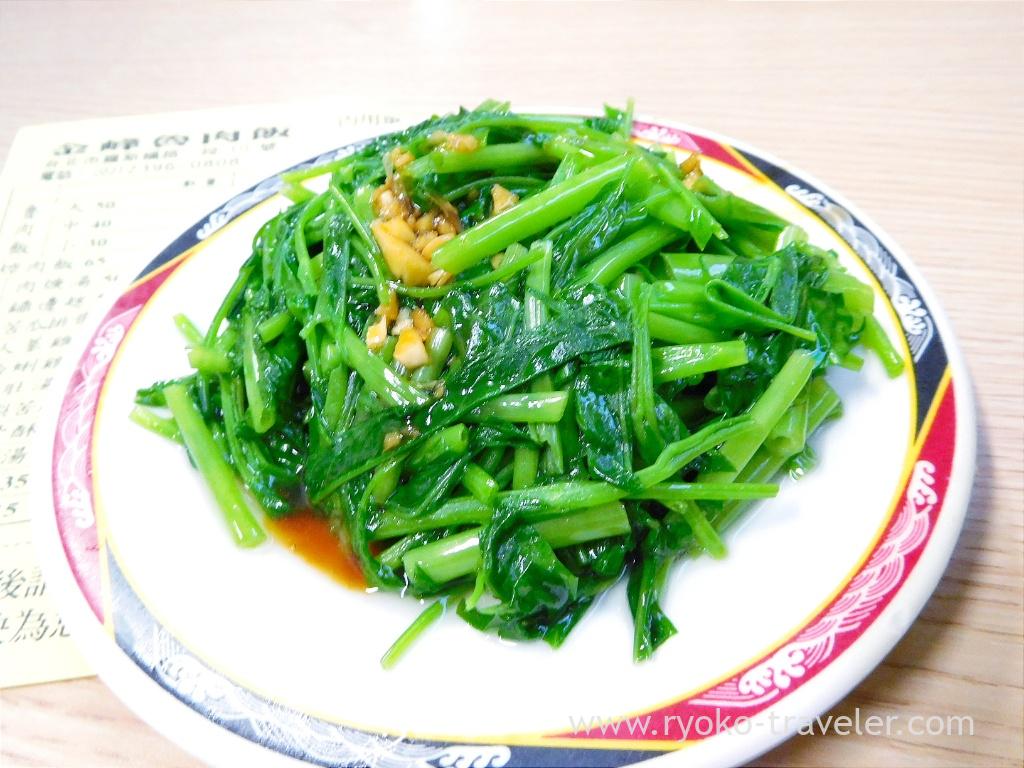 Pork innards soup had pork innards and much winter melon. The soup was seasoned very lightly. I felt it's not soup because the ingredients occupied the bowl. The soup was hard to scoop :p Water melon occupied the bowl. It's hard to get pork innards, too. But good.
About

Name Jinfeng Luroufan (金峰魯肉飯)
Open Day through night
Reservation Unavailable
Credit card Unavailable

Google Map