Honetsuki-dori is a local food of Takamatsu of Kagawa prefecture. Honetsuki-dori means "Chicken with bone". It is Grilled chicken with bone with soy sauce, salt and pepper only. There's a branch of popular honetsuki-dori restaurant named Ikkaku (一鶴) close to Yokohama station.
I heard they are very popular and always fully booked during dinner time. So, you'd better reserve in advance if you visit there at the middle of dinner time.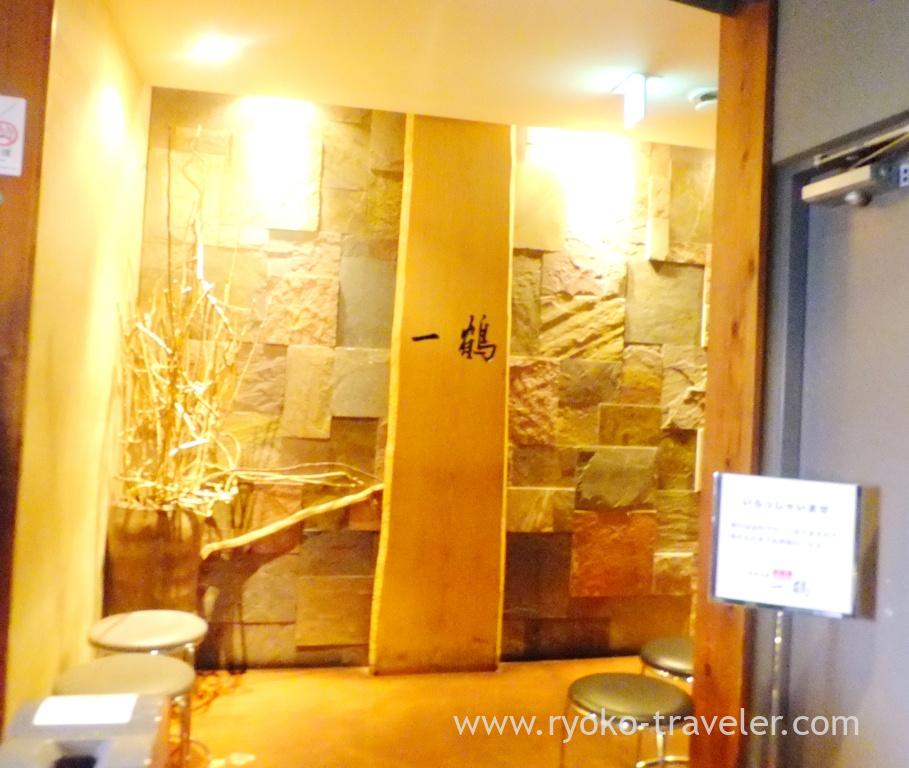 Where?
It's very close to Yokohama station.
Yummy foods that I had
Not only honetsuki-dori, but also they serve many foods.
Squeezed grapefruits sour
I chose my drink squeezed grapefruits sour (生搾りグレープフルーツサワー, 541 yen). They served sour and half of grapefruits separately. So, I squeezed grapefruits and then pour the juice into the sour. It's fun ! And the flavor of fresh grapefruits was good.
Caesar chicken salad
Caesar chicken salad (シーザーチキンサラダ, 596 yen). It's simple caesar salad. It didn't have much chicken meat on the dish. But good.
Honetsuki-dori / baby bird
Speaking of honetsuki-dori, there are two species. Elder bird and baby bird. Ikkaku have, too.
This is Honetsuki-dori baby bird (骨付き鳥 ひな鳥, 941 yen). We ordered one per one. It's the perfect decision. Baby bird was so fatty and juicy. Can you see much fats ? But not greasy at all. Everyone ate it up soon like beasts.
Honetsuki-dori / senior bird
We shared this Senior bird (骨付き鳥 親鳥, 1062 yen). The older bird was chewy. But we liked it, too. It was seasoned with salt and pepper strongly as well as baby birds. This tastes went with fresh grapefruits sour very well.
Chicken ham
Chicken ham (とりハム, 596 yen) was soft and good. Basil sauce went with the ham well. But I don't want chef to put small tomatoes on the ham.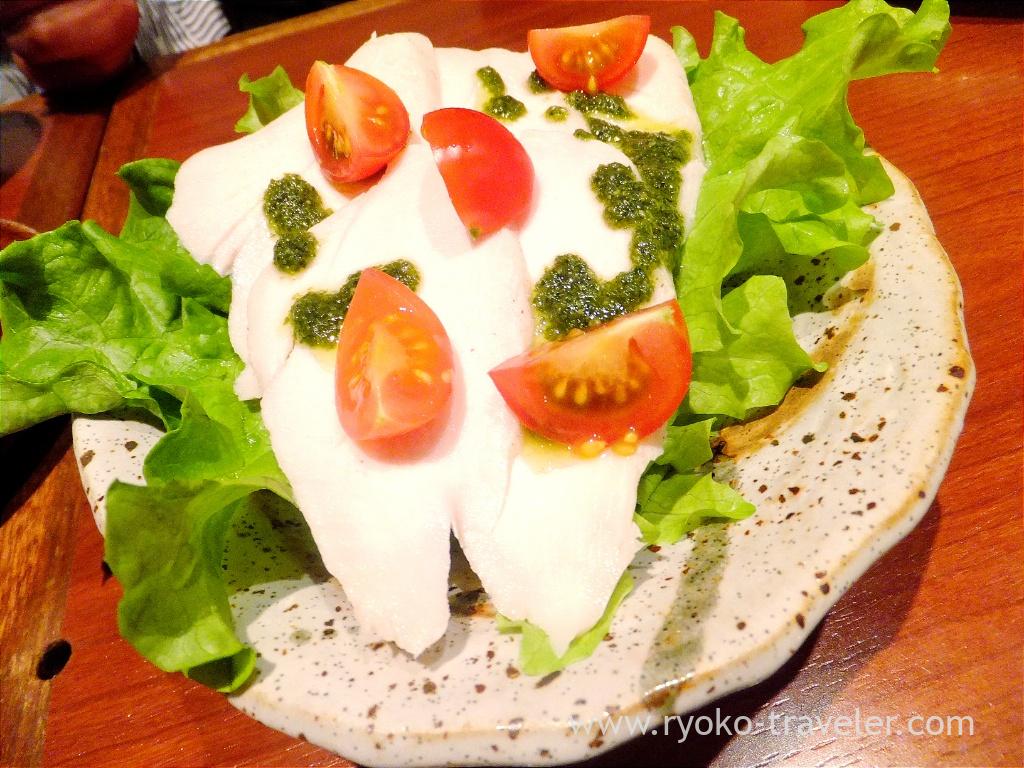 Chicken rice
Last, we ate rice. Chicken rice (とりめし, 486 yen). Contrary to the strong flavor of honetsuki-dori, it had mild tastes. It have soup, too.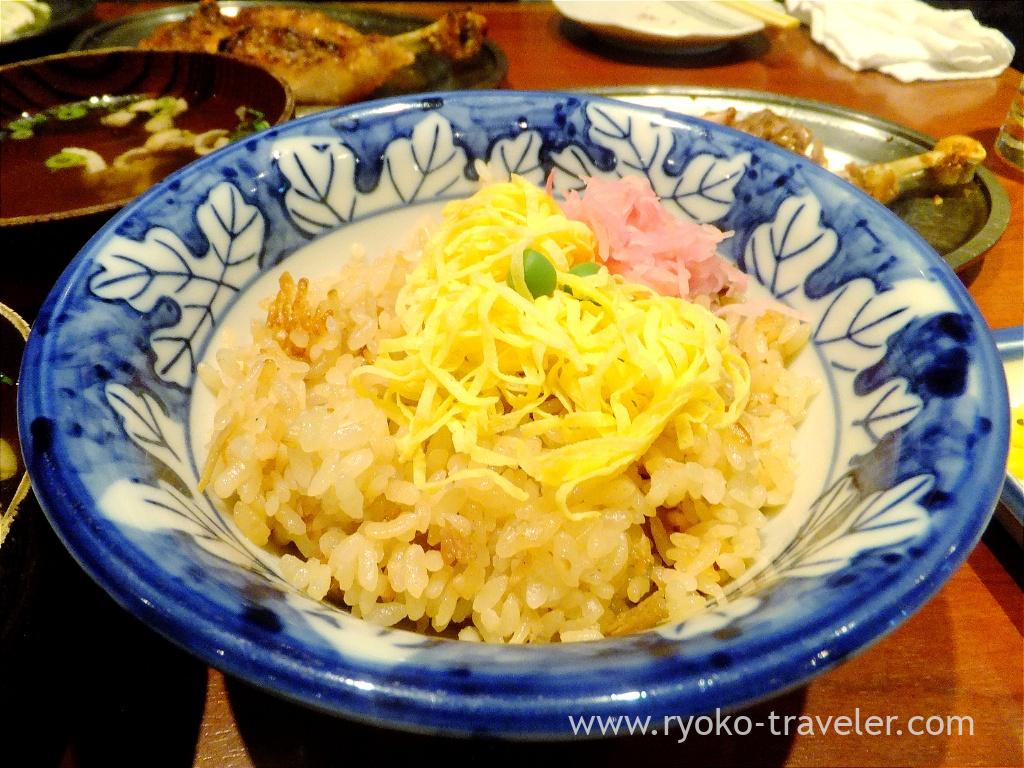 Shoyumame ice cream
Shoyumame ice cream (醤油豆アイスクリーム, 325 yen) as dessert. Simply speaking, shoyumame is parched beans marinated with soy sauce and sugar. It's also a local food in Kagawa prefecture . I think it's not common flavor for ice cream. But it's not salty and it didn't have much tastes of soy sauce. It's normal ice cream. Salty just a bit.
About the restaurant
Name in English / Ikkaku Yokohama Nishiguchi gate branch
Name in Japanese / 一鶴 横浜西口店
Address / Tino building 6F, 2-15-1 Minami-Saiwai, Nishi-ku, Yokohama-shi, Kanagawa
Phone / 045-317-1708
Open / 5 p.m. – 11 p.m.
Saturdays, Sundays and another national holidays / 11 p.m. – 11 p.m.
Close / No scheduled
Reservation / Available
Credit card / Unavailable
URL / Website