I visited a stand-up-eating izakaya in Shimbashi area. The shop's name is Heso Shimbashi head shop (立呑処へそ 新橋本店).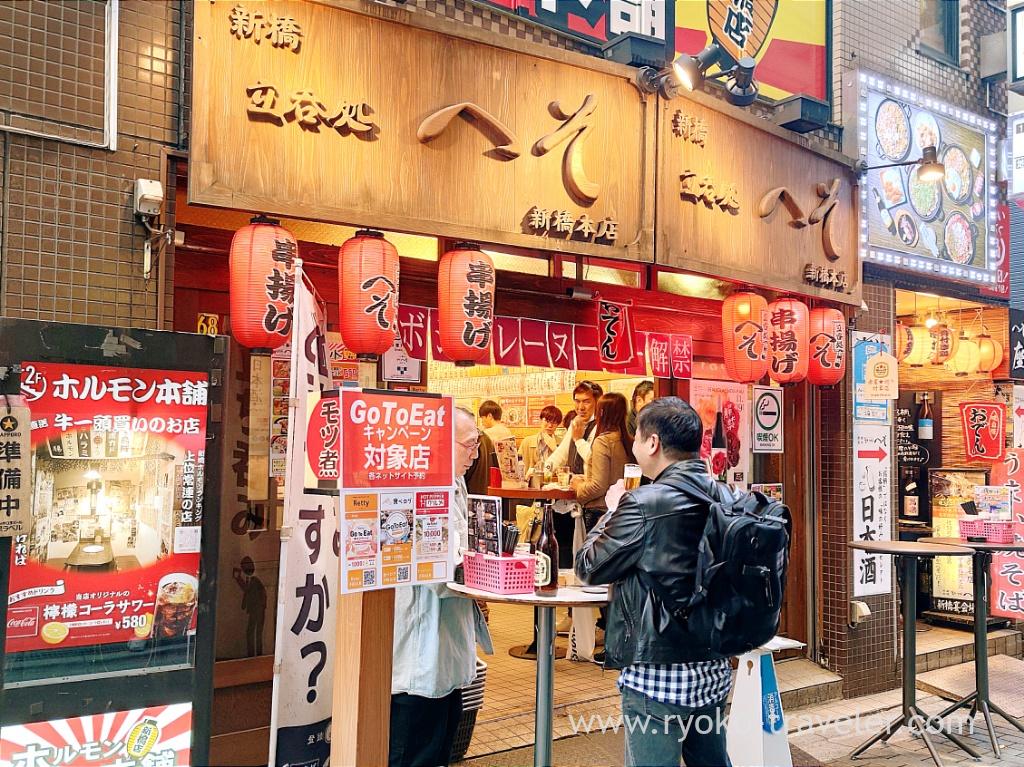 1st floor is stand-up-eating area and B1F have table and chairs. 1st floor is available without charge, but B1F need 190 yen as charge. I use stand-up-eating area every time.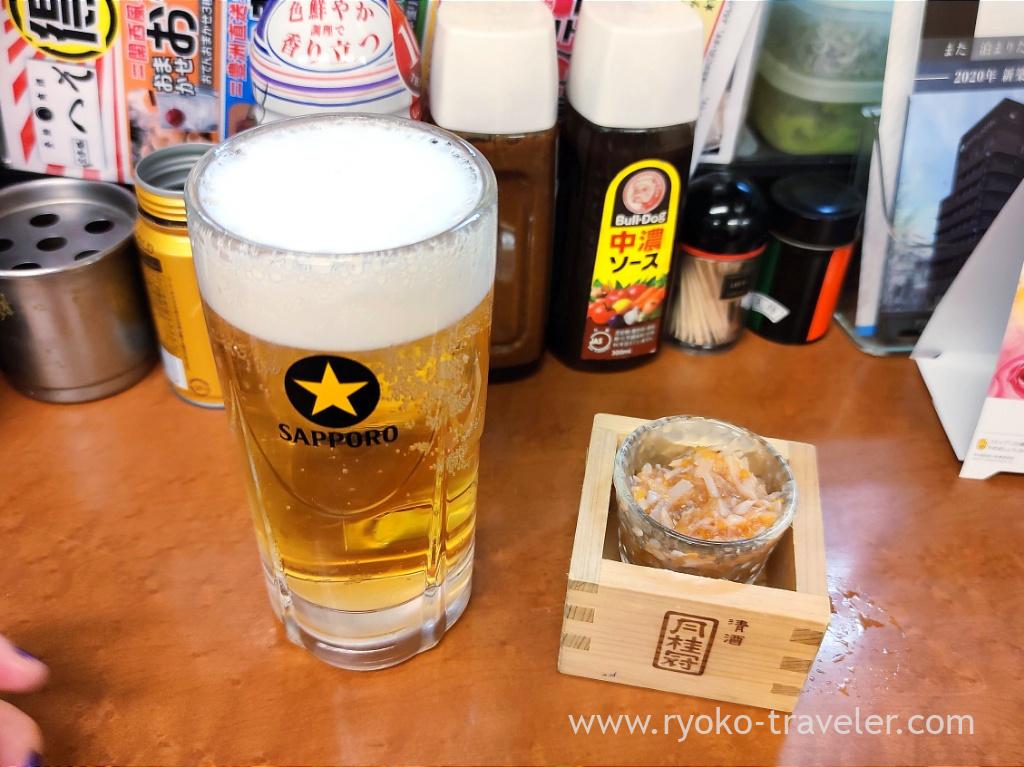 This is valuable set. It's available to order just one by per one person. Especially, they are proud of Wagyu beef steak in its quality. They show beef meat at the counter.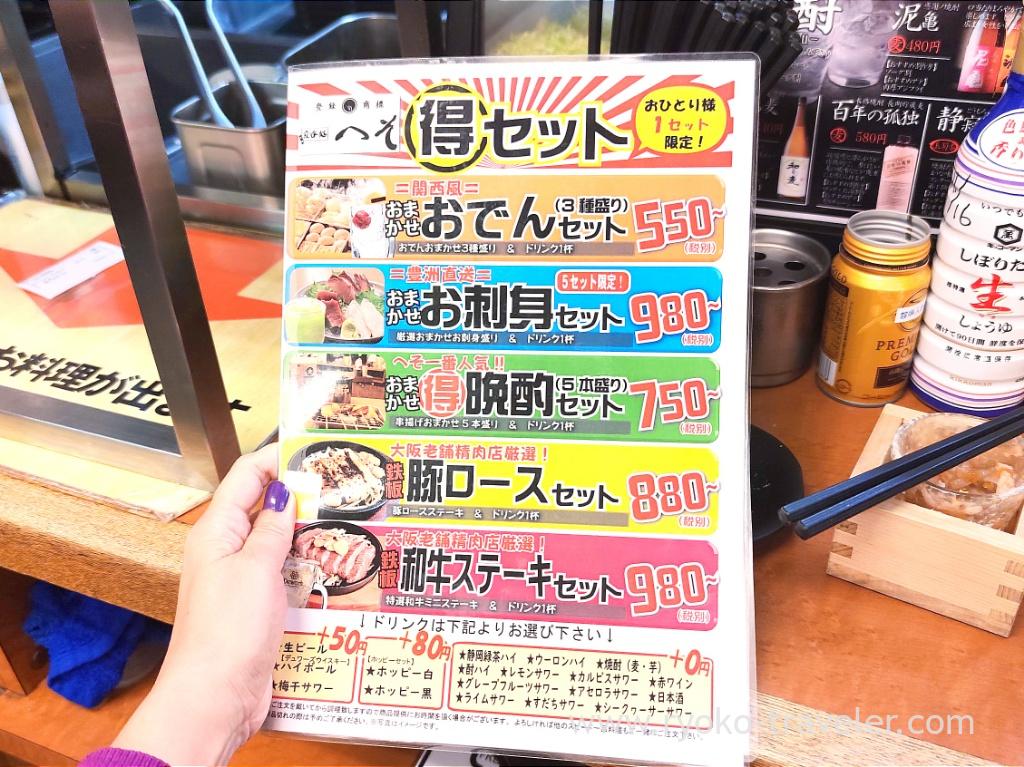 They have a variety of foods. I thought they are kushiage shop before visiting, but they have sashimi, oden, teppanyaki and so on…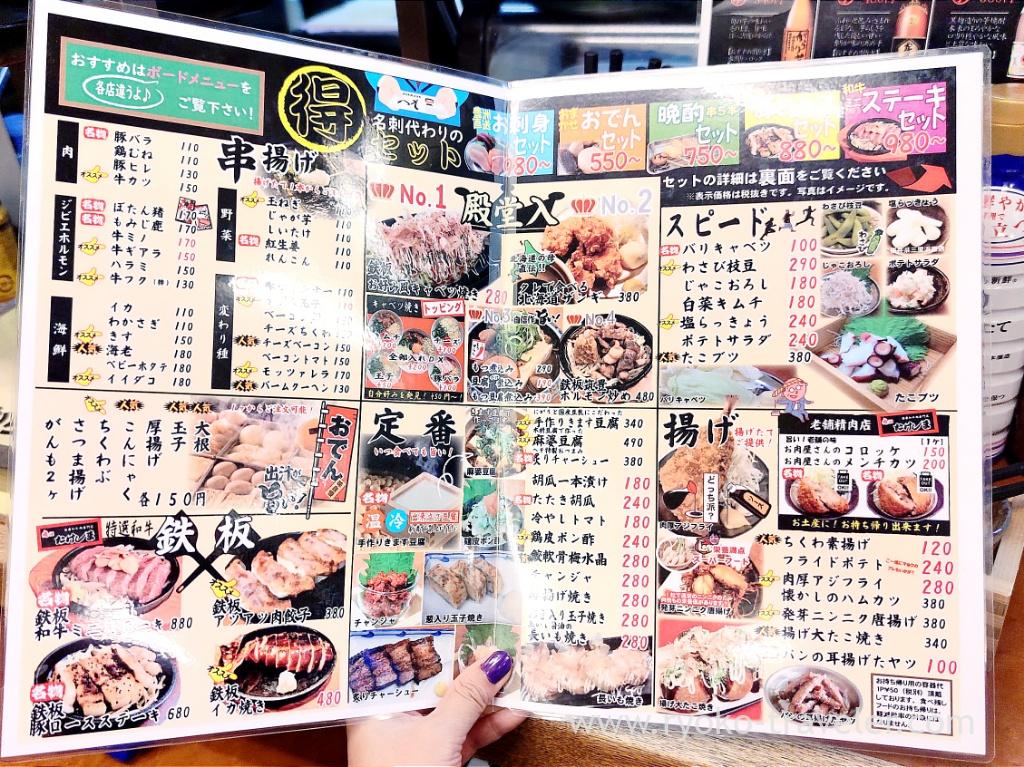 And another they have blackboard menu of the day.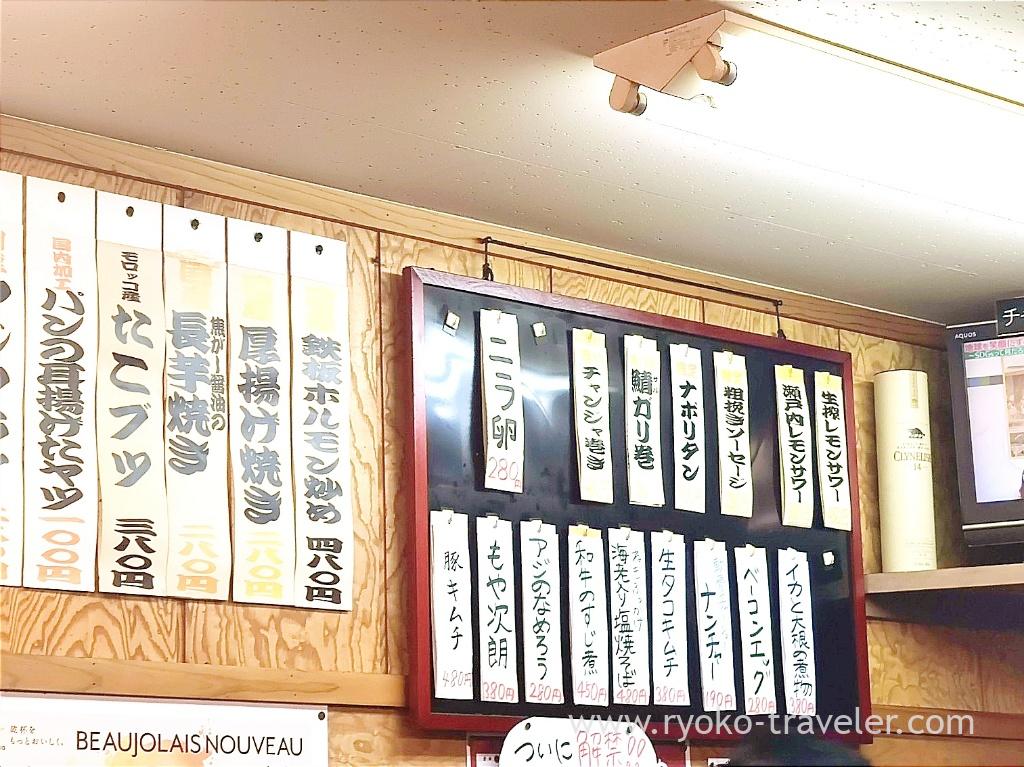 Also they have a variety of drinks. Beer, sour, highball, hoppy, shochu and so on. Price is normal as stand-up-eating izakaya. Though I didn't order this time, Oro C highball attracted me. It's Oronamin C sour. Umm. Oronamin C is my delight. I want to try it in the near future. They offer draft beer 290 yen, and sour 180 yen on weekdays until 6 p.m.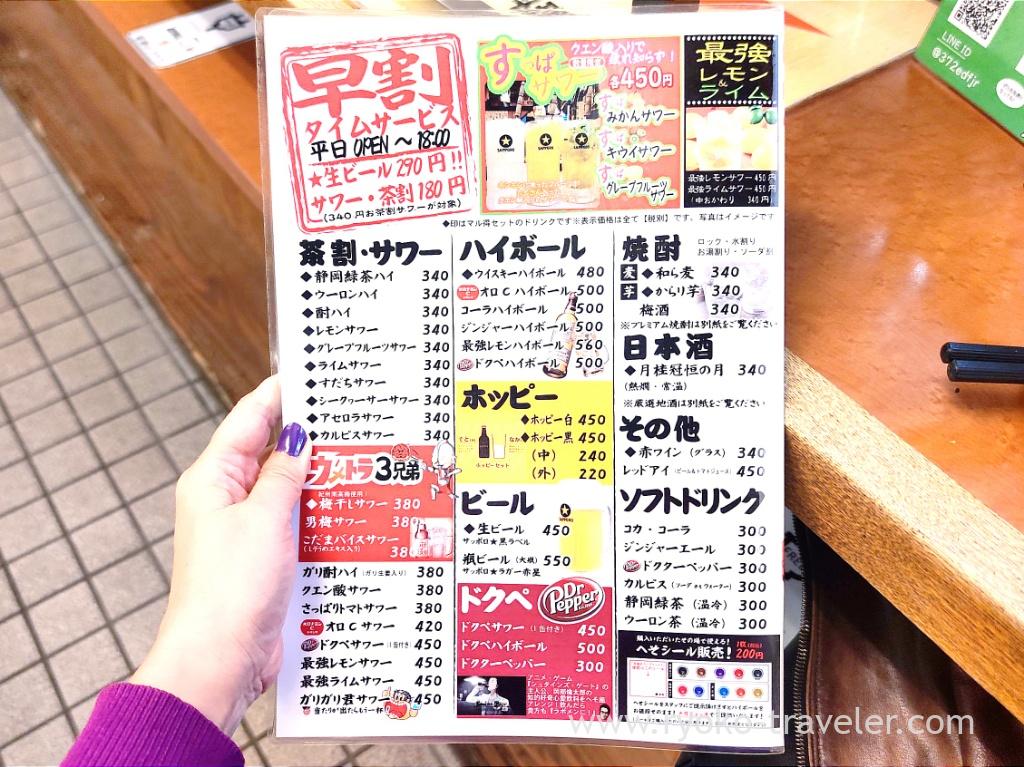 They have some good Japanese sake, shochu, whiskey. I found Ichiro's Malt and Hakusyu on the menu.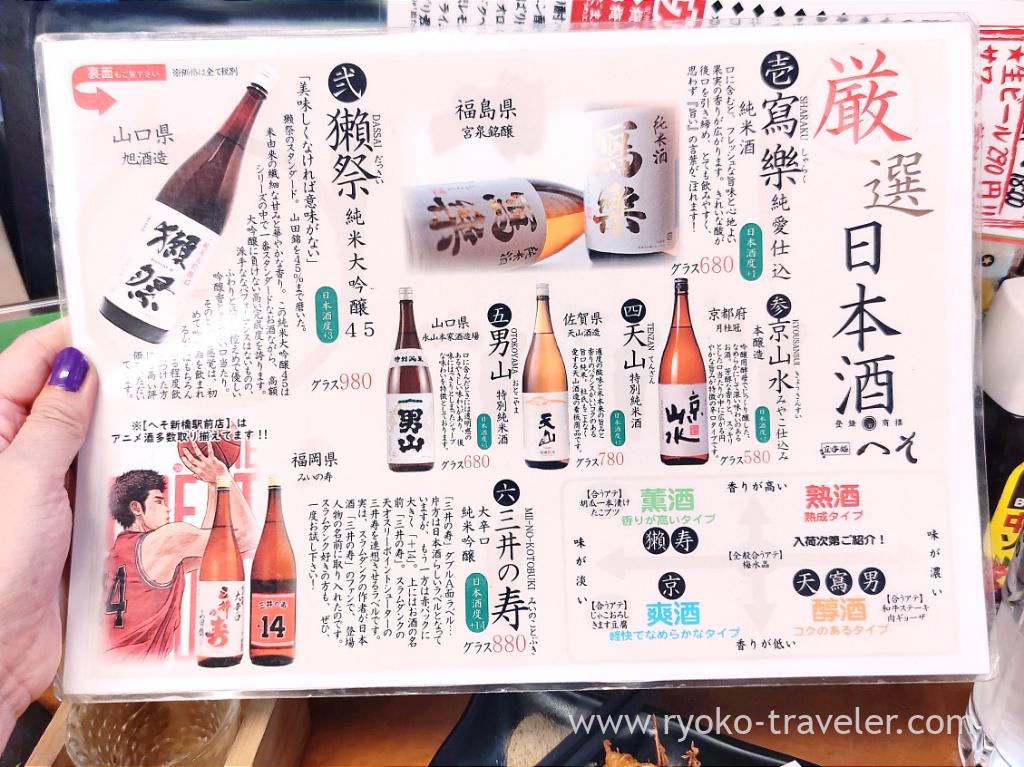 I chose Sharaku Junai (写楽純愛) because they recommended it with steak.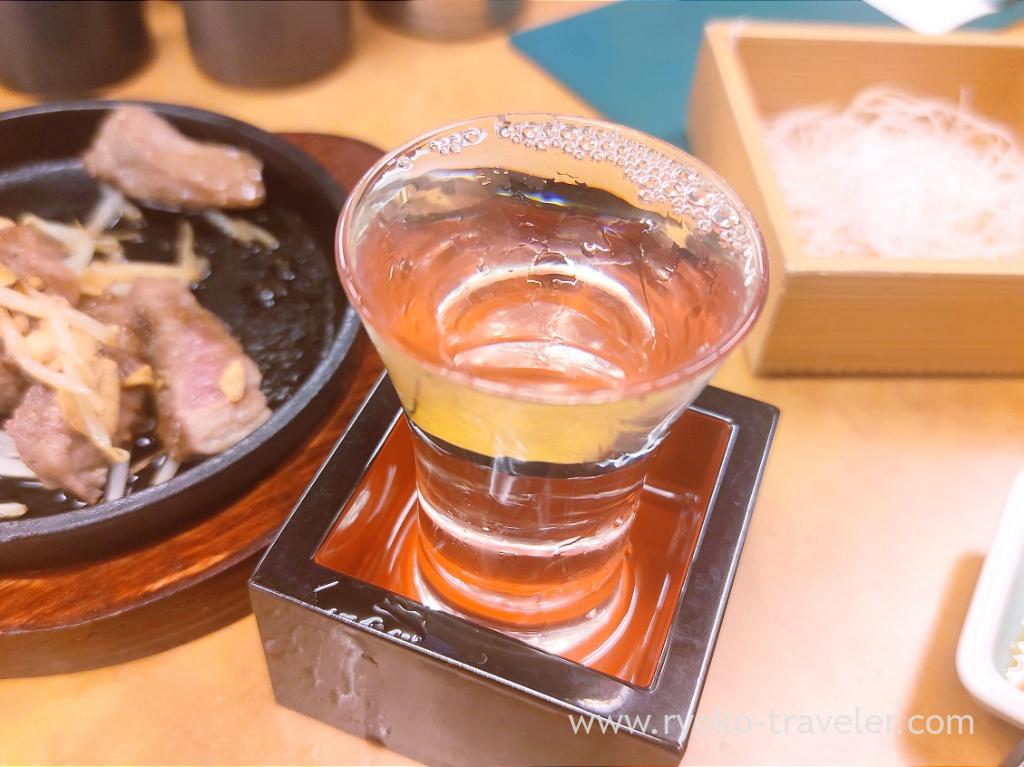 Anyway, I ordered Ume Suisho because I thought it's served soon. Actually, it was served in 10 seconds :p It was keeped in the refrigerator as this condition. Ume Suisho is shark's cartilage dressed with plum sauce. Suisho means crystal in Japanese. Shark's cartilage look like cristal. So, it have such a name. It was seasoned well, and it's sour. I like it.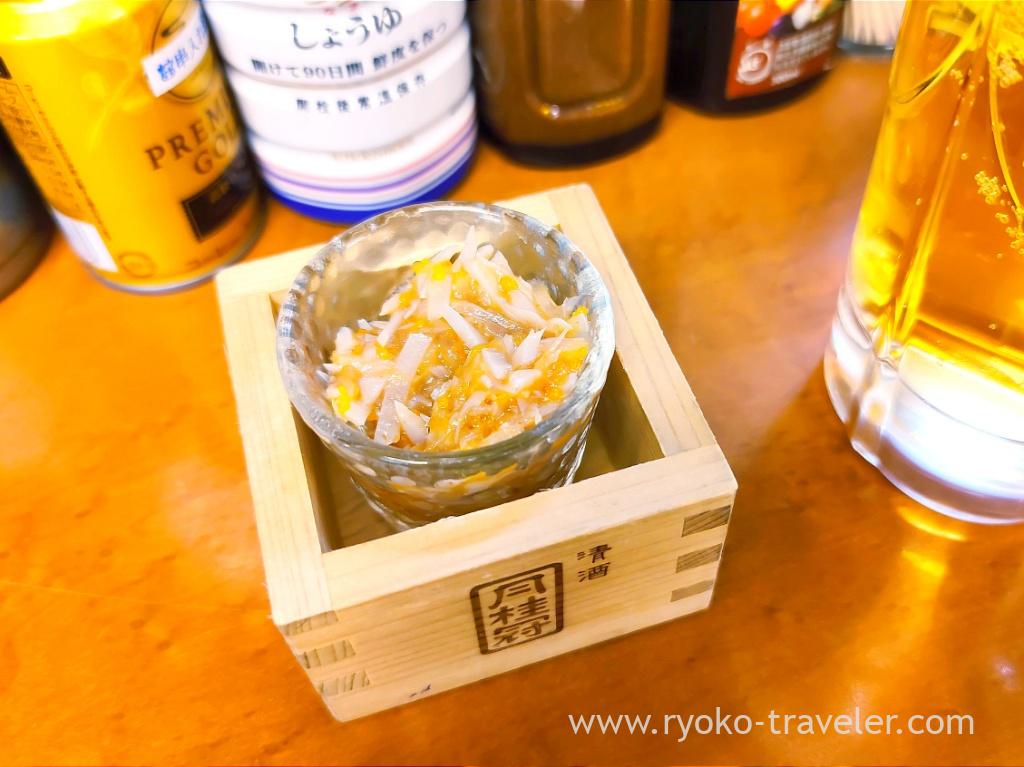 Otcopus sashimi. They cut it after order. So, it took time a bit. But it was good and delicios.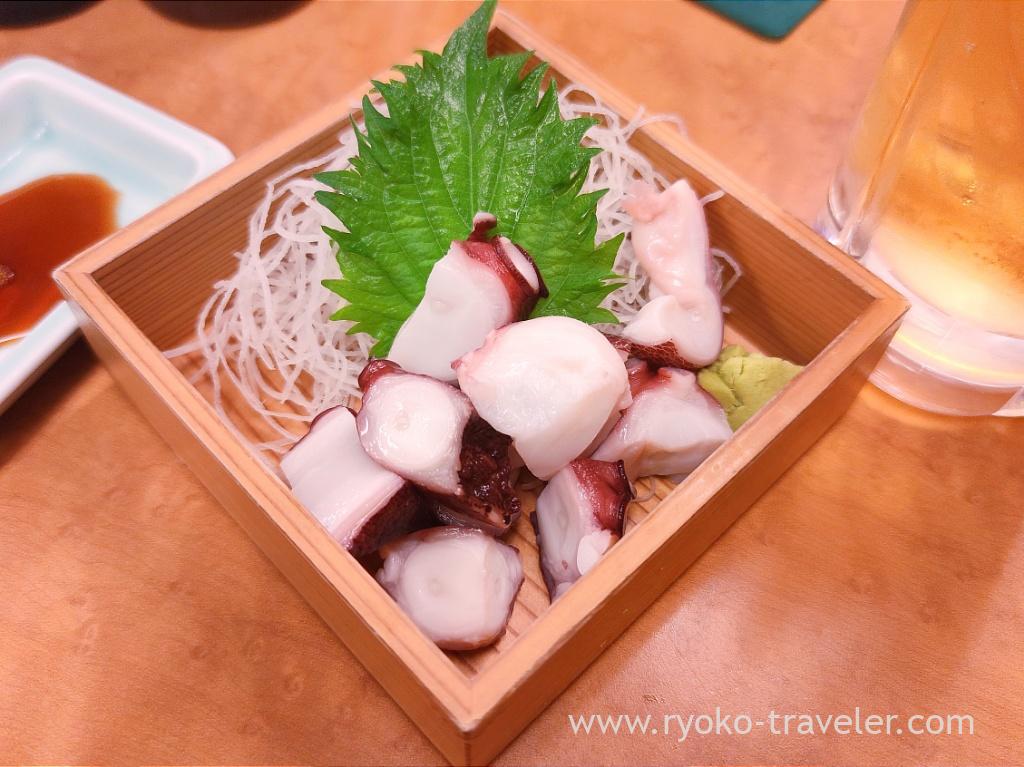 They show top 5 foods on the menu. And the No.1 is this teppan okonomiyaki-like cabbage grill. So, I ordered it. It can be ordered with kimchi, pork, egg and so on plus 100 yen each. So, I ordered it with cheese. I don't know the difinition of Okonomiyaki, but it's enough okonomiyaki for Kanto people. I agree it's a champion in the shop !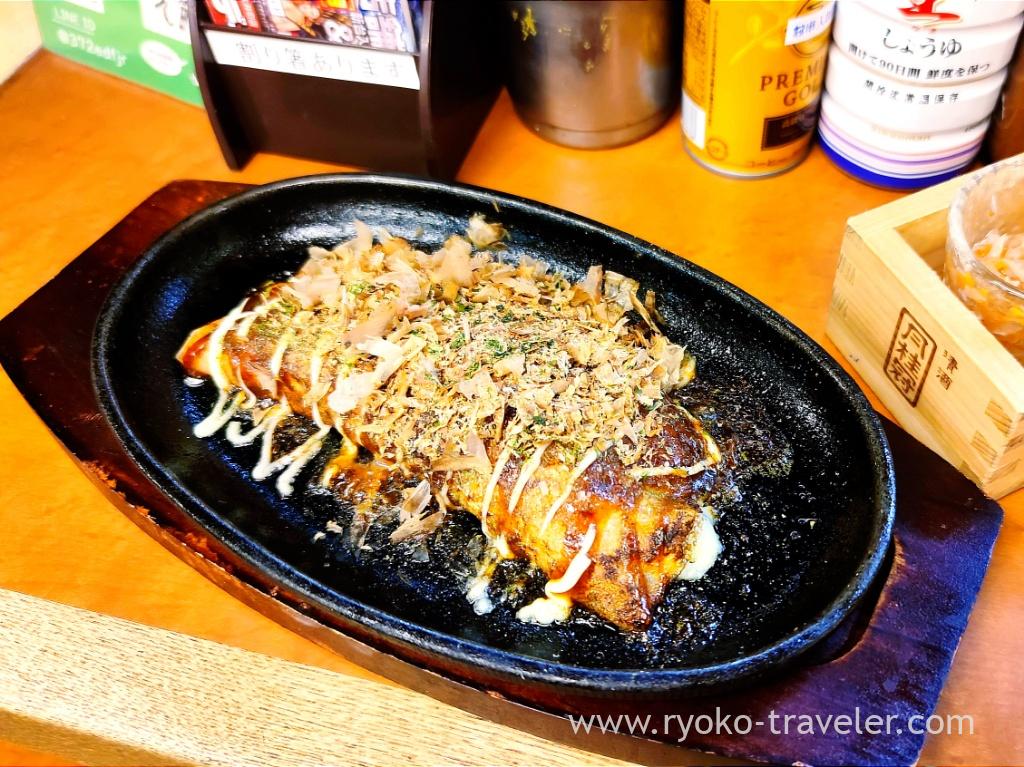 Thi is horse mackerel namerou from the blackboard menu. It was seasoned well. Yes, it's suitable for Japanese sake.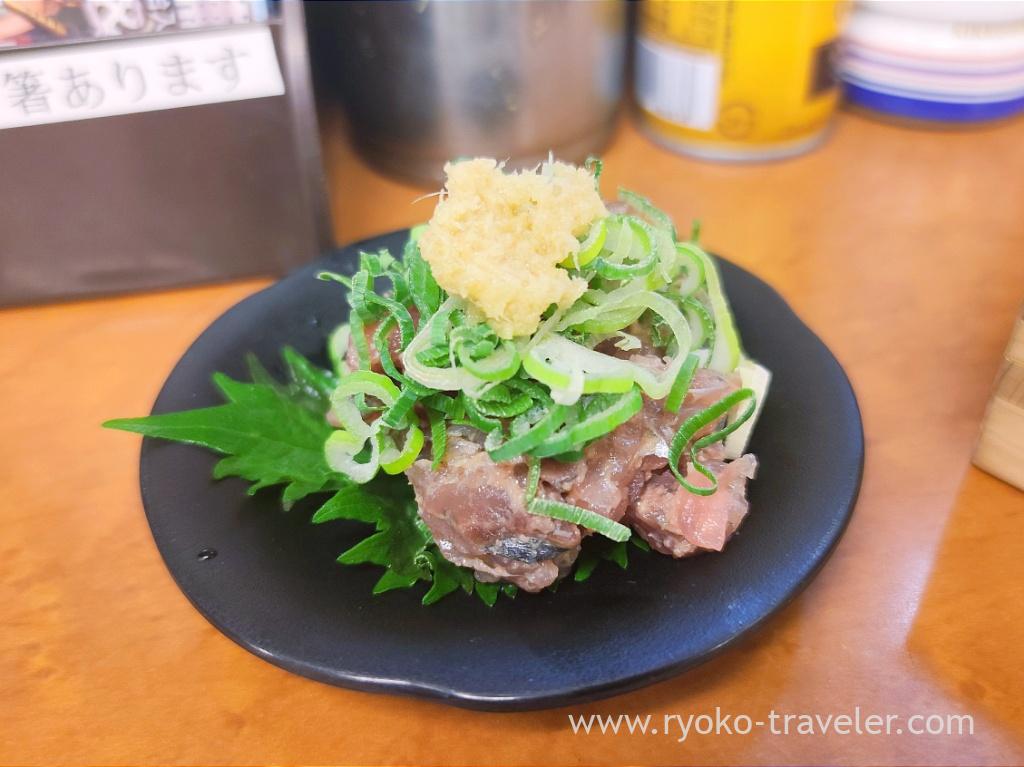 This is deep fried sprouted garlic. Its sprout part was crisp and the garlic was fluffy. Delicious.I heard sprouted garlic is more nutritious.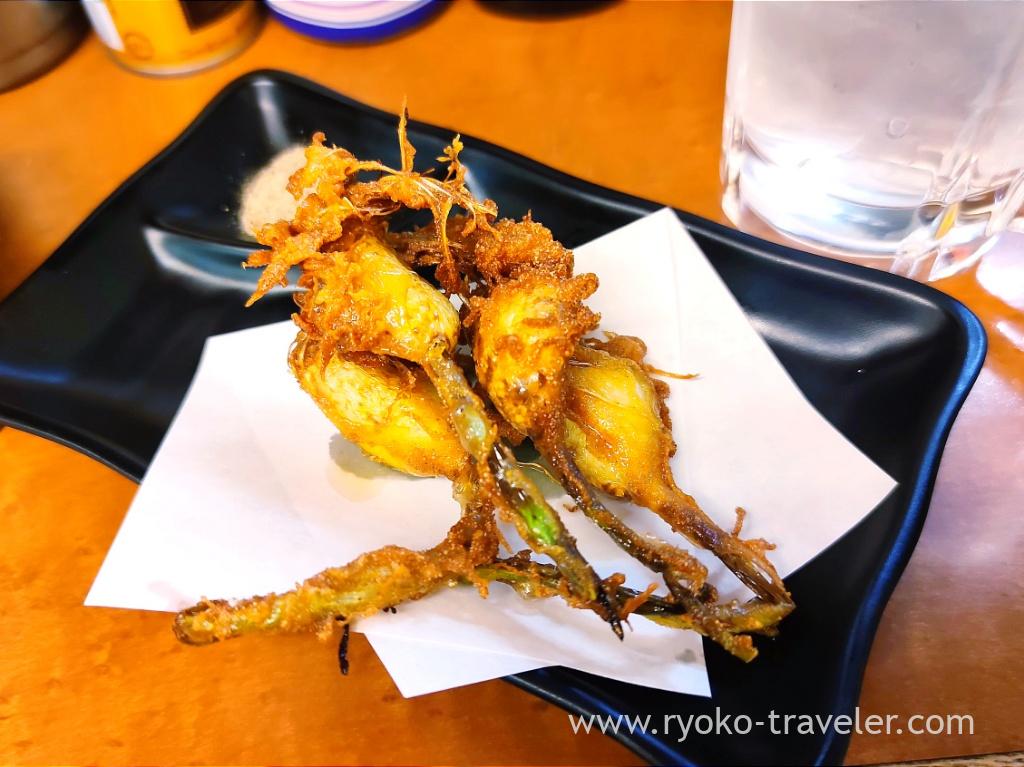 And I tried their valuable set. Wagyu mini steak set. I ordered my drink beer, so it cost plust 50 yen. Soybean sprouts, steak and garlic chip. The lean meat of the medium-rare steak was not fatty. But it's soft. Good. I ate it with wasabi and soy sauce. I thought it's small because it's "mini steak", and actually, the iron plate was small. But it filled my stomach.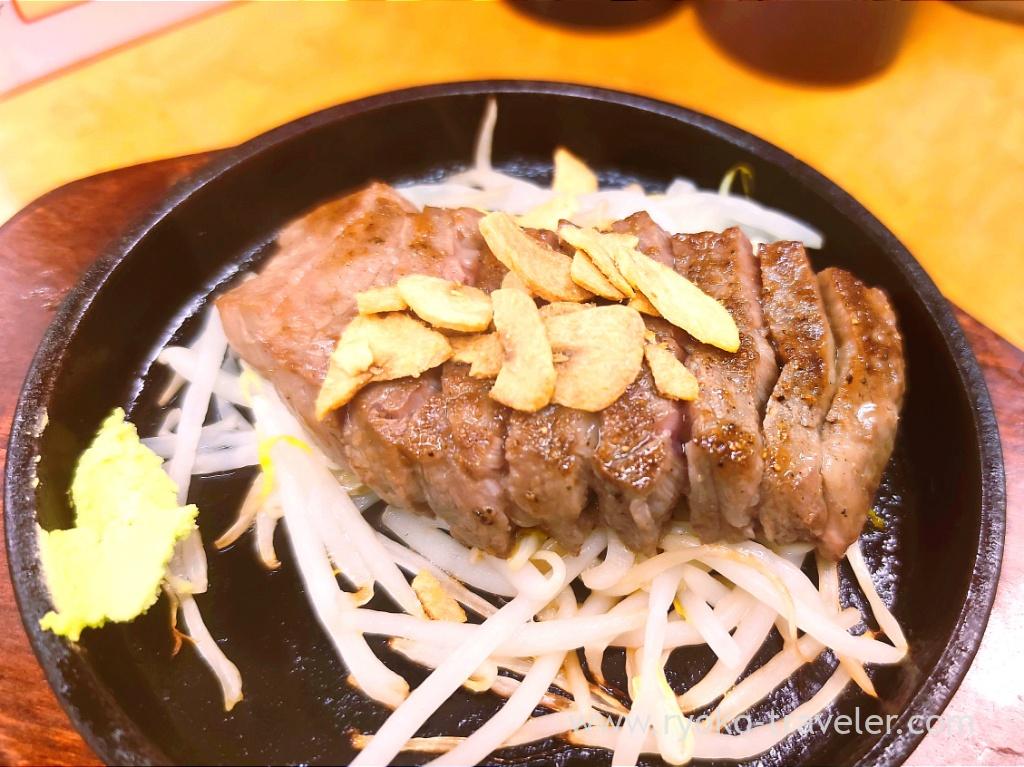 They accept order of kakifurai from one piece. So, I ordered just one because the menu said it's "jumbo". But it was not so large. Normal. It was juicy and good. So, I should have ordered two pieces :p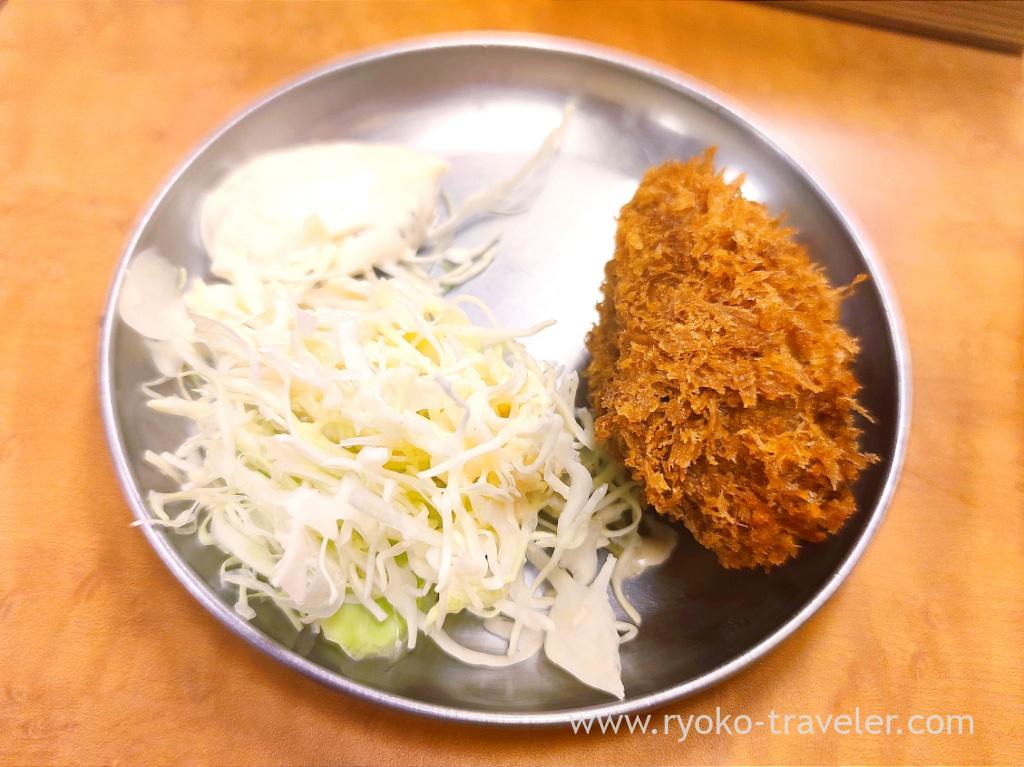 About

Name Tachinomidokoro Heso Shimbashi honten (立呑処へそ新橋本店)
Open Day through night
Reservation Available (
Tabelog)
Credit card Available

Google Map