I told befoe, I ate soba that didn't have my taste.
But the soba restaurant served my delight soba.
That restaurant is named "Ginnan"
Ginnan means ginkgo 🙂

About more 10 minutes walk from Nishi-Ojima station. The restaurant stands on a calm street. I never thought there is such a cool restaurant along the street !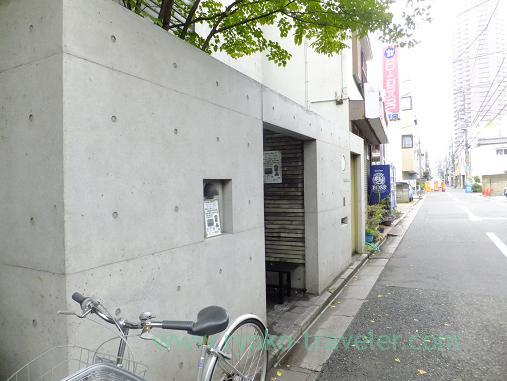 Nevertheless it was just after opening, many of the seats was already being seated.
Because I went to there with my friend, we could not eat only soba but two another dishes.
Tamagoyaki (玉子焼き, 893 yen)


It had much taste and so sweet.
Basically I hate sweet foods, but I like sweet tamagoyaki. It is more sweets than foods 🙂 But it was much for two of us 😛
Sobagaki (そばがき, 1050 yen).


Why I went to soba with my friend is to eat sobagaki !
That sobagaki was yummy !!! It was sticky 🙂 The white-colored soup is sobayu (brogh of boiled soba).
Those small things on the sobagaki is buckwheat seeds.
And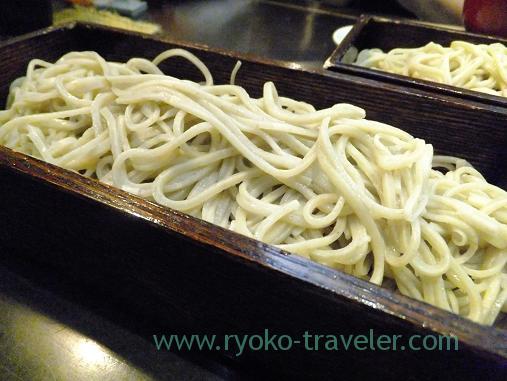 I like my noodles warm, but the best dish to feel the taste of soba clearly is seiro all the same.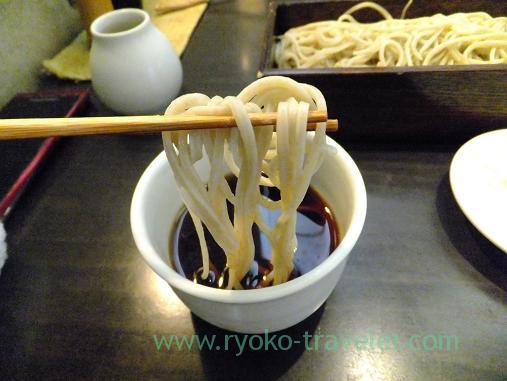 "Seiro(せいろ)" is the dish that is eaten soba with soup, wasabi and green onions only.
My friend's oyster-seiro (かきせいろ, 1417 yen)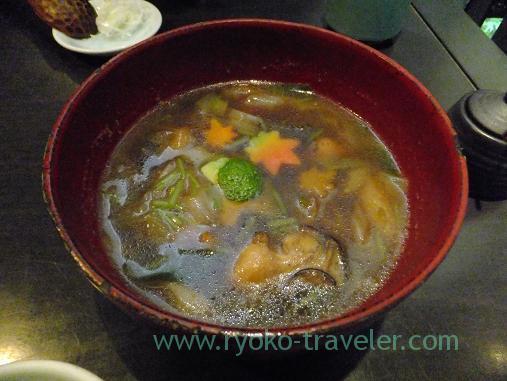 It was a little strong taste for me. Though the flavor of oysters were thick, too 🙂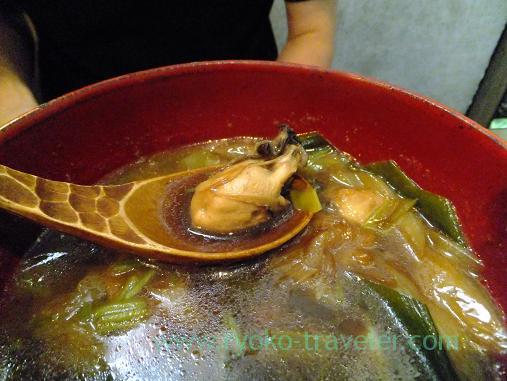 Sobayu (broth of boiled soba) after our meal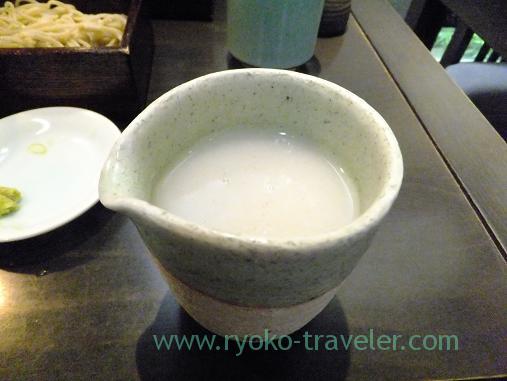 After eating at Ginnan, we got off at Motoyawata station, and had ice cream at Kai-Gelato .
My gelato was Chocolate and water melon 🙂
Two-choice (ダブル, 260 yen)


Though I felt chill a bit, it was tasty.
Ginnan (銀杏)
2-15-3 O-jima, Koto-ku, Tokyo
Open – from 11:30 to 14:30, from 18:00 to 22:00
Holiday – Mondays, 4th Tuesday
HP – http://www.ginnan.sakura.ne.jp/ (In Japanese only)
Kai Gelato (魁ジェラート)
5-1-26 Yawata, Ichikawa-shi, Tokyo
Open – from 10:00 to 19:00
Holiday – Tuesdays
HP – http://www.posso.ne.jp/TomsGarden/ (In Japanese only)