Well worth going only for this restaurant.
Speaking of Indian foods can be eaten in Ginza area, I know Dhaba India and Khybal is great restauants, but there're also another good Indian foods restaurants.
One of the restaurant's name is "Dharmasagara".
Dharmasagara stand in front of Tokyo metropolitan highway and there's not many people along the road because there're not many restaurants and shops. It's simple office districts.
Because of such a location, Dharmasagara don't have much guests even in on weekdays lunchtime.
But they serve valuable lunch set on weekdays lunchtime.
The gate of the restaurant is on the upstairs. Budda welcome you !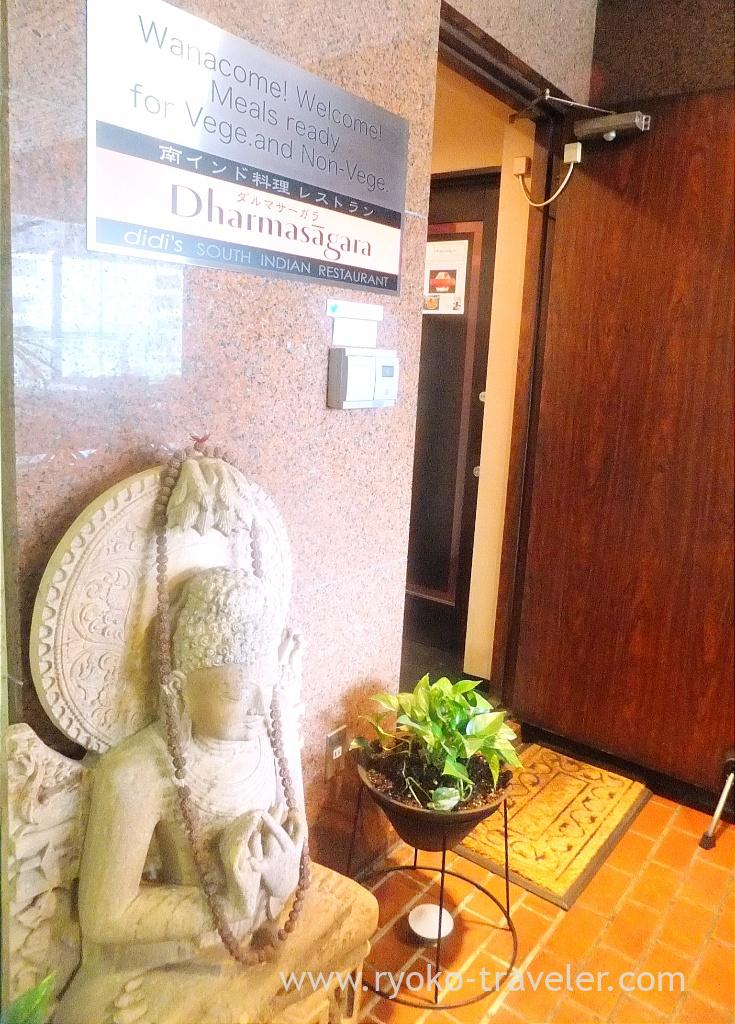 There're counter seats and several tables. If you are seated at the counter seats in front of the window, you can see Tsukiji Hongan-ji temple 😉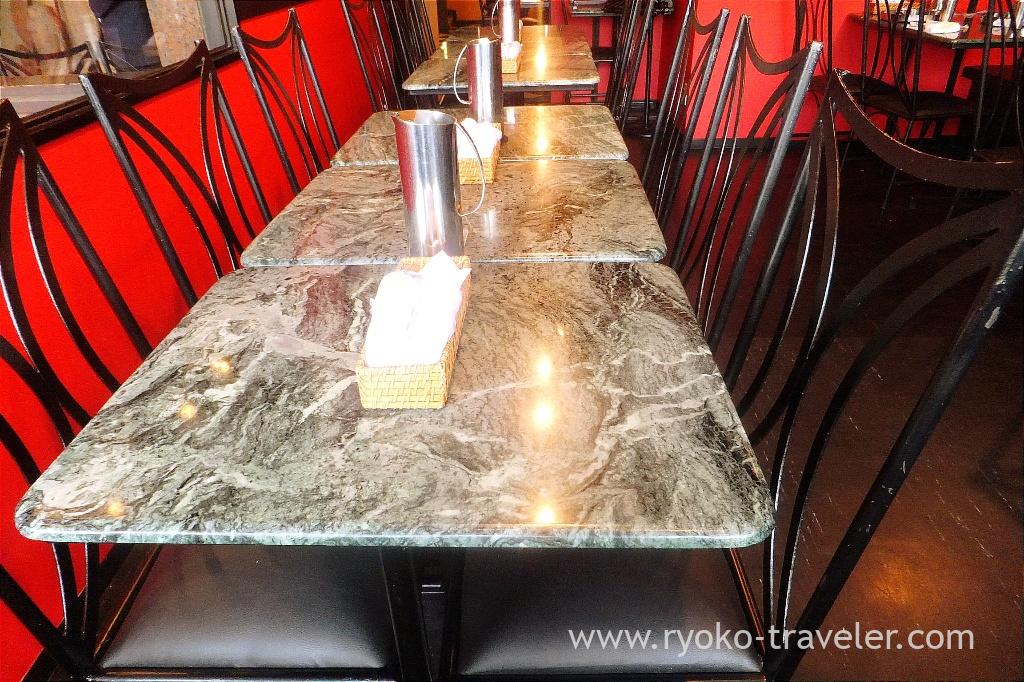 Weekdays Lunch menus.
They are southern Indian foods restaurant. So, they don't serve naan. Instead of that they serve rice, papad and puri.
No.1 lunch set is this largest photo.
Regular Meals (1296 yen, tax included)
I chose it. Two curries in small container can be choosen from chicken curry, mutton curry, keema curry, sambal and curry of the day. The orange thing was achar and the green paste is chutney.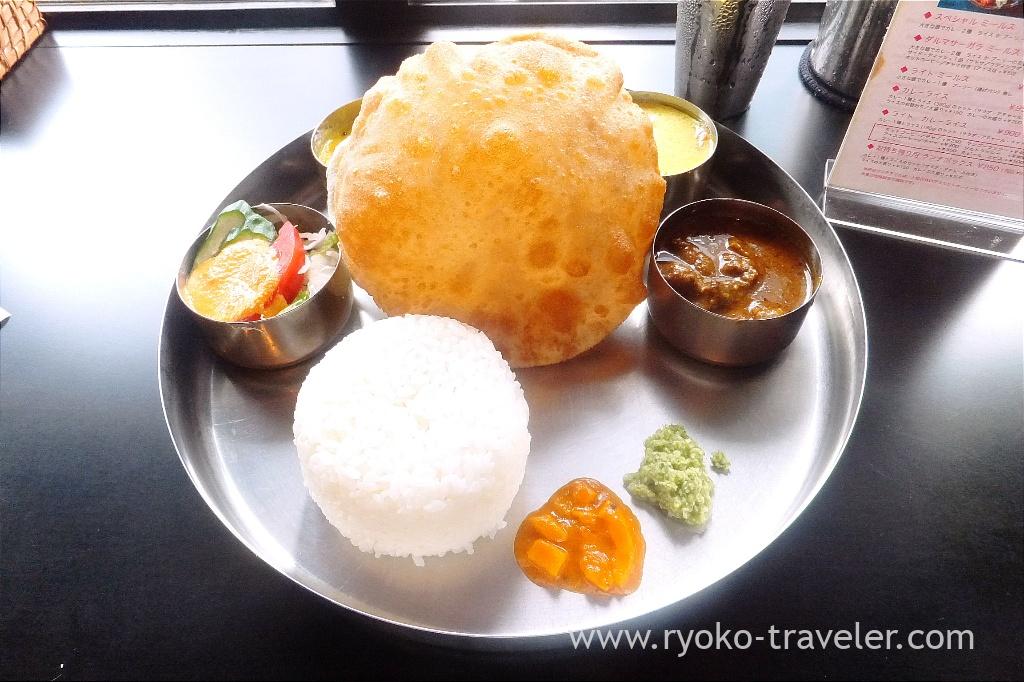 I chose mutton curry and curry of the day.
Mutton curry was so spicy and some mutton meats in it.
And curry of the day that day was "shrimp and okura curry". As you see, it had plenty of coconuts milk and so creamy and mild. Spicy mutton curry and mild curry was good choice.
Though you can't see from the picture of the whole plate, papad was at the back of puri. Puri is deep fried bread. Papad is deep fried beans like senbei.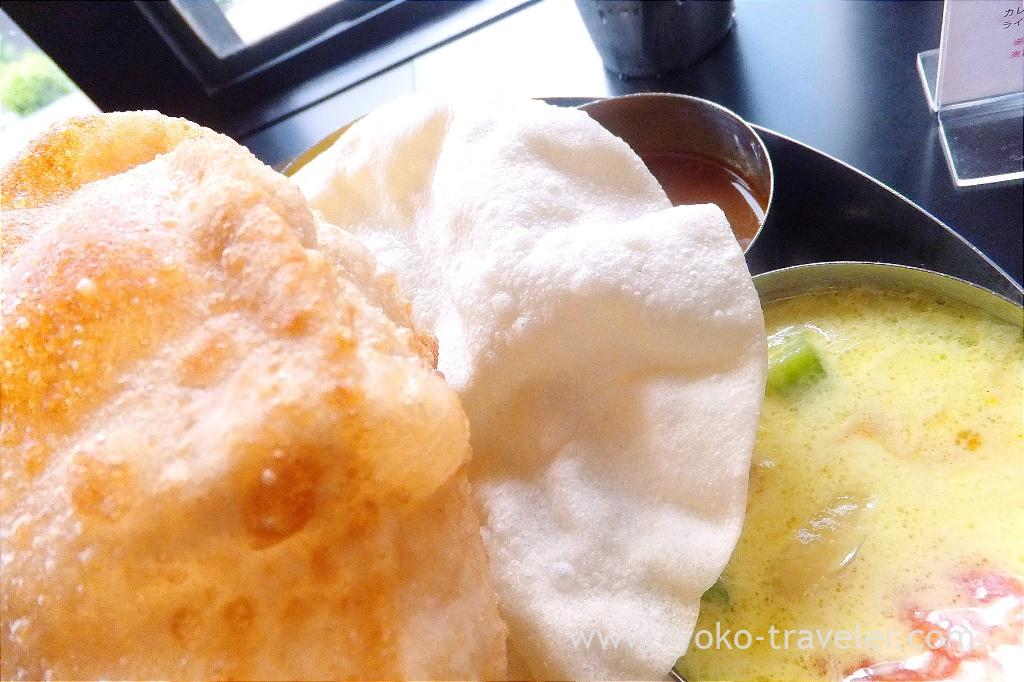 And also papad hide, rassam and corn poriyal.
Those were delicious when I ate separately, but mixed and ate them altogether was excellent 🙂
You have to remember, valuable lunch menus are available on weekdays only.
Lunch menus have lunch meals from at least 2000 yen on weekends.
But you can eat many foods from night menus if you visit there on weekends lunchtime. On weekdays lunchtime, you can't chose some from night menus. Only from weekdays' lunch menus.
About Dharmasagara (ダルマサーガラ)
Address / Ginza Eight bldg 2F, 4-14-6 Ginza, Chuo-ku, Tokyo
Station / Higashi-Ginza station (Tokyo metro)
Open / 11:30 – 14:30, 18:00 – 23:00
Saturdays, Sundays and another national holidays / 12:00 – 15:00, 17:30 – 22:00
Closed / No scheduled