There's Casa Amateller that used to be a house of Antoni Amatller who was a chocolatier on the left of Casa Batlló that is a world heritage designed by Gaudi.
There's a cafe named Cafe faborit on the ground floor of this architecture and I found they serve breakfast for only 2.5€ on weekdays when I walked in front of the architecture. So, I visited there a few days later.
I didn't have enough time to see Casa Amatller inside, but I wanted to enter the architecture all the same 🙂 There's a entrance for the cafe on the left side of the architecture. You can find the word "faborit" at the end of this view.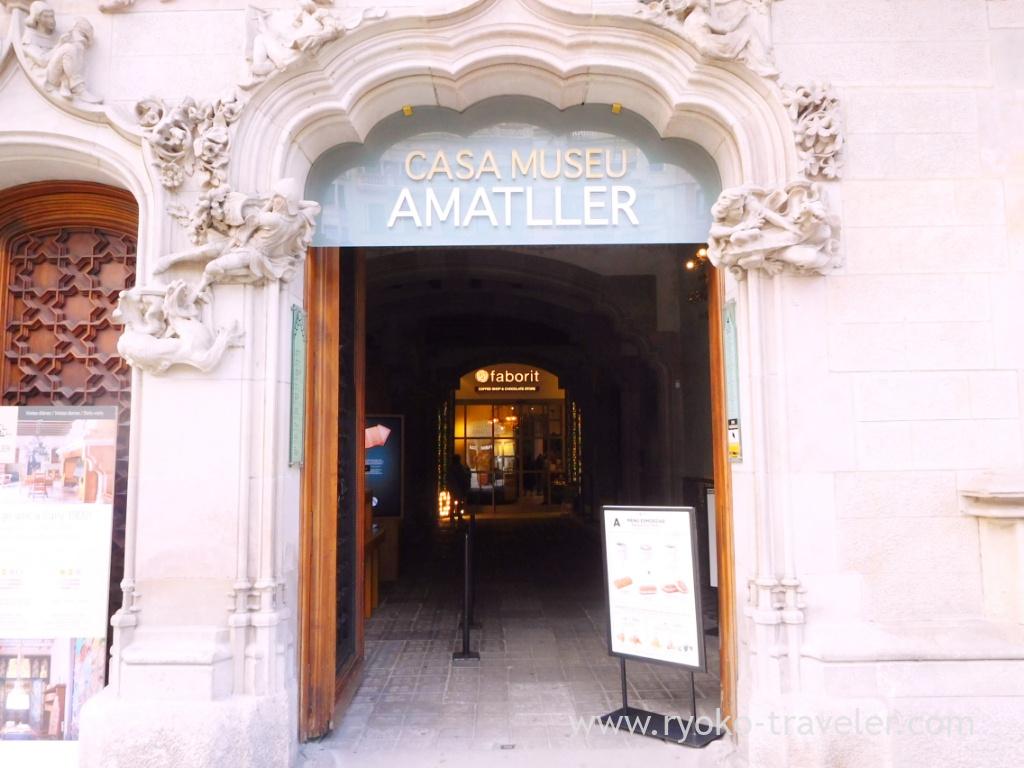 The cafe is based on white color. It is differ from Modernismo.
Seats could be seen from the entrance. It looks like outdoor seats. It's inside though. Because I had suitcase, I was seated there. The intervals of the seats are wider than inside. There's enough space to put my large suitcase.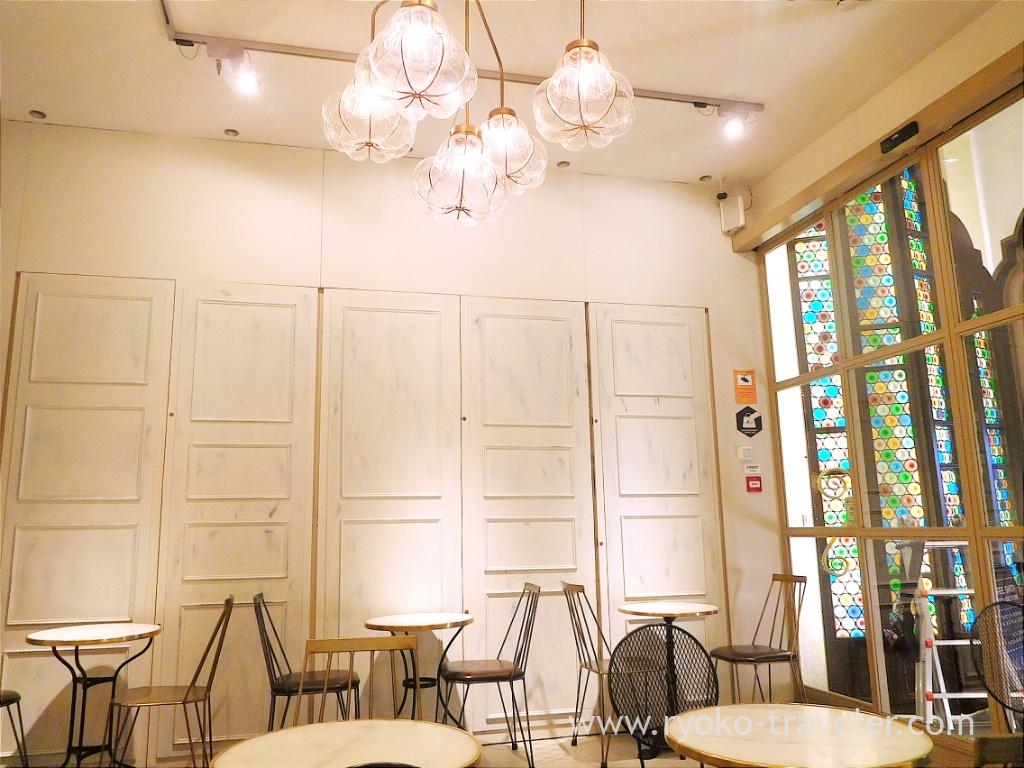 There's a store on the left. They sell confectionery, tea, jam and so on. Though Amatller family line already failed, we can get Amatller's chocolate at there.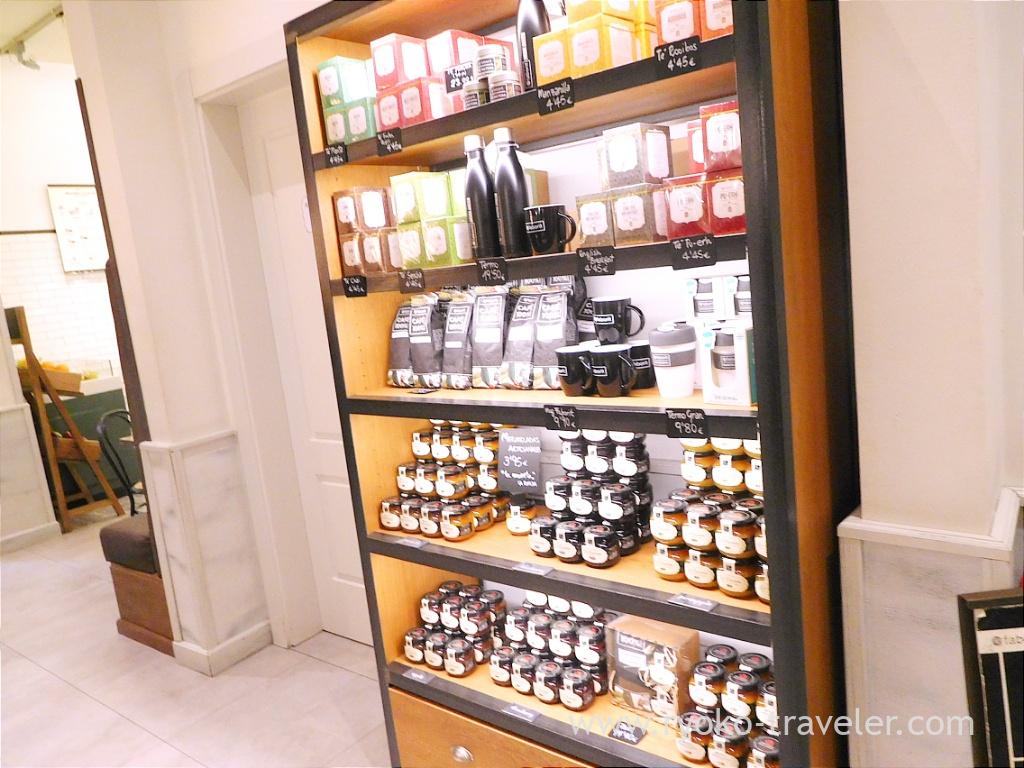 There're seats and order counter on the right. Also there're seats on the left and there're outside seats. There're much seats. faborit is a chain store having about 20 branches in Spain. It's self-service cafe like Starbucks.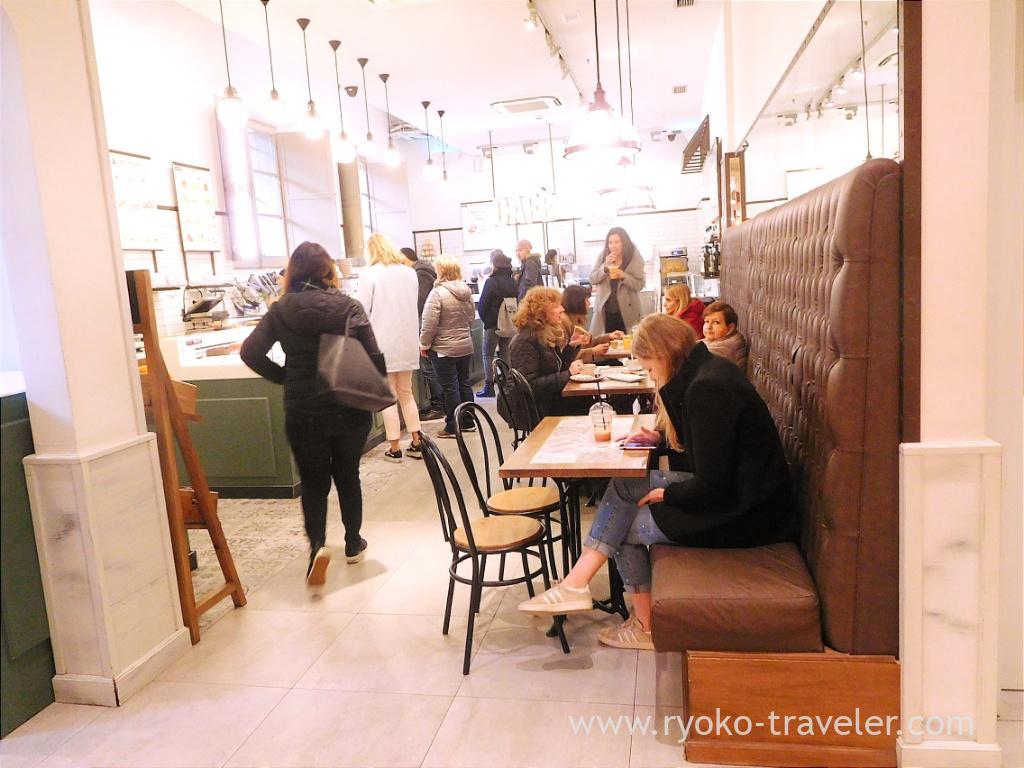 Order is here. They took my order in English from he saw me at first. There's a menu on the counter table.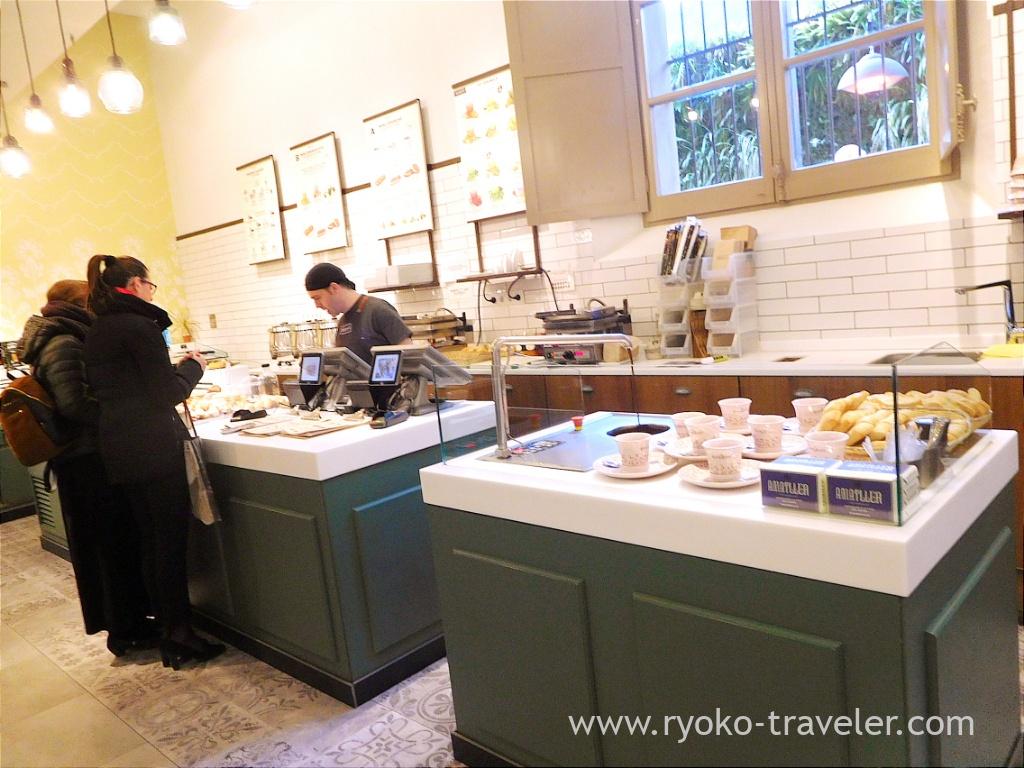 I got my food after order and went toward the counter "CAFE" and showed my receipt to the lady and then she hand my drink to me.
This is the breakfast menu. They are open from 8 a.m. on weekdays and serve breakfast until 12:30 p.m. I heard Spanish's breakfast is late. (Ah, lunch and dinner, too) People choose one drink from tea, cappuccino, hot cocoa and milk shake. And one food choice from bread, sandwich and toast. It cost only 2.5€. And we can add fresh juice with more 1.6€, 2.4€.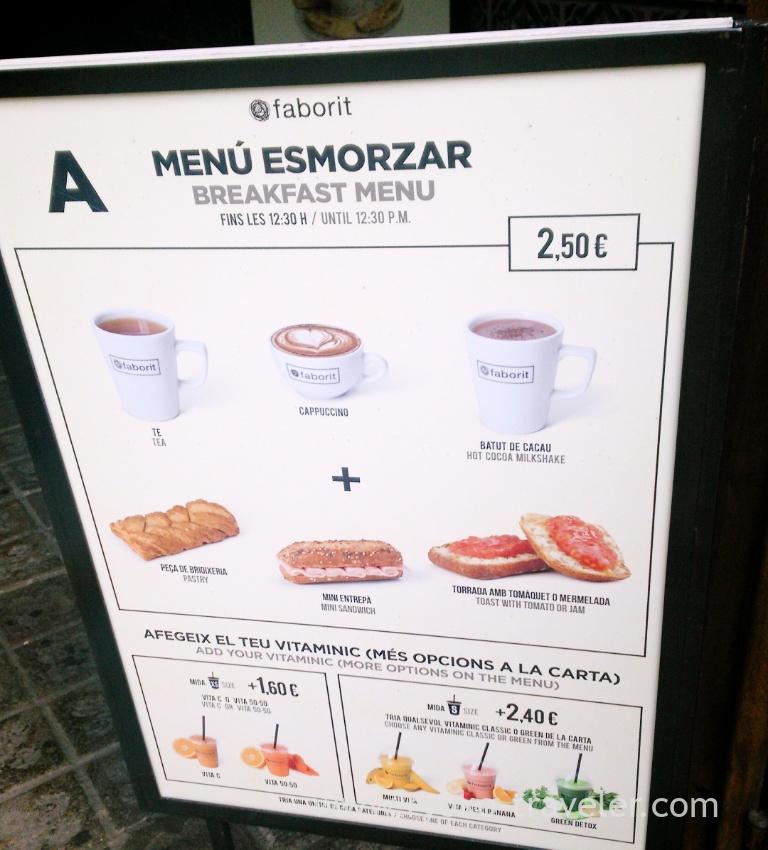 Though the breakfast menu show only three species of foods, bread and sandwich can be choosen from the case.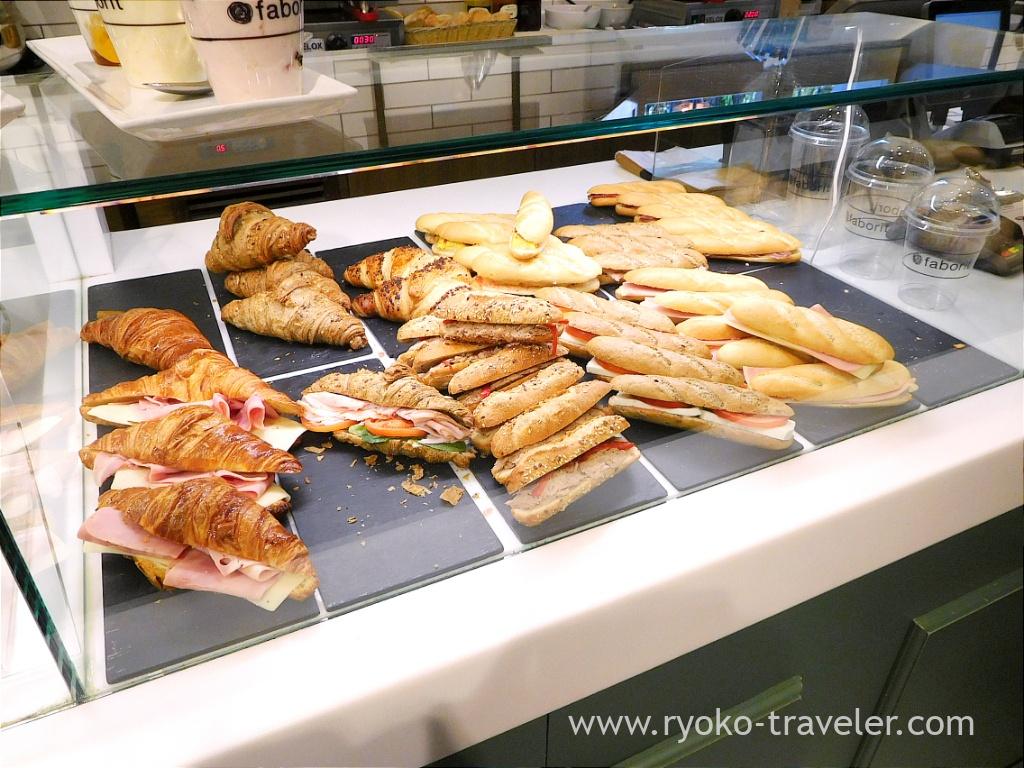 Also they serve chocolate drinks in the morning, too.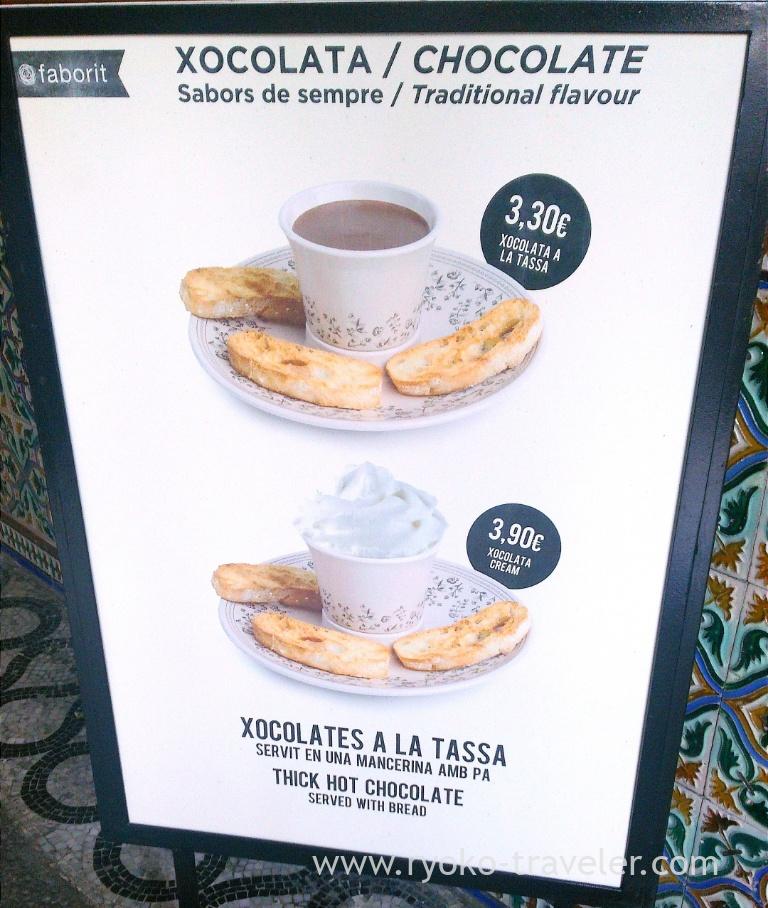 I chose simple sandwich having cheese and tomato. And cappuccino.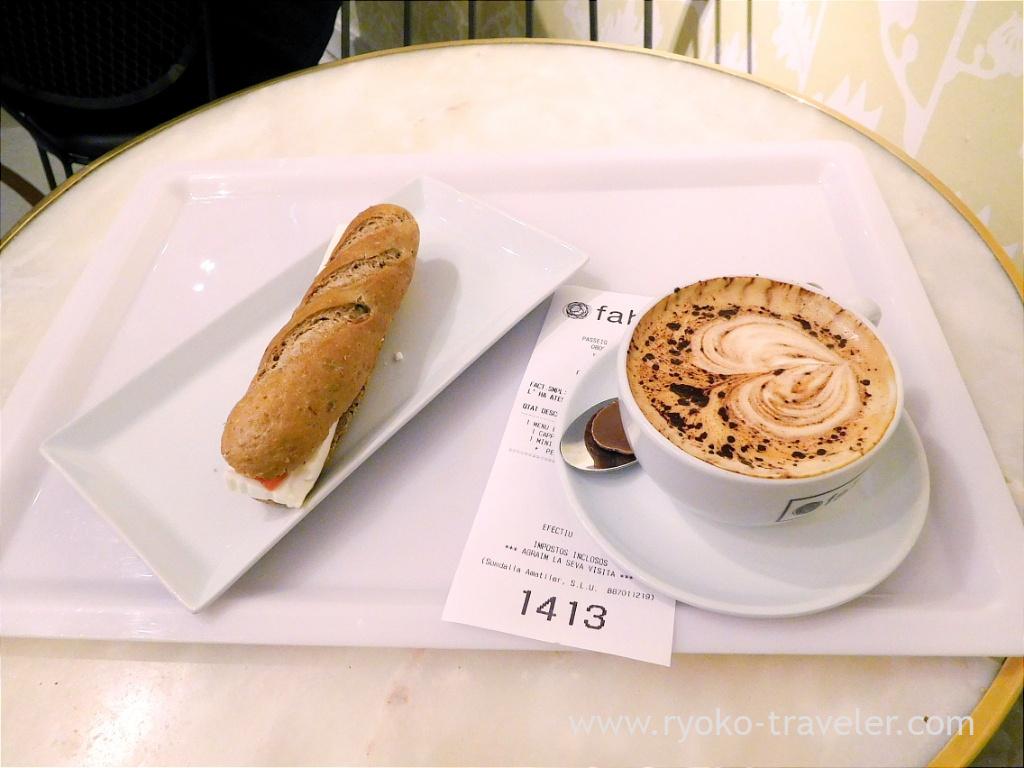 Cappuccino had rich tastes and was good, too. Happily they served cappuccino with Amatller's small chocolate ! Breads of sandwich is chewy and hard. I don't like it. I love soft breads.
I enjoyed cappuccino and after a while I restarted to eat sandwich. The breads got softer a bit thanks to water of cheese and tomato. If you like soft breads like me, croissant sandwich is better, I think.
Because my hotel didn't have breakfast, if there's a cafe like this close to my hotel, I would have visited there everyday. Fresh juice looks yummy, too.
There's a restroom in the cafe, but the door is locked. PIN is on the receipt. And also the receipt have the information of Wifi. So, you need to keep your receipt until you get out of the cafe.
About

Name Faborit Casa Amatller
Open Morning through night
Reservation Unavailable
Credit card Available
URL Website, Instagram

Google Map