I wanted to try eating yakitori bowl at Yonehana for a long time.
Speaking of Tsukiji Market, we think it's a special market of seafoods and we
rarely think about meats and vegetables.
But they also serve or sell good meats and vegetables.
The waiter recommended me Yakitori bowl (焼き鳥丼, 1000 yen) bofore.He said that's a great food.
Well, I recognized.
The rice was entirely covered with so big grilled chicken meats !!!
But
I had no idea what to do about the laver….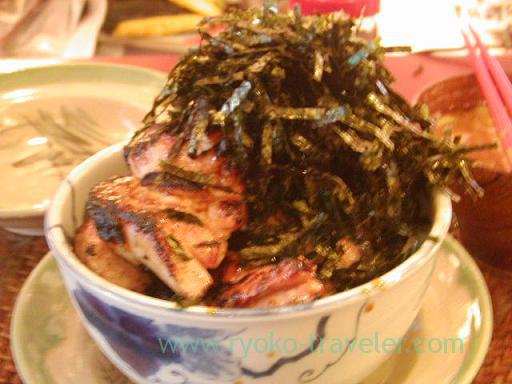 The waiter gave me an empty dish to put those laver.
But…
Tell me how to eat it !!!
Eating it just as it is ? Withoug anything ? Umm… Toooo much laver !
Though those meats were big, it was soft and tasty. The smells of burnt soy
sauce was excellent !!!
Also the miso soup had a huge fish ball. (it's appearance was entire hambuger steak !)
But the hamburger steak had plenty of soup and soft, and tasty !!!
Yonehana's foods are large !
But I ate up with joy !
After that I dropped in at Sui Jinja shrine (水神社) within Tsukiji Market.
I heard that is also a birthplace of the Imperial Navy of Japan
The enshrined deity is 弥都波能売神 (Mizuhanome no kami). It is the leading god of water in Japan.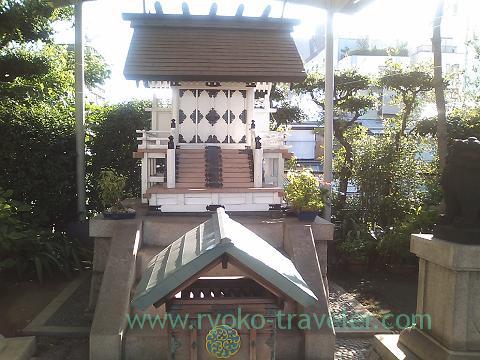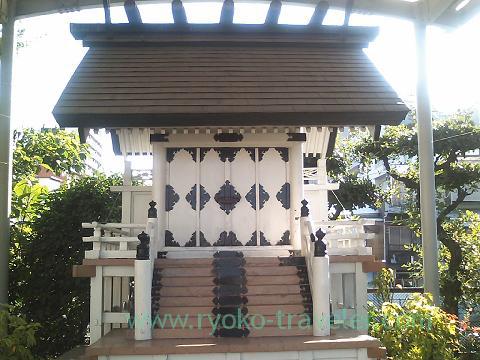 Komainu (shrine guardian dog statues)


It looks like Shisa (Okinawan lion statue)
Cyozuya (place for ritual cleansing of hands and mouth with water when visiting shrines)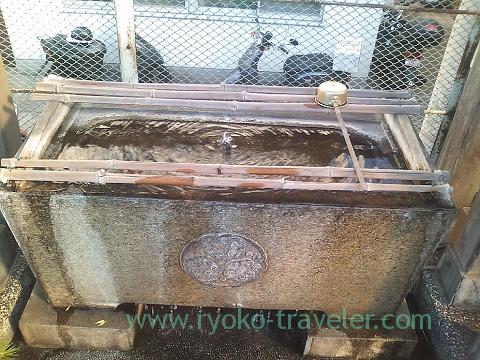 Yonehana (米花)
Tsukiji Market Building No.8, 5-2-1 Tsukiji, Chuo-ku, Tokyo
Open – from 5:00 to 13:30
Holiday – Market's holiday (Almost all Sunday, several Wednesdays, national holidays and so on)