Sungari Shinjuku Nishiguchi branch moved to Shinjuku Sanchome area in  2017
And their branch name is now Shinjuku Sanchome branch. Nothing has changed except location.
I changed the details of the restaurant at the bottom.
(April 28th, 2018)
---
Investigating Russian cuisine in advance
I thought I should eat Russian cuisine before going to Russia.
Because… when I went to Uzbekistan, I found Uzbek cuisine is quite differ from what I had thought.
The restaurant is underground of the "Subaru building" in front of west exit of Shinjuku station.
It is 50 years since the restaurant was established. The restaurant's name is
Sungari
I went to there 10 minutes before the restaurant's opening time. But there were already two person waiting.
Strictly speaking, it is Caucasian style dish like Georgia and so forth.
So, the restaurant also have Georgia wine. But I didn't drink some wines. I'll drink at Russia 🙂
I ordered a borsch lunch set (1800 yen) this time.
There was another lunch course around 2600 yen and it had salmon dish, so I wanted to eat it.
But I wasn't hungry. I thought I can't eat it up. That is why I gave up to order the course.
Actually, a man next to me ordered the course, and I found the dishes were large volume.
It was a good choice for me to order borsch lunch set.
Borsch (ボルシチ)
It was sweet, and spicy. beefmeats and potatos at the center of the soup was simmered so soft 🙂
Rye bread(ライ麦パン)
For samarkand bread, I wonder that people who lives around there likes such a dry bread.. Or just breads that I had eaten were dry ?
Oh, well. But this bread suits went well with the sauce and the soup 🙂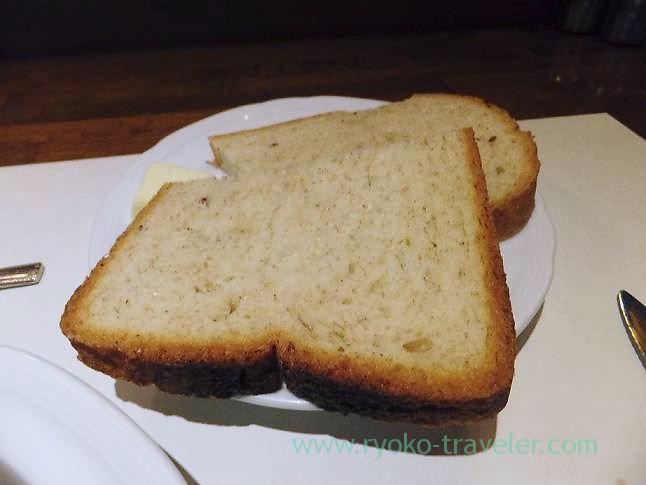 Golubtsy (ゴルブッツィ)
Baked stuffed cabbage.
It comes to me still being hot.
I tried to take a picture of section. But I couldn't take it well 🙁
There was no space in the rolled cabbage 😀
The cream sauce that had plenty of butter was used. was so rich and tasty !
When I finished eating 2/3 of the dish, Salad (サラダ) came 🙁 It was too late !
Cake.
Sour cream torte of amanatsu(甘夏のサワークリームトルテ)
It was not sweet. And it tasted a little sour by amanatsu. It was really good.
It was good for me that the dessert was only a little sweet.
This is because ……
Russian tea (3 species of jams and sugar, ロシアンティー)
Rose jam at the front, left is berry jam and right is dark cherry jam.
The waitress said , "Please taste those jam as they are, or mixing some jams together. "
So, at first I tasted those jams as they were, and after that I mixed some jams and tasted,,,,
"Tooooooo sweet !"
Rose jam was not too sweet, but berry jam was too sweet. But those were flavory.
Because it was too sweet, I drunk up my tea very quickly 😛
Well, I think those dishes are differ from genuine Russian cuisine, but I felt relieved that I could try to eat Russian cuisine in Japan before going to Russia.
I want to go there again…
About Sungari Shinjuku Nishiguchi branch (スンガリー新宿西口店) Shinjuku Sanchome branch (新宿三丁目店)
Address / Shinjuku Ryuseido Bldg B1F, 3-21-6 Shinjuku, Shinjuku-ku, Tokyo
Station / Shinjuku station (JR, Toei subway)
Open / 11:30 – 15:00, 17:00 – 23:00
Saturdays, Sundays and another national holidays / 11:30 – 15:30, 17:00 – 23:00
Closed / No scheduled
Website / http://www.sungari.jp/(in Japanese only)