When I heard the word "Sendai", "Senreisushi" occure me at first. Senreisushi (仙令鮨) is located in JR Sendai station (outside of ticket gate) and they are stand-up-eating sushi shop. I know there're so many people waiting on weekends. I visited there past 4 p.m. on weekday. So, I could enter the shop without waiting.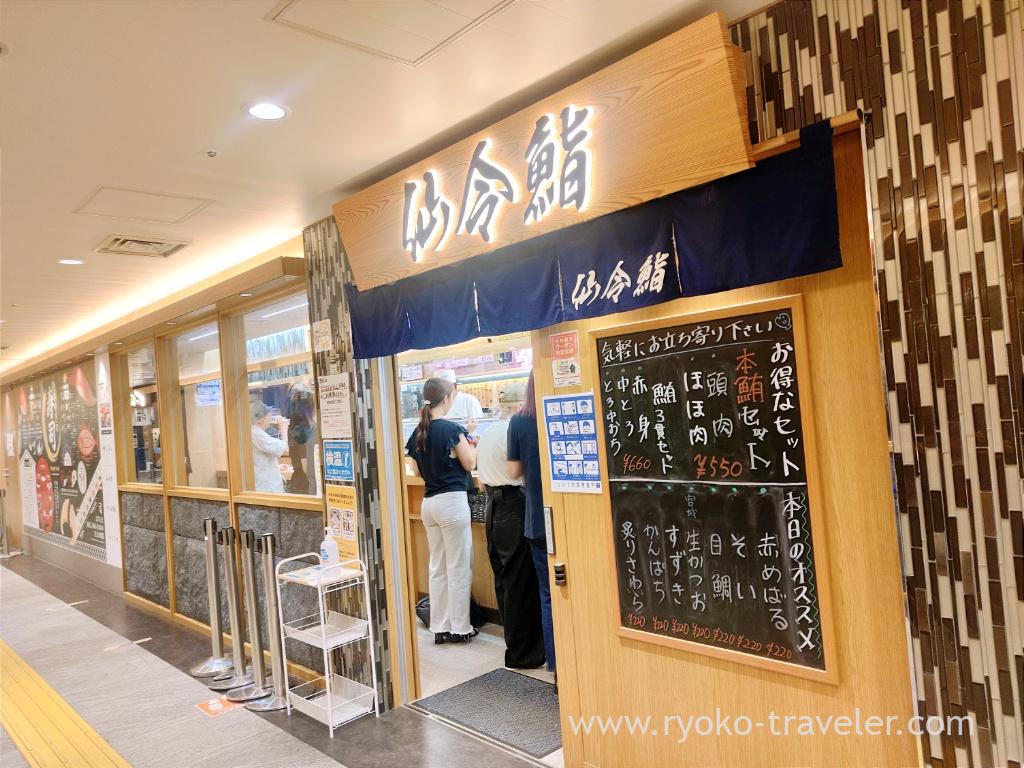 You might know "Hokushinsushi (北辰鮨)". They have changed their name from Hokushinsushi to Senreisushi a few years ago.
Japanese menus of sushi. But don't worry. They have English menu. They use fresh seafood from market directly in the morning. Those sushi are from 120 yen per 1 piece. 80 yen is tamagoyaki and mekabu seaweed. The most expensive sushi cost 550 yen (sea urchin, kichiji rockfish, botan shrimp). This is regular menu.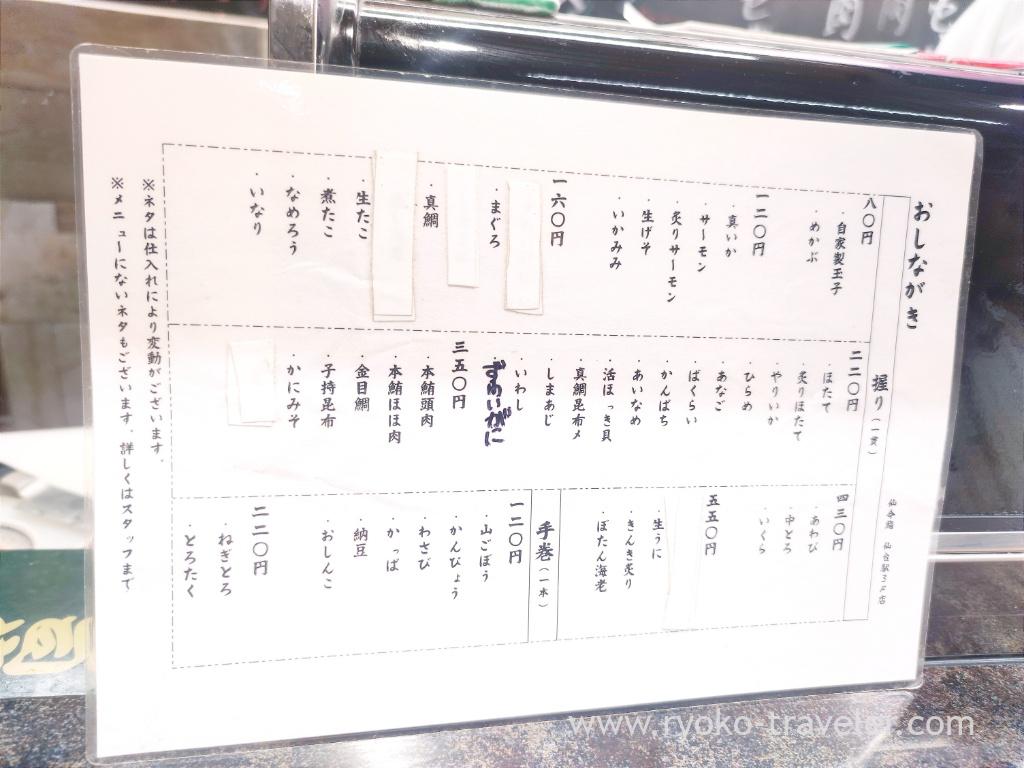 And those are recommendations of the day. I'm afraid they don't have English menu of that. But ask staffs. They will recommend best of the day.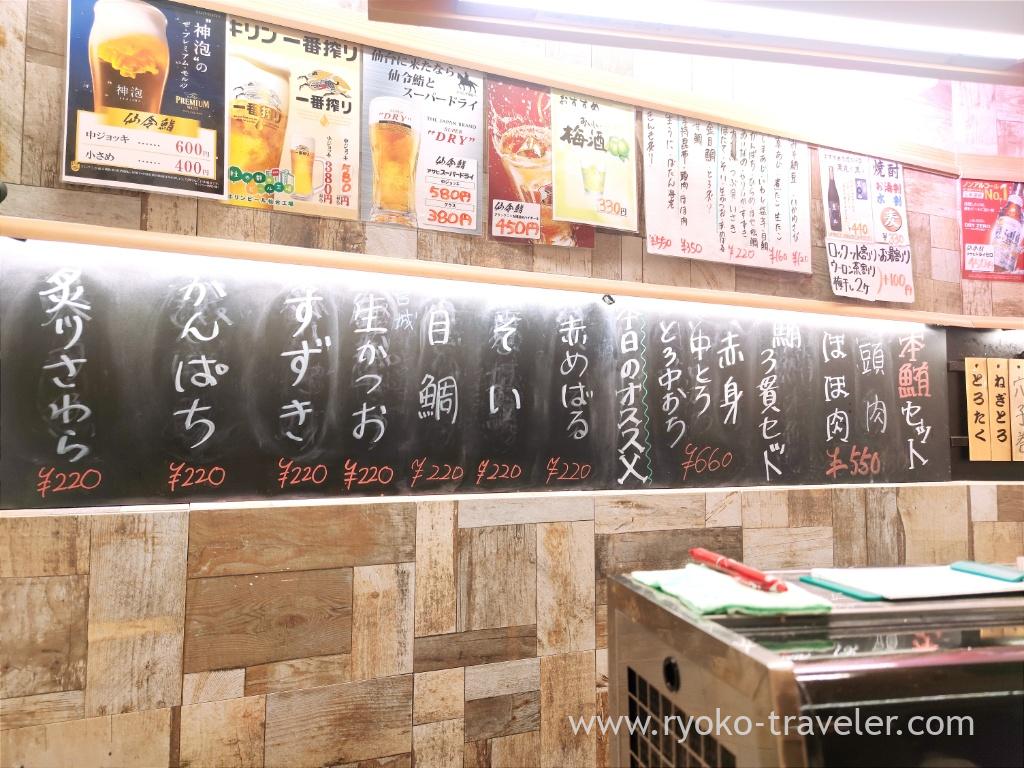 And drink. They have Three draft beer. Ichiban Shibori, Superdry, and Premium Malt's.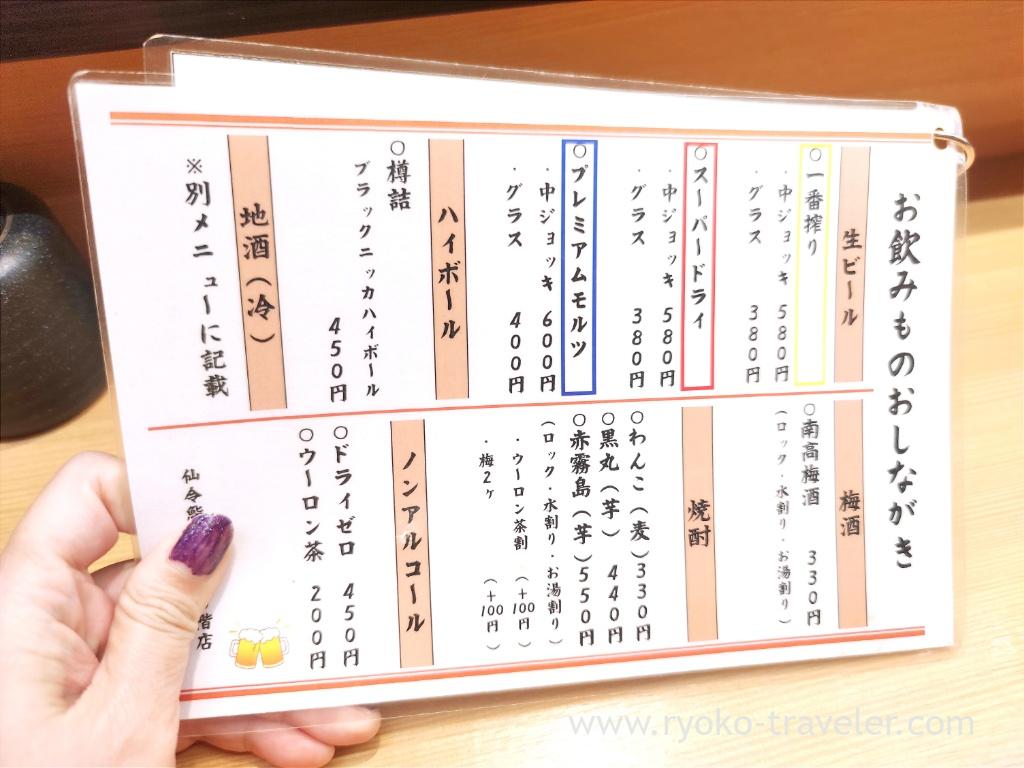 Because they are stand-up-eating shop, I got to there about 40 minutes before my train leaving and ate and drink lightly. Everything was good. At first, I ordered a glass of Ichiban Shibori. It's enough.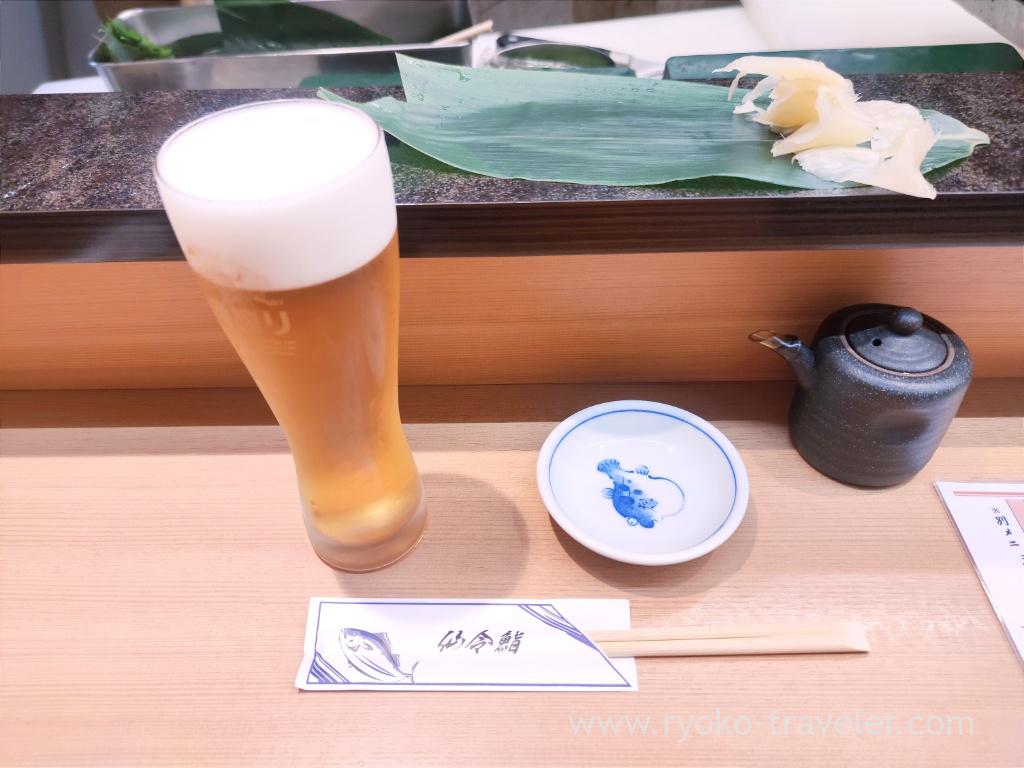 I ordered Tuna set because it was at the top of the blackboard menu. Tuna's cheek and head meat. Both was grilled lightly. It was fatty and good. But truthfully speaking, if I knew those are grilled, I didn't order it as first sushi :p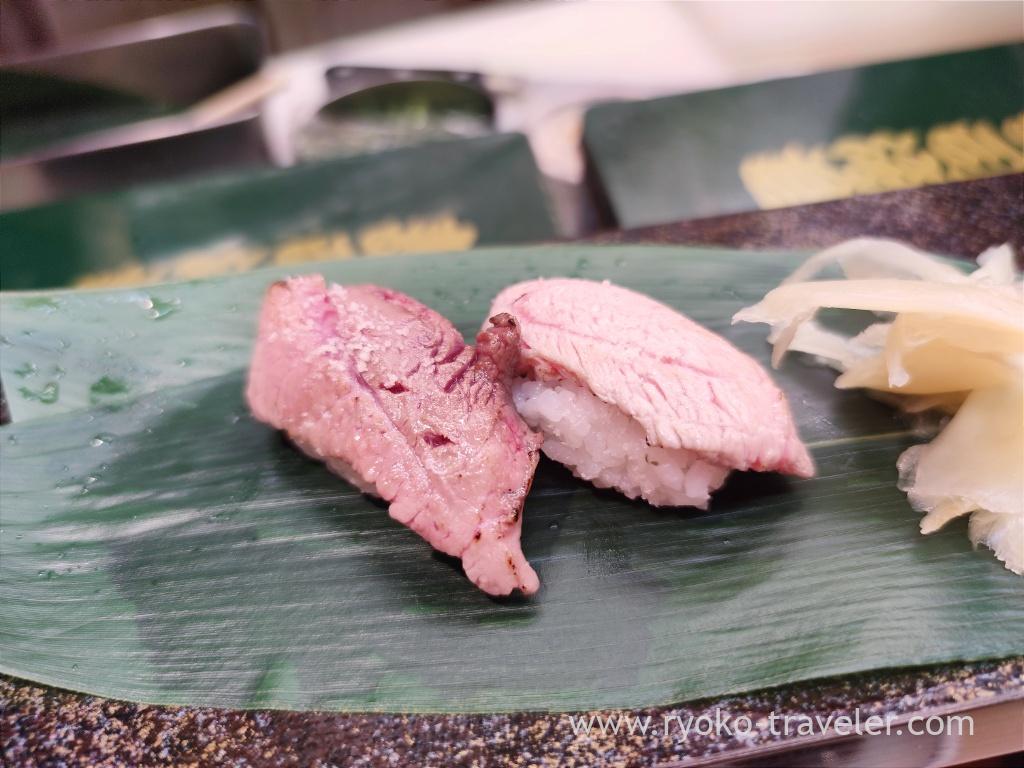 Bonito. It had refreshing tastes. Not so fatty. By the way, vinegared rice was smaller. It's good to enjoy a variety of seafood.
Striped jack. It had springy texture. Good.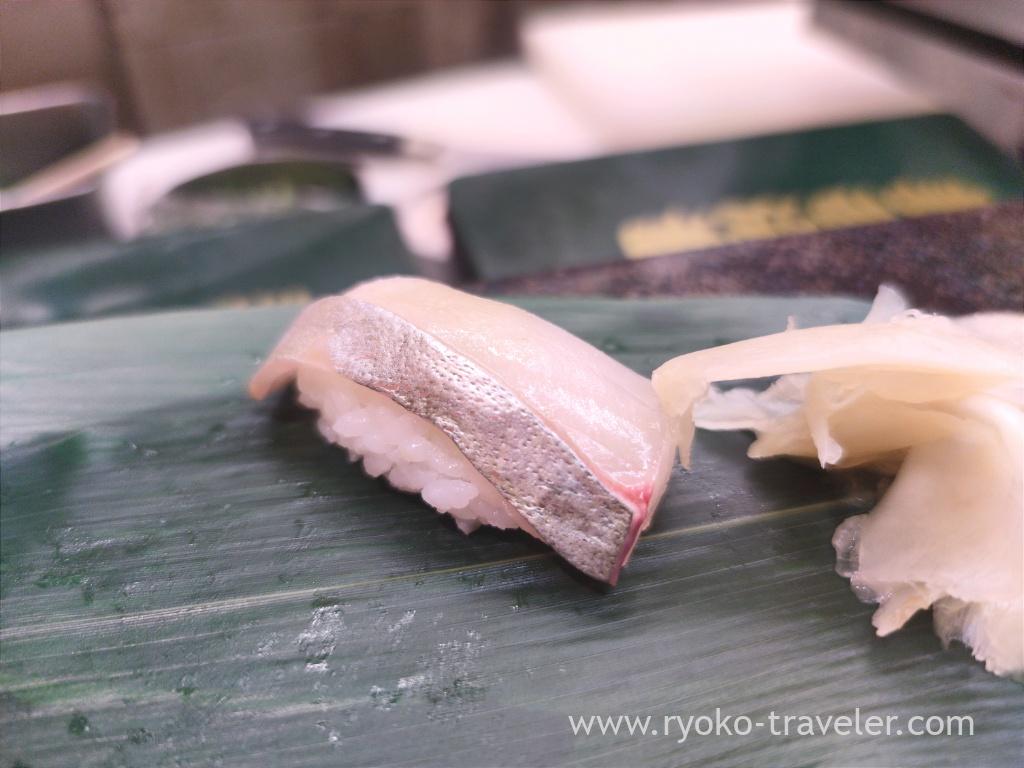 Spear squid (ヤリイカ, 220 yen) and Jacopever (ソイ, 220 yen). Spear squid is called "Yari-ika" in Japanese. It's my delight. Jacopever is called "Soi" in Japanese. It was on the blackboard menu. As they recommend, it was so fresh. It had springy texture.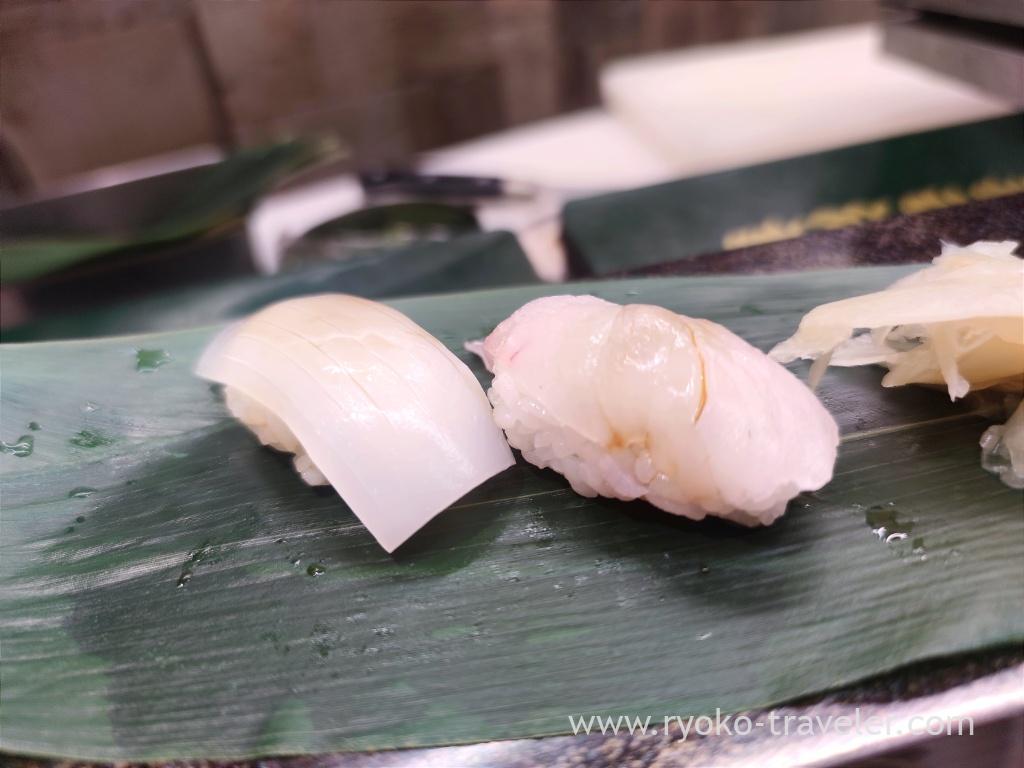 And this was on the blackboard menu, too. Aka-Mebaru. Aka-Mebaru is a kind of Japanese stingfish. Yes, it's fresh, too. It had springy texture as well as Jacopevar.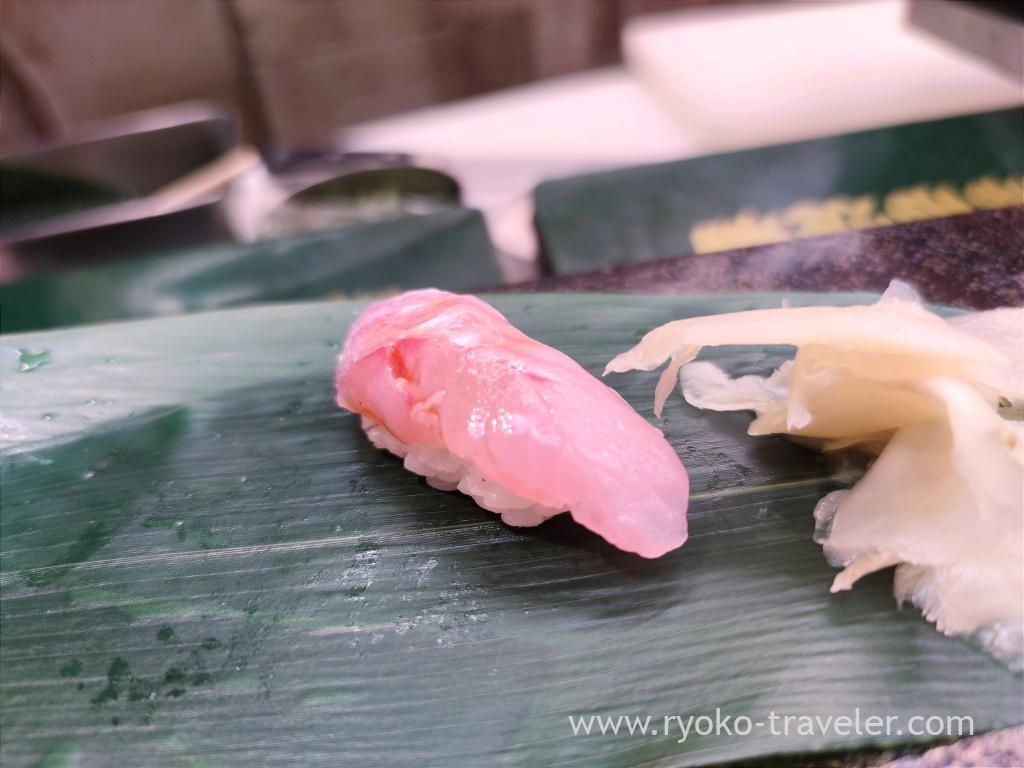 Last, I ordered sea urchin. It was sweet and flavorful.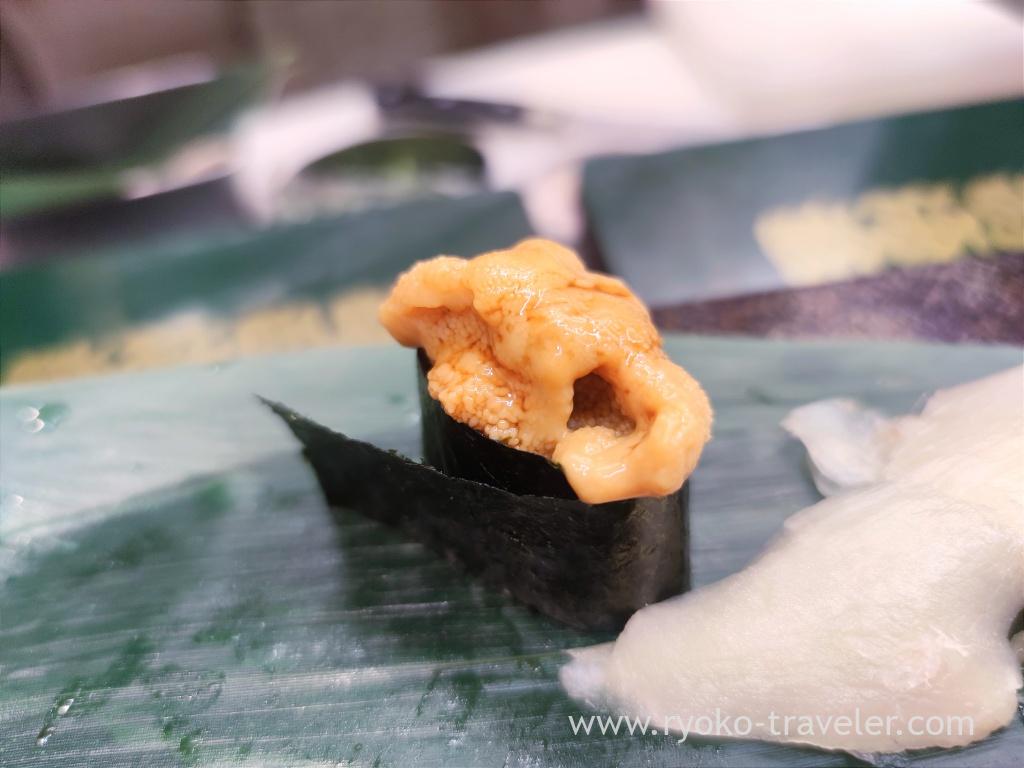 I was satisfied with all seafood and beer. But I felt vinegared rice was sticky a bit. But totally, their sushi was excellent !

About
Name Senreisushi JR Sendai station branch (仙令鮨 JR仙台駅店)
Open Lunch, Dinner
Reservation Unavailable
Credit card Available
URL Website, Instagram, Twitter
Google Map